This Indianapolis Cafe has been so much fun to visit on my Friday lunch dates with my kindle. I even brought my parents to this quaint atmosphere. It even reminded me of a little place that I could find in Birmingham like Olexas or O'Carrs.
The Erin Sandwich was full with asparagus, lettuce, sprouts, tomatoes, provolone, swiss and 2 sauces. Oh the sauces! Basil aioli and dijon dill sauce. You couldn't find a better combination than this.
And did I mention the fries? Truffle frites with parmigiano reggiano, parsley, truffle oil and a truffle aioli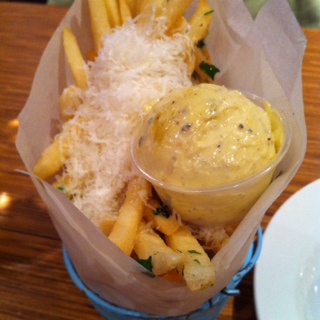 With the many salads and sandwiches that fill this menu I will definitely be going back!!