So it seems it is Mexican Week here at Hall Nesting. And what is better than a healthy Mexican dish? Too many things at Mexican restaurants are fried and slathered in cheese. Now if that sounds like I am complaining trust me I am not. Nothing is better than La Parilla's White Queso or El Barrio Chiles Rellenos. Last week I was craving Mexican food like crazy but did not want something that would weigh me down because I have been eating somewhat healthier than last year. Traditionally Chiles Rellenos are poblano peppers stuffed with a melted cheese, pork, raisins, and nuts then dipped into an egg batter and fried. Well I decided to do a vegetarian & healthy version. And I was so happy I did because instead of that stuffed and tired feeling I normally get after eating Mexican I was full but that good kind of full. Enjoy!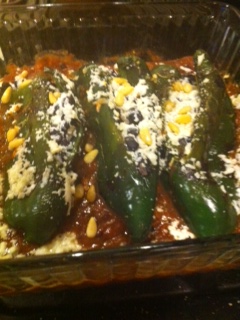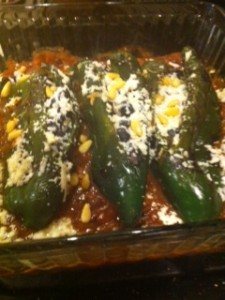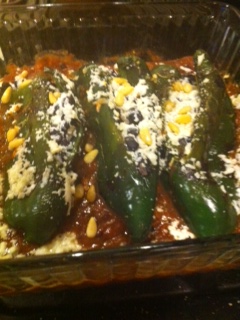 Recipe Card
love it? rate it!
Baked Chiles Rellenos
Servings
4
Stuffed Peppers
Ingredients
4

poblano peppers

Vegetable oil

1

can of black beans

rinsed and drained

1

cup

cooked brown rice

1 1/2

cup

shredded Monterrey jack cheese

1

cup

salsa

Cojita cheese

for garnish (optional)

Pine nuts

for garnish

Sour cream
Instructions
Options on roasting peppers:
In oven - Preheat your oven's broiler. Use vegetable oil to coat the peppers. Place peppers on baking sheet on the highest rack in the oven. Close door and keep eye on the peppers. When dark spotches start forming, use tongs to turn the peppers over so that most of the pepper's skin gets singed.

On gas stove top - Turn flame on the stove top to medium heat and place peppers on top of the flame. Turn the peppers frequently to blacken the skin. (Be careful with this one because you can set off the smoke detector - trust me)
Prepare dish:
Preheat oven 350 degrees. Put peppers in a large bowl. Cover bowl with plastic wrap. The steam will help loosen the skins.

After about 15-20 minutes, when they are cool to touch remove the peppers from the bowl. Hold each pepper down and remove the skin of the peppers. It should easily peel off.

Cut the tops of the peppers. Use a pairing knife to make a slit down one side of the pepper, using the dull side of the knife remove the seeds and ribs of the pepper.

In a mixing bowl combine black beans, rice, and Monterrey jack cheese. Divide mixture into four parts and place inside the poblano peppers.

Take a baking dish and spray with cooking spray. Add the salsa to the bottom of the pan. Place peppers on top of the salsa.

Bake for 20 minutes.

Garnish with a few crumbles of cojita cheese and sprinkle a few pine nuts on top. Place a dollop of sour cream on each pepper and enjoy!
did you make this recipe?
Make sure to follow on Pinterest @easyrecipesfromhome for more easy recipes!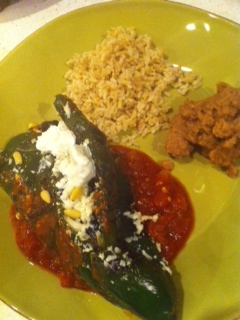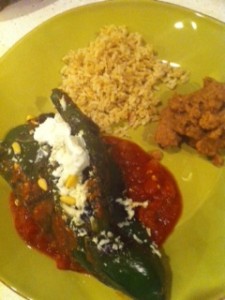 Chiles Rellenos with rice and refried beans