I have told you before about my list of the foods I grew up saying I "hated" aka me being a bratty child claiming to hate them yet never having eaten them. Brussels sprouts being one of them. I don't think I had my first brussels sprout until I was married and John one day said he loved them. A light bulb went on in my head, well I better figure out a way to make them tasty. I made a Brussels Sprouts Supreme (Mexican dish), made them with bacon, but when I stumbled upon this recipe for a Brussels Sprout, Bacon, Goat Cheese Pizza I was intrigued. Making a pizza to me is like be a painter. You have your canvas…your pizza dough and then the toppings…your paint or mixed media are whatever you choose. You can have a typical pizza sauce and cheese pizza, or switch up the sauce to a kale pesto and vegetable pizza. Whatever dough, sauce, or topppings you choose anything on that pizza dough can become a work of art.
Recipe Card love it? rate it!
Brussels Sprouts, Bacon, Goat Cheese Pizza
Ingredients
Pizza dough
4 pieces bacon
5-6 large Brussels sprouts halved lengthwise and thinly sliced
1 tablespoon olive oil
1 tablespoon balsamic vinegar
1/3 cup white cheddar shredded
1/2 cup mozzarella shredded
1 large shallot halved lengthwise and thinly sliced (original called for ½ red onion)
2 tsp. red pepper flakes
2 tsp. oregano
1/4 cup goat cheese original called for feta cheese
Instructions
Preheat oven to 500 degrees. Cook bacon in a skillet for about 4-5 minutes. Transfer to a paper towel to drain. Once cool, break into bite-size pieces.

In a small bowl, toss the Brussels sprouts and shallots together with the red pepper flakes, oregano, olive oil and balsamic vinegar.

Roll out pizza dough onto a a pizza stone or greased baking sheet. Evenly sprinkle the white cheddar and mozzarella over the dough. Bake for about 15 minutes (the time depends on if you are using homemade pizza dough or store bought) or until crust is golden and cheese is melted. Remove from oven and top with goat cheese.
did you make this recipe?
Make sure to follow on Pinterest @easyrecipesfromhome for more easy recipes!


Adapted from: Shutterbean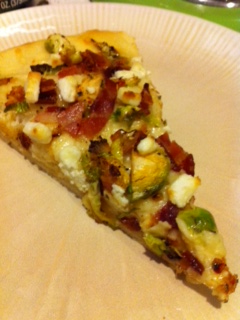 Menu This Week
Smoked Pork Chops with Butternut Squash & Apple Stuffing