I have been able to cross off another item on my food bucket list. I never realized that pizza dough from scratch is super easy (trust me it is for those of you who haven't attempted it). I know you could just as easily unwrap the premade pizza dough and pop it in the oven. But there is something so fulfilling about making your own dough that I don't think I'll ever go back…well of course those impromptu meals that I need something quick I might have to.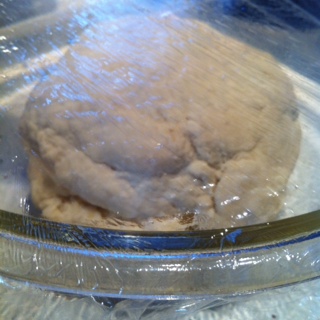 Recipe Card love it? rate it!
Pizza Dough
Ingredients
1 3/4 c. warm water
1 envelope of active dry yeast
2 tsp. sugar
3 Tbsp. olive oil
4 c. bread flour; also a little extra
2 tsp. salt
Nonstick spray
Instructions
In small bowl, combine warm water, yeast, and sugar. Allow yeast to dissolve and let it bloom (get frothy).

In standing mixer (with paddle attachment) stir together flour and salt.

Slowly add in water/yeast mixture. As the dough starts to form, switch to dough hook attachment.

Knead the dough for about 2-4 minutes in the mixer, adding a little more flour if needed (if it is still sticking too much to the bowl).

Remove the dough to a floured work board. Make sure your hands are floured and continue to knead the dough for another 2 minutes or so.

Form dough into a round ball and transfer to a bowl that has been fully covered in nonstick spray.

Cover with plastic wrap and allow to rise for 1.5-2 hours in a warm area of your kitchen. It should double in size.

When ready use rolling pin to form into desired shape of pizza stone or baking sheet.

Add toppings and Bake at 500 degrees for 12-15 minutes, or until crust is golden.
did you make this recipe?
Make sure to follow on Pinterest @easyrecipesfromhome for more easy recipes!
These are some of the pizzas that I want to try out soon!