Happy Birthday!! Who's birthday is it you might ask? Hall Nesting's!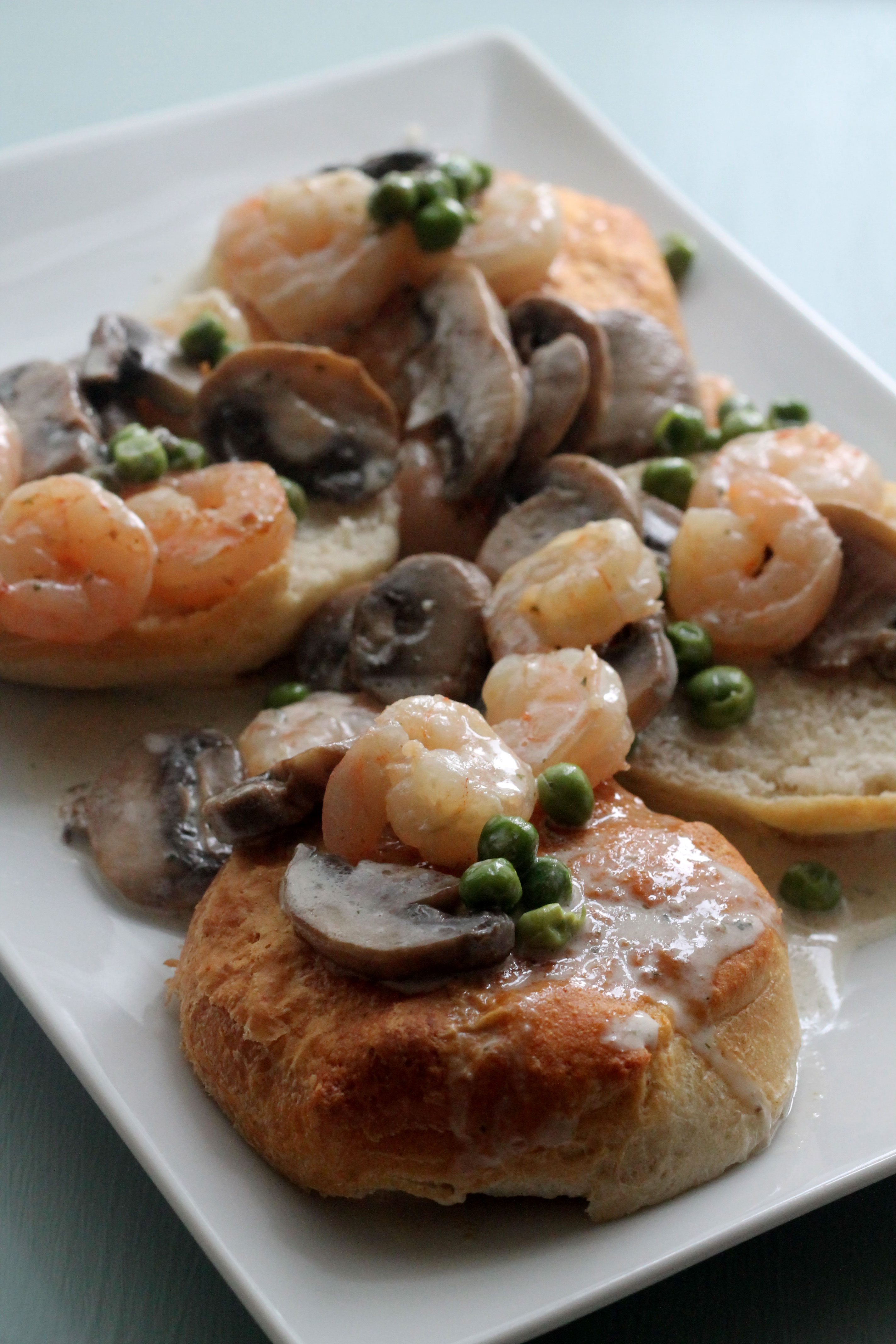 I can't believe I have now been blogging for 5 years. I was planning on celebrating with some kind of birthday cake like most do and some do a giveaway which I did…it's still going on if you haven't checked it out yet. And I definitely thought about sharing a new cheese dip since umm hello it is me. So I went with what I had planned for next week because these past 2 weeks have been a roller coaster.
John Grayson fell down last week and got a concussion. After 2 doctor visits, 2 ER visits and 1 CT scan later our sweet little boy is ok. But when you have a kid who really can't communicate yet it's very scary. And the icing on the cake is I've been sick for over a week so beyond taking care of the kids and trying to get better myself I didn't really care about anything else.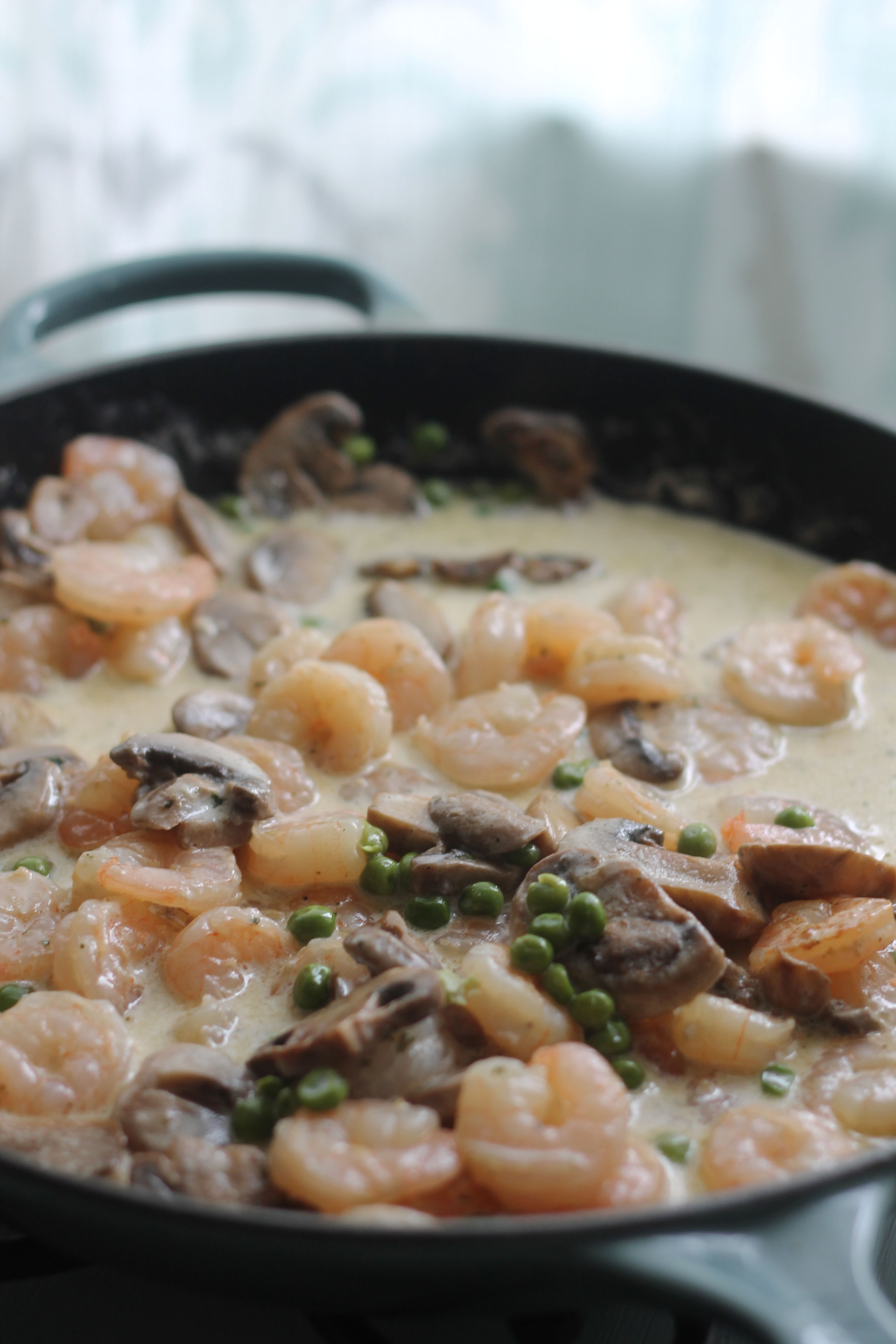 But then I remembered how much I love birthdays. I started blogging as a journal for my newlywed life. I would occasionally post my weekly dinner menus. Then, a few sorority sisters asked me to post some of the recipes. A couple months later it became a food and family blog. So here we are 3 moves, 3 dogs, and 2 babies later.
So let's celebrate with a nice glass of Pinot Grigiro and this Creamy Shrimp with Mushrooms and Peas. The best part is this is a one pot meal! Well you have a baking sheet for the biscuits and a plate to put the cooked shrimp on but I don't think that counts right? And I also know most chefs think it's an abomination of having seafood and cheese together. But I don't care because it's not their birthday. The sauce is seafood stock base and seasoned with some spices and finished off with a cheese sprinkle. I like to think of this dish being very similar to Chicken a la King.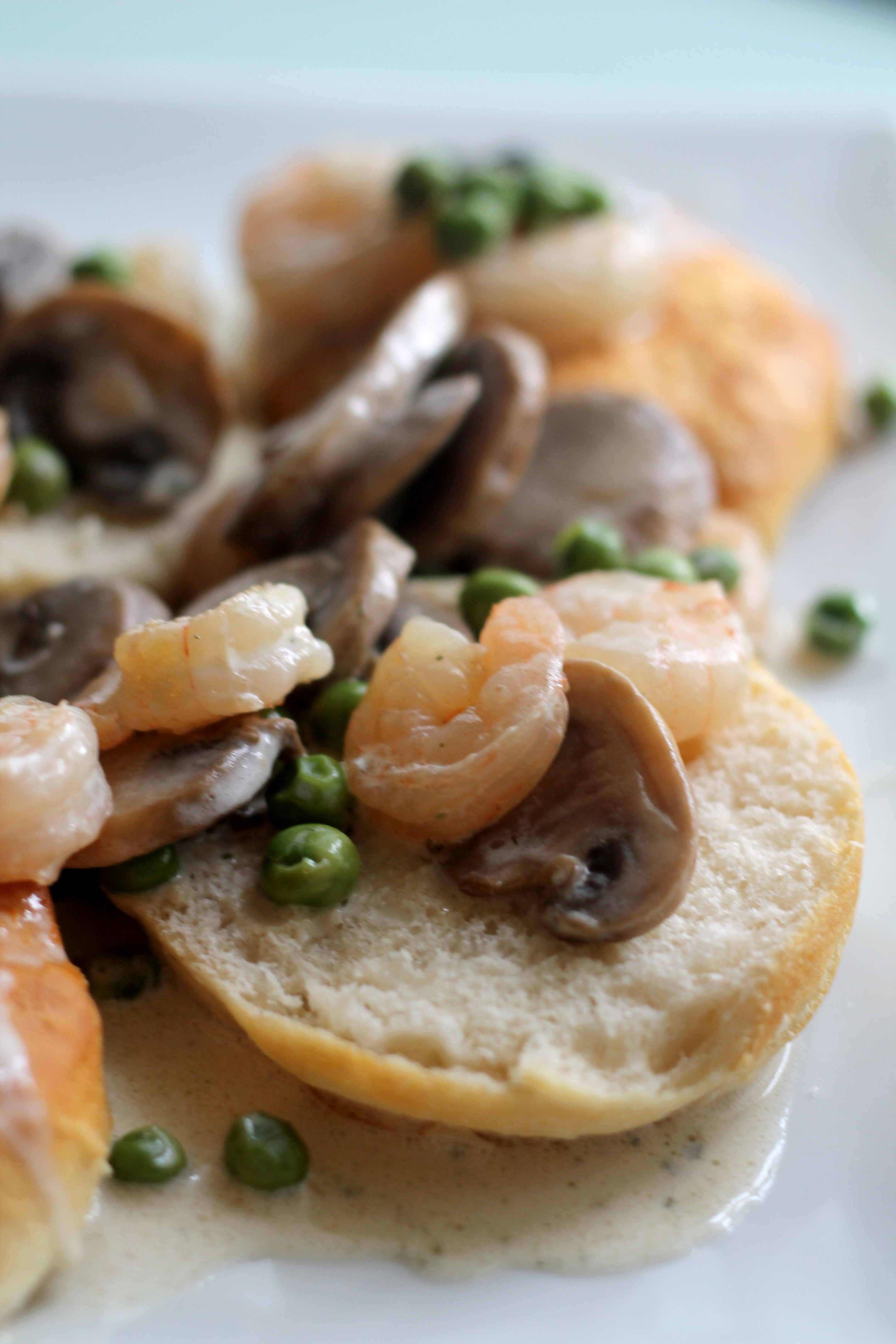 This is a perfect weeknight dish that the whole family will love. I know mine sure does.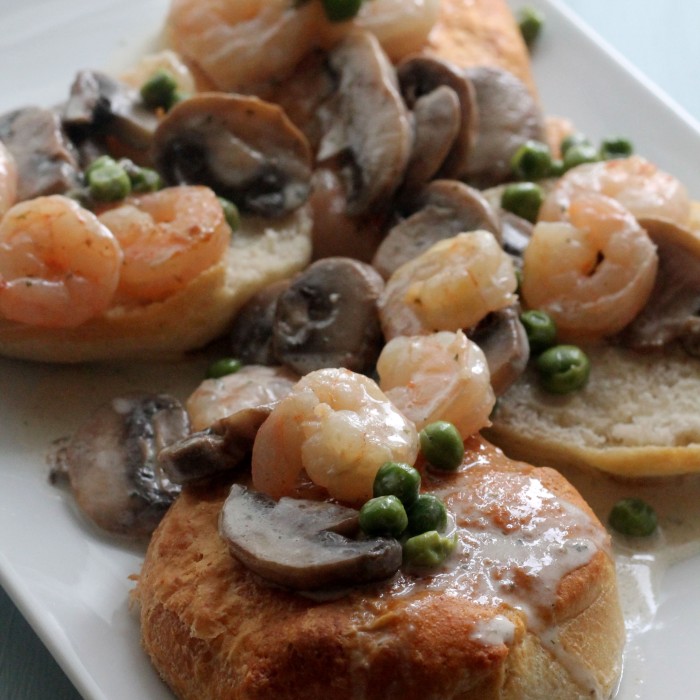 Recipe Card
love it? rate it!
Creamy Shrimp with Mushrooms and Peas
Ingredients
1/4

cup

unsalted butter

1

pound

peeled and deveined shrimp

uncooked

1

tablespoon

olive oil

8

ounces

sliced white mushrooms

3/4

cup

frozen peas

8

ounces

seafood stock

1/8

teaspoon

onion powder

1/8

teaspoon

garlic salt

1

cup

heavy cream

2

tablespoon

Penzey's Brady Street Cheese Sprinkle

can substitute grated Parmesan

Biscuits*

cooked
Instructions
In a large skillet melt 1/4 cup butter. Turn heat to medium high and add shrimp. Saute until they begin to turn pink (about 3-4 minutes). Be careful not to overcook since they will go back into the sauce later.

Remove shrimp with slotted spoon to a plate and set aside.

Add olive oil and then add the mushrooms and peas to skillet. Saute 4-5 minutes.

Add the seafood stock to deglaze the pan. Then add onion powder and garlic salt. Cook over medium heat until liquid is reduced by half, about 10 minutes.

Add the cream and cheese and cook for about 5 minutes.

Add shrimp and cook until they are heated through. Serve over biscuits.
Notes
*I use Grands Flaky Biscuits but homemade biscuits will work too.
did you make this recipe?
Make sure to follow on Pinterest @easyrecipesfromhome for more easy recipes!