Last month I remade one of my favorite soups, Spicy Coconut Soup from Surin in Birmingham. So when John and I went back this weekend of course my normal routine of Surin, Ocarrs, and Olexas continued on. But this was possibly one of the best trips home since we have moved. We got to see John's family, my family and then all of my sweet girlfriends who don't live in Birmingham came to stay the weekend with us. I miss our home in Birmingham dearly but one of the things I have learned is home is where you make it, and the one thing I love most about my home is who I get to share it with.
Chicken Salad from O'Carrs
Everyone knows O'Carrs Chicken Salad in Birmingham is the best. Well last month I stumbled across 3 recipes on Pinterest saying they had remade it. I am always skeptical so I tried it and they were great but it had been so long since I had had it from home I brought some back this past weekend. And made 3 different recipes side by side. None of them came close! While all quite good it was still not the O'Carrs chicken salad we have grown to love. So stay tuned because for those of you who know me this is a challenge that I can't back down from.
Olexas Ultimate Grilled Cheese & Tomato Basil Soup
Also notice the Cheddar Chardonnay dressing which is the best dressing I have ever had in my entire life. Too bad I cannot figure out how they make it for the life of me!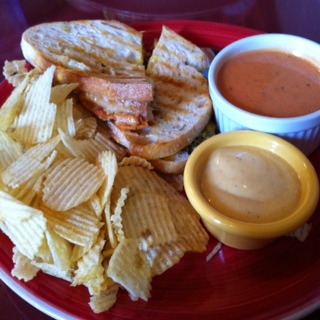 Seafood Dinner at Shoul Creek- yes, you can tell we all ate way too much. I think this was the first year no one went back for seconds
My amazing friends (actually at Surin)