Ya ya I know I missed National Pi Day (or Pie Day as us Food Bloggers call it).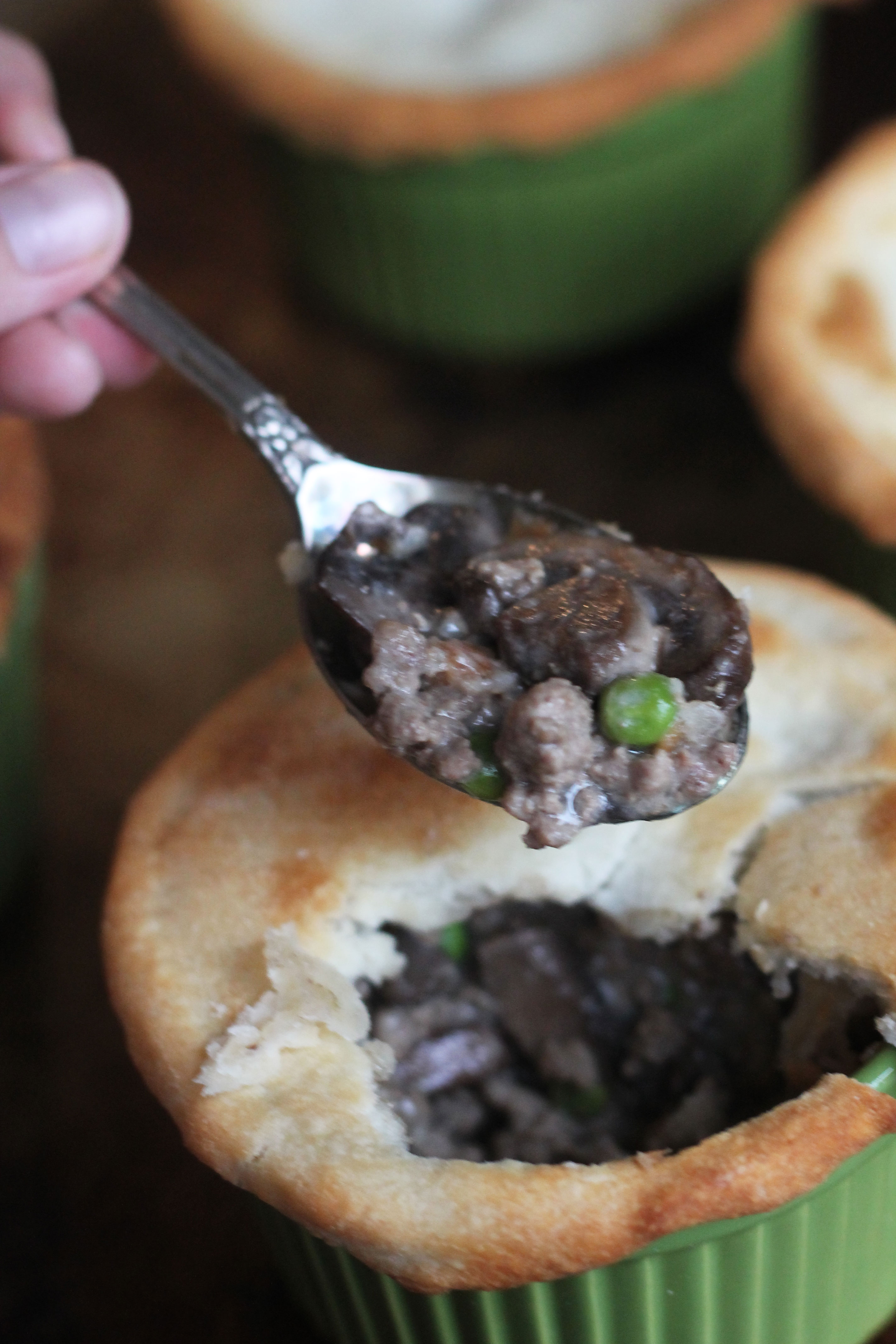 As you can tell we took a little break in the Hall Nesting HQ's the past two weeks. I recently lost my uncle and decided to take some time to spend it with my family and do a little reflection. For those of you who knew about this thank you for all your thoughts and prayers they were very much appreciated
One of the things I thought about was all the blessings God has given me. Especially the blessing of time I got to spend with him. He was the uncle that I cooked my first meal all by myself for. God also helped me to remember that he has given me this passion of cooking so that I can have those treasured memories with loved ones. This definitely brings me comfort in times of need.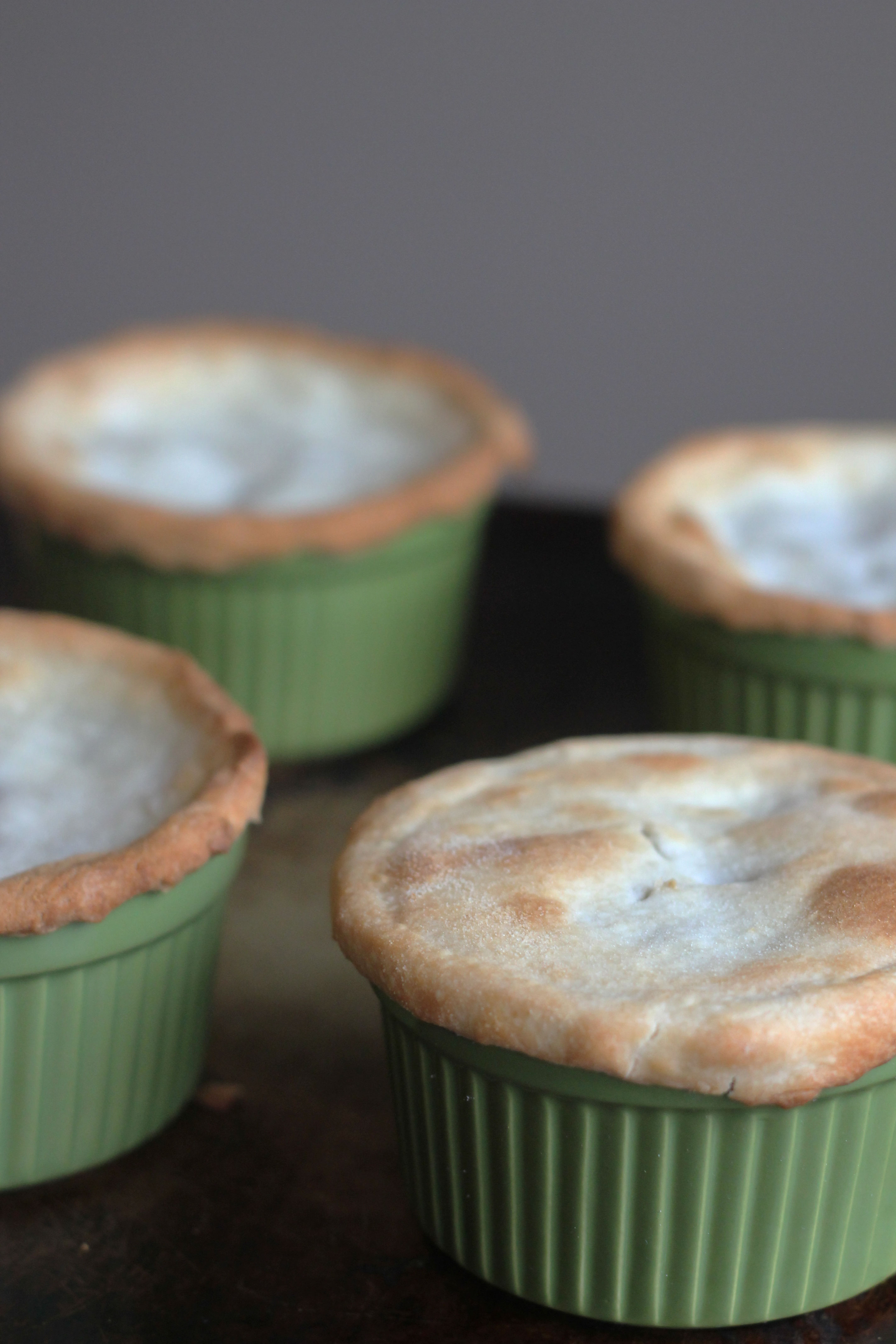 And when I seek comfort. I seek comfort food. And that's what this pie is. Any of you who have visited Hall Nesting once or twice will hear me talk about my famous Creamy Madeira Mushrooms. Despite them never photographing the way I want maybe one day you will actually get the recipe. This Madeira Mushroom and Beef Pot Pie recipe utilizes those bad boys though (minus the truffle oil).
JG's favorite food right now according to him is pot pie which is funny because when it's cooked he gets wishy washy about it. But I can count on the kids loving these mushrooms and peas. So the addition of beef all nestled in some pie crust make this a winner in our home. So I hope this dish brings you as much comfort as it has us.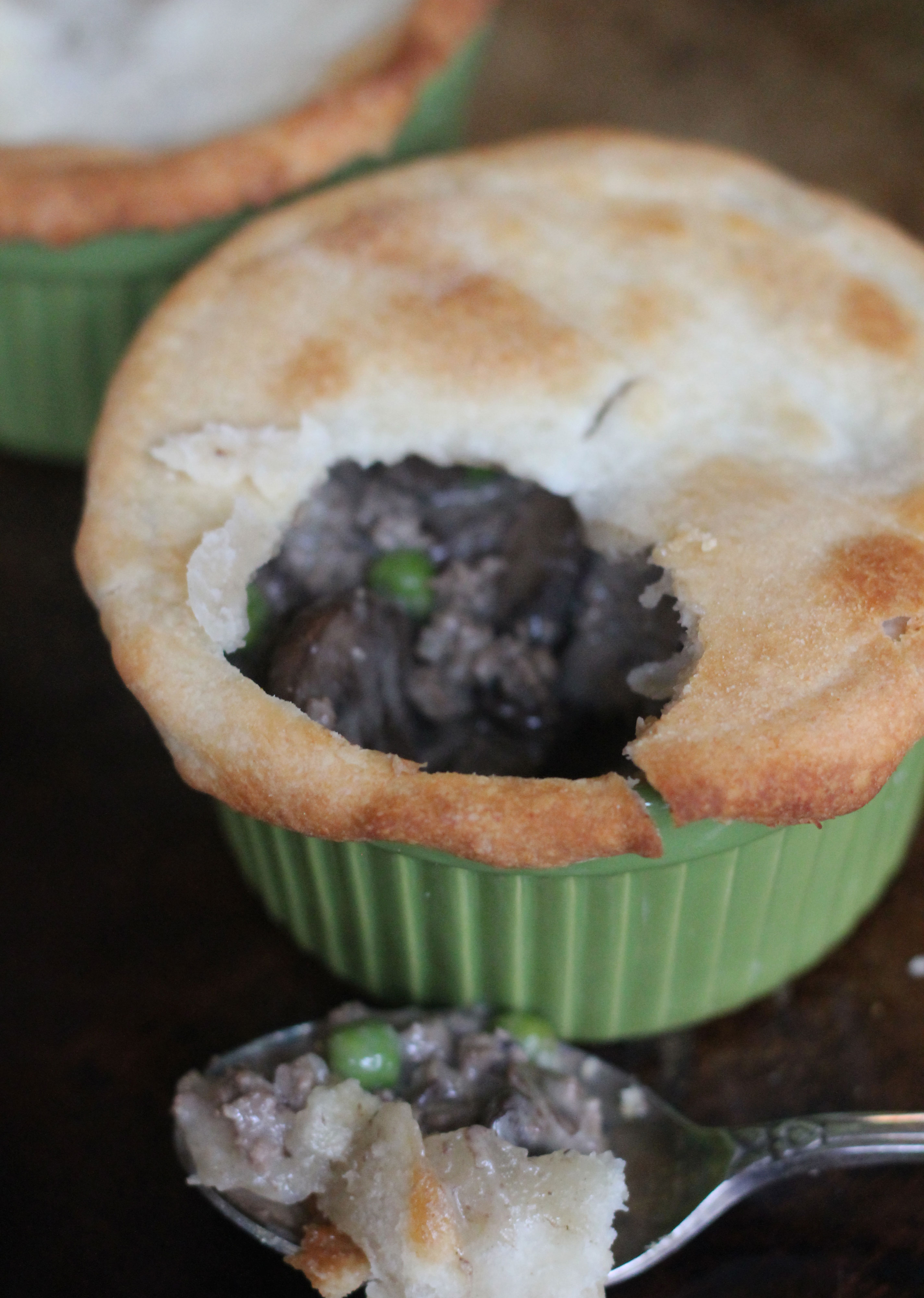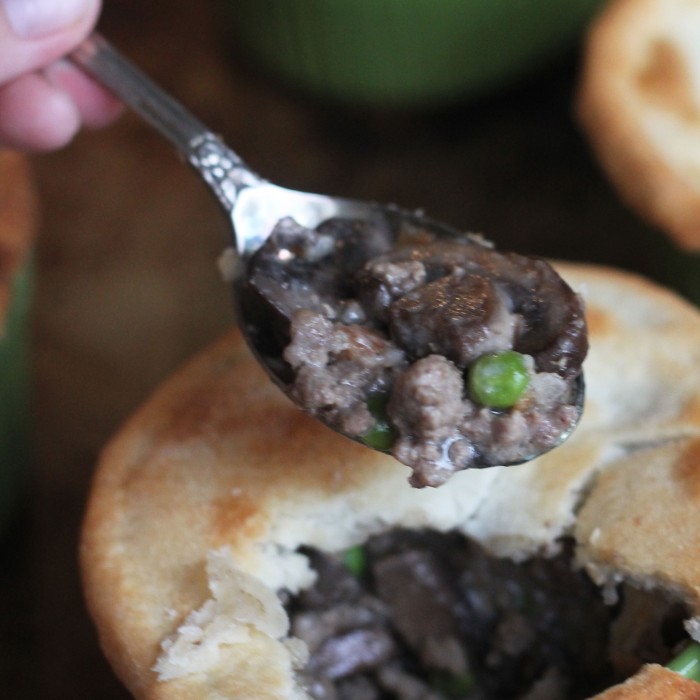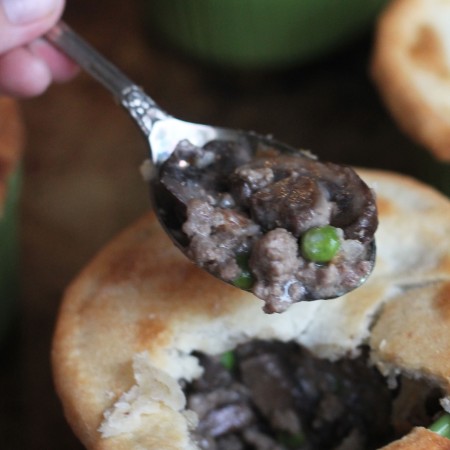 Recipe Card
love it? rate it!
Madeira Mushroom and Beef Pot Pie
Ingredients
1 1/2

pounds

ground beef

4

tablespoons

butter

divided

16

ounces

button mushrooms

1/4

cup

Madeira

1/3

cup

heavy cream

1/2

cup

frozen peas

3/4

cup

beef broth

1

Pie crust

1

tablespoon

cornstarch

1

tablespoon

water

6

small ramekins
Instructions
Preheat oven to 400 degrees.

Melt 1 tablespoon butter in large skillet. Cook beef until no longer pink and cooked through. Remove from skillet and set aside.

In the same skillet, wipe clean. Then melt remaining butter. Add mushrooms and cook over medium heat for 7-8 minutes.

Stir in Madeira and cook for 2 minutes. Add cream and bring to a boil. Reduce heat and cook until thickened about 5-6 minutes.

Add in frozen peas and beef broth. Cook on low for 5 minutes.

Add in cooked beef. If the consistency needs to be thickened - add 1 tablespoon cornstarch mixed with 1 tablespoon water.*

Roll out pie crust on flat surface. Take each ramekin and cut out circle around it to fit on top.

Spray each ramekin with cooking spray. Add in pot pie mixture until almost to the top. Repeat with each ramekin and top with pie crust. Crimp each dough piece on top of each ramekin to secure it.

Place ramekins in oven and bake for 11-14 minutes.
Notes
*If you add the cornstarch and it becomes too thick, you can add a little beef broth to thin it out (no more than 1/4 cup).
did you make this recipe?
Make sure to follow on Pinterest @easyrecipesfromhome for more easy recipes!