I was originally planning to share my new coconut cupcake recipe I came up with last week for National Cupcake Day (December 15). That was until the cupcakes did not turn out the way I expected. Problem #1 – After baking them and pulling out a clean toothpick I realized shortly after that the rest of the cupcakes had caved in slightly. And baking them longer wouldn't have worked either because the rest of the cupcake was perfect. The flavor of the cupcake was delicious so I thought ok I can work with this. Well after letting them cool and then transferring to a wire rack Problem #2 came in. They got instantly hard as a rock. So after making this awesome Coconut Buttercream Frosting I decided to warm the cupcakes back up in the microwave just because I refused to fail. I iced them and topped them with shredded coconut. And just because no one else knew all the catastrophes I still hesitantly served them for Supper Club. Everyone actually enjoyed them. I thought they were just being nice but my coworker's husband ate 2.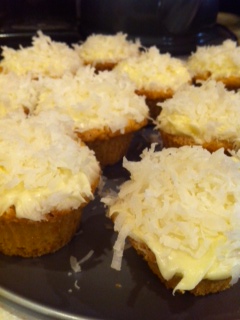 So even though I will not share the recipe because obviously it is flawed I still wanted to honor National Cupcake Day and some of the recipes I plan to try out. At least this time I might follow the actual directions until I gain some independent cupcake courage back.
Cranberry Orange Cupcakes
Cranberry Orange is my favorite combination ever!!
Limencello Cupcakes
Ever since Italy a little limencello mixed with Prosecco has become one of my favorite drinks
Spiced Chai Latte Cupcakes
Sounds great since every single morning I have my chai tea, skim milk, and 2 ice cubes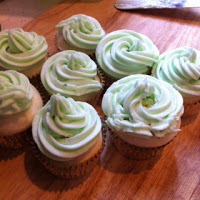 What is your favorite kind of cupcake?