I have seen plenty of food truck shows on TV (Eat Street is my favorite), seen a of couple food truck/ restaurant trucks in Birmingham and eaten at one or two at the beach. But I had never seen anything like the food trucks here in Indianapolis. We went with some friends to an event called First Friday at the beginning of summer and experienced art galleries open late and a cluster of food trucks. Now it has become a routine outing every first Friday of the month. And when I say cluster, I mean about 20-30. It was insane. I don't know what I get more excited about the thought of having a unique twist on a meal like mac and cheese, nachos, or grilled cheese or the fact that it's cheap…well most of the time. But I have now become a regular food truck scout during my lunch break at least once a week and will grab a coworker to tag along with me.
One of my favorites is the Mac Genie Food Truck
, the name does say it all- Gourmet Mac and Cheese. Some of my favorites have been…
Originial Gourmet Mac & Cheese (obviously not on my lunch break, hence the beer)
Buffalo Chicken Mac & cheese
Hog Wild – Pulled Pork Mac and Cheese (this dish made me want to try it out with my pork next time)
This week has been one in the kitchen of restaurant remakes, Tuesday I recreated PF Changs Mongolian Beef and today In honor of the Mac and Cheese truck I recreated the Panera Mac and Cheese. And like in my true restaurant remake fashion I tasted them side by side. I think I hit it out of the park. Don't believe me? Try it out for yourself!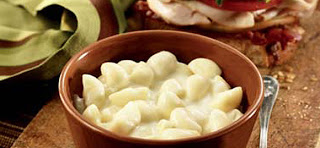 Recipe Card
love it? rate it!
Panera Mac & Cheese
Ingredients
1

lb

16 oz of pasta shells

¼

cup

butter

4

tsp.

flour

possibly a little more if it is not thickening

1 1/2

cups

whole milk

4

oz.

white American cheese

chopped

1

c.

shredded extra-sharp white Vermont cheddar

Salt for water
Instructions
Bring salted water to boil. Prepare pasta according to package directions, al dente.

Melt butter and slowly whisk in flour and cook 1 minute, whisking constantly.

Slowly whisk in milk (don't pour in all at once, you won't get the same consistency- trust me). Cook over medium heat, whisking until mixture thickens and bubbles. Remove from heat.

Add both cheese stirring until fully melted and incorporated.

Add pasta to sauce. Continue cooking for about 1 minute. If the sauce seems to thick, you can always add a little bit of the pasta water.
Nutrition
did you make this recipe?
Make sure to follow on Pinterest @easyrecipesfromhome for more easy recipes!