When John got back from Italy a few years ago the first thing he requested was for me to learn how to make risotto exactly the way he had it in Udine. First it had salmon mixed into and from what I can gather some sort of fish roe. Well I made it last night minus the add-ins. I developed a lighter version as well as a creamier version (aka the way John wanted it). When I think of risotto I think of all my cooking shows where chefs go home because their risotto is not cooked perfectly. It's one of those dishes that gets a bad rep because it can be time consuming and you are constantly stirring it but it's actually super easy if you can be just a little patient. Enjoy!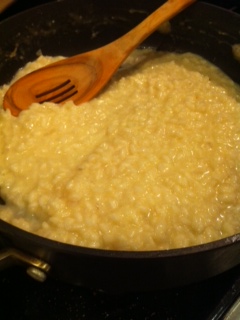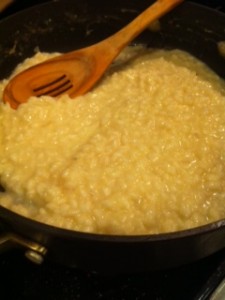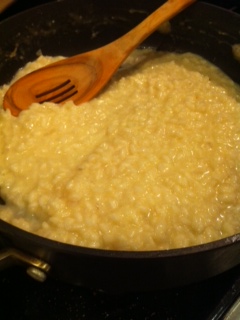 Recipe Card
love it? rate it!
Risotto
Ingredients
1

c.

Arborio rice

3

Tbsp.

butter

1

large shallot

finely diced

1/2

c.

white wine

1/4

c.

sherry

3

c.

chicken stock

1 1/2

c.

Parmesan cheese

grated

*Creamy version:

1/2

c.

sour cream

1/4

c.

whole milk

1/4

c.

chicken stock
Instructions
In sauce pan, melt 2 Tbsp. butter over medium heat. Add in rice and shallots and sauté for 1 minute. Add in wine and sherry. Stirring constantly until absorbed (about 5 minutes or so).

Slowly add in 1/2 c. hot chicken stock (warmed up in microwave or stove top) at a time. Stir often so it doesn't burn. Once it is fully absorbed, add in another 1/2 c. Repeat until all chicken stock has been added. And don't forget to keep stirring. The rice should be tender after all the liquid is added. If it is not you might need to add more chicken stock until it is al dente. Skip to step 4 if you are not making the creamy version. All together it generally takes between 20-25 minutes.

If you are making the creamy version- mix together the milk and sour cream in a small bowl. Warm up the 1/2 c. chicken stock and slowly stir into the cream mixture. This will temper the mixture. Add to the risotto. Stir and let is absorb for another 3-4 minutes.

Once all broth is absorbed, add in cheese and remaining 1 Tbsp. butter.

Serve with salmon or mushrooms or anything else. Or have it plain!
did you make this recipe?
Make sure to follow on Pinterest @easyrecipesfromhome for more easy recipes!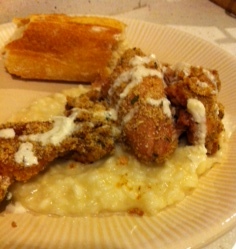 Pictured with Tarragon & Dijon Crusted Chukar