Did you ever read Cloudy with a Chance of Meatballs when you were a kid? The basic summary is food and drinks dropped like rain from the sky in a town called Chewandswallow. Sounds like a fun world to live in to me. But I wonder if they ever get to cook or even need to then because I definitely would not live there if that were the case. My mama is an elementary school teacher and will be retiring in 2 months (YAY!!!) and books like this one always makes me think of her and back to my childhood. This story came to my mind the other day when I was looking at my Food Bucket List and was trying to figure out what recipe I wanted to perfect. I wanted something simple and saw Spaghetti and Meatballs. I haven't had this in years!! Every time I cook pasta it normally has a few more steps. But this is super easy, hope you enjoy!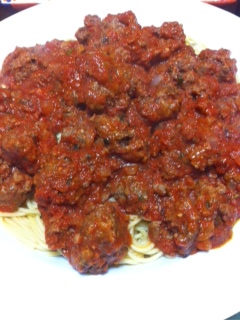 Recipe Card
love it? rate it!
Meatballs
Ingredients
1

pound

ground beef

Oil for cooking

3/4

cup

bread crumbs

1/4

cup

milk

1

egg

1/4

cup

finely diced onions

1/4

cup

grated parmesan

1

clove

garlic

minced

1/2

teaspoon

dried oregano

1

tablespoon

fresh parsley

1

tablespoon

marscapone cheese

optional but it keeps the meatballs moist

1

pound

spaghetti

1-2

cups

Tarragon and Basil marinara
Instructions
Cook spaghetti according to directions. In a saucepan over medium low heat add marinara sauce.

In a large skillet heat 2-3 Tbsp. of oil over medium heat.

While oil is heating up, combine all ingredients except marinara and spaghetti in a large mixing bowl. Mix with hands until fully incorporated.

Form meatballs into the size of a golf ball. Place on plate until ready to cook. To see if the oil is ready - I take a wooden spoon and touch the oil to see if there are a few bubbles. (Adding drops of water makes it sizzle & splatter too much).

Working in 2 batches, add half of the meatballs to the oil. Don't overcrowd the pan.

Brown on all sides - I normally let it cook for a minute and then roll it to another side. It generally takes about 5 minutes per batch.

Take meatballs out of the pan and place on a plate lined with a paper towel to absorb extra oil. Repeat with the next batch of meatballs.

Add all cooked meatballs to sauce and let it simmer on low for 5 minutes. Add meatballs and sauce to spaghetti.
Nutrition
did you make this recipe?
Make sure to follow on Pinterest @easyrecipesfromhome for more easy recipes!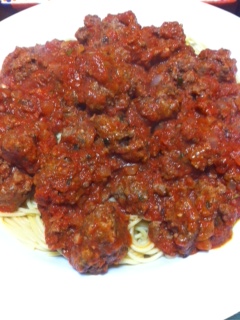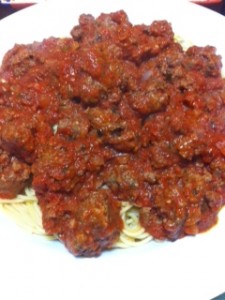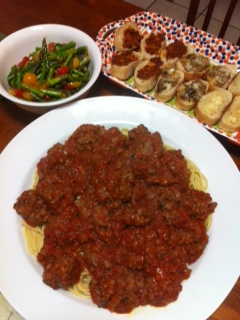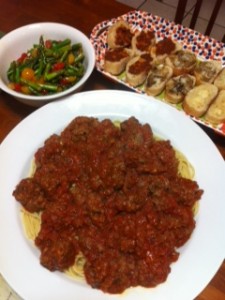 Pictured with 3 types of crostini/bruschetta (
Eggplant
, Cheesy Garlic, and Tomato) and Asparagus & Tomato Medley And if you have leftovers make a meatball sub!