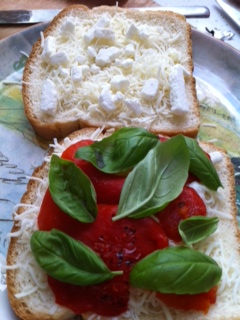 So obivously from the title you can tell I am late for two reasons. I haven't posted about my Sandwich Saturdays (now it's Sunday) in a while and then when I looked on my foodie calendar I realized it was National Sandwich Day (yesterday). One day late won't hurt me…but back to the sandwich.
I love sandwiches! You can basically put anything on a sandwich and make your own creation. One of the things I love about living downtown Indianapolis is I am literally 5 minutes away from work, so I can go home for lunches and play with the dogs. Some days I'll eat leftovers, other days I'll grab something from a
food truck
but 75% of the time I love to make sandwiches (mainly some kind of grilled cheese). My favorite inventions for sandwiches so far have been my
Georgia Reuben
and
Guinness Caramelized Onion and Roasted Turkey Grilled Cheese
. Everyone knows I love Italian food. One of my favorite less heavy dishes is a Caprese Salad. So I thought I would do a twist on this classic dish, and then I realized I was out of tomatoes, so it indeed turned out to be a real twist.
[amd-zlrecipe-recipe:103]
Next time I want to try out these sandwiches.
Classic Patty Melt at Food Republic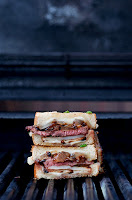 And last but not least this Granola Crusted Pear and Almond Butter Panini from my favorite sandwich maker
Panini Happy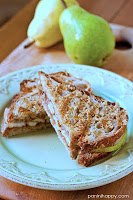 What's your favorite sandwich?