These crispy shrimp are tossed in a creamy, sweet and spicy sauce that would be perfect for an appetizer any night! Or let's be honest if you don't want to share make it an entree.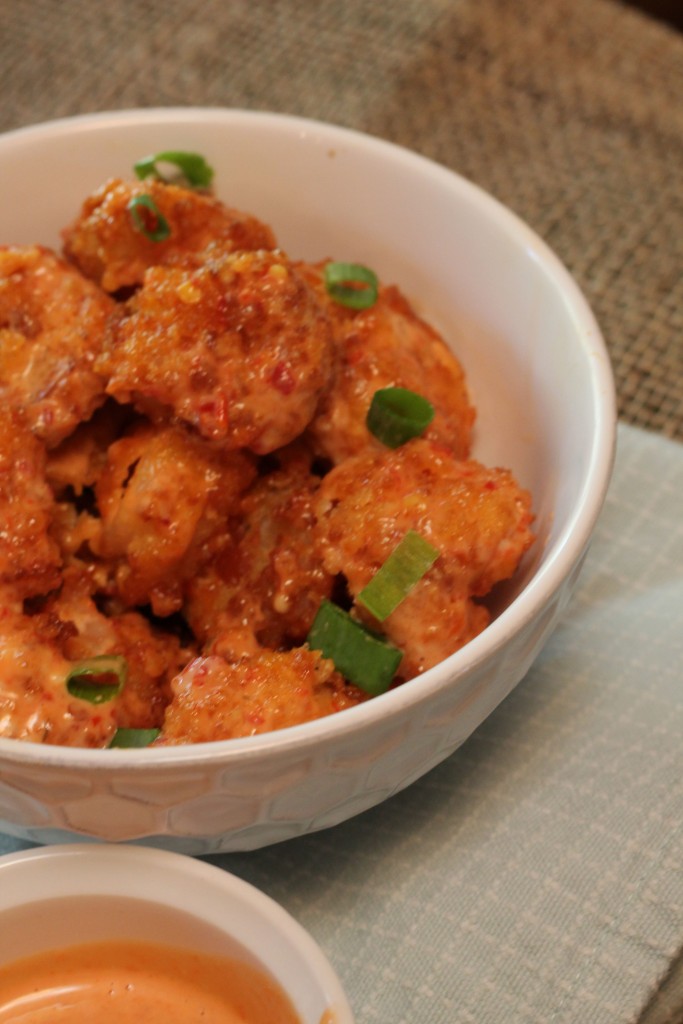 Second trimester is here and in just a few weeks we find out the gender of this baby – either Thomas Graham or Amelia May!
Now some people nest in their third trimester while I nest all 9 months. Like right now I want to go organize my pantry – even though I organized it like 4 weeks ago. And recently I had a garage sale where quite a few people said it was the most organized one they have ever been to…is that because of pregnancy or my obsessive compulsiveness? Probably both.
So how did it get to be April already? That means it's time for spring dishes like pasta primavera, some paella with seasonal vegetables now that the farmers market is starting back up, and lake time with the fam!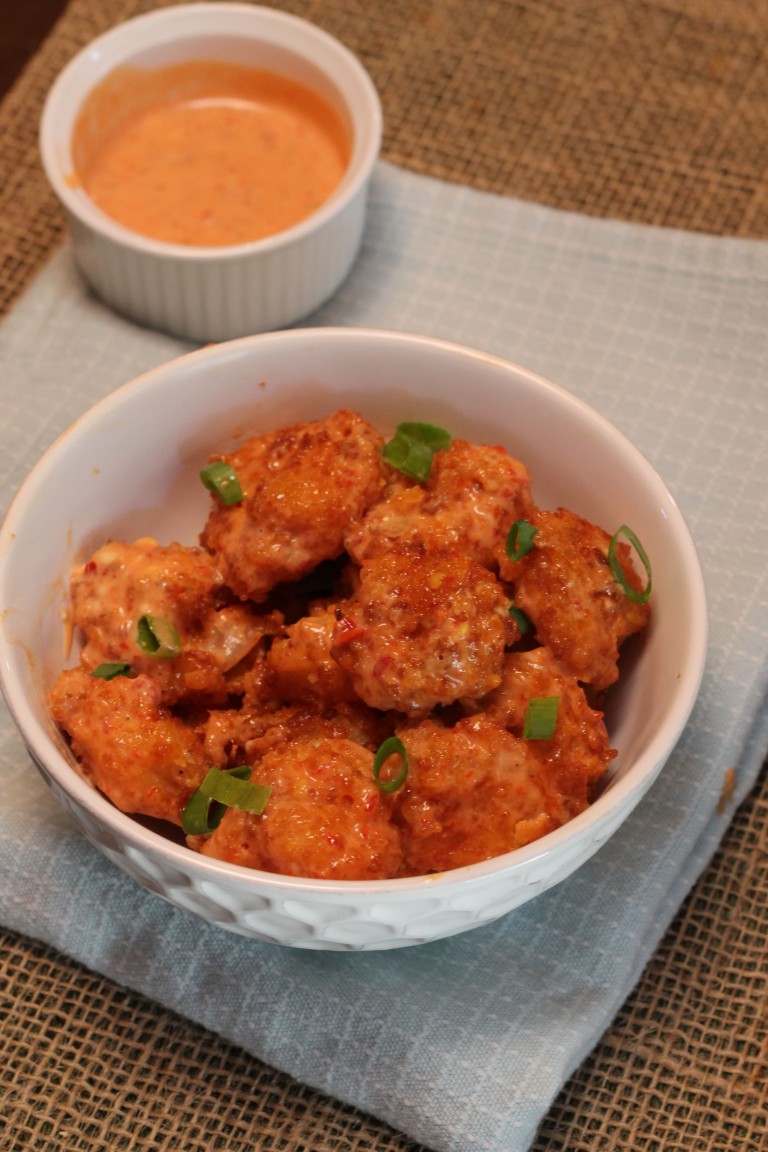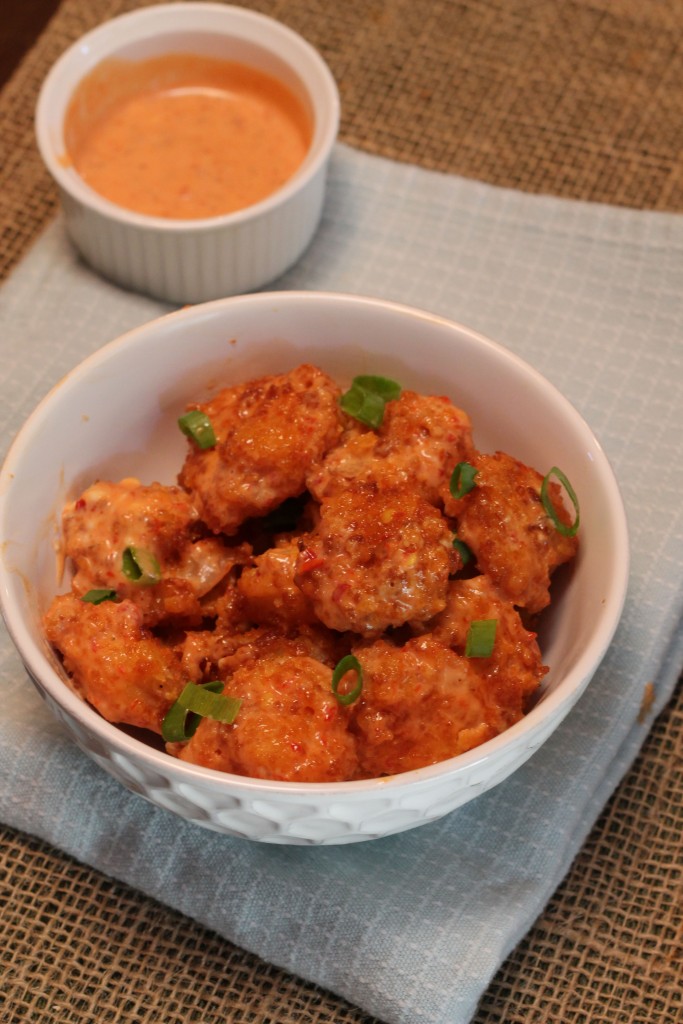 If you didn't know I love remaking dishes that I have at restaurants. Whether it be Olive Garden's Zuppa Toscana, Macaroni Grill's Mushroom Ravioli or this Bang Bang Shrimp from Bonefish Grill.
It all started when I got this amazing Krups Fryer for Christmas that John and I have used many times on fries. It got me to thinking though that I hadn't really used it on anything else. I can't tell you the last time I went to Bonefish Grill, but you know you have a good meal when years later you remember what you ordered. It was these shrimp and the Imperial Longfin.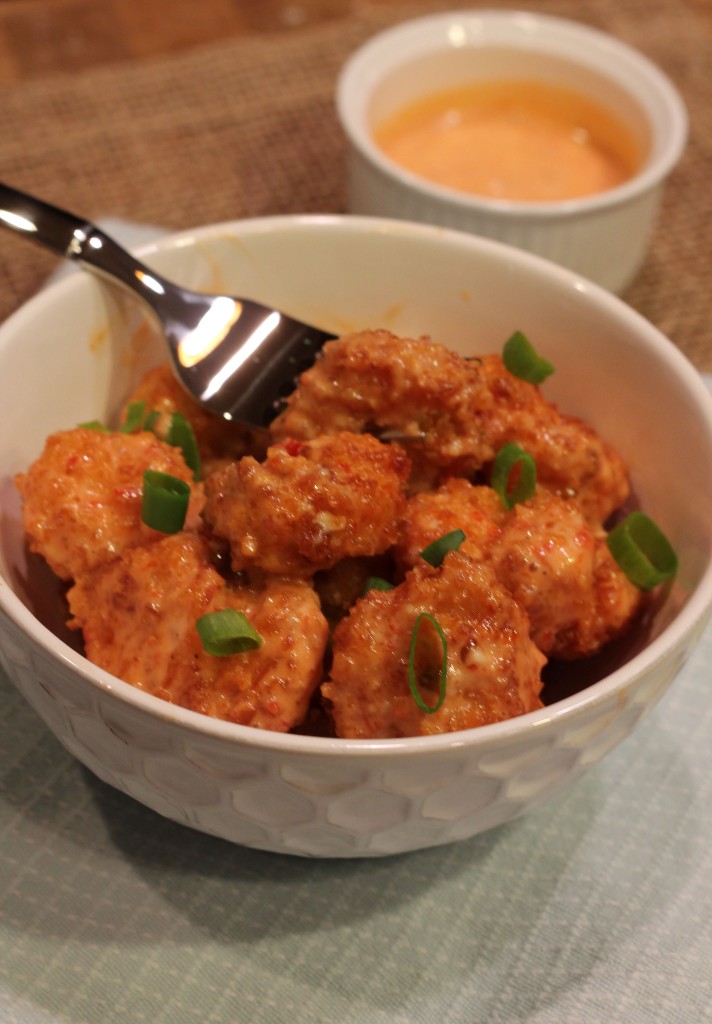 Now either I have a really good memory (okay I kinda do) and/or the meal was worth remembering. I love foods that are a mixture of sweet and spicy and that is exactly what this is. Now for those of you who don't like spice – my mama being one of them even liked it so it's not overdone I promise but not too sweet either.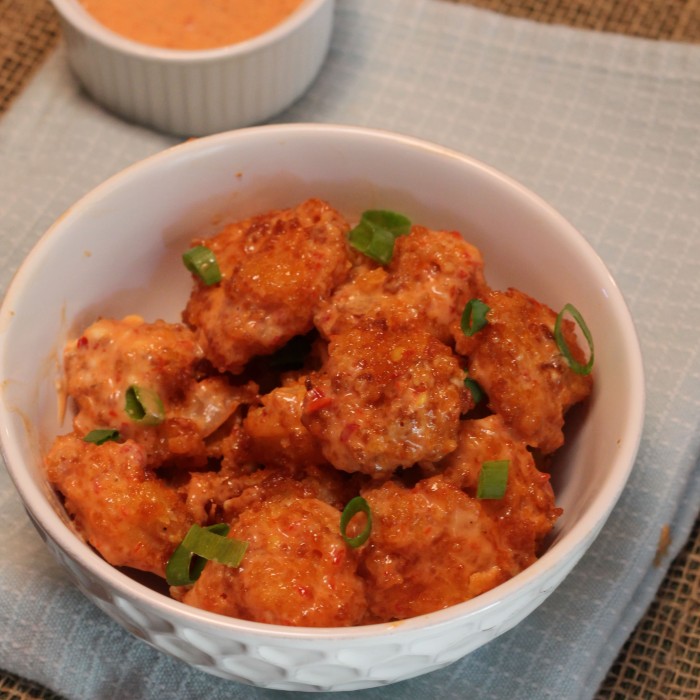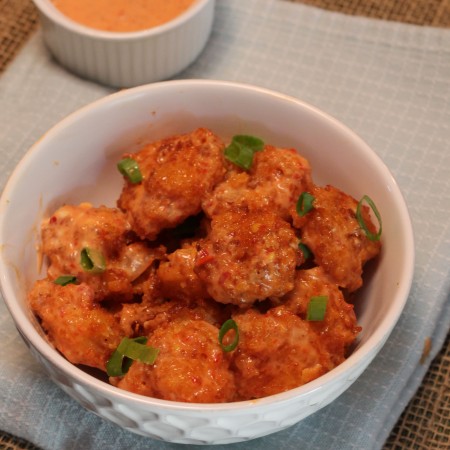 Recipe Card
love it? rate it!
Bonefish Grill's Bang Bang Shrimp
Ingredients
1

cup

flour

2

teaspoons

onion powder

2

teaspoons

garlic salt

1

teaspoon

black pepper

1

egg

1

cup

whole milk

1

cup

panko bread crumbs

1

pound

shelled and deveined shrimp

Green onions

diced for garnish
Sauce
1/3

cup

mayo

2

tablespoons

chili garlic sauce

1 1/2

tablespoons

honey

2

teaspoons

rice vinegar
Instructions
Mix all the ingredients of the sauce together and set aside.

Heat vegetable oil in fryer to 350 degrees. If using a large skillet heat to medium high heat with 1-2 inches covering pan.

Set up three breading stations. Combine the flour, onion powder, garlic salt and black pepper in one dish. In another whisk together egg and milk. In last dish have your panko bread crumbs.

Dredge your shrimp in the flour mixture, followed by the wet mixture and last the panko mixture.

Working in batches carefully add shrimp to fryer/skillet. Cook for 2-3 minutes or until golden brown.

Remove from oil and drain on paper towel. Coat with sauce.
did you make this recipe?
Make sure to follow on Pinterest @easyrecipesfromhome for more easy recipes!
Menu of the Week
Lamb with Baked Asparagus Fries
Bang Bang Shrimp
Baked Salmon Cakes with Arugula Salad