These Loaded Cheese Fries are perfectly double fried, smothered in a cheese sauce, and topped with salty bacon & fresh chives.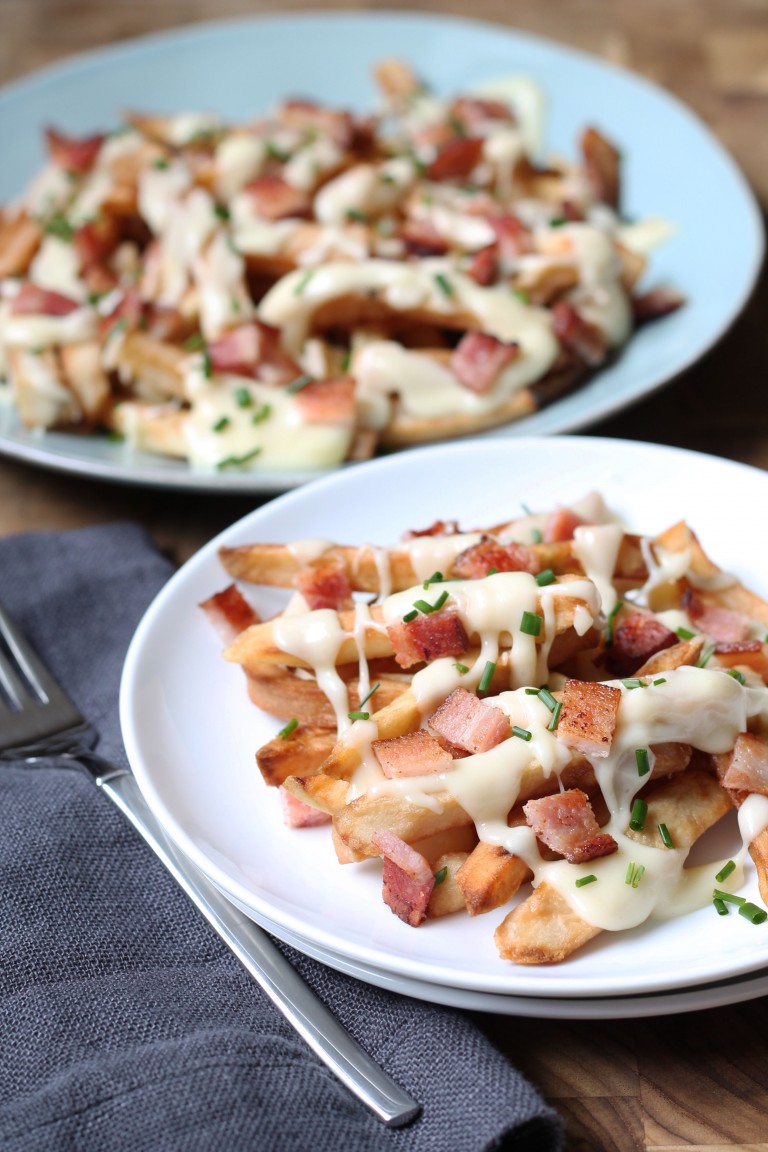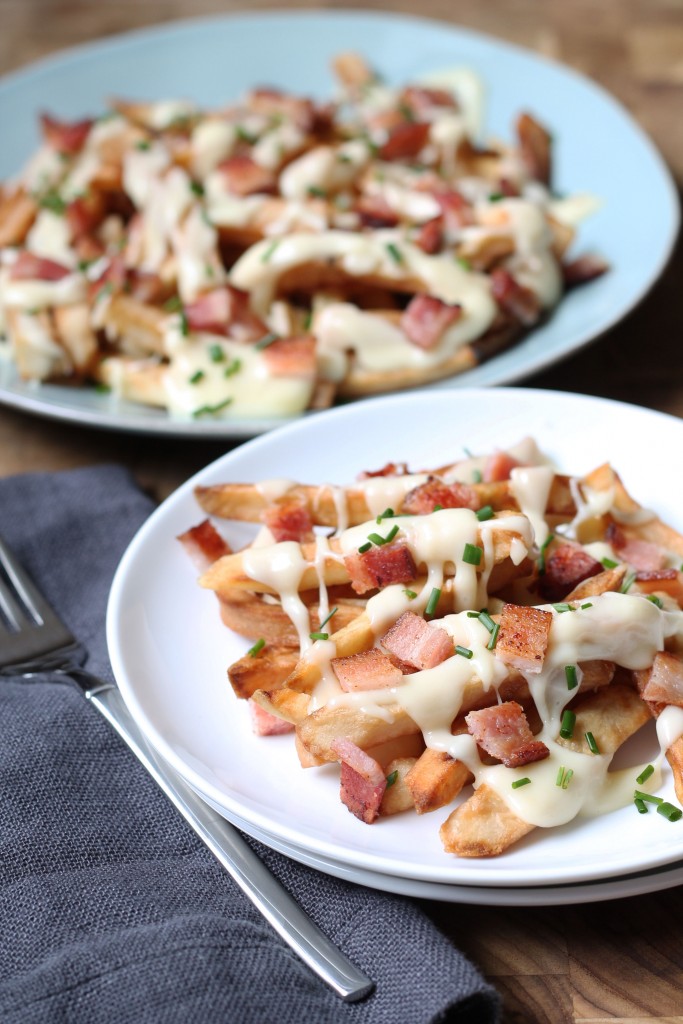 This weekend is Father's Day. What do you have planned? Well if your dad or husband loves fries like mine do then these don't want to be missed out. Yes I know they are packed full of calories flavor so why wouldn't you try them out?
Remember back around Christmas time I got this amazing fryer? Well it got put to use quite a lot lately. Hence me leaving the house at 4:30 am to go to the gym lately. Yes you read the time right – blame it John leaving for work early and JG not quite ready to let me have longer than a 10 minute workout when left at the gym nursery…one day maybe.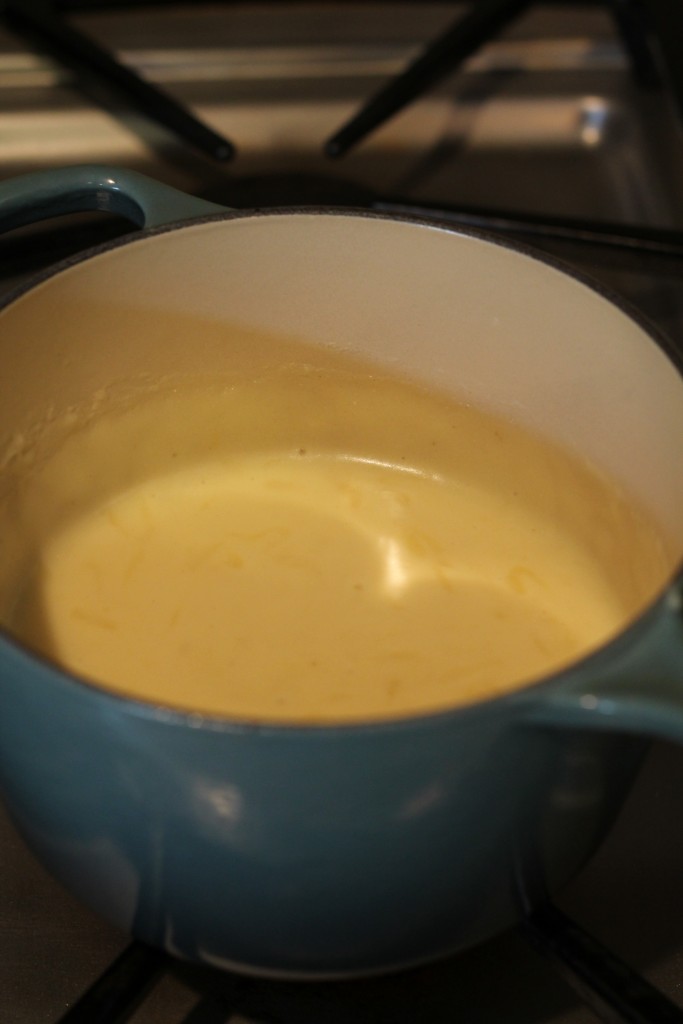 But back to this fryer – we fried up some bang bang shrimp recently and then switched to summer gear full of burgers and fries. It was a toss up of how I wanted to celebrate Father's Day recipes with yall – these loaded cheese fries or a Southern Burger with Fried Green Tomatoes and Pimento Cheese. But I put that on the backburner (no pun intended) so you could fire up the grill (pun intended) for 4th of July. Okay enough of the bad jokes….These fries!
Fries haven't met a better match than cheese. Sure you can dip them in ketchup, comeback sauce, ranch, or some say Wendy's frosties (still not sure about that one). But if you are not loading them with chili (one of my all time faves) then this probably is a close tie.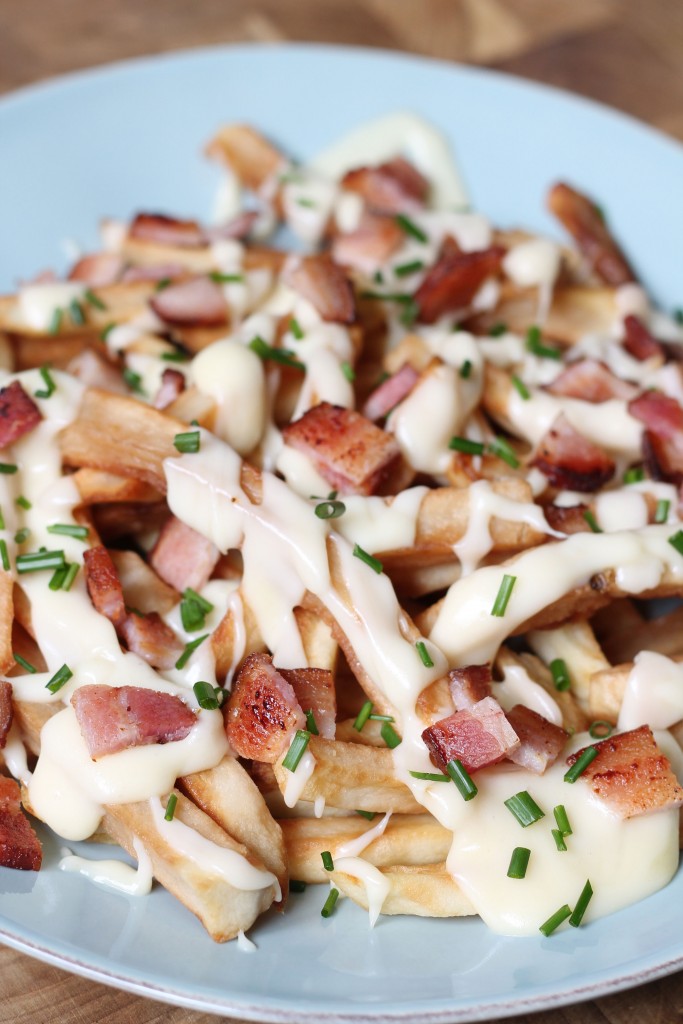 Way back when John and I first tested out some french fries we used the Michael Symon method. Then we decided to use the Hall method (aka combine a whole lot of methods until we find the perfect one). And boy did we. To prove it – John used to be the fryer and now I make the fries. Which fits perfectly to do this for him since Father's Day is all about him.
You can always use frozen fries if you are in a pinch for time. But after you make homemade french fries for the first time you will never use those frozen things again. I promise!!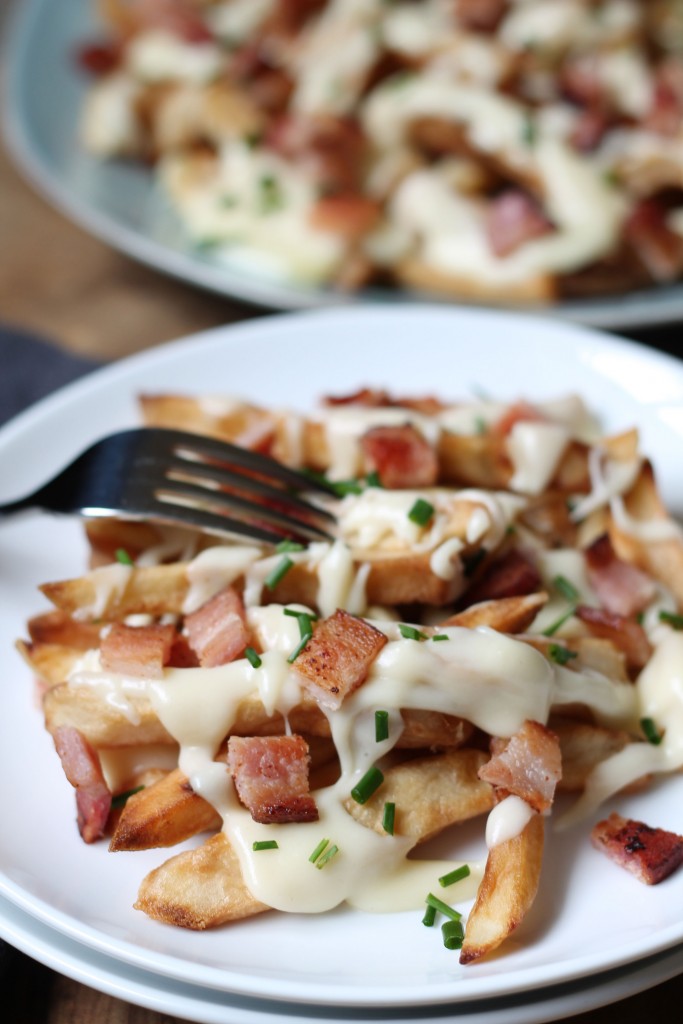 I mean if you want to go even more loaded – throw on a dollop of sour cream or oh oh how about caramelized onions..okay now I am getting a little carried away. But you get the point!
Hope you have a great Father's Day!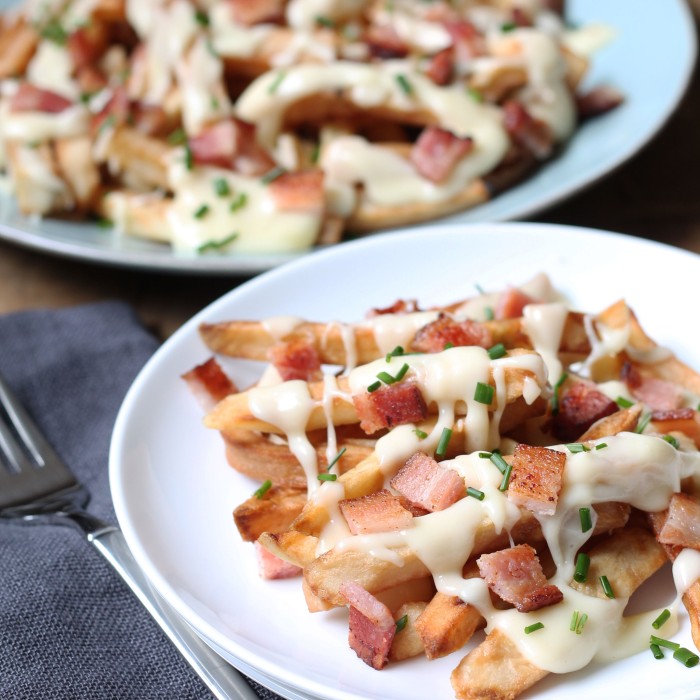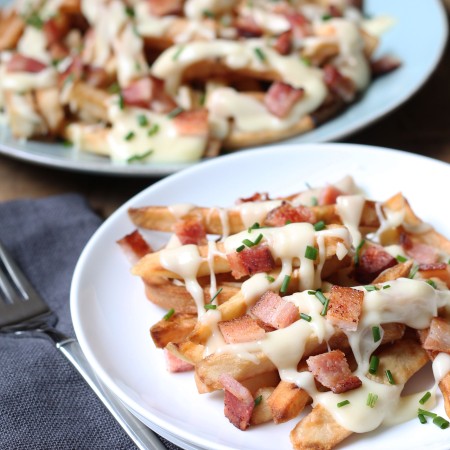 Recipe Card
love it? rate it!
Loaded Cheese Fries
Ingredients
2

pounds

of russet potatoes

peeled and cut into 1/4-1/3 inch fries

Large bottle of vegetable oil

3

tablespoons

butter

3

tablespoons

all purpose flour

1

cup

whole milk

2 1/2

cups

shredded white cheddar cheese

2

teaspoons

Dijon mustard

2

strips of cooked bacon

roughly chopped

2

teaspoons

chives
Instructions
Heat oil to 300 degrees in a heavy duty pot or deep fryer.

After the fries have been peeled and cut, place in a bowl of ice water for 5 minutes, then drain, rinse the fries, and dry them.

Add the potatoes to the oil and cook for 4 minutes.

Transfer to a paper-lined towel baking sheet. Place in fridge and heat oil to 375 degrees. And begin the cheese sauce.

Melt butter in a small saucepan over medium heat. Whisk in flour and cook for about 30 seconds.

Slowly pour in milk, whisking constantly. Allow the sauce to thicken, about 3-4 minutes. Add in the mustard and stir.

Reduce heat to low and add in cheese 1/2 cup at a time to allow each batch to completely melt while stirring. Keep sauce warm while fries cook again.

Add the fries again to the oil and cook until golden brown and crispy, about 3-4 minutes.

Place fries on a serving platter and pour cheese sauce on top. Garnish with bacon and chives.
did you make this recipe?
Make sure to follow on Pinterest @easyrecipesfromhome for more easy recipes!
Menu for the Week
Roasted Beet Salad with Honey and Goat Cheese
White Lasagna with Brussels Sprouts
Creamy BBQ Chicken Pizza & Salad with Buttermilk Ranch Dressing