So I kinda went through a burger obsession during a month of this pregnancy. And this is the reason why.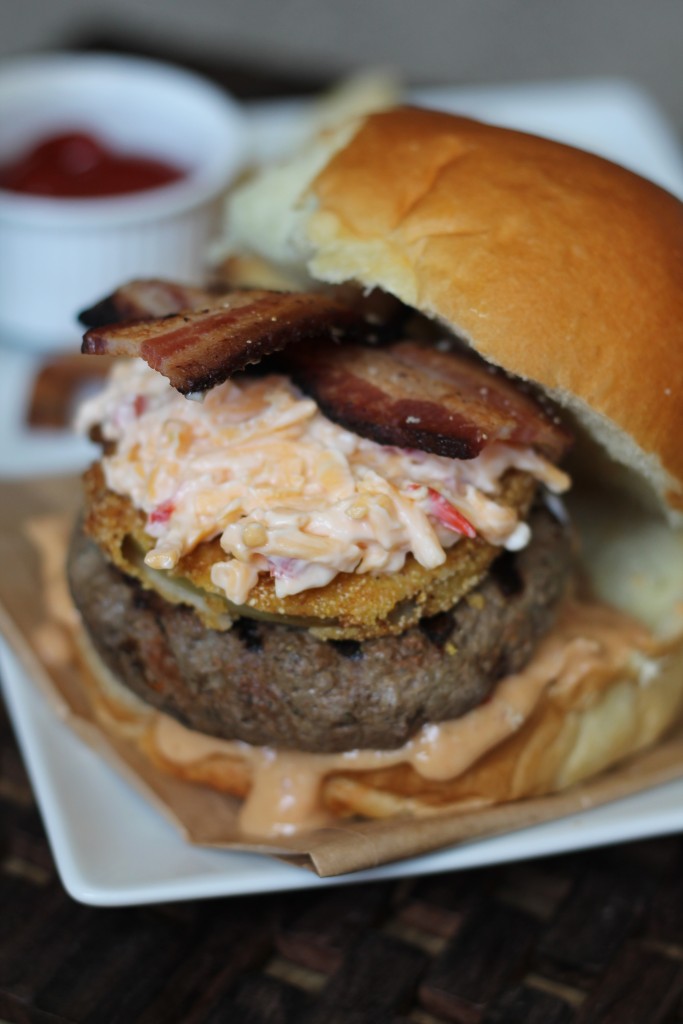 Burgers = Summertime to me!
I feel like I need to make a bucket list for this summer. Do you have one? Being in my third trimester means I am staying out of this heat. Luckily I have a son who doesn't understand summer also = pool time. I mean I love the pool – the smell of chlorine well it sounds silly but I love it. But our rear ends will be parked inside though with the AC and this burger.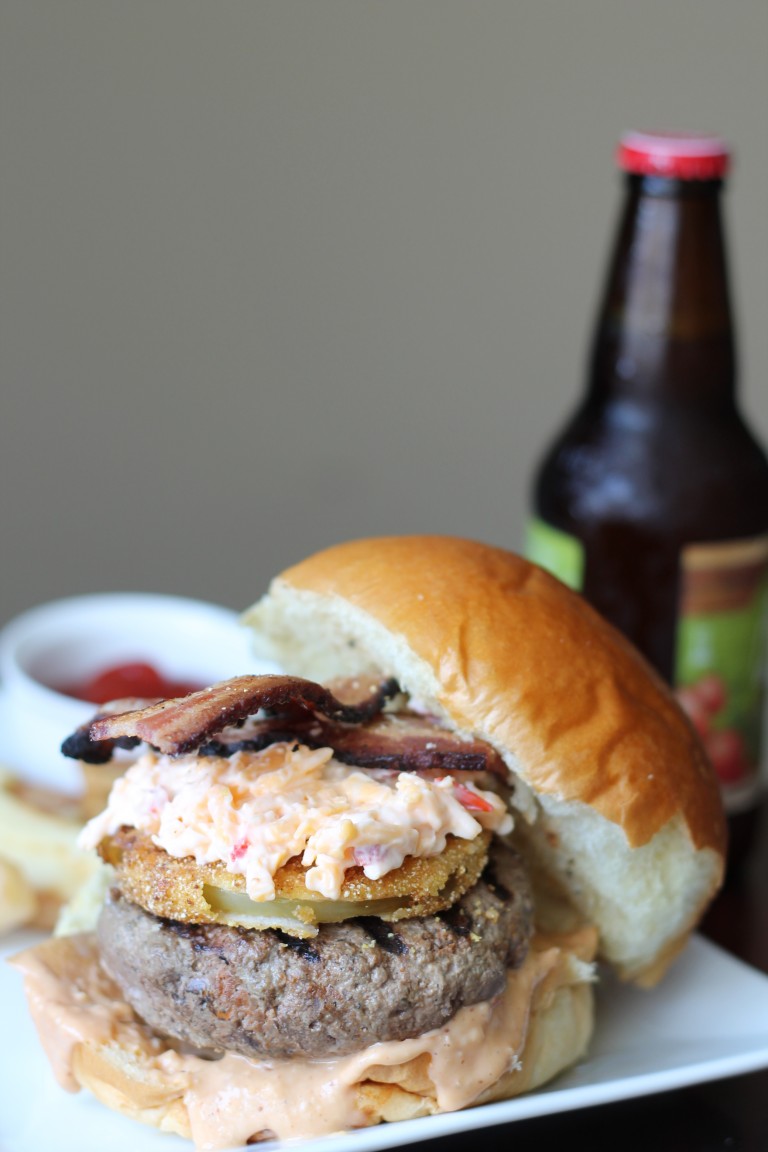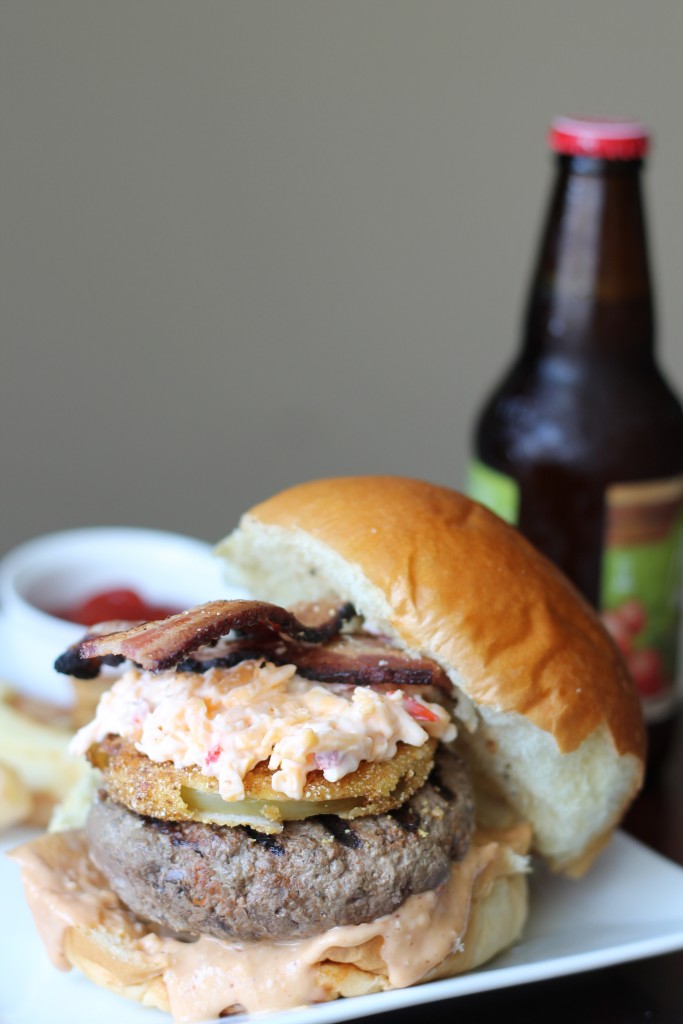 Summer means burgers firing up the grill, eating watermelon and enjoying a nice refreshing cocktail. Well I don't care for watermelon (or any melon that is) and I can't do the last thing for a couple more months so it looks like burgers it is.
Got any 4th of July plans yet? This time last year John Grayson was only 1 1/2 months old. We were still living in Indy therefore we had a very low key holiday and made these BBQ Pulled Pork Sandwiches. Thank goodness he slept through all of the fireworks but I am a little anxious to see how we will handle it this year. I know he will love seeing them, but the noise….well fingers crossed!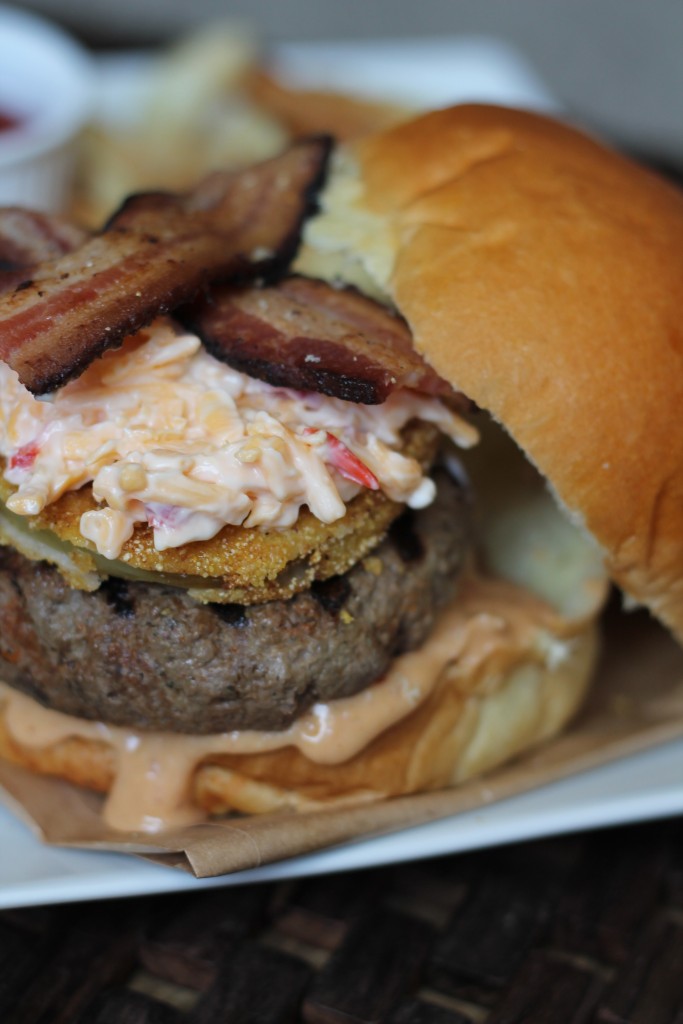 I won't repeat myself that summertime = _______. But it's true, when do you see all the grills come out? These are grilled and seasoned to perfection. Serve them alongside some cheesy fries and maybe even a vanilla milkshake!
These burgers will make you wanna take a trip through the south – You have ground beef, a marinade with spices that make up a cajun seasoning and remoulade (Louisiana style), good ol' pimento cheese (better than you find at the Masters in Georgia), fried green tomatoes (like from the Whistle Stop Cafe in Alabama), or even comeback sauce if you aren't a remoulade fan (a Mississippi staple sauce), and some Bacon (we'll just say these pigs come from Tennessee or Kentucky to continue along with the Southern theme). We missed a few places but you get the point! Yall enjoy!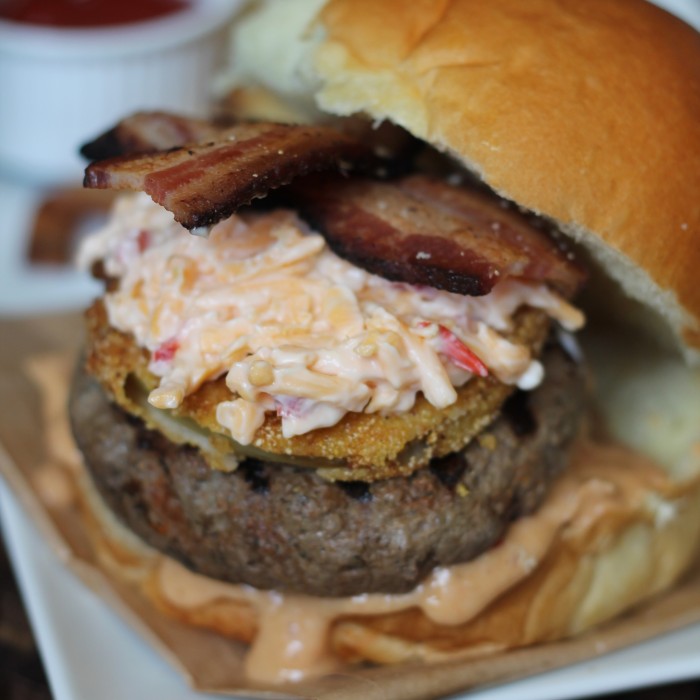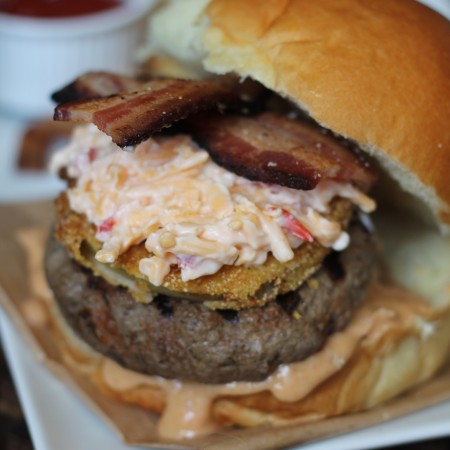 Recipe Card
love it? rate it!
Southern Burger with Fried Green Tomatoes and Pimento Cheese
Ingredients
1

pound

ground beef

4

slices

bacon

1/2

cup

Remoulade Sauce

1

cup

Pimento Cheese
Marinade
1/4

teaspoon

garlic

1/2

teaspoon

paprika

1/2

teaspoon

black pepper

1/4

teaspoon

cayenne pepper

1/2

teaspoon

ground mustard

1

tablespoon

Worcestershire sauce
Fried Green Tomatoes
4

slices

of a green tomato

1

teaspoon

paprika

1

cup

buttermilk

1

egg

1/2

cup

flour

1 1/2

cups

cornmeal

Vegetable oil
Instructions
Mix all of the marinade ingredients together with the ground beef and let it sit while you prepare the other ingredients.
To make Fried Green Tomatoes:
Heat oil in frying pan.

Combine cornmeal and paprika into one bowl, buttermilk and egg into another, and flour into another.

Dredge tomatoes in flour, dust off. Then put in buttermilk mixture, let soak for a minute. Then coat tomatoes in cornmeal mixture.

When oil is hot, carefully place the slices into the pan. After you get a golden crust, about 3-4 minutes flip for an additional 2-3 minutes (not browning them too much).
Burger
Divide the meat into 4 patties.

Heat grill pan/grill to medium high heat. Cook each burger until your desired doneness is reached (I like mine about medium 3-4 minutes per side).

To assemble the burgers, spread 2 tablespoons of remoulade on the bottom bun and place the burger on top. Add one fried green tomato on top of the patty, followed by 1/4 cup of pimento cheese and a slice of bacon. Top with other bun and serve immediately.
did you make this recipe?
Make sure to follow on Pinterest @easyrecipesfromhome for more easy recipes!
Menu of the Week
Ribeye Steaks with Creamy Mushroom Madeira Sauce with Twice Baked PotatoCasserole and Strawberry Goat Cheese Salad
BBQ Pulled Pork and Baked Beans
Ratatouille Galette