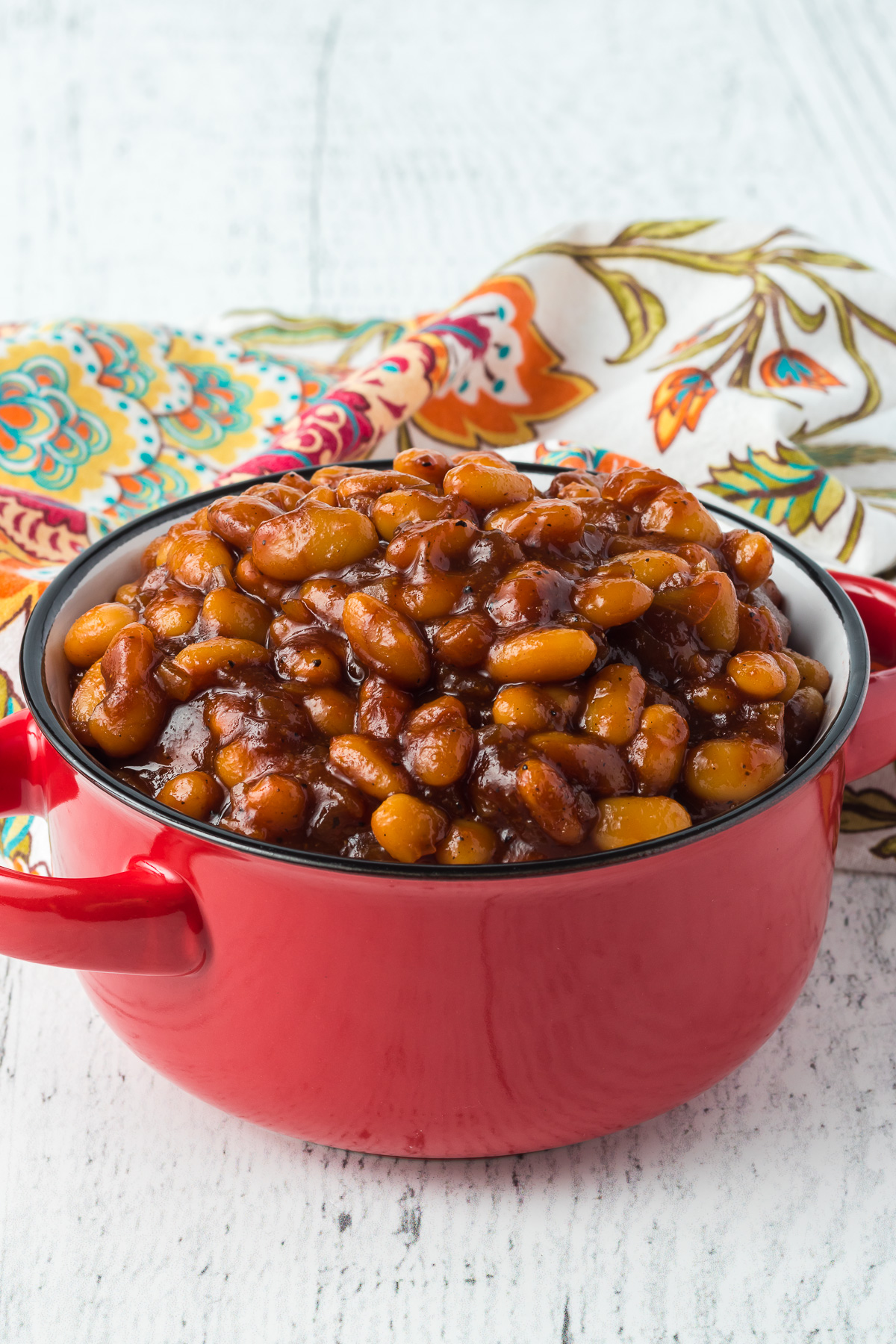 My favorite Baked Beans are the perfect side dish for summer potlucks and backyard BBQs, and even make a great family dinner when camping! The sweet and savory flavor makes this the best baked beans recipe! Don't worry – they are SO easy to make and ready in about an hour!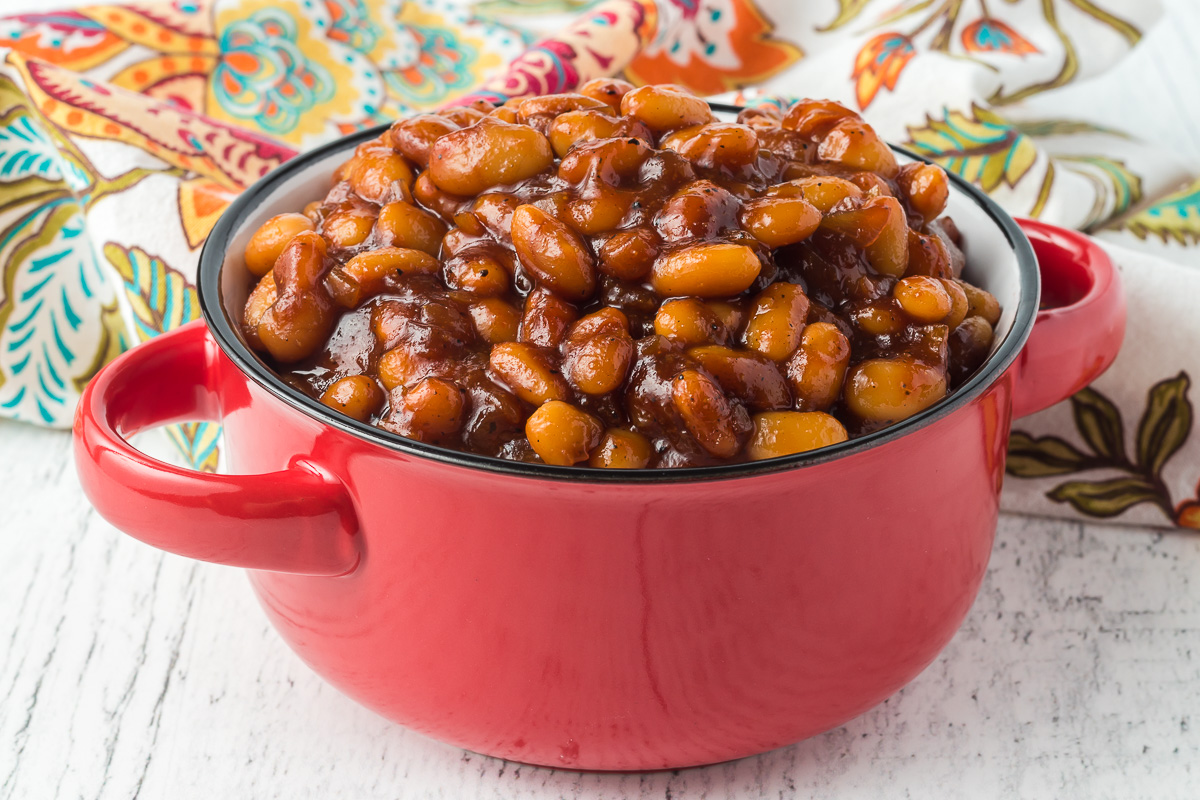 Do you make your beans from scratch? I've tried soaking dry beans before, and it just hasn't worked for me. Maybe I'll try the crock pot method next time because no matter how long I soaked them before cooking them, they were just not the tender consistency I wanted.
This recipe uses canned beans, which I always have on hand, and since this blog is all about making easy recipes, it's so much more convenient to make delicious baked beans this way. And no one will ever know unless you tell them.
Sure, you can buy canned baked beans, but these are better than the canned version and better than many BBQ restaurants too! Not to mention, making your own is so much cheaper than eating out these days. Give it a try!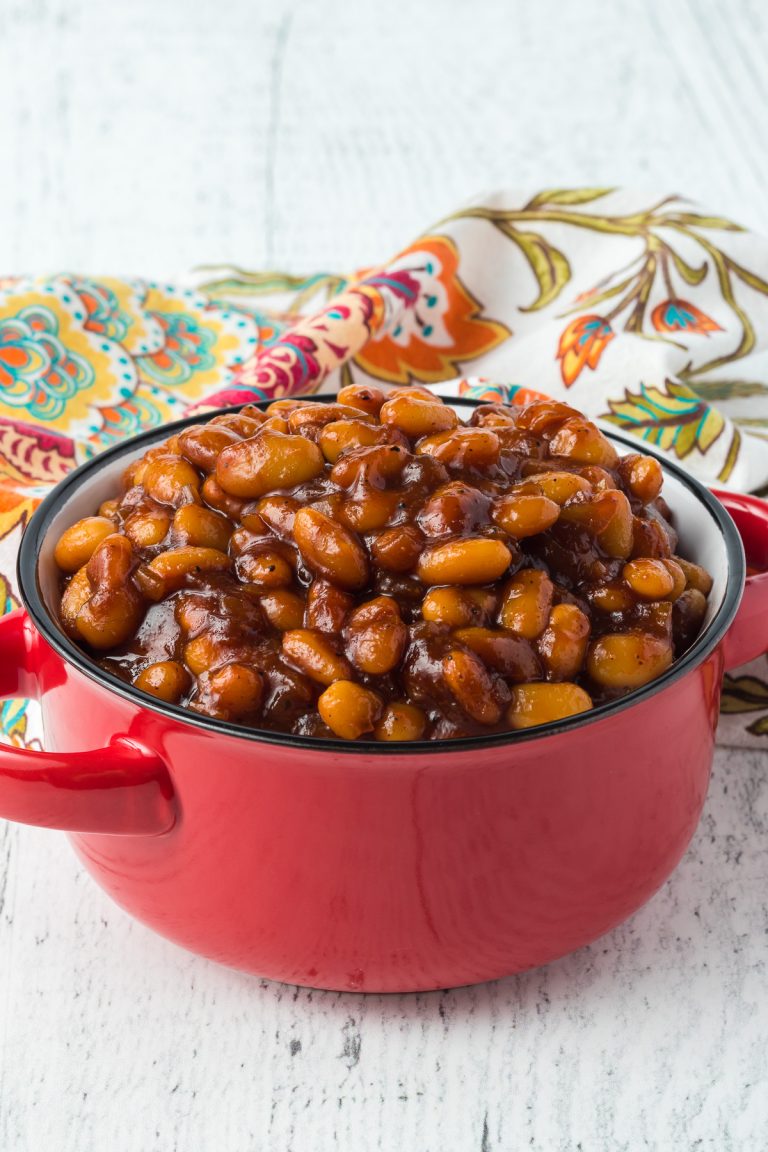 Now all you need to prepare for your summer barbecue is some pulled pork or burgers and hot dogs, creamy coleslaw or potato salad, and some macaroni and cheese. And to finish it all off, don't forget some ice-cold tea and watermelon for dessert!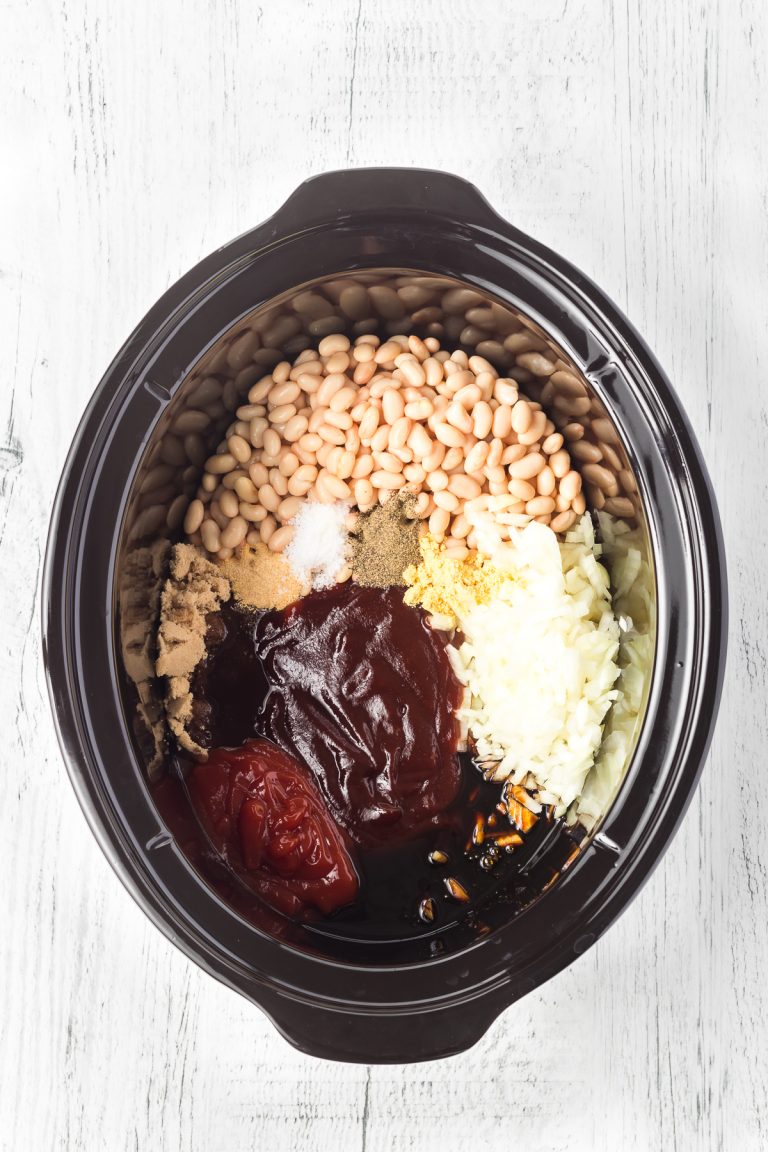 Ingredients for Baked Beans
Here's what you need to make these easy baked beans:
(ignore the fact that the ingredients for this recipe are in a slow cooker. I had an oops moment. LOL)
2 cans Great Northern Beans, rinsed and drained
1 cup white onion, diced
¼ cup molasses
¾ cup of your favorite BBQ sauce
1/3 cup light brown sugar
1/3 cup ketchup
1 tablespoon Worcestershire sauce
1 tablespoon dry mustard powder
1 teaspoon garlic powder
1 teaspoon salt
1 teaspoon black pepper – this can be reduced it you don't want that much of a kick
see recipe note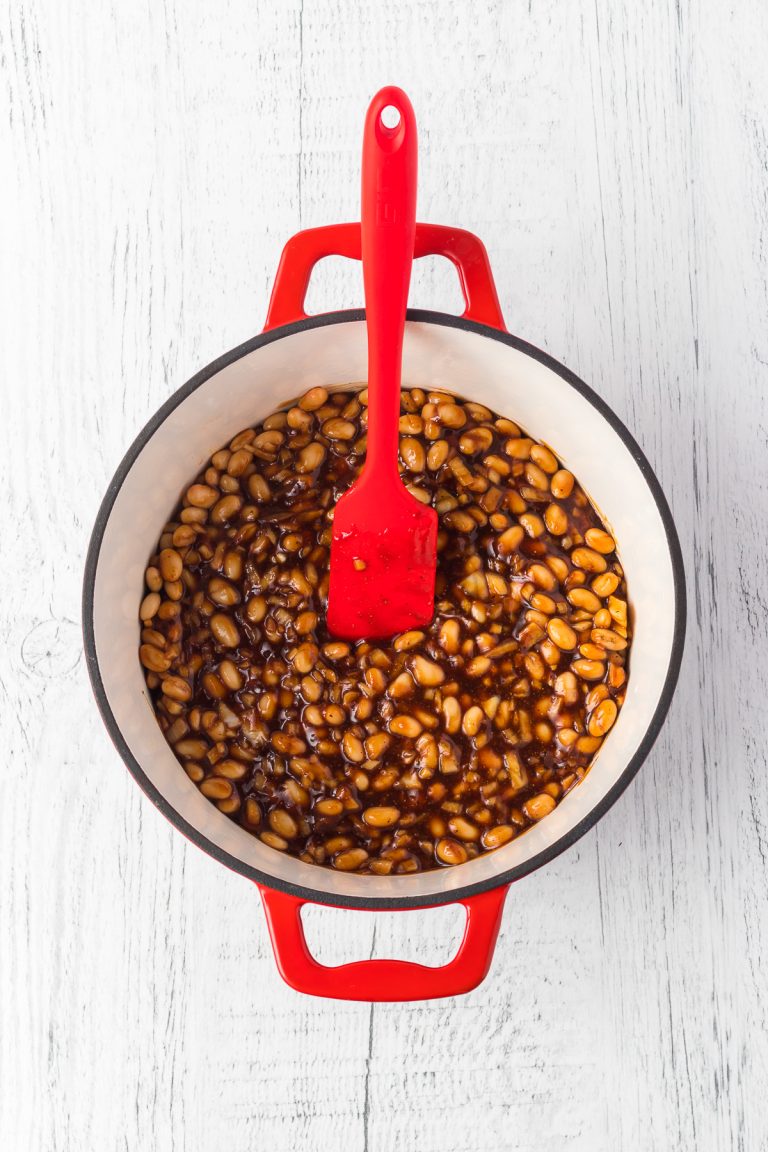 How to make Baked Beans
This baked beans recipe is simple to make and will be ready in about an hour!
First, heat the oven to 350 degrees F. Combine cans of beans, diced onion, molasses, barbecue sauce, brown sugar, ketchup, Worcestershire sauce, garlic powder, salt, and pepper in a large bowl. Stir well.
Transfer the mixture to a large baking dish prepared with cooking spray.
Cover the beans and place them in the oven to bake for 50 minutes. Then uncover the beans and bake for another 10 minutes.
Remove the beans from the oven and let them cool for about five minutes before serving. Enjoy!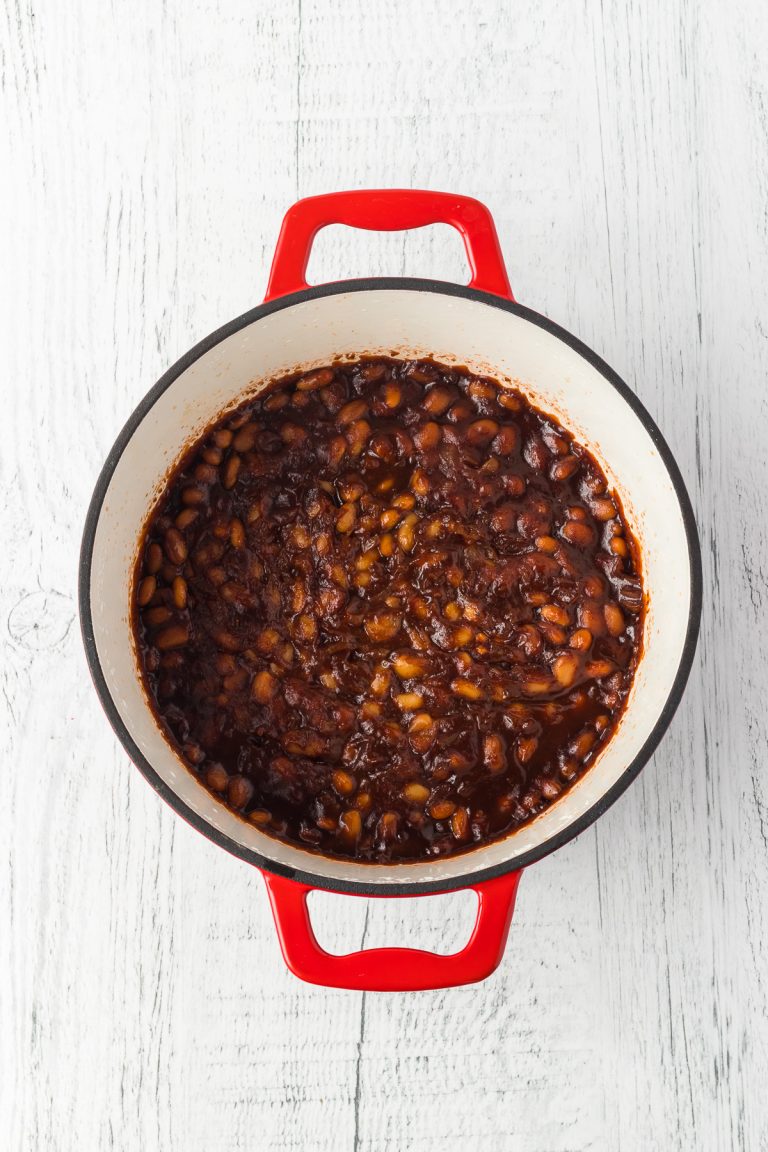 Recipe Variations
Everyone has their own favorite additions to baked beans, and we each probably think our own recipe is the best! Try one or more of these popular add-ins:
Salt pork – fry this up in a skillet before adding it to your baking dish.
Bacon – take a few slices of bacon, fry them, then crumble them into your baking dish with the other ingredients.
Sliced sausage- consider this a more mature version of franks 'n' beans!
Green bell pepper- throw these in with your onions for a sweet spicy crunch.
Spicy brown mustard (in place of dry mustard)- add a little bit of a kick with spicy mustard instead of traditional yellow ground mustard.
A teaspoon of apple cider vinegar- this adds just a bit of tanginess to your dish.
A tablespoon of maple syrup- if you like your beans sweet, add this, or swap the syrup for the brown sugar in the recipe.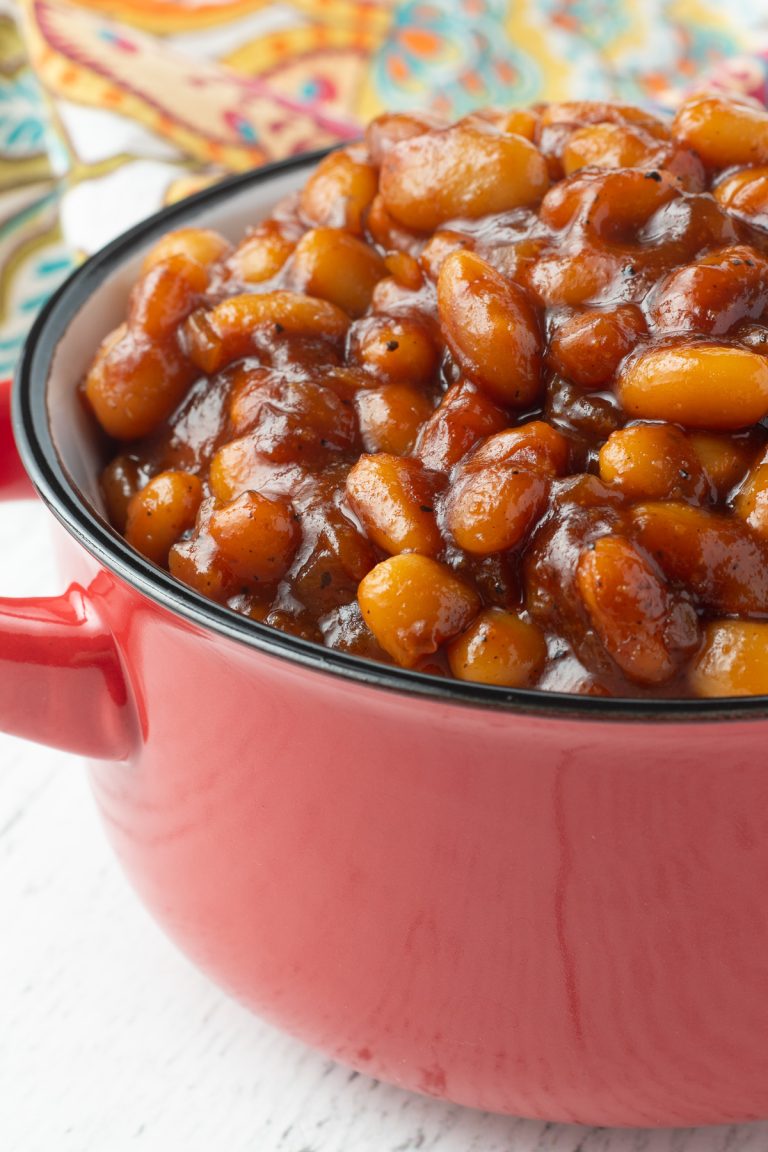 FAQs
Can I use a different can of beans for this easy recipe?
Yes, you can use Navy beans or even Cannellini beans. The key difference is the texture, but the flavor is very similar, and unless you have a really particular palate, you probably won't notice the difference!
Are these Boston baked beans?
That's a tough one. Boston baked beans typically rely on molasses to sweeten the tomato sauce, while traditional baked beans use brown sugar. This recipe uses both, so eh, probably not.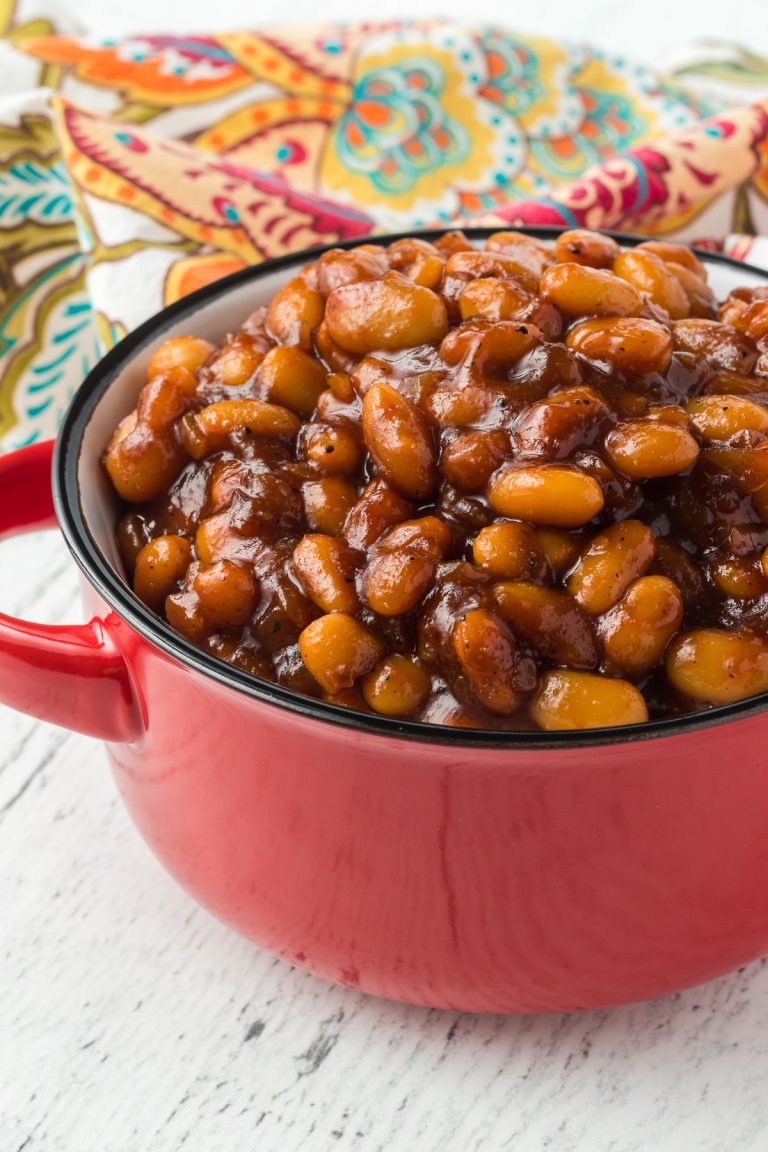 Can I make this recipe in a slow cooker?
Yes, this recipe is easy to make in a Crock Pot or other slow cooker. Cook the diced onion with a splash of oil in a skillet over medium heat until translucent, then transfer it to the crockpot. Add the rest of the ingredients, then cover and cook on low heat for about 6 hours.
After cooking, add additional salt and pepper to taste. Serve and enjoy!
How do I store leftover baked beans?
Once these beans have cooled completely, transfer them to an airtight container and store them in the refrigerator. They last about 3-5 days in the fridge.
You can freeze baked beans too! When cool, place them in a freezer-safe container. Leave at least an inch of space between the beans and the lid as they expand when they freeze. Frozen baked beans will keep for up to 6 months in the freezer!
To thaw baked beans, let them thaw in the refrigerator overnight. Transfer them to a large saucepan and reheat on low to medium heat for about ten minutes or until warmed through.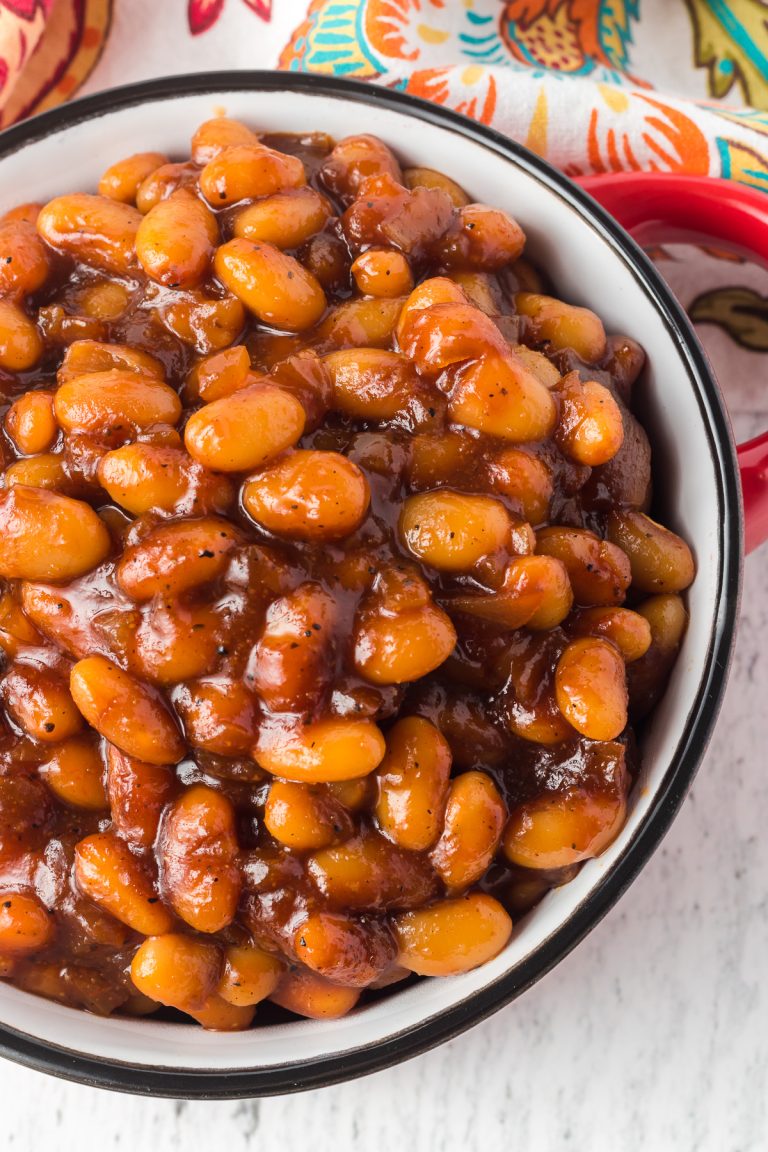 Looking for more Side Dishes to bring?
If you've been assigned to bring a side, try making one of these crowd-pleasing dishes:
Mexican Corn Salad– this fun side dish is like street corn in a bowl! The lime dressing adds a tangy punch that I think you'll love!
Asian Slaw– If you need a change from the classic coleslaw dish, this Asian slaw is just the thing! It's made with sesame oil, rice vinegar, and Greek yogurt, plus ramen noodles for that crunch factor. So good!
Crunchy Pea Salad– Who wouldn't want some peas, crunchy radishes, and cucumbers tossed in a sweet and tangy vinaigrette?
Fried Green Tomatoes are a Southern classic! If you've never had them, you have to try them! Toss green tomatoes in a cornmeal batter, then fry them up. Delicious!
Best Bean Recipes
Beans are such a versatile ingredient, and can be used in all sorts of recipes! If you like using beans in your cooking, you need to make these tasty meals: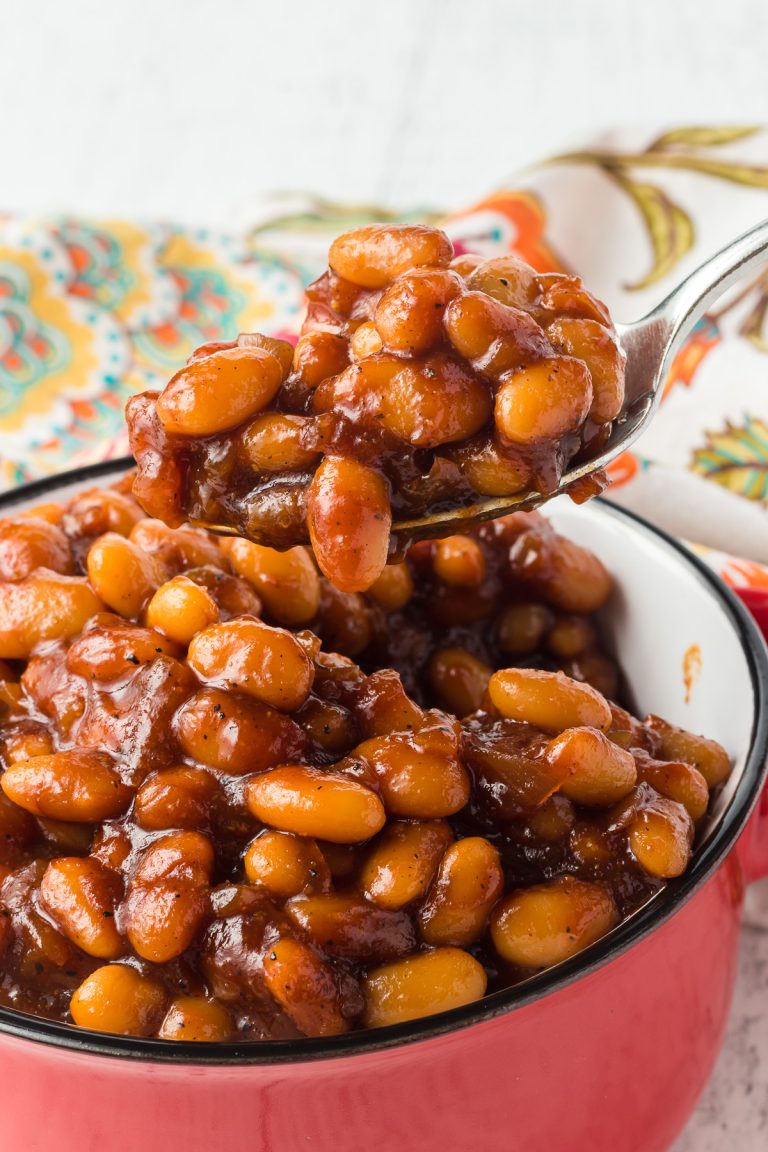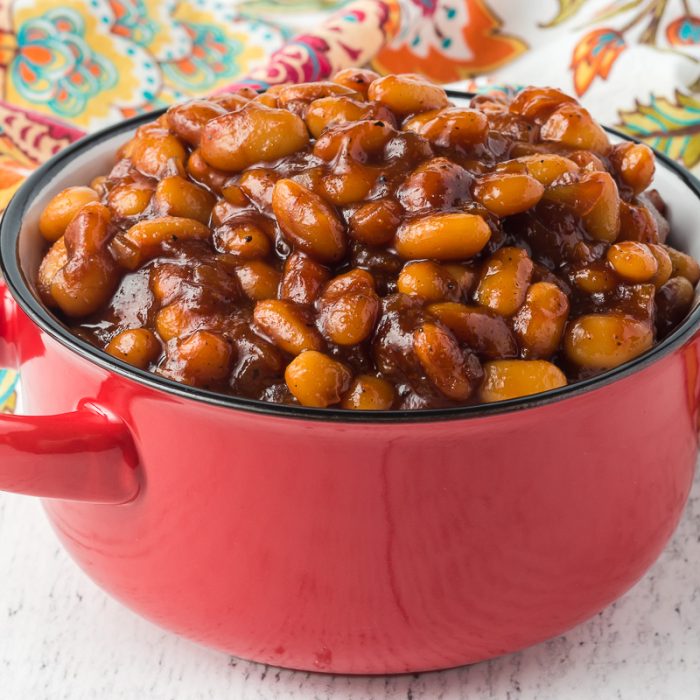 Recipe Card
love it? rate it!
Baked Beans
My favorite Baked Beans are the perfect side dish for summer potlucks and backyard BBQs, and even make a great family dinner when camping! The sweet and savory flavor makes this the best baked beans recipe! Don't worry- they are easy to make and ready in about an hour!
Ingredients
31

ounces

cans Great Northern Beans

(2) 15.5 oz.cans, rinsed and drained

1

cup

onion

diced

1/4

cup

molasses

3/4

cup

barbecue sauce

1/3

cup

light brown sugar

1/3

cup

ketchup

1

tablespoon

Worcestershire sauce

1

tablespoon

mustard powder

1

teaspoon

garlic powder

1

teaspoon

salt

1

teaspoon

black pepper

*Note
Instructions
Preheat oven 350 degrees.

Combine all ingredients in a large bowl. Stir well.

Transfer to a large baking dish prepared with cooking spray.

Place in oven covered and bake for 50 minutes. Uncover and bake for 10 minutes.

Let dish sit 5 minutes before serving.
Notes
* You can reduce the amount of pepper. Personally, I prefer to go with a half teaspoon for my taste, but my husband LOVES the full teaspoon.
Nutrition
Serving:
1
serving
|
Calories:
526
kcal
|
Carbohydrates:
113
g
|
Protein:
18
g
|
Fat:
2
g
|
Saturated Fat:
0.4
g
|
Polyunsaturated Fat:
1
g
|
Monounsaturated Fat:
0.5
g
|
Sodium:
1394
mg
|
Potassium:
1405
mg
|
Fiber:
12
g
|
Sugar:
58
g
|
Vitamin A:
230
IU
|
Vitamin C:
8
mg
|
Calcium:
217
mg
|
Iron:
6
mg
did you make this recipe?
Make sure to follow on Pinterest @easyrecipesfromhome for more easy recipes!
This post was originally published on 8/20/15. It has been updated in format and with pictures on 5/11/23.