Your favorite comfort food (aka LASAGNA) can now be made in the slow cooker – and now has a Mexican twist to it.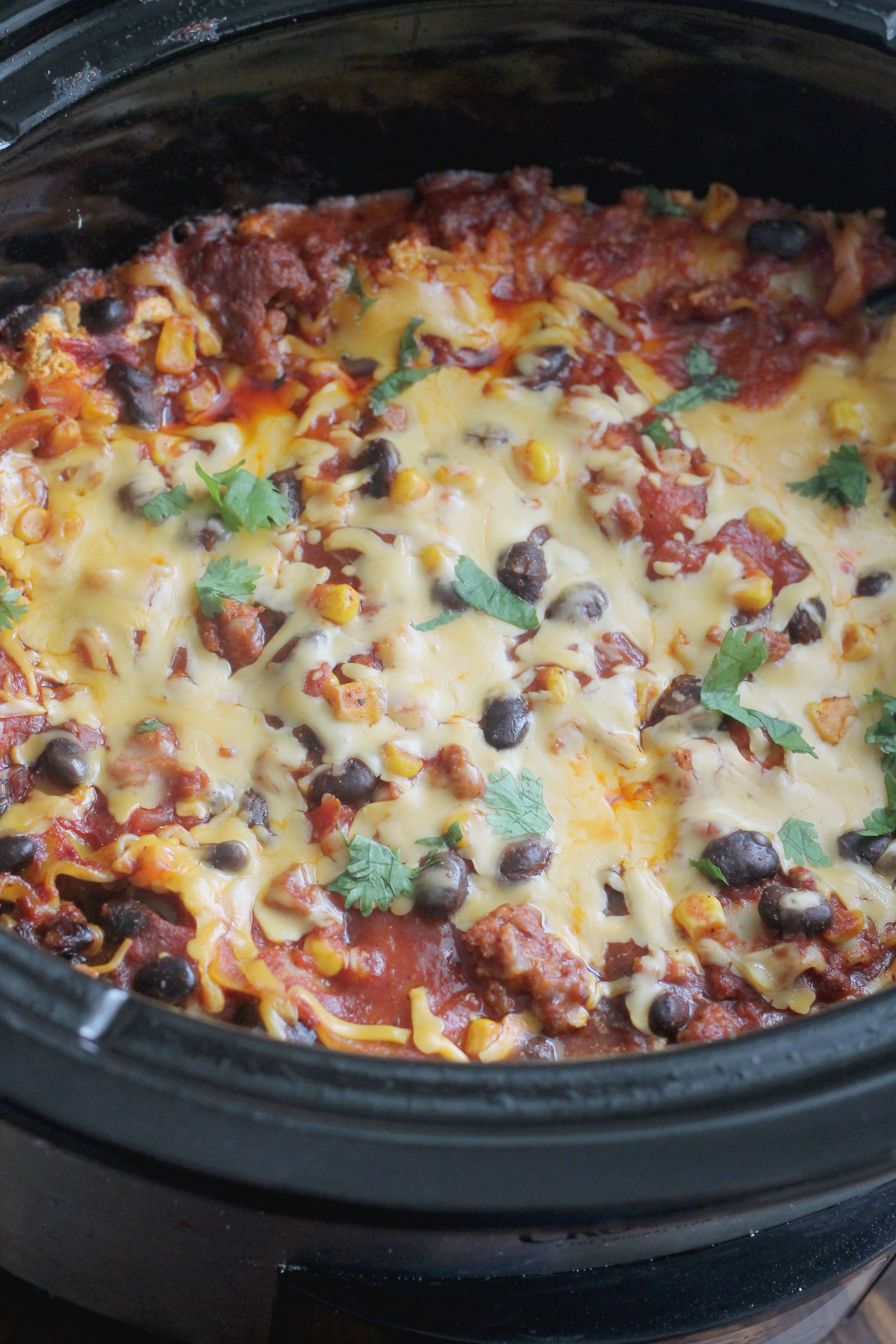 Well I am in the home stretch of my busy season at work. So hopefully by March 1 I will be back in the regular groove of Monday menus and Thursday recipes. No promises though remember I do have two under the age of 3 who stay sick it feels like every few weeks. But with the constant chaos in life my slow cooker has become a good friend.
Back in September I told my friend Lauren that I would post this Slow Cooker Mexican Lasagna recipe. I also then realized my last two pasta recipes were lasagna recipes so I knew I needed to spread it out just a little.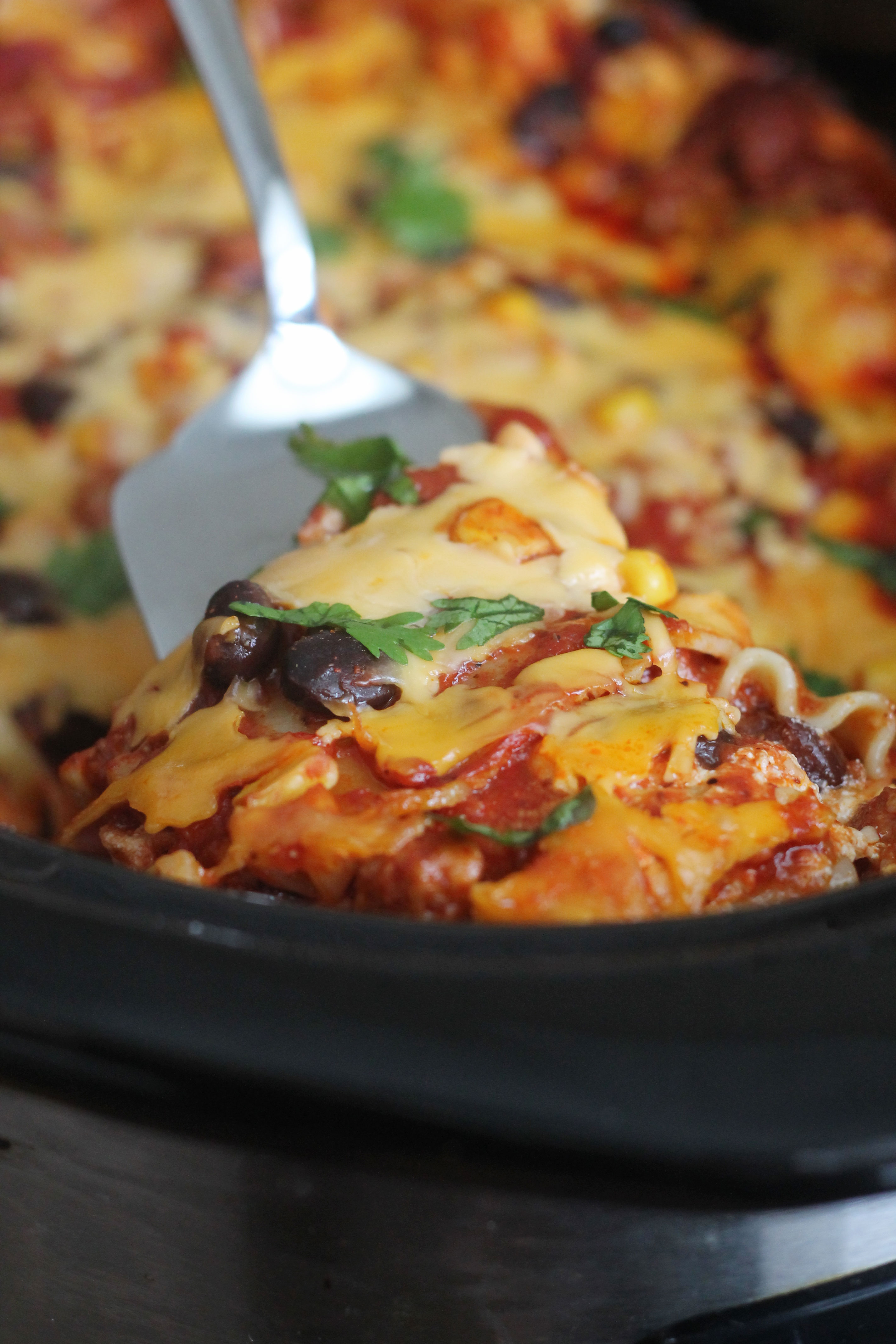 I can't believe we woke up with the weather at 37 degrees and within a matter of hours it got up to 68 degrees. Either way it doesn't matter if it's summer, spring, fall, or winter I can always find a time to eat lasagna.
This lasagna is filled with chorizo, enchilada red sauce, black beans, corn, and of course a ton of cheese. I actually ate Mexican Lasagna for the first time when we were living up in Indy. My favorite farmers market had one stand that sold all kinds of lasagnas and this one was my favorite. Years later and a move back to the South I finally had to make it myself.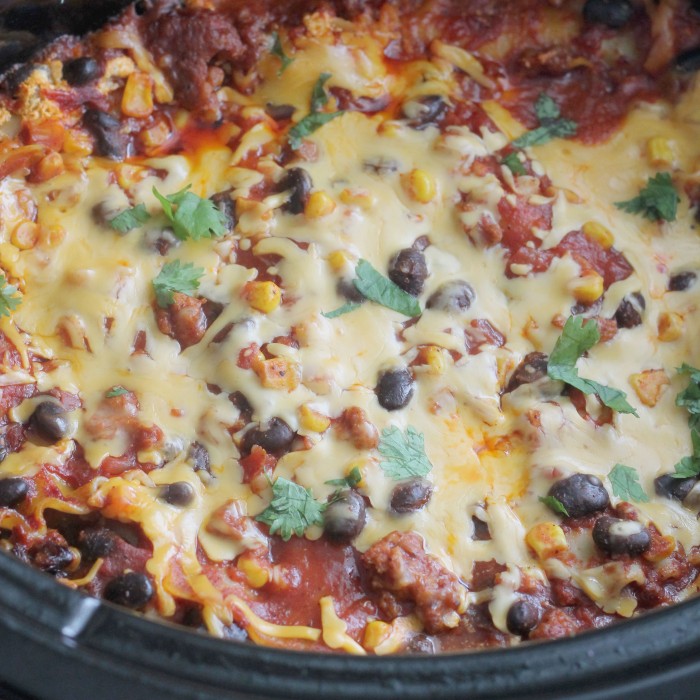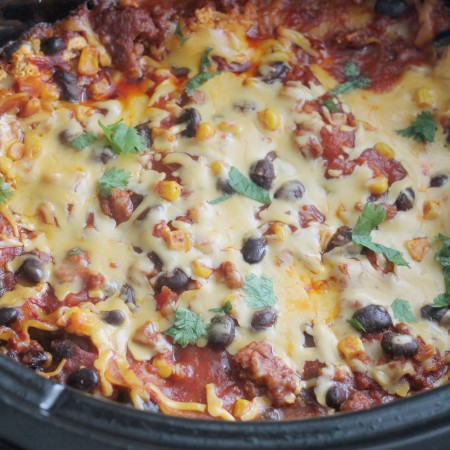 Recipe Card
love it? rate it!
Slow Cooker Mexican Lasagna
Ingredients
9 -15

lasagna noodles

8 oz. package, uncooked - not the no boil or oven ready kind

1

pound

ground chorizo

in casings - not the dried kind

1 - 14

oz

can crushed tomatoes

2

teaspoons

cumin

1

teaspoon

smoked paprika

1

tablespoon

chili powder

1/4

cup

whole milk

1

can

10 oz. red enchilada sauce

1

can (15 oz. corn

1

can

15 oz. black beans, drained and rinsed

15

oz.

ricotta

1 1/2

cup

shredded Monterey Jack cheese

Cilantro

for garnish
Instructions
Remove chorizo from casings. In a medium skillet brown chorizo over medium heat, stir and break up meat. Cook until completely separated, about 4-5 minutes.

Add the chorizo to a large bowl. Then add tomatoes, spices, enchilada sauce, black beans, and corn.

In another bowl combine ricotta, 1 cup of the Monterrey jack cheese, and milk. Stir.

Spray crock pot with cooking spray. Spread thin layer of meat sauce.

Lay the noodles on top of sauce. You will have to break apart some of the noodles to make sure most of the sauce is covered. Spoon 1/3 of the cheese over the noodles. Repeat layers twice (meat sauce, noodles, then cheese).

Top with remaining 1/2 cup Monterey Jack cheese.

Cover and cook on low for 3-4 hours until noodles are soft (do not overcook). Then garnish with cilantro.
did you make this recipe?
Make sure to follow on Pinterest @easyrecipesfromhome for more easy recipes!