This summer vegetable lasagna has tender zucchini and yellow squash, shiitake mushrooms, and fresh herbs to make this rich, cheesy dish one you will keep coming back for.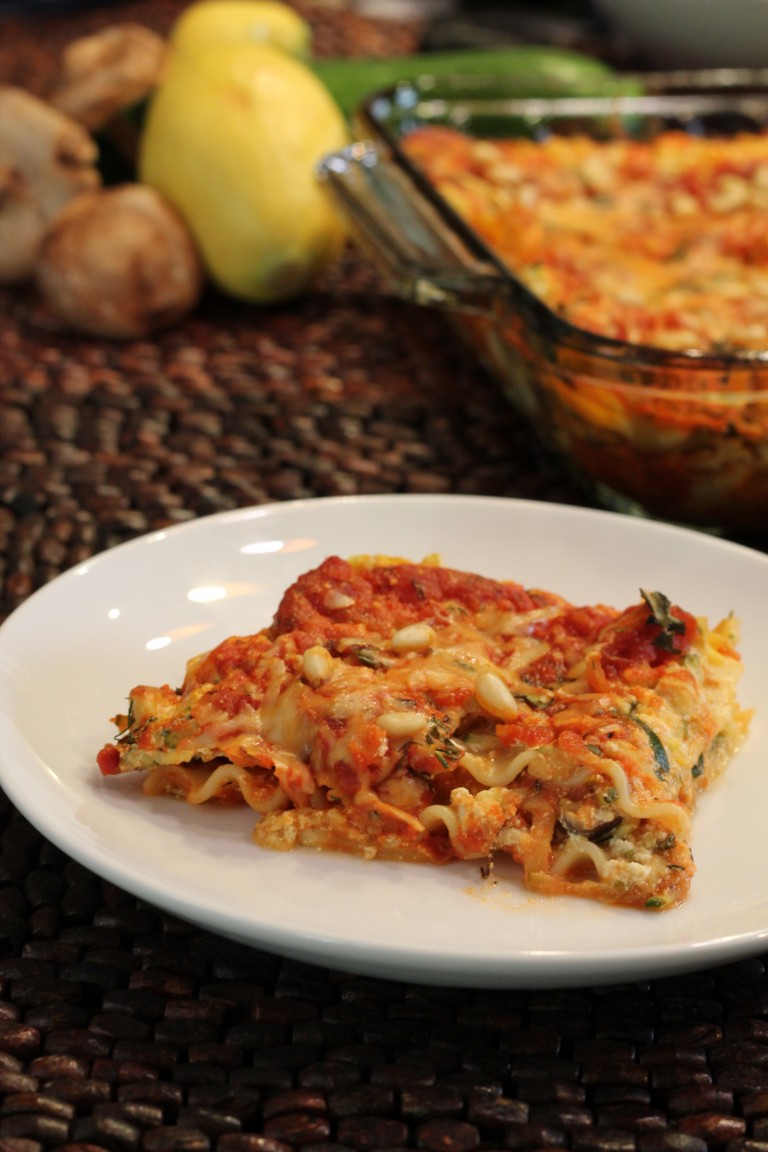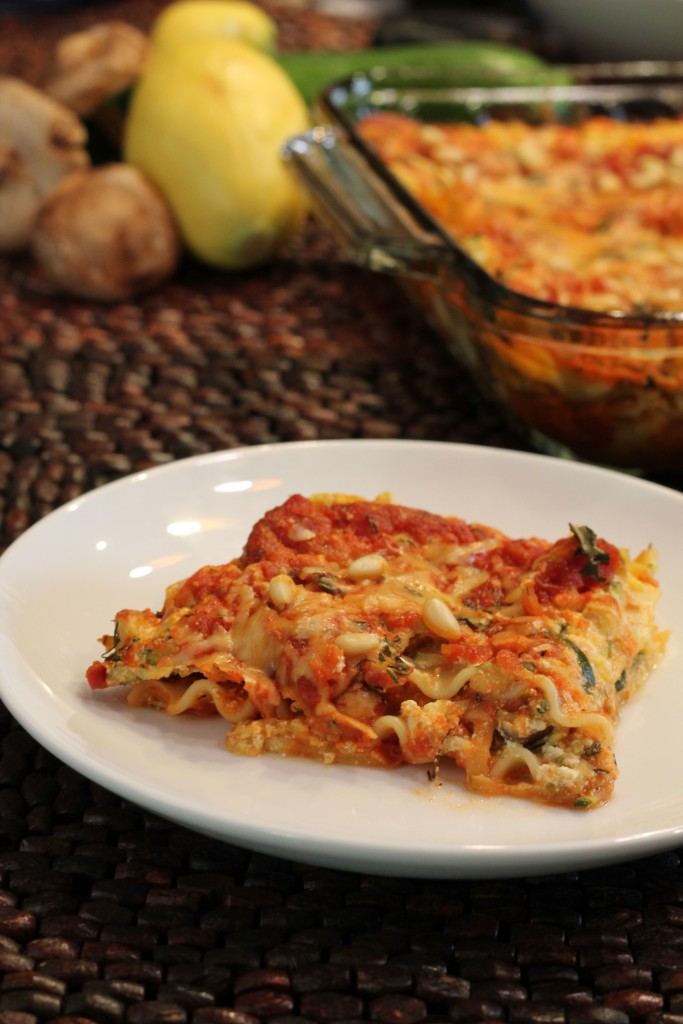 Everyone should know by now my all time favorite thing to do is go to the farmers market on Saturdays. Sometimes I go with the intention of buying certain things knowing ahead of time what I will be making. But when I went to the first one of the season they only had limited produce. Who knew it would all come together for a weeknight favorite meal!
During my first trimester of both pregnancies I crave meats like crazy. By the end of pregnancy I am craving sweets. And right in the middle of my second is when I crave veggies – hence I am 21 weeks and sharing this Summer Vegetable Lasagna recipe now.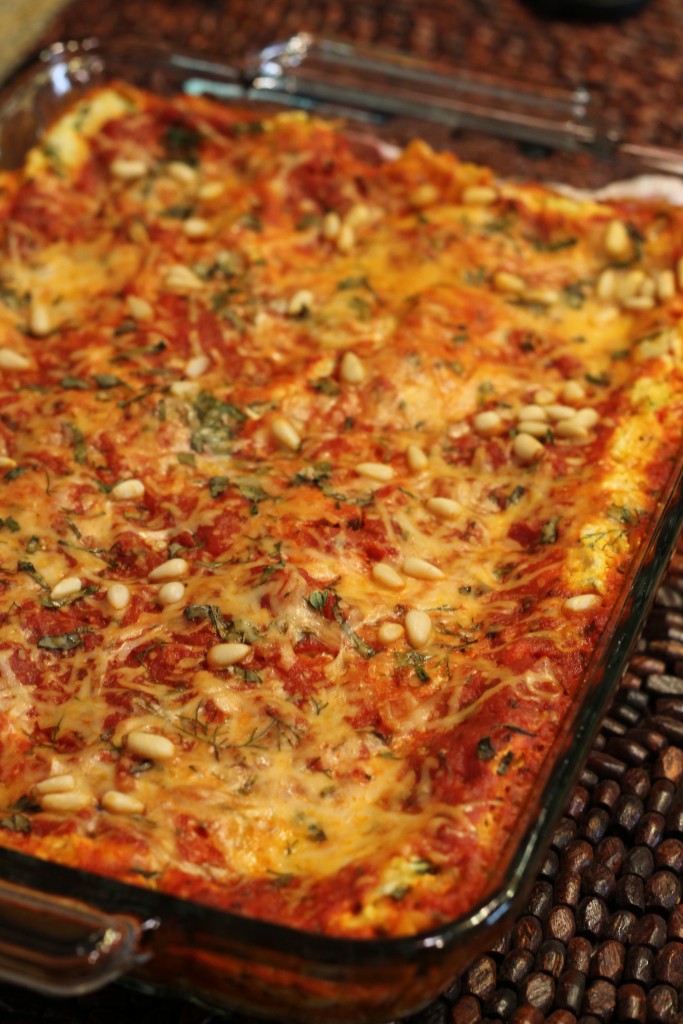 One of the things I love about lasagnas are all the varieties! You have the classic lasagna, a white lasagna (aka chicken alfredo), a Mexican lasagna, and one like this vegetairian version.
Cheese + Pasta + Veggies = A summer delight on a plate. Now I will be the first to admit that it is not the healthiest option with all the cheeses and pasta but it does have veggies so that counts for something right?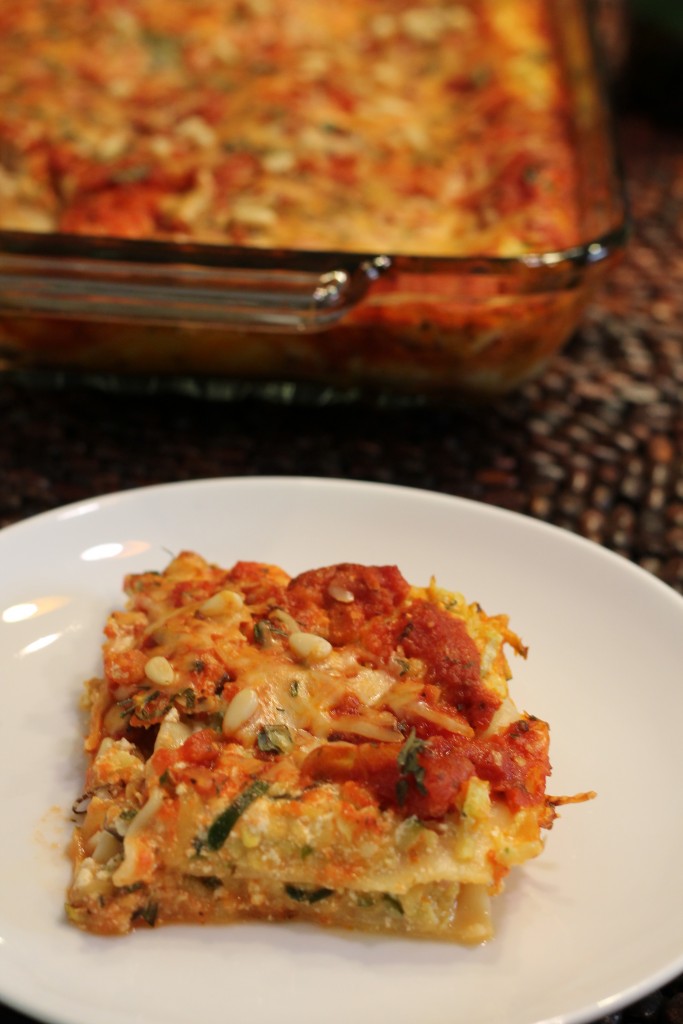 With an abundance of veggies why not toss them all in…John even admitted not missing the meat! Mission accomplished.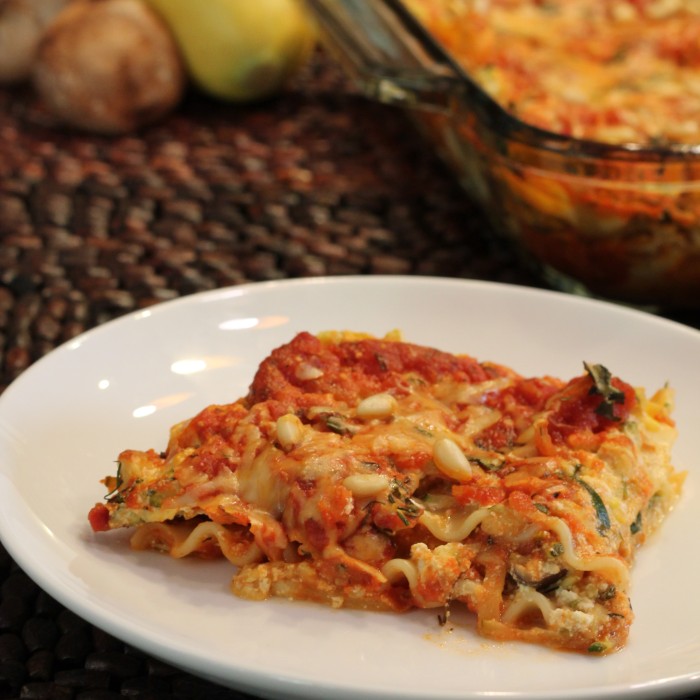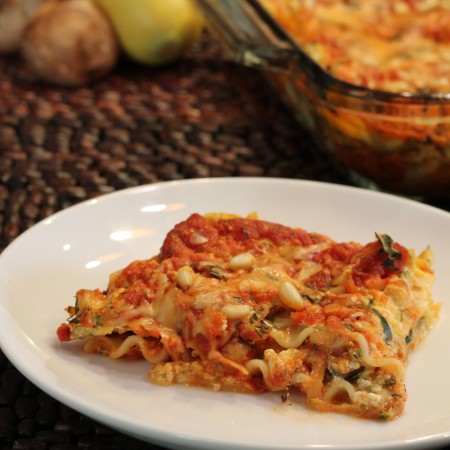 Recipe Card
love it? rate it!
Summer Vegetable Lasagna
Ingredients
1/2

large onion

diced (about 1 cup)

2

tablespoons

olive oil

2

zucchini

3

squash

1

cup

shitake mushrooms

roughly chopped

4

tablespoons

herbs

finely minced

2 1/2

cups

marinara sauce

6

lasagna noodles

cooked according to directions

2/3

cup

Parmesan

1/4

cup

mascarpone cheese

1

pound

ricotta

1/8

cup

pine nuts
Instructions
Preheat oven to 400 degrees.

Finely chop onion. Heat olive oil in skillet and saute for 6 minutes.

Add the mushrooms and saute for 4 minutes.

While onion and mushrooms are cooking put zucchini and squash into food processor to shred (or manually shred on largest hole on grater).

Add the zucchini and squash to the skillet and saute for 5 minutes. If there is still liquid left after cooking, drain.

Stir in two thirds of the ricotta, all of the mascarpone, 1/3 cup of the Parmesan, and 2 tablespoons of the herbs. Mix with all the veggies until fully incorporated.
To build the lasagna:
Spray a large baking dish with cooking spray. Spoon about 1/2 cup of the sauce onto the bottom of the pan. Add a layer of 3 noodles then overlap slightly. Spread the 1/2 of veggie/cheese mixture on top of the noodles.

Then top with one cup marinara sauce. Repeat to make 1 more layer.

After topping with last cup of marinara, cover with remaining ricotta, Parmesan and herbs. Sprinkle with pine nuts.

Bake for 20-25 minutes.
did you make this recipe?
Make sure to follow on Pinterest @easyrecipesfromhome for more easy recipes!
Menu of the Week
Elk Sausage with Summer Vegetables