You know I just can't stop when it comes to food themes on the blog.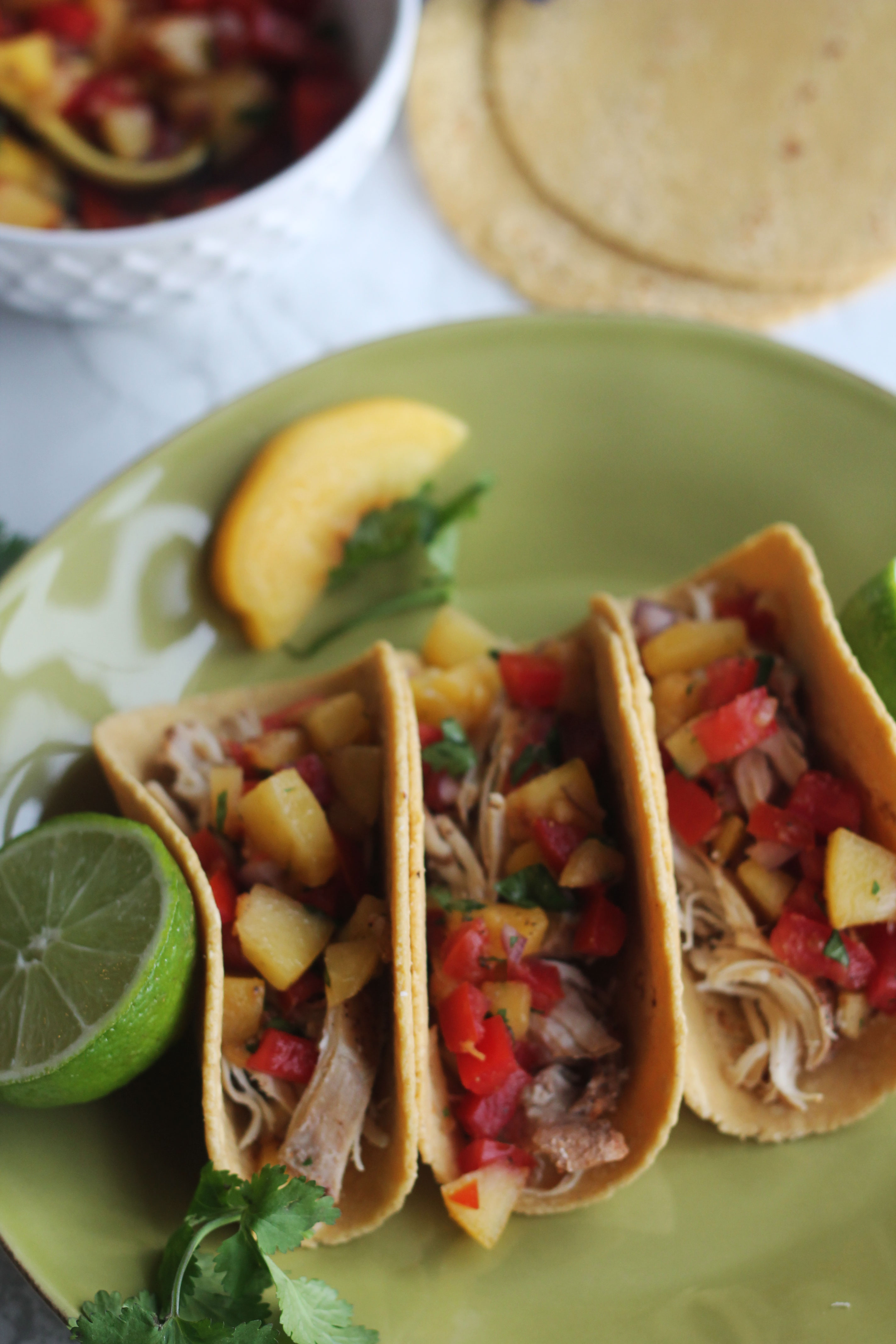 There was my honey mustard kick with these Brussels sprouts, this dressing & salad, and these chicken tenders. Then came the bean kick with this casserole, baked beans, and burgers. Now I am all about the Mexican food!
Some of you might be raising your eyebrows because let's be honest when do I not love some Mexican food?! Last week it was this salad. Today I brought you these Slow Cooker Beer Chicken Tacos with Peach Salsa. And next week well I would let it be a surprise…but I am not very good at keeping them so check back for some Cherry Margaritas.
See I told you I get a little crazy with food themes.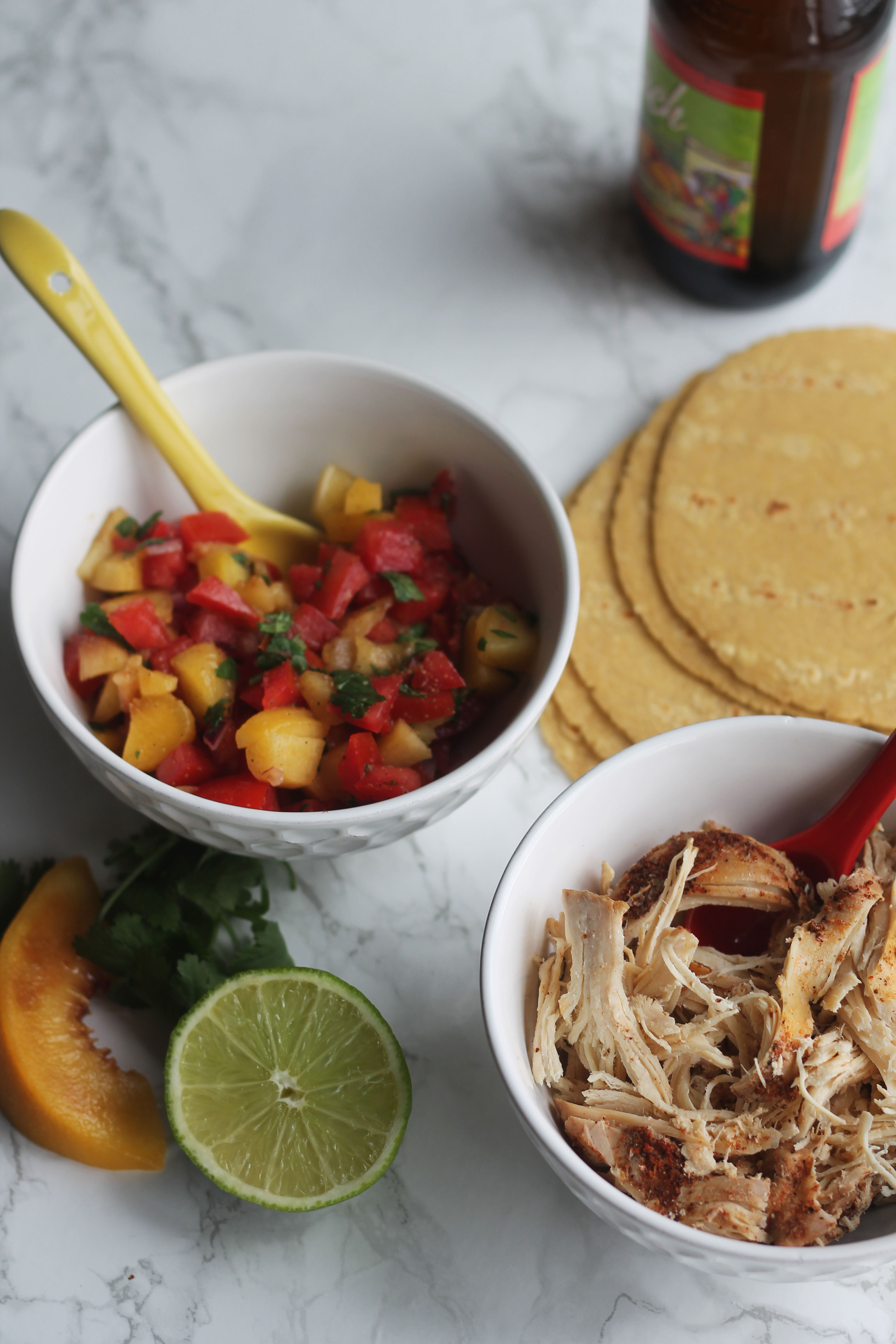 And what better way to celebrate Taco Thursday again? Especially after what we endured the last few weeks. And did I mention I got strep this week? I am pretty sure our house has hit the sickness quota for the next month…or at least I pray we have!
So much for giving you a recipe this week and catching up on Friday Feedings…I guess there's always next week right?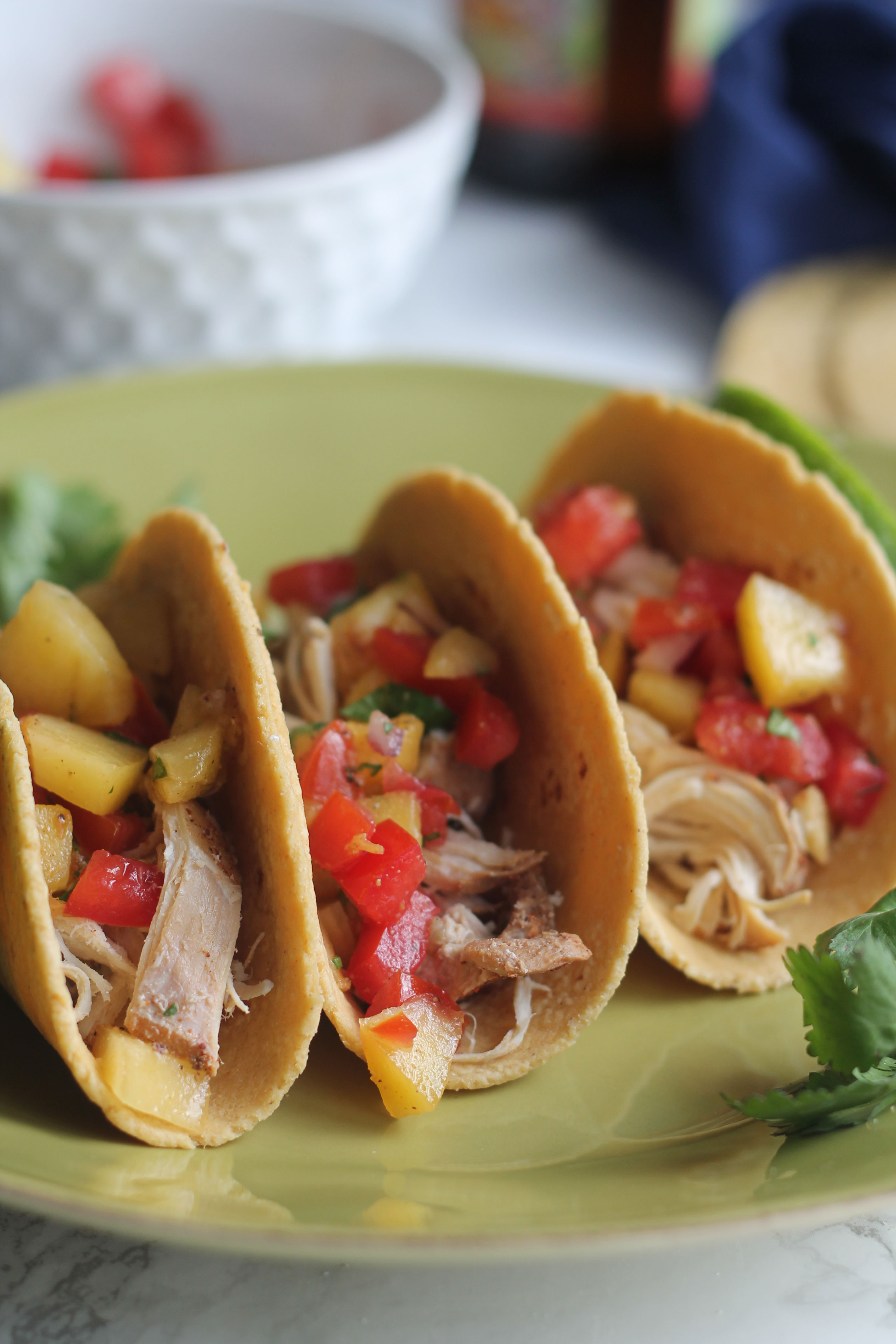 I first thought of these tacos when I had a fruit salsa on some black bean tostadas awhile back. That got those food blogger wheels a turning. I realized I only have one salsa recipe on the blog – well two if you count this one. That needed to change, so this peach salsa came to fruition.
This of course all paired well when I found Abita Peach Harvest beer. But any kind of citrus fruit beer will do. I can also recommend Blue Moon (which is always in season), Goose Island Summer Ale or Bell's Oberon Ale.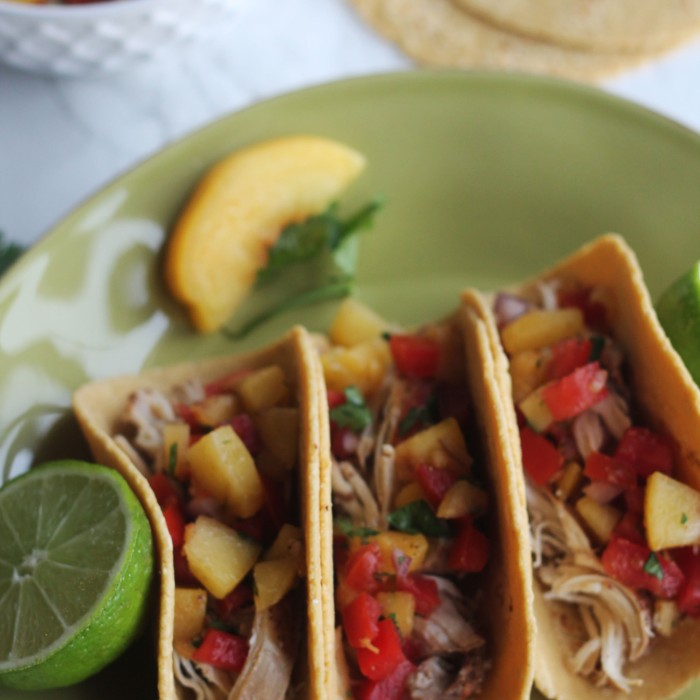 Recipe Card
love it? rate it!
Slow Cooker Beer Chicken Tacos with Peach Salsa
Ingredients
1 1/2

pounds

chicken breast

1

bottle of beer*

1/2

teaspoon

cumin

1/2

teaspoon

smoked paprika

1/4

teaspoon

onion powder

1/2

teaspoons

Ancho chili powder

2

tablespoons

lime juice

Corn tortillas
Peach Salsa
2/3

cup

chopped Roma tomatoes

about 2-3

3/4

cup

chopped peaches

1-2 depending on size

2

tablespoons

lime juice

1

tablespoon

chopped red onion

1

tablespoon

chopped fresh cilantro

1/2

teaspoon

sugar

1/2

teaspoon

cumin

1/2

teaspoon

salt

1/8

teaspoon

pepper
Instructions
Place chicken in slow cooker.

Combine beer, cumin, smoked paprika, onion powder, chili powder and lime juice in bowl. Then pour over chicken.

Cook on high for 3 to 4 hours or low 6 to 7 hours until it is cooked through. Then shred chicken and let it cook in the juices for another 15 minutes.

While shredded chicken is still cooking combine all of the ingredients of the salsa and set aside.

Place chicken in tortillas and top with peach salsa.
Notes
*I used Abita Peach Lager (but if it's not in season choose a sweeter beer) - can also substitute for 1.5 cups chicken stock
did you make this recipe?
Make sure to follow on Pinterest @easyrecipesfromhome for more easy recipes!