Sorry about the New York overload lately. Kinda fitting with the Big Apple and this Apple Chip Salad.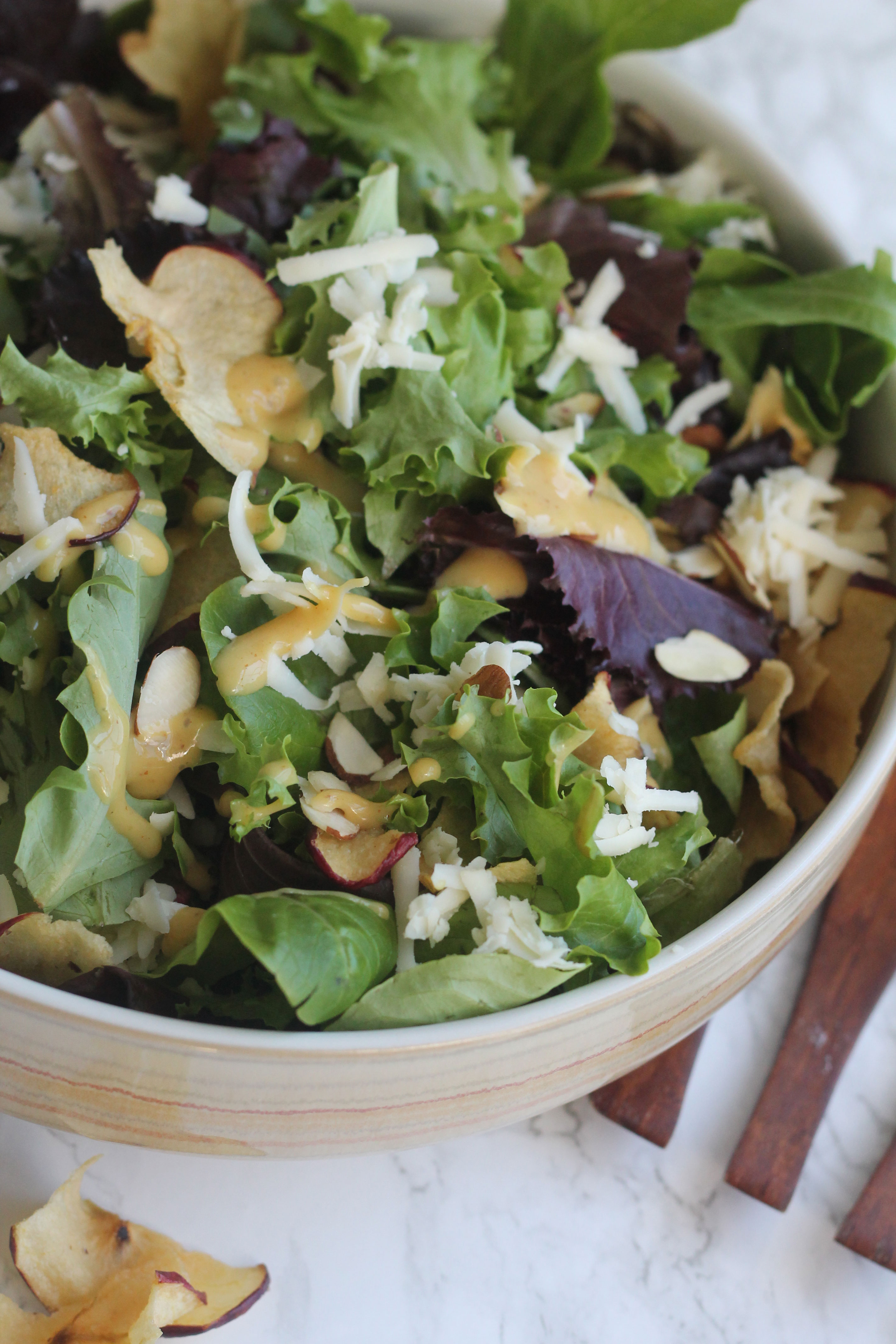 If you don't follow me on Instagram then you have no idea what I'm talking about. Hint hint go check it out so you can actually see all the crazy stuff I'm about to tell you about. It's been a whirlwind past 4 days. It was my first time ever going to New York. We went for my birthday – first trip with just John and me – no friends, family or kids in 6 years!
Besides going to Central Park and the Met we didn't really do the tourist thing. I told John I had one goal – EAT & DRINK! We started at Il Mulino where I had the best Mushroom and Truffle Ravioli of my life. Like I'm talking I've been to Italy and it was better than some of the ravioli I had there. Then there was some Huevos Rancheros at Geoffrey Zakarian's restaurant The National. Some oysters, sashimi, and tacos at Chelsea Market. And then picked up some cheese, charcuterie and wine at Eataly.
The highlight of the trip was getting to listen to a chef's series put on at Le Bernandin with Eric Ripert and Anthony bourdain. We had some Lagoustine, followed by White Tuna and Wagyu Beef, and lastly a Mango Parfait. Bourdain talked about his new cookbook Appetites then gave out signed copies. A dream night! Finally we are back home and I feel like I just need to eat salad and drink for awhile because I probably gained 10 pounds.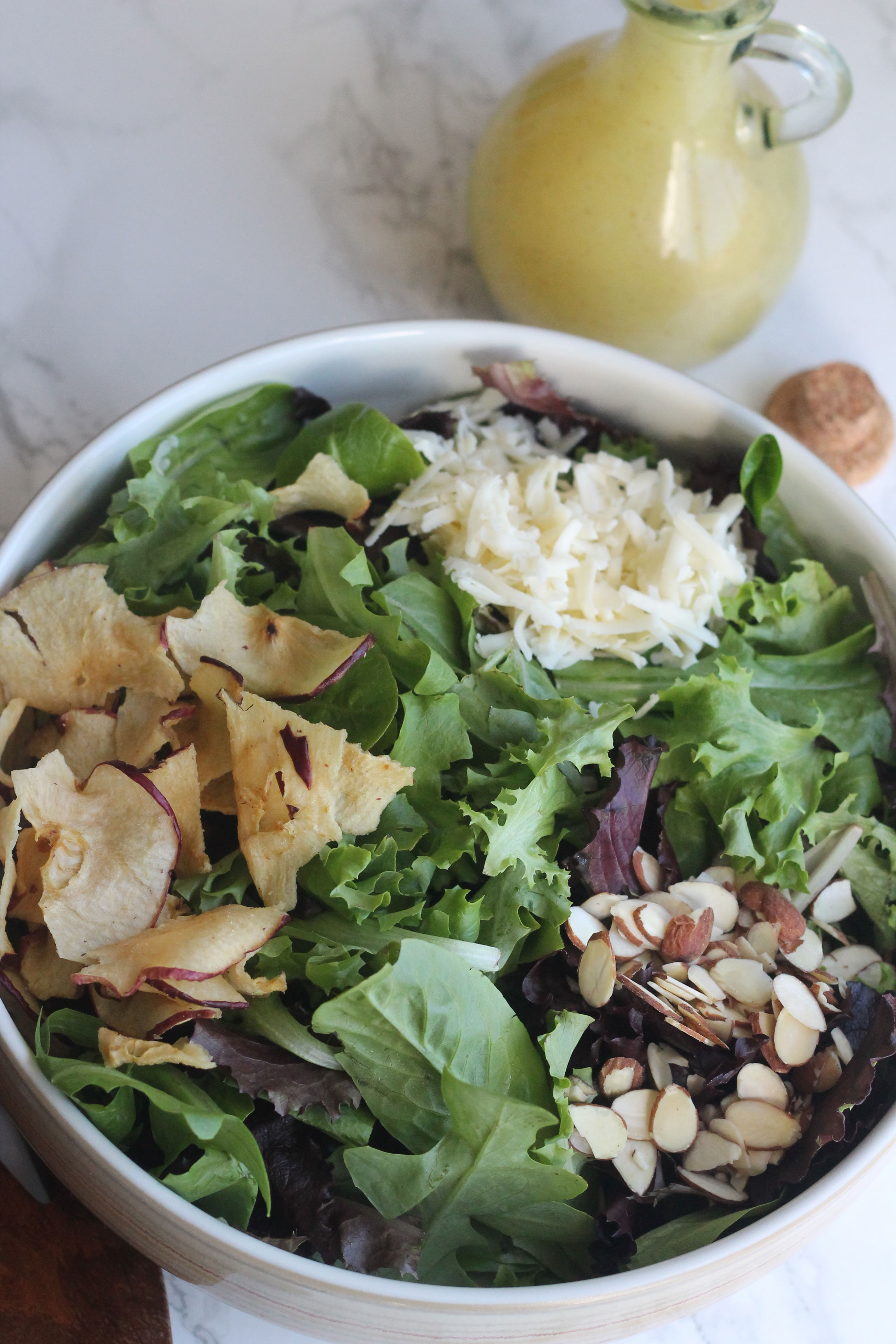 Speaking of only eating salads. I highly recommend this one. Remember my new favorite dressing? And the honey mustard obsession I was talking about? Ya it all started from this salad right here. Well and another one (chicken, sundried tomatoes, asiago and artichokes) but today you came for this one.
The basic rundown is you take those amazing homemade apple chips I made a couple of weeks ago along with the homemade honey mustard dressing, toss with some lettuce, almonds, and cheese. And there you have your new favorite salad yes even more so than this one. I also chose a Vermont white cheddar that my parents brought us back from their trip to Maine. A little caveat – you can buy the apple chips and dressing at the store to save time of course but homemade is so much better. Obviously I know this is not your traditional salad of protein in the form of meat or lots of veggies but John claims the apple chips make it! So it officially has the husband stamp of approval.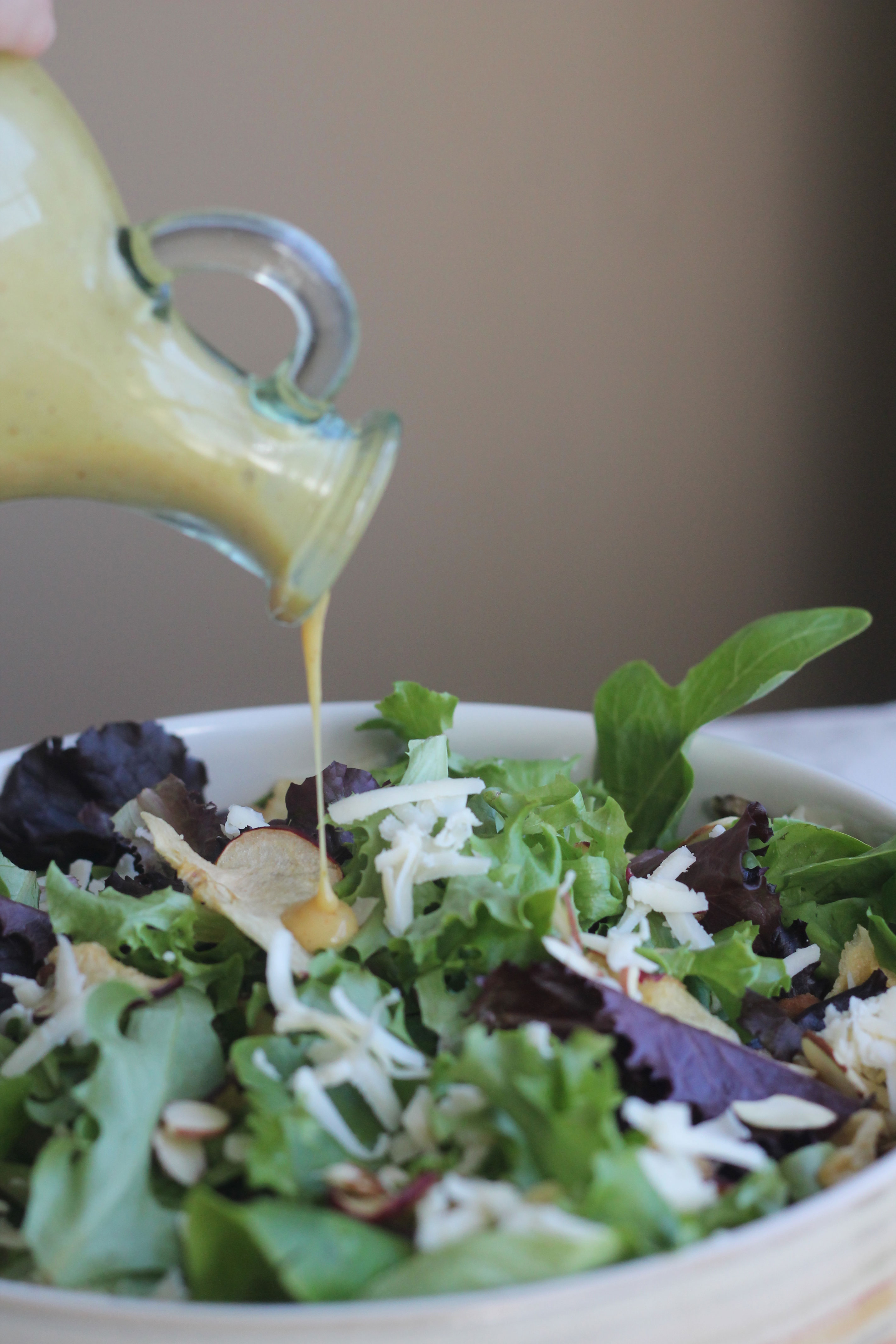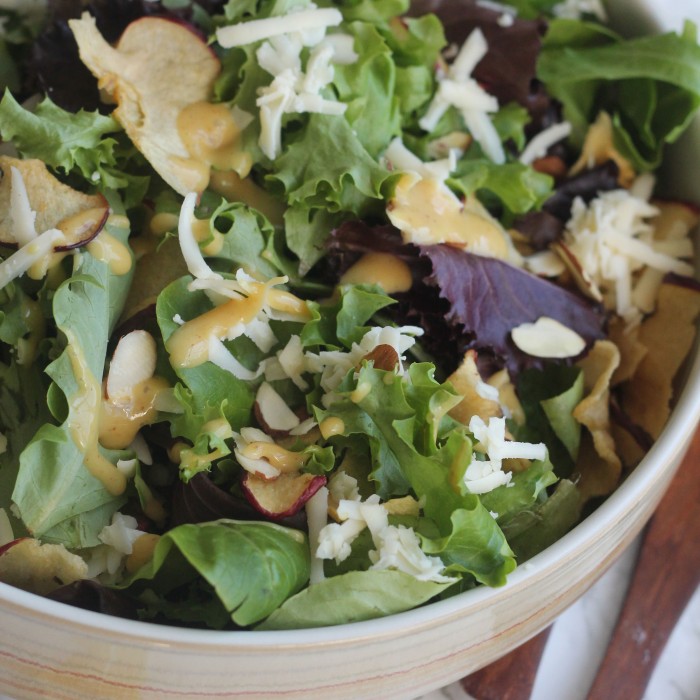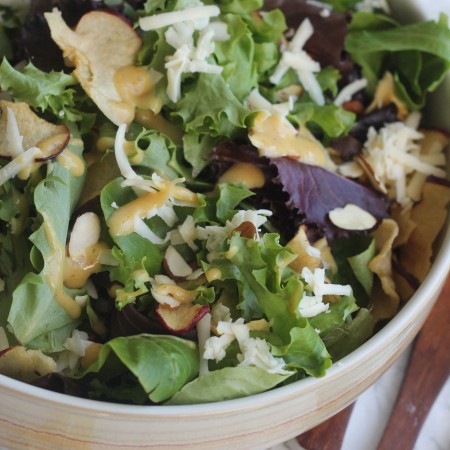 Recipe Card
love it? rate it!
Ingredients
5

ounces

baby lettuce

¾

cup

apple chips

⅓

cup

shredded white cheddar cheese

⅛

cup

sliced almonds
Instructions
In a large bowl toss the lettuce, apple chips, cheese, and almonds together.

Drizzle salad desired amount of salad dressing over salad and toss to fully incorporate.
did you make this recipe?
Make sure to follow on Pinterest @easyrecipesfromhome for more easy recipes!