This has been my go to salad over the past few months and as I was laying in bed last night trying to decide how I wanted to tell you about it I ended up dreaming about it.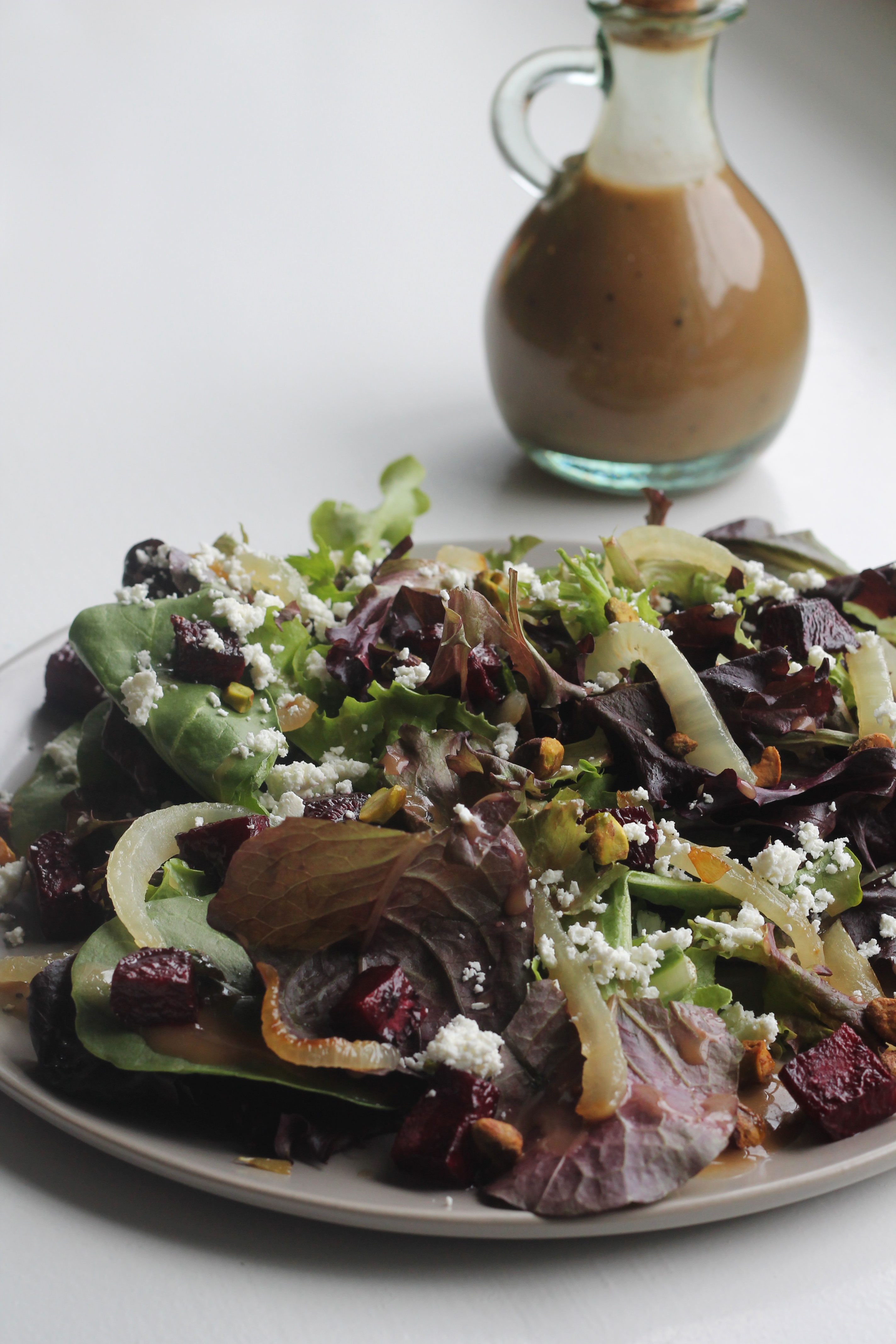 Have you ever done that? Dream of food? I kinda do a lot. Last night my dream had the Robertson family (aka the Duck Dynasty cast) in it. We were all sitting around their dinner table eating like they do in all the episodes at the end. And Si made some remark about it being pretty darn good for not having any meat in it. But don't worry you can easily add in some chicken if you want to.
And for those of you who can't take Si's word for it via my dream or are not sure what on earth I am talking about, I can tell you this salad will easily turn into one of your favorites! Who doesn't love caramelized onions? I feel they can transform whatever you put them in or on.
I have been known in the past to be too lazy to cook so I will pick up pizza from Bazbeaux and by the time I get home I know I cannot eat the pizza unless it is topped with some caramelized onions – so yes I end up making a batch. But add some of those onions with the sweet beets, a tangy goat cheese and end it with a crunch from the pistachios and you could not make a better salad!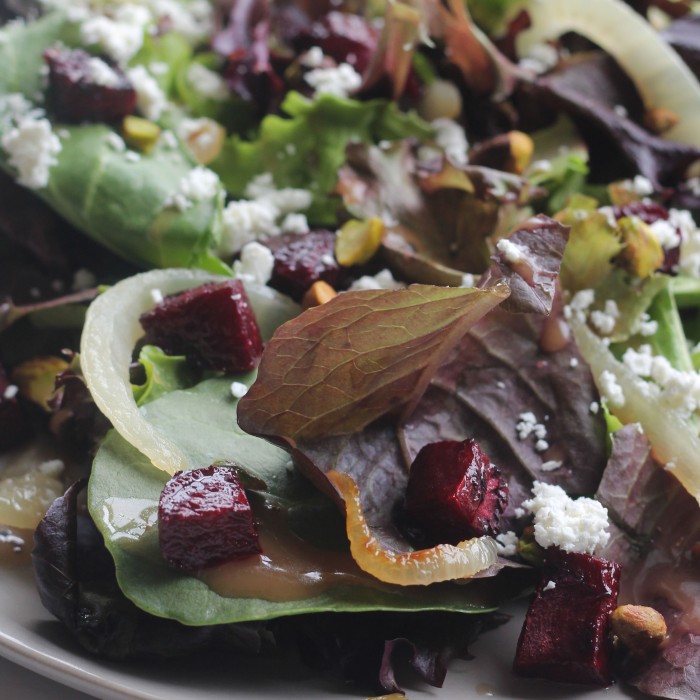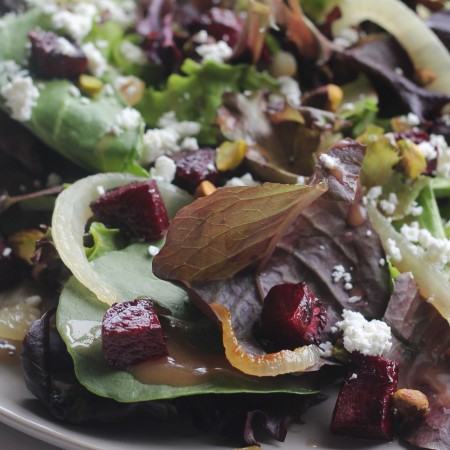 Recipe Card
love it? rate it!
Mixed Greens with Roasted Beets & Caramelized Onions
Ingredients
Salad
4

cups

mixed greens

4

medium to large firm beets

6 for smaller beets, remove stems and roots

1/4

cup

goat cheese

crumbled

1/8

cup

pistachios

shelled and chopped

Balsamic Vinaigrette for dressing
Caramelized Onions
1

large Onion

halved and thinly sliced into long strips

2

tablespoons

butter

1

tablespoon

olive oil
Instructions
To start the salad:
Preheat oven to 425 degrees. Put beets on a large piece of aluminum foil. Fold aluminum foil and crimp all sides closed. Medium large beets should cook for an hour, if you are using smaller beets 25-35 minutes for cooking.
To make the caramelized onions:
Melt butter in saucepan, add in olive oil over medium heat. Add in onions. Let saute for about 5-7 minutes. Reduce heat to medium low. Cook for about 35-40 minutes letting the onions turn golden brown, stirring occasionally so they don't burn. Remove from heat.
To finish the salad:
Remove beets from oven, and open aluminum foil. Let cool. Remove the skins with a paper towel (or you will have bright pink hands) and discard skins. Coarsely chop beets.

Toss mixed greens, pistachios, goat cheese, caramelized onions, beets and balsamic vinaigrette together.
did you make this recipe?
Make sure to follow on Pinterest @easyrecipesfromhome for more easy recipes!