Caramelized Onion, Bacon and Gruyere Quiche – just the name makes me want to do a little dance thinking about it.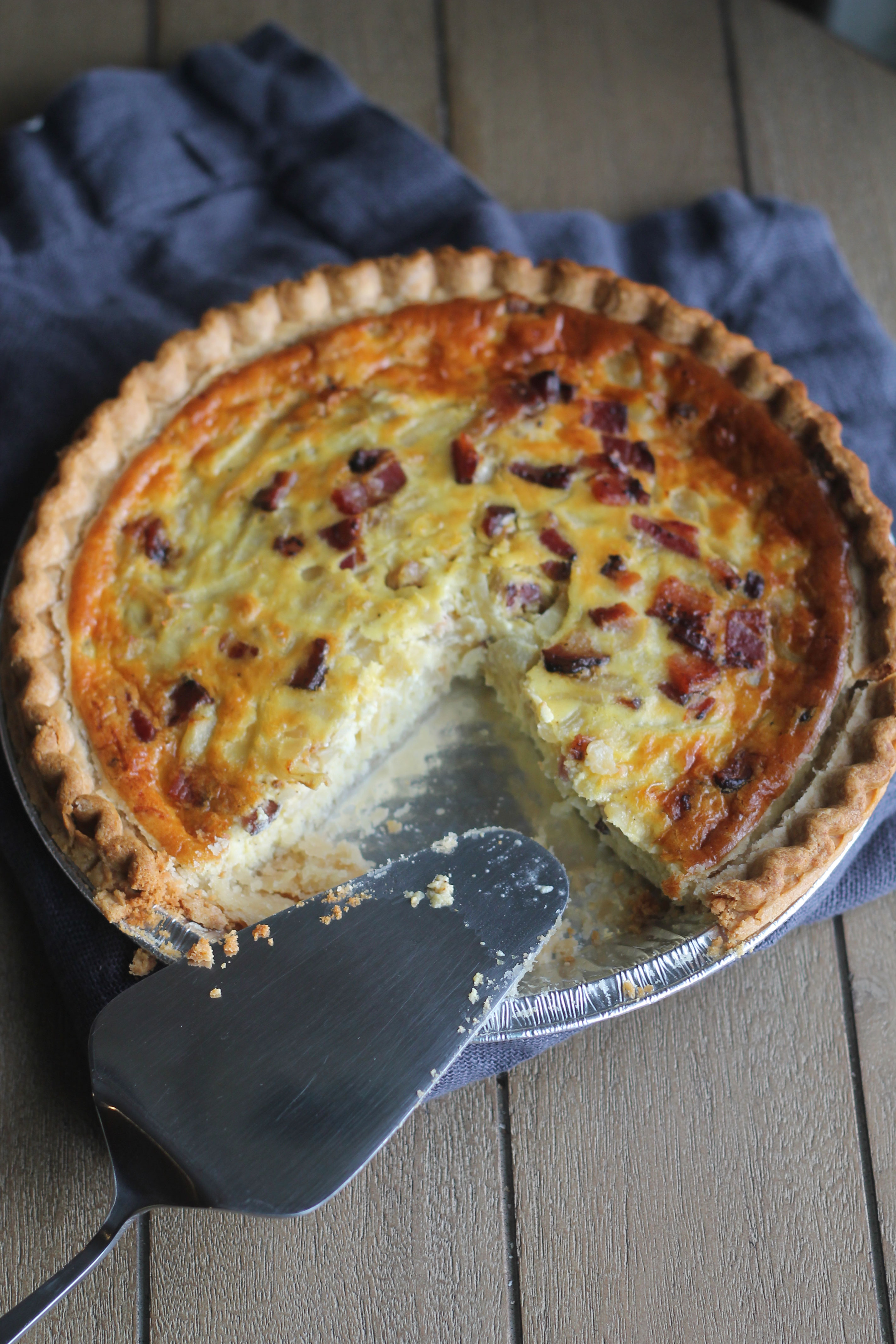 After months of all kinds of sick bugs going around our house I think it's all downhill from here. Knock on wood. Saying a prayer of course. But with the kids out of school for 3 weeks it is getting a little crazy with me trying to work from home. Blog posts have been pushed to Friday (sometimes Saturday) because my other job takes priority. Anyone want to come babysit? I'll pay in food!
Starting with this quiche. You can have it for breakfast, lunch, or dinner. Trust me we have had it for all three.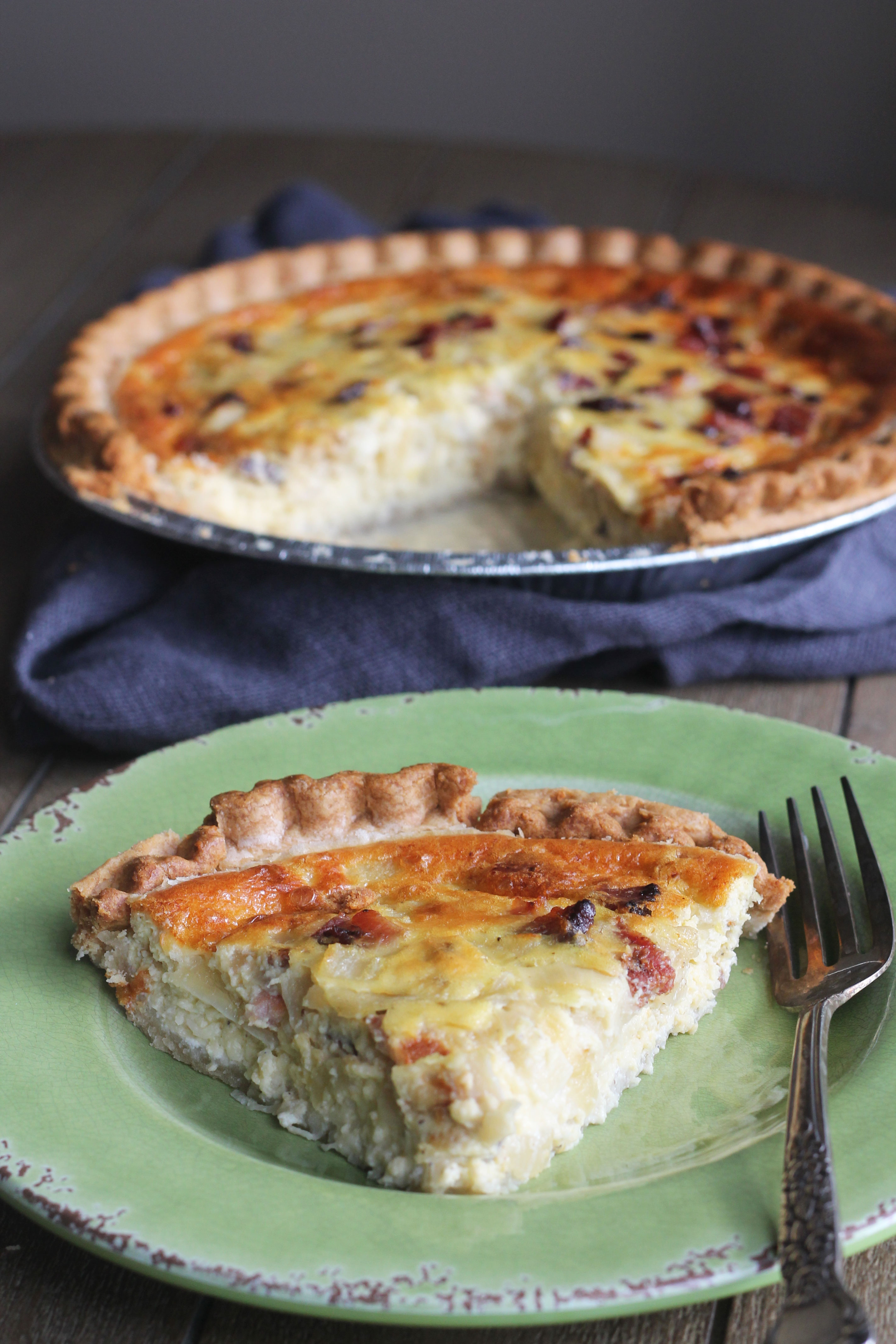 I love caramelized onions! I mean who doesn't? I love them on salads, on sandwiches, and now in quiches!
I had this Caramelized Onion, Bacon, Gruyere Quiche for the first time when Mama and I had a little getaway to the beach last year at The Perfect Pig. This quiche was truly perfect! So you know I had to remake it. We are heading back to the beach this year with my parents and kids. I am so excited too because it will be Amelia's first time. But one thing is for sure I am going back to get this quiche.
Now I will forewarn you this quiche is not for the faint of heart. It's quite rich which I love but if having it for lunch or dinner a little side salad would be a nice touch.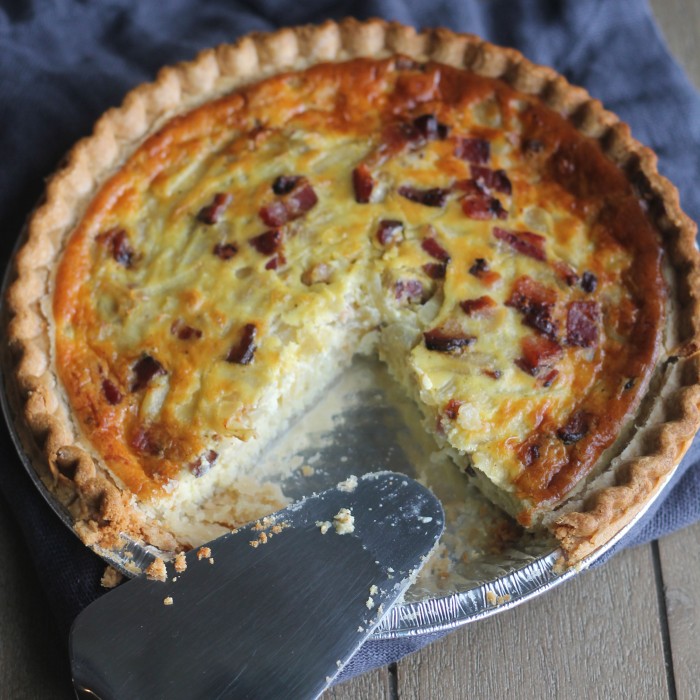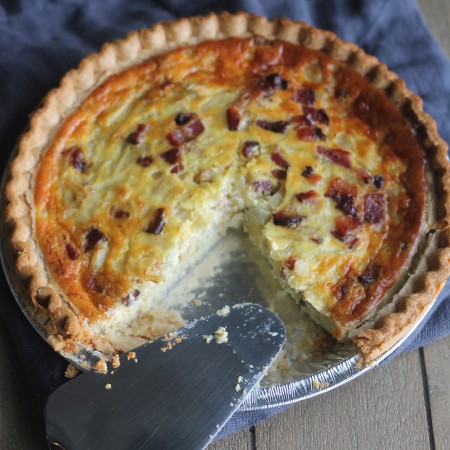 Recipe Card
love it? rate it!
Caramelized Onion, Bacon and Gruyere Quiche
Ingredients
1

piecrust*

1-2

large onions

thinly sliced (about 1 1/2 pounds)

2

tablespoons

butter

2

tablespoons

olive oil

6

ounces

bacon

3

eggs

1

cup

heavy cream

1

tablespoon

sour cream

1

cup

shredded Gruyere cheese

1/2

teaspoon

salt

1/4

teaspoon

pepper

1/4

teaspoon

dry mustard
Instructions
In a large skillet melt butter. Then add olive oil. Add in the sliced onions.

Cook stirring occasionally for 15 minutes on low until soft then cook for another 45 minutes. If browning too much occasionally add 1/2 cup water if needed.Once done put on paper towels and cover as well. This will help with removing some moisture. (See notes for a quicker method)

Preheat oven to 400°

If using store bought dough remove from fridge and let it sit at room temperature for 10 minutes. Roll out onto greased pie dish. Prick crust with the fork on bottom and sides to prevent puffing. Bake for 10 minutes until golden brown. Cool completely before adding filling. Reduce temperature to 375°.

While baking crust, in another large skillet cook bacon over medium heat until most of the fat is rendered but not too crisp. Remove from pan and set aside to cool.

In a large mixing bowl beat together the eggs. Add the remaining 6 ingredients to bowl. Stir to combine.

Cut bacon into bite size pieces then add to bowl, followed by the onions. Stir to fully incorporate.

Pour into pie crust.

Bake for 35-45 minutes or until it is only slightly jiggly. Remove from oven and allow it to sit for 15 minutes to allow custard to set.
Notes
*I used the frozen store bought pie crust
**If you do not have time to caramelize onions with the above method. Add butter and olive oil to pan and saute onions over medium high heat for 15 minutes until golden brown.
did you make this recipe?
Make sure to follow on Pinterest @easyrecipesfromhome for more easy recipes!