It's no secret that I love Mexican food. Okay obsessed might be more accurate.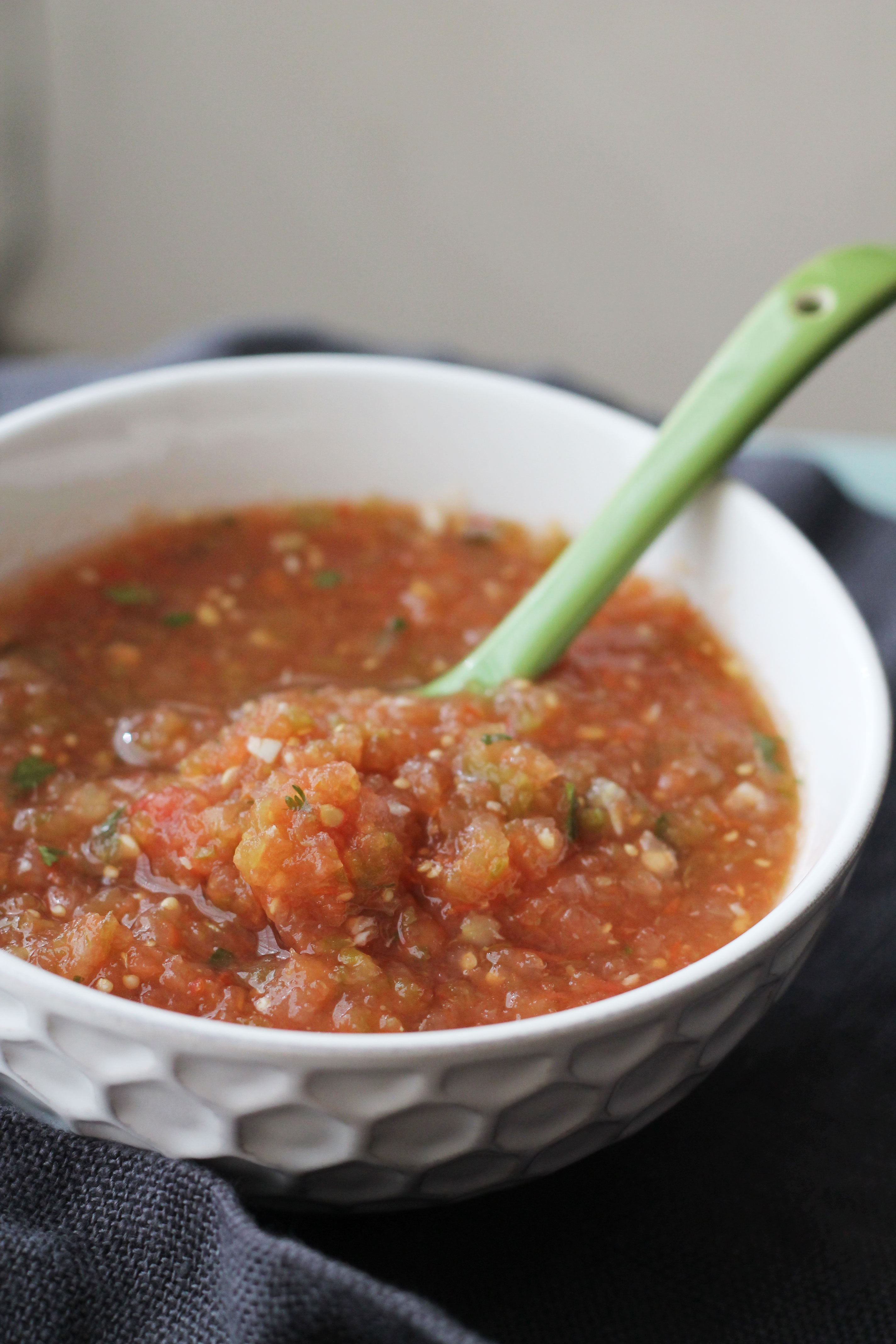 And when my friend pointed out that I didn't even have a salsa recipe on my blog I literally put my head down…who am I? I mean I know I am the queen of cheese dip – from your typical white cheese dip at your local Mexican restaurant, a Baked Mexican Cheese Dip or your go to rotel dip that you find at every football party…I should have a salsa recipe. Plain and simple! I mean jarred salsa just doesn't cut it anymore.
So when I discovered Blogging for Books and found a whole book dedicated to salsas I knew this was my chance.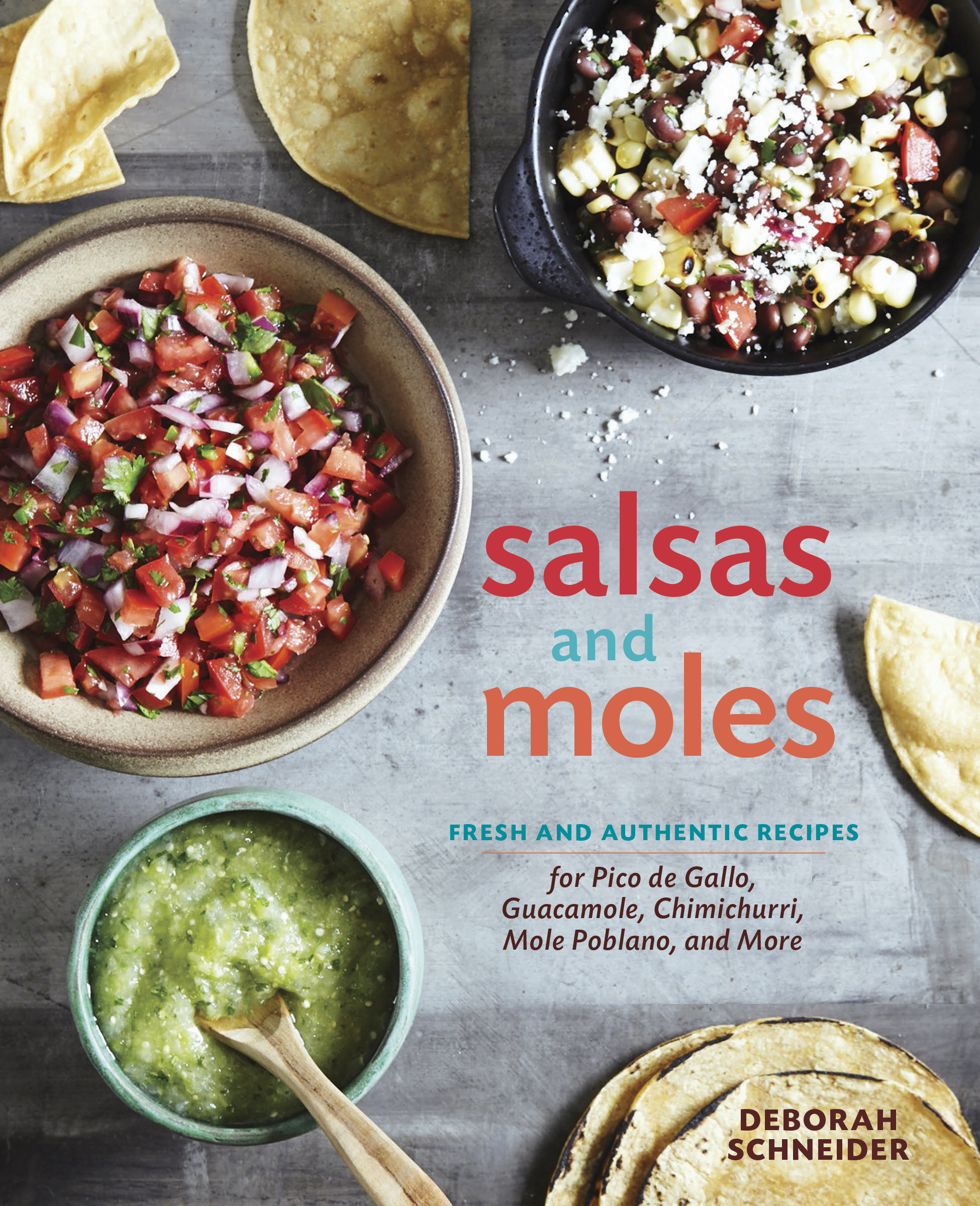 Salsas and Moles by Deborah Schneider contains over 60 recipes of Pico de Gallo, Mole Poblano, Chimichurri, Guacamole, and more. The introduction spoke to me. She said "every Mexican cook…has a special secret salsa recipe." And this Salsa Casera which is a simmered fresh tomato salsa has now become mine.
So you know how we all like to eat our salsa with chips? Well apparently this is not the case in Mexico unless you're in tourist areas. Now I love my chips and salsa so I'll gladly keep that tradition.
This book was full of tips on working with chiles and some essential pantry ingredients to have on hand. I love how informative it was and how it breaks down into sections of classic table salsa, hot salsas, moles and enchilada salsas, salsa for tacos, chunky salsas and botanas. And for those new to making salsas from scratch she includes a guide to fresh and dried chiles.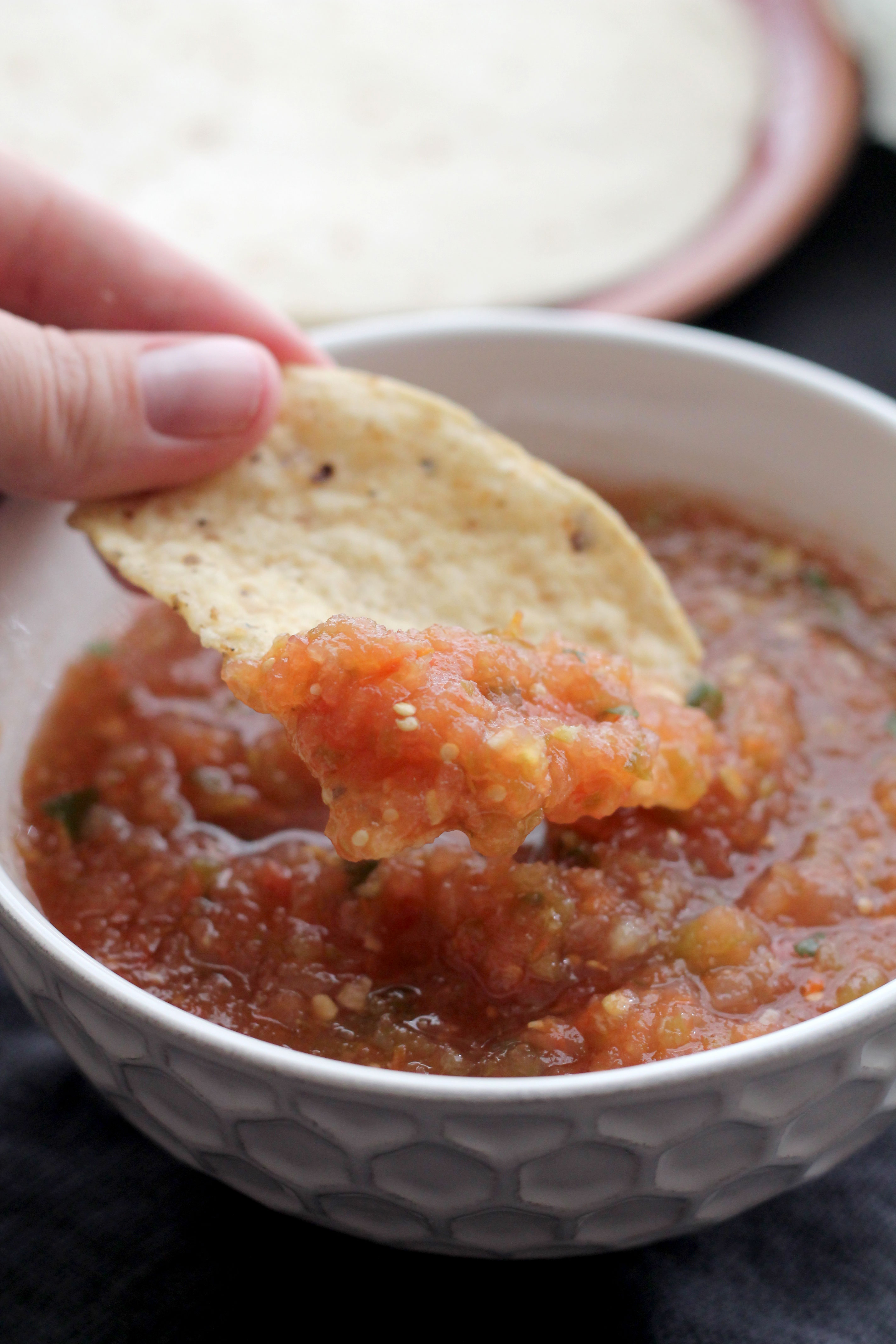 The only thing that is a little difficult with some of the recipes from the cookbook are the ingredients. If you don't have a grocery store that carries a lot of specialty international food then some of the recipes might be a little hard. For example this recipe calls for 1 chile de arbol which is supposedly the easiest dried chile to find but after looking at 3 different grocery stores I went to my local Mexican grocery store to get one. I noted some of my suggestions for substitutions in the recipe notes.
There were some neat online resources given in the book for finding certain dried chiles, canned goods, dried beans and cheeses. I actually have ordered some cheese from one of the places before for some of my recipes.
Deborah also says "Salsa makes the meal." While I do have a Beef Enchiladas with Red Sauce recipe this salsa can stand on its own or be added to your own enchiladas or burritos. Some other suggestions for serving this specific salsa are adding it to scrambled eggs or homemade chicken noodle soup for more flavor.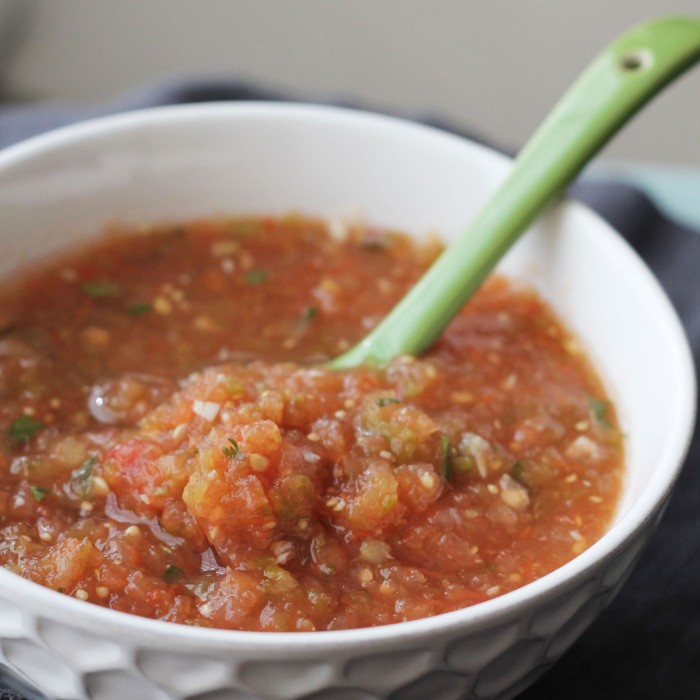 Recipe Card
love it? rate it!
Salsa Casera
Ingredients
2

Cups

Water

3

Teaspoons

Kosher Salt

6

Medium Tomatillos

Husked And Washed

3

Medium Roma Tomatoes

1

⁄2 White Onion

Diced

1

Whole Clove

Optional

4

Large Cloves Garlic

1

Jalapeño

Stemmed

1

Chile De Arbol*

Stemmed

1

Tablespoon

Minced Cilantro

Optional
Instructions
In a 2-quart saucepan, combine the water, 2 teaspoons of the salt, tomatillos, tomatoes, onion, clove, garlic, and chiles. Bring to a simmer over medium heat and cook gently for about 10 minutes, until the tomatillos are just softened. Be careful not to boil vigorously, or the ingredients may fall apart.

With a slotted spoon, transfer the vegetables to a food processor, draining well. Discard the cooking liquid.

Add the remaining 1 teaspoon of salt and pulse the salsa until it is very smooth, with specks of chile de arbol. Cool completely.

Stir in the cilantro, then taste and adjust the seasoning as desired.
Notes
Author's Notes: Quick to make and infinitely useful, this very typical salsa is made in every home in every region of Mexico in some form or another. You can use salsa casera as an all-purpose table salsa, and it is ideal for all kinds of basic, home-style cooking (see Serving Ideas). I consider this a very mild salsa, but to throttle back the heat even more, substitute chiles such as Anaheim and dried guajillo for the jalapeño and chile de arbol. Conversely, double the chiles for more kick.
*My Notes: Because it can be hard to find chile de arbol and dried guajillo at most grocery stores I also tried out the recipe by substituting 1/4 teaspoon cayenne pepper.
did you make this recipe?
Make sure to follow on Pinterest @easyrecipesfromhome for more easy recipes!
Disclaimer: I received this book from Blogging for Books for this review. I did not receive any compensation for this review and all opinions are my own.
Reprinted with permission from Salsas and Moles, by Deborah Schneider, copyright © 2015, published by Ten Speed Press, an imprint of Penguin Random House LLC.
Book Cover Photograph copyright © 2015 by Maren Caruso