This classic Chicken Pot Pie is loaded with chicken, veggies, and a creamy cheese filling to ensure this will be a fall comfort food for the whole family.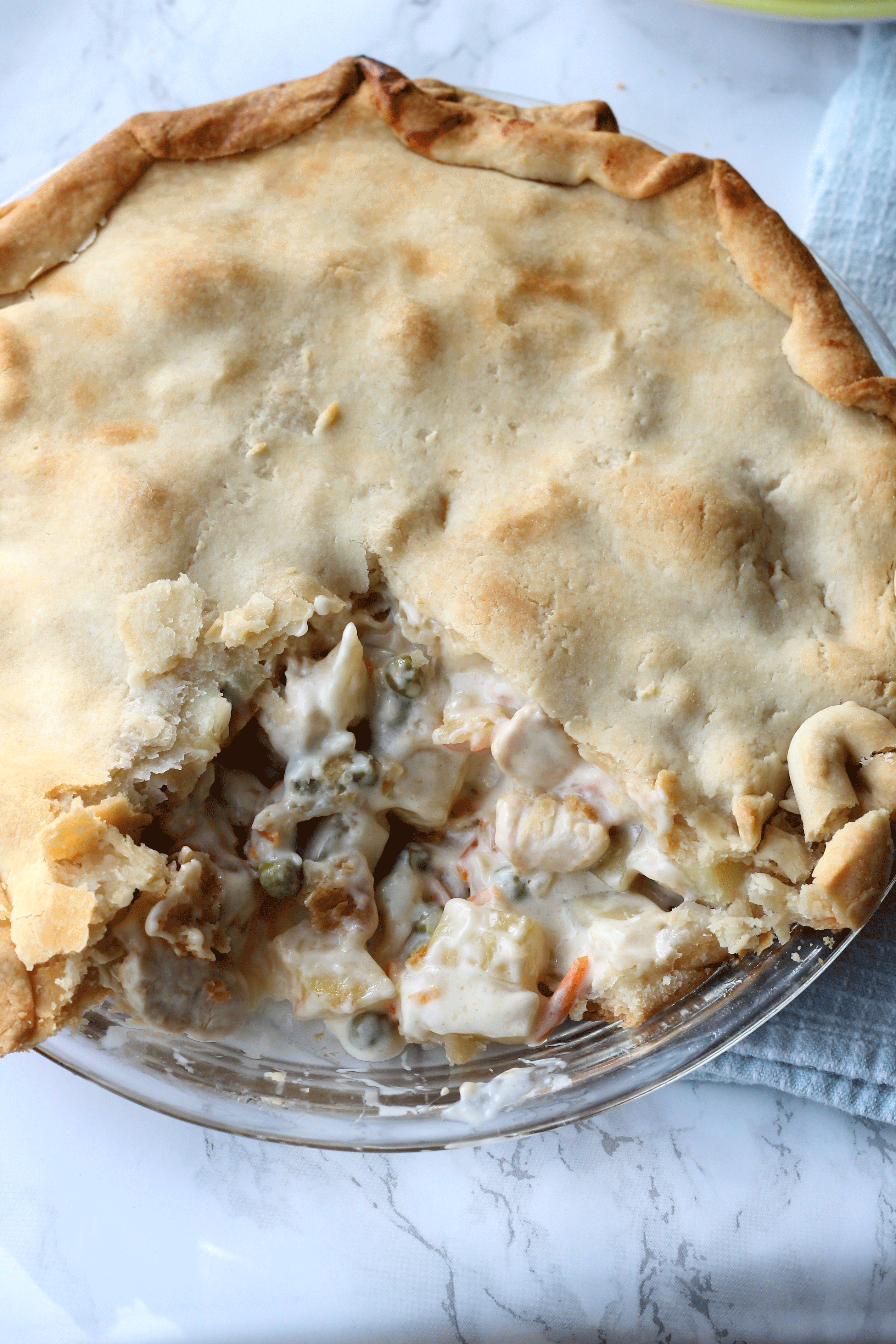 I still can't believe it's October!
That means my birthday month is here (yes you read that right) and Halloween. Last year we dressed up JG as an elephant even though we didn't take him trick or treating I mean he was only 5 months old. But this year we are doing Boo at the Zoo. What should Amelia and JG be? We are thinking a cow since that's his favorite thing in the entire world right now, that and the Beach Boys song Barbara Ann.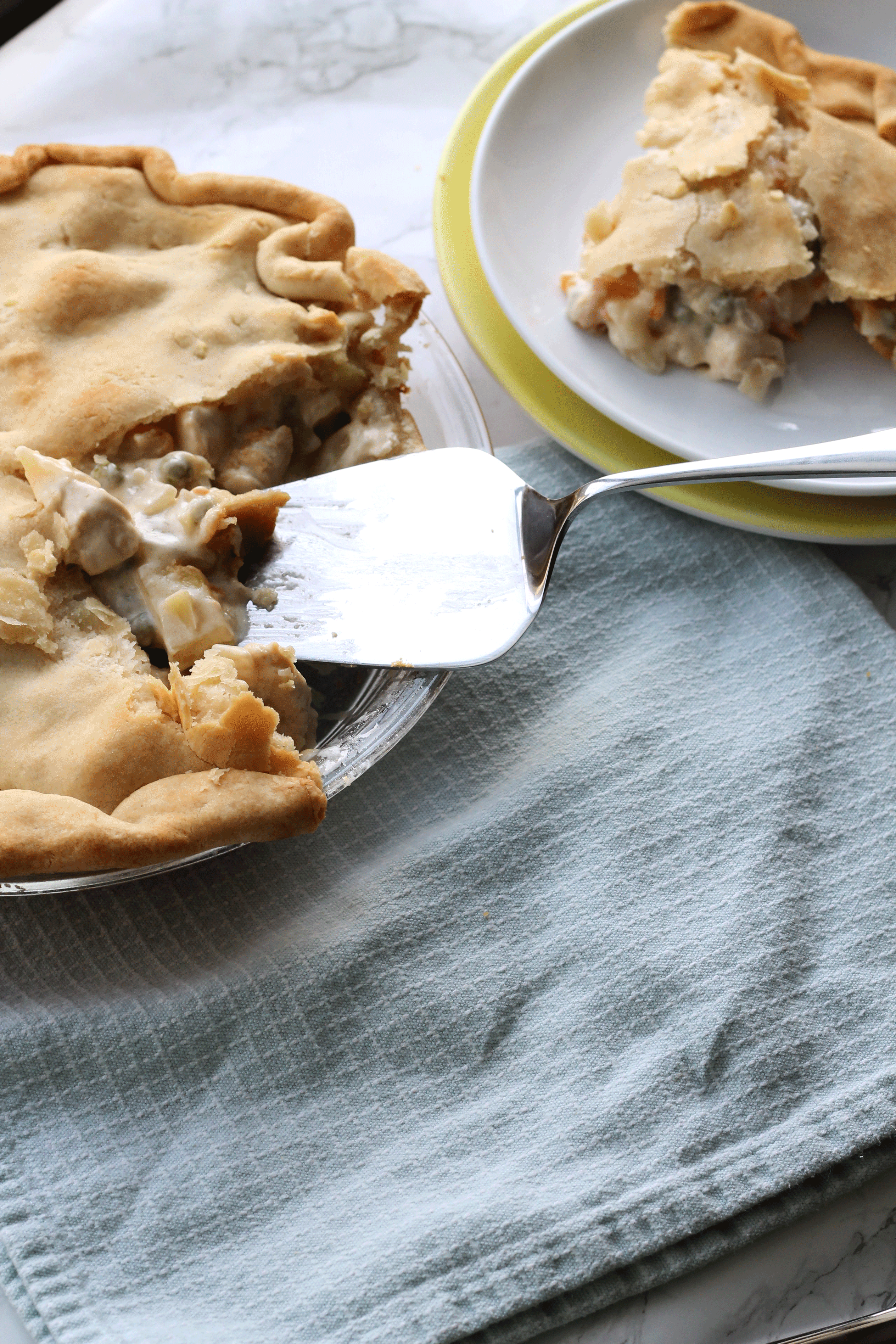 Also October means time for chili, tailgating recipes, apple recipes, pumpkin dishes and pot pie. Okay so technically pot pie does not have a direct correlation to October. But I have waited long enough to share this dish with you. I mean you don't necessarily crave warm comfort food in the summer do you?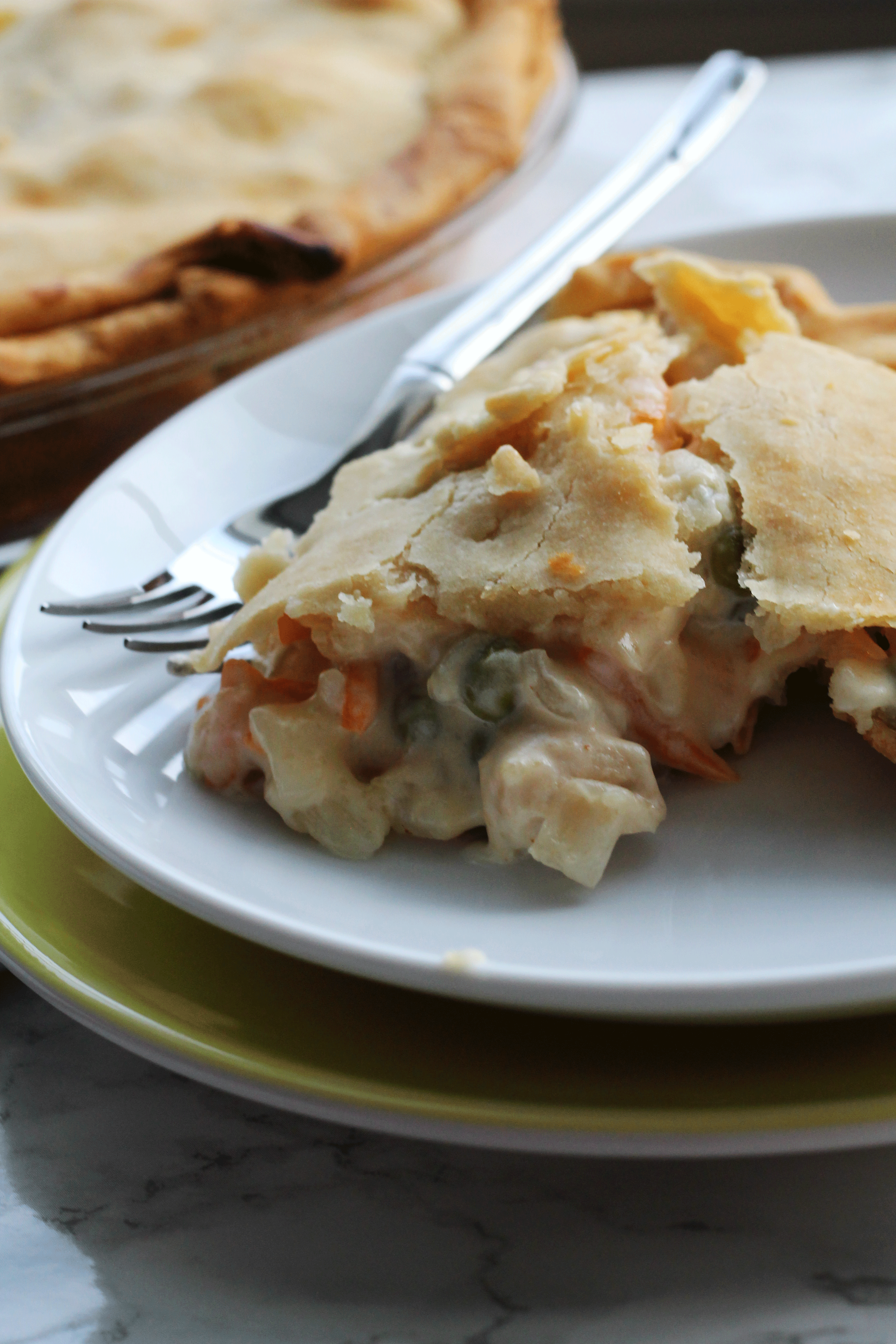 The filling is creamy and cheesy. I probably could eat just the sauce by itself its so good. But what is a pot pie without chicken and a few veggies? Sounds simple enough right? One of these days I'm gonna give pie crust making a shot. I mean I've made pasta from scratch, biscuits from scratch so obviously this can't be much different. But for this recipe I used the pre made dough to save a few minutes…lets be real here I do have a newborn and toddler.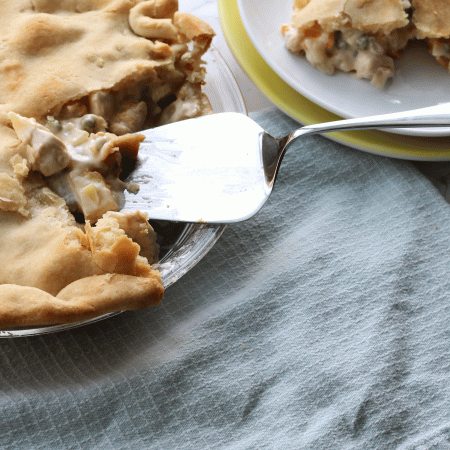 Recipe Card
love it? rate it!
Chicken Pot Pie
Ingredients
2

tablespoons

olive oil

1

pound

chicken tenders

cut into bite size pieces

1/2

cup

diced yellow onion

1

cup

vegetable broth

1

teaspoon

salt

1/2

teaspoon

pepper

1

cup

peeled and diced Yukon gold potatoes

1 1/2

cup

frozen peas and carrots

2

tablespoon

cornstarch

2

tablespoon

water

1 1/2

cup

heavy cream

1

cup

shredded cheddar cheese*

optional

1

box pie crust
Instructions
Preheat oven to 375 degrees.

In a large saucepan, heat olive oil over medium heat. Add chicken and onion. Cook for 8-10 minutes until cooked through.

Stir in vegetable broth, salt, pepper, potatoes, and peas and carrots. Cook until tender, about 3-4 minutes.

In a small bowl combine cornstarch and water. Then slowly pour into filling mixture.

Add in cream and stir until it thickens, about 3-4 minutes. Stir in cheese until fully mixed through.

Spray a pie dish with cooking spray. Fit 1 pie crust into the bottom of the pie dish and prebake the crust for 5 minutes.

Then pour filling into pie shell. Place the other pie crust on top. Press the two pie crusts together to seal and crimp edge using your fingers.

Cover with foil and place on a baking sheet and bake for 30 minutes.

Remove the foil and bake for 5-7 minutes more until golden brown.
Notes
*You can use less if you do not want cheese in your pot pie
did you make this recipe?
Make sure to follow on Pinterest @easyrecipesfromhome for more easy recipes!