Okay so you don't have to be a new mom to enjoy a freezer meal.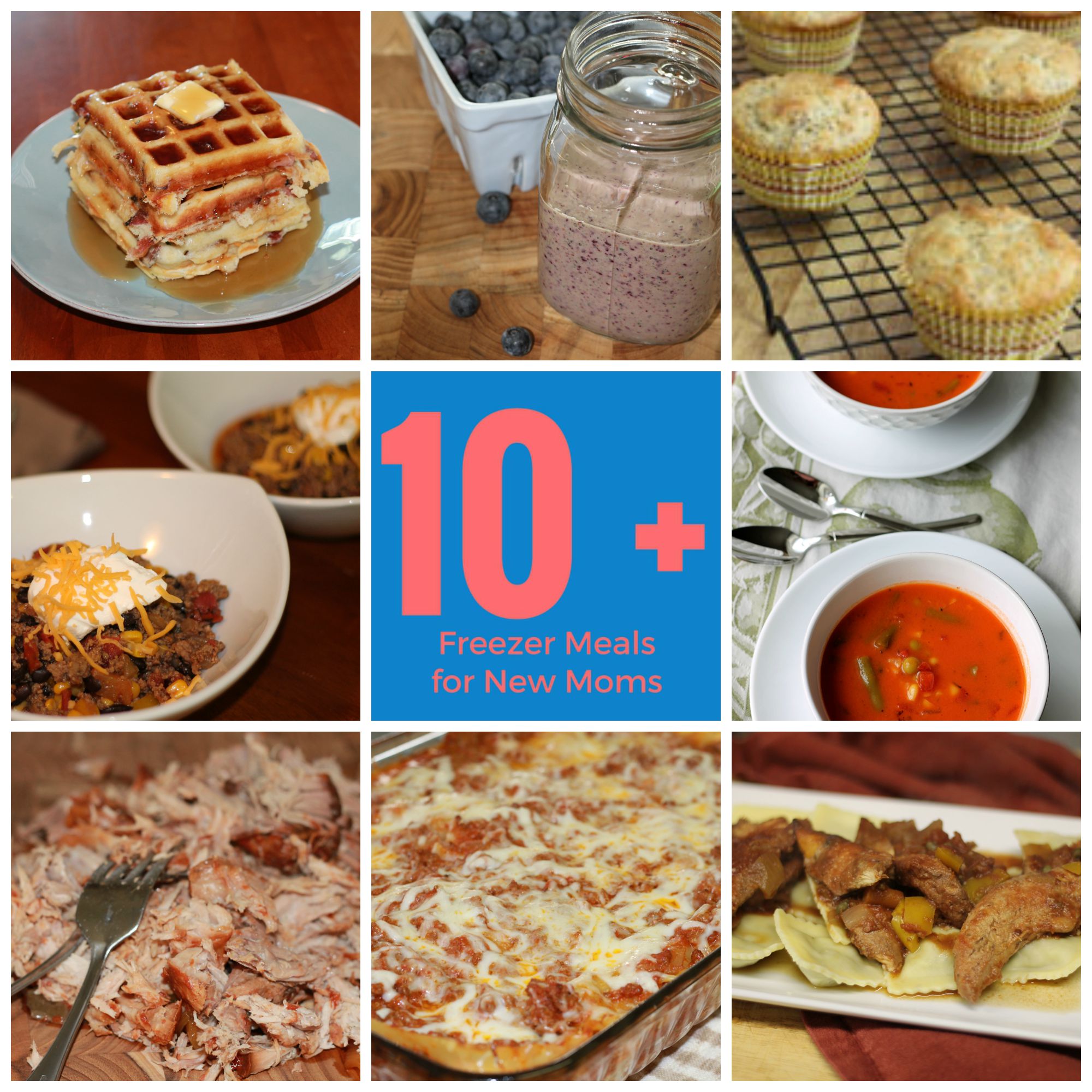 And technically I'm not a new mom but with adding a new baby to the mix this month the last thing I want to think about is dinner.
So whether you are pregnant and want to prepare these meals ahead of time (like I did this go round with Amelia) OR are a friend or family member taking these to a new mom OR let's be honest we all have those days where you just don't want to go to the store and are glad you have something pretty much already prepared – these recipes are for you!
A few tips for freezing meals:
Casseroles – Use disposable pans for assembly.
Soups – Cool down all cooked soups and then transfer to a large ziploc freezer bag and lay flat to freeze.
Meats – Cook all the meats ahead of time then put in ziploc bag and freeze.
Try to use the meals within 1-3 months to keep them as fresh as possible.
Label what the dish is, the date, and thawing/warming/baking instructions.
Some of these meals are for family dinners and others are for individual portions.
For best thawing: Store in fridge 24-48 hours before serving. For a quick thaw fill kitchen sink or large bowl with cold water, place the frozen sealed item in it, and change the water every 30 minutes until completely thawed.
Breakfast
Blueberry Smoothie – I put all the ingredients into a ziploc bag EXCEPT banana (they tend to brown once you thaw them), freeze and thaw the night before you plan to have one. Or do a quick thaw the day of to break it up a little easier and throw it in a blender for a frozen smoothie.
Lemon Poppyseed Muffins – I like to store 1-2 muffins in a small ziploc bag and then put all of those bags into a large freezer bag. This helps with individual portions.
Bacon Cheddar Chive Waffles – Pop the waffle in the toaster and add syrup.
Triple Berry Bread – Defrost overnight and then slice away. Or preslice after baking it and store like the muffins.
Soups/Chilis
Vegetable Soup – Double this batch and have some for dinner tonight and freeze the rest.
Black Bean Soup – This hearty soup is great for lunch or dinner.
Fiesta Chili – This chili is super easy to make ahead, store and freeze.
Meats – for both meats, make ahead of time and store in freezer bag. They are both easy to thaw and then serve with hamburger buns.
Main Dishes
Lasagna – I prepare the whole lasagna, assemble in disposable pan and freeze. I thaw overnight and bake it the day I am serving it.
Chicken Cacciatore – easy slow cooker meal to make, then let cool and freeze.
These meals can be life savers for you or that new mom. Now go stock your freezer!