School is out. And when I say school I mean Mother's Day Out – greatest gift to mama's out there.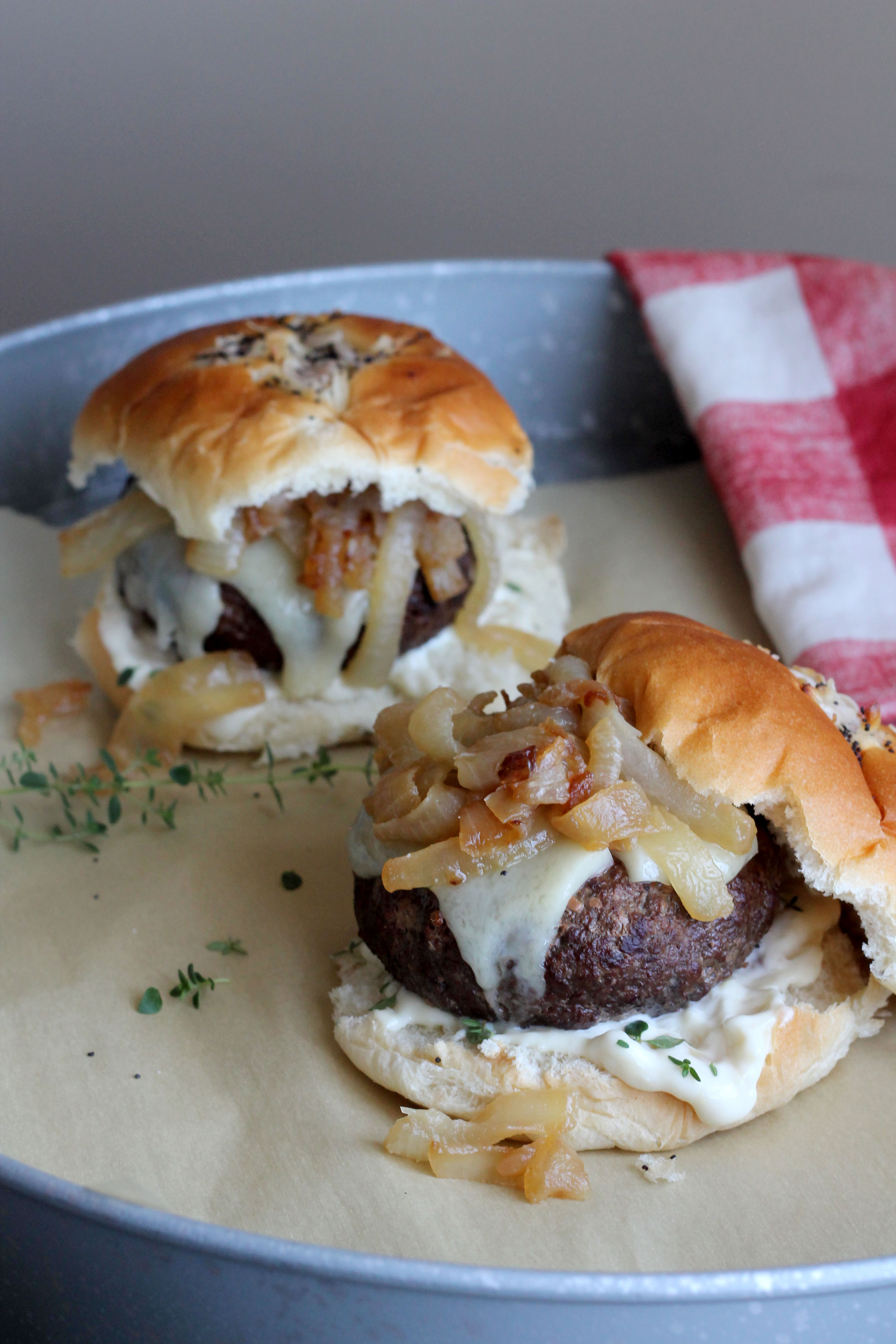 So for the next two weeks (until it starts back up) my little munchkins will be helping me work from home. Things might get a little crazy over here….to give you an example this post was supposed to go up last Thursday. And here we are on Tuesday.
Memorial Day is on the horizon and if you are like most you will be enjoying the outdoors and hopefully someone is grilling. If it's not BBQ then it needs to be this French Onion Burger!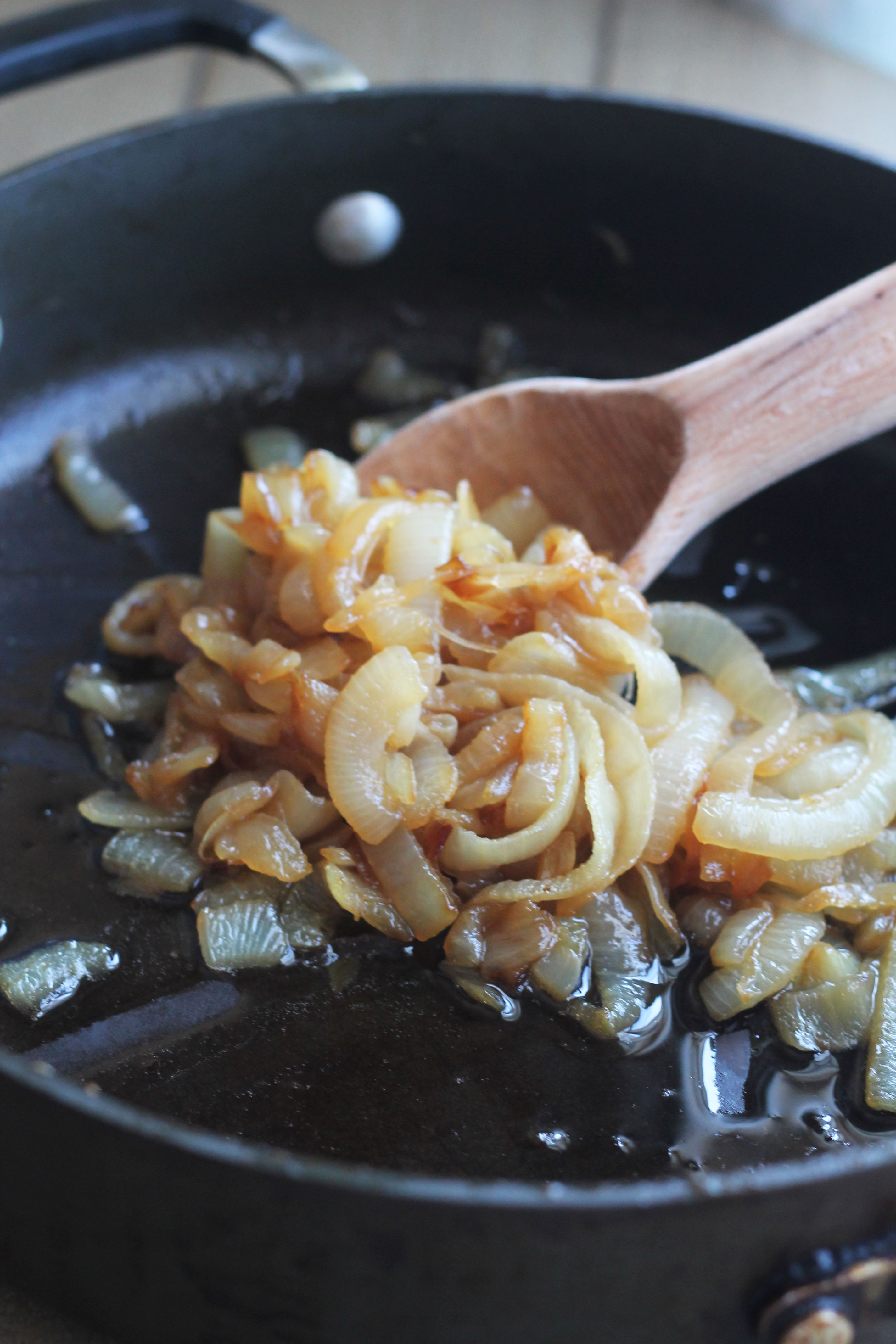 I mean if you didn't figure it out from the name I decided to make the classic French Onion Soup into a burger. And caramelizing onions is only the beginning to this bad boy burger. I roasted garlic in the oven and made a paste which I then added to some mayo, topped the beautiful beef patty with some melted Gruyere cheese and thyme leaves. And because I think it needed even more onion flavor all is put in between an onion bun.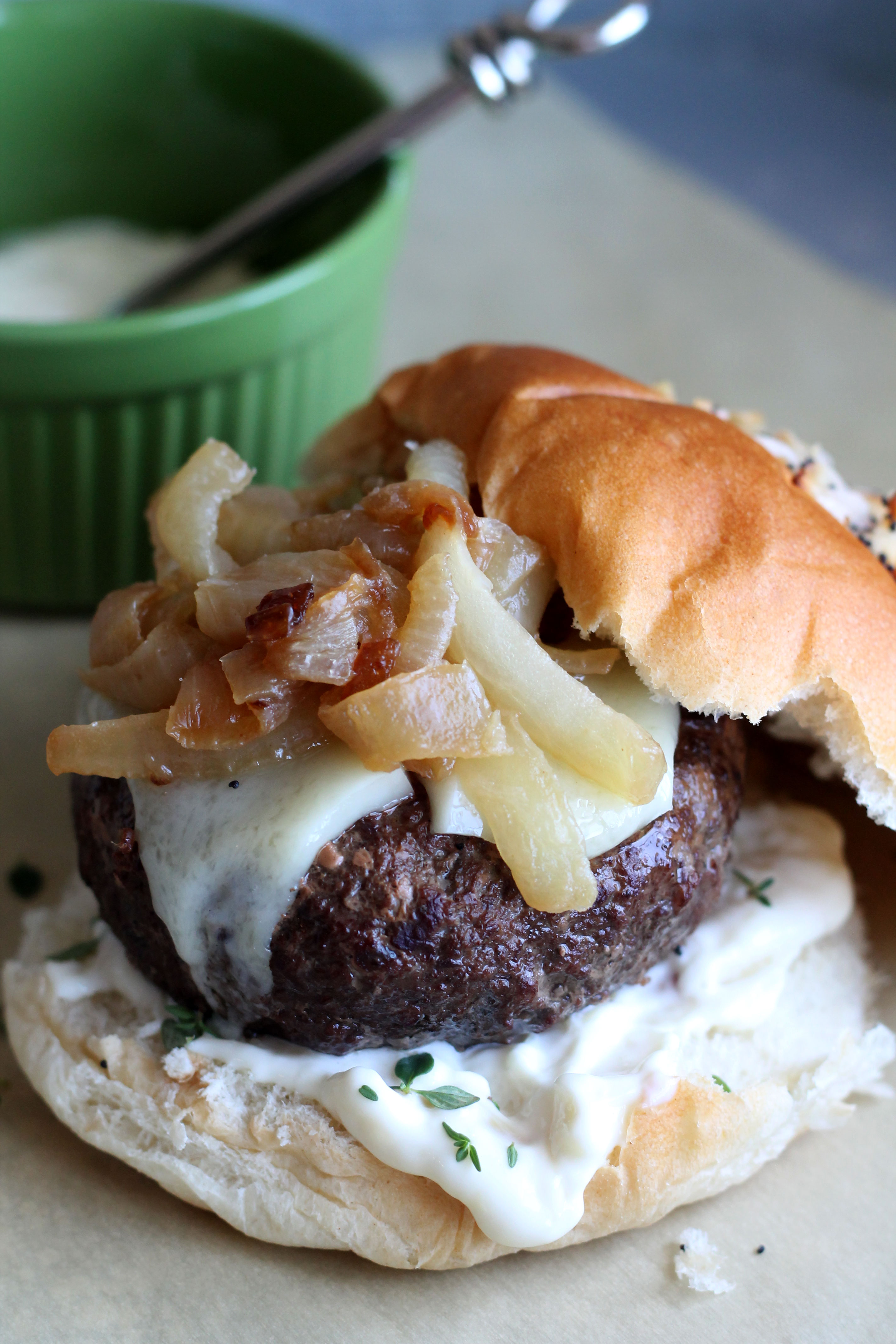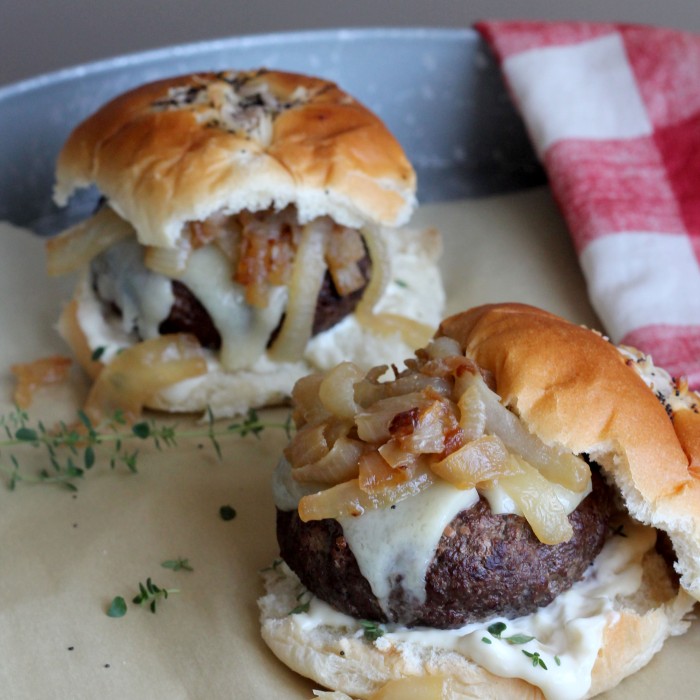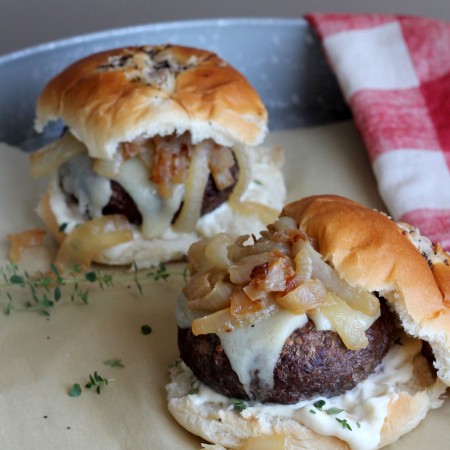 Recipe Card
love it? rate it!
French Onion Burgers
Ingredients
Burgers
1

pound

ground beef

1

teaspoon

salt

1

teaspoon

pepper

1

teaspoon

garlic powder

2

teaspoons

Worcestershire sauce
Roasted Garlic Mayo
2

whole heads of garlic

1

tablespoon

olive oil

1/2

teaspoon

lemon juice

1/3

cup

mayonnaise
Caramelized Onions
2

medium size Vidalia onions

2

tablespoons

butter

1

tablespoon

oil

4

thick slices of Gruyere cheese

4

onion buns

sliced

Fresh thyme leaves for garnish
Instructions
Combine ground beef, salt, pepper, garlic powder, and Worcestershire sauce in bowl. Set aside

Preheat oven to 400 degrees.

Cut off top of garlic to show part of cloves. Drizzle with olive oil and wrap both heads of garlic in aluminum foil. Bake for 40 minutes.

Slice onions into thin slices. Melt butter in large pan over medium heat. Reduce heat to medium low and cook onions for 40-45 minutes until they are a gold brown. Stir frequently so they do not burn. Add 1 teaspoon of olive oil at a time if they are browning too quickly.

While onions and garlic are cooking prepare grill for medium heat. Prepare burgers into 4 patties. Grill for 5-6 minutes on each side or until they are cooked through to your liking.

Top each patty with the Gruyere cheese allowing it to melt.

Carefully remove garlic cloves from head of garlic. Once it has cooled squeeze from bottom and the cloves slip out. Using a fork mash the cloves to make a paste (yields about 2 tablespoons) then add this to a small bowl. Add the lemon juice and mayonnaise and stir. Slather some on bottom buns.

Top each patty with 1/4 cup caramelized onions and and thyme leaves.
did you make this recipe?
Make sure to follow on Pinterest @easyrecipesfromhome for more easy recipes!
Remember how April used to be Beer Month a couple of years ago? Well now another blogger friend, Kita the mastermind behind Girl Carnivore has been doing May as Burger Month so myself and like 150 other burger lovers decided to join her.
And to make Burger Month even better (Drum roll please)….There is an amazing giveaway happening so click HERE to enter.
Check the prizes out below.
While this is not a sponsored post I would like to thank AMERICAN LAMB BOARD, ANOLON. BEEF, IT'S WHAT'S FOR DINNER, CHAR-BROIL, CURLY'S BBQ, CUTTINGBOARD.COM, MELISSA'S PRODUCE, PRIMAL STONE, SPICEOLOGIST , THERMOWORKS , & VEAL MADE EASY for providing all of these goodies!