I've told you all before I do not have a sweet tooth. But after this weekend I decided I am definitely going to start baking more. John and I were put in charge of bringing some of the food for the tailgate this weekend and of course his solution was to get a large Chickfila platter and that was it. Now don't get me wrong I love chicken nuggets like everyone else but these kind of events are my excuse to cook lots of things that I don't get to on a regular basis. Normally if we were watching the game at our house I would make my crock pot queso but since I knew we would be outside I went for my sister in law's black bean, corn, & feta dip, and some chips and salsa. I also had an itch to bake something sweet so originally I thought I should do something easy like brownies. I did a little bit of research on how to take the average brownie a step further. I looked in our fridge and the first thing I saw was Guinness and I went to work!
The Guinness added a creaminess that I did not expect from a beer. Next time the only thing I might try out is adding the extra stout Guinness for a more distinct beer taste. So try these out then enjoy the rest of this Irish brew left from the bottle while waiting for these delightful brownies to come out of the oven!
Recipe Card
love it? rate it!
Guinness Fudge Brownies
Ingredients
1 ½

c.

flour

¾

c.

cocoa powder

½

tsp.

salt

1 ½

c.

12 oz bittersweet chocolate chips

1

c.

8 oz white chocolate chips

1

c.

semi-sweet chocolate chips

2

c.

Draught Guinness

room temperature

4

eggs

3

c.

sugar

1

tsp.

vanilla

¾

c.

butter
Instructions
Preheat oven to 375 degrees.

Place parchment paper on 9x12 baking pan and butter the paper.

Set heatproof bowl on top of simmering water in saucepan. Melt dark chocolate, milk chocolate, white chocolate and butter in bowl. Once melted set aside to cool.

In mixing bowl, combine flour, cocoa powder, and salt.

Place eggs and sugar in stand up mixer and beat on high until fluffy.

Add in vanilla and cooled chocolate mixture. Beat on medium until fully incorporated.

Slowly add in flour mixture.

Slowly add the Guinness on low speed. I repeat slowly, you don't want the foam to overtake the batter.

Pour batter into pan. Use an icing spatula to even out the top.

Sprinkle a combination of the chocolate chips on top.

Bake for 25 to 30 min or until a toothpick comes out clean.
did you make this recipe?
Make sure to follow on Pinterest @easyrecipesfromhome for more easy recipes!
Note: I recommend cooling for 20 minutes or so at room temperature before slicing into them. And if you can hold off even longer before biting into one, since these brownies are more on the fudge side, I put in my fridge for an hour to harden a little more to make it easier to cut. I suggest using a plastic knife.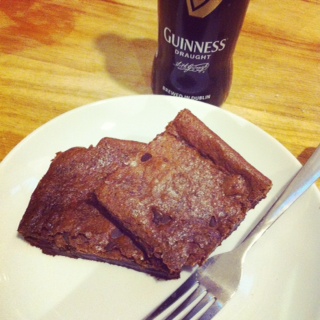 P.S. These were a huge hit at the Purdue vs Notre Dame tailgate we went to and even convinced me to start baking some more. Good thing John has a sweet tooth!