My first thought when I made this recipe was what is the correct spelling of the word fettuccine? I have seen fettuccini, fettucine, and fettucini. And each time I think I like the way it's spelled another chef spells it differently. Oh well, b
ack to the food…I doubt you came for a spelling debate.
There are so many classic Italian dishes out there from Pasta Primavera, Lasagna, Fettuccine Alfredo, Chicken Parmesan, to 4 Cheese Gnocchi, the list goes on. There are also so many kinds of pasta noodles, tortellini, pappardelle, rigatoni, penne, linguine, etc. I love Italian food!
Some of the fresh noodles from Nicole Taylor's Pasta Market where I go in Indianapolis. I have tried their tomato noodles and parmesan chive noodles and they are both phenomenal!
Besides my wedding day and honeymoon one of my best memories was when John and I went to Italy.
Having a picnic in Florence's Pitti Palace eating a magherita pizza
Eating quattro formaggi gnoochi overlooking the canal in Venice
right b
efore we went on a gondola ride
When we had the true Fettuccine alla Bolognese over there, this dish instantly became one of our favorites because it is so hearty and delicious. So as an ode to us missing the best place on earth I hope you enjoy!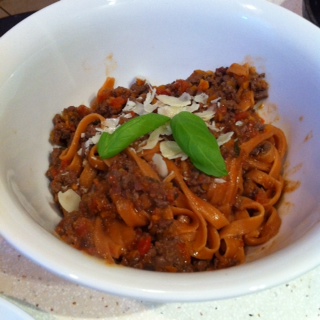 Recipe Card love it? rate it!
Fettuccine Bolognese
Ingredients
2 Tbsp. olive oil
1 lb. ground beef
2 oz. prosciutto diced
1 medium carrot roughly chopped
1 stalk celery roughly chopped
1 small onion whatever kind you prefer, roughly chopped
1 ¾ c. red wine I used pinot noir
½ c. milk
12 oz. canned chopped tomatoes
4 sprigs of fresh oregano
¼ tsp. chili flake
8 fresh basil leaves chopped
1 lb fettuccini noodles mine are fresh tomato- see picture of noodles above
1/3 c. grated Parmesan
Instructions
Heat Dutch oven with olive oil over medium high heat. Add ground beef and prosciutto. Cook until brown, about 5 minutes.

While cooking, combine carrots, celery, and onion in food processor and pulse to chop finely.

Remove meat from pan and set aside. Add vegetables to dutch oven with a pinch of salt and sweat until aromatic, about 4 minutes.

Add meat back to pan. Add milk and simmer until almost fully reduced, about 10 min.

Then add tomatoes, wine, herbs & spices and let it simmer for about 30 minutes, until all flavors are well combined.

While sauce is simmering, bring pot of salted water to a boil.

Depending on if you are using fresh or dry pasta will determine when to drop it in the water. Generally fresh is 3-4 minutes and boxed pasta is about 8-10 minutes.

Drain pasta and reserve about 1/3 c. pasta water (possibly less if your sauce still contains a lot of liquid). Stir in pasta into sauce. Add pasta water and parmesan and continue to mix.

Remove from heat and serve.
Nutrition
Serving: 4g
did you make this recipe?
Make sure to follow on Pinterest @easyrecipesfromhome for more easy recipes!
What is your favorite classic Italian dish?
And just because I am curious how do you spell fettuccine?