Recently I went on my Friday lunch date with my kindle to explore another restaurant in Indianapolis. As I was actually driving around trying to find a gas station I stumbled upon the Barking Dog Cafe. I figured why not. And it didn't hurt that their outside tables were lime green 🙂 So I ordered Crab Cake Sandwich and the Clam Chowder soup. To make it even more exciting it was featured on Food Network's Diners, Drive Ins, and Dives awhile ago. Except Guy Fieri suggested the BLT, which I should have gotten the Crab Cake Sandwich was a little bit of a let down. Bummer. But their menu said their famous Nantucket Clam Chowder was perfect no matter what the weather was. And I have to say it did not disappoint. I will definitely be trying to remake the clam chowder at some point. Most likely when it gets a little cooler outside.
This little spot made me think of my dogs since most of the locals brought their beloved puppies while enjoying their lunch outside, so I decided to go back and bake a treat for my pups!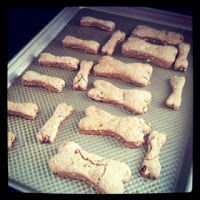 Recipe Card
love it? rate it!
Homemade Dog Treats
Ingredients
2

c.

whole wheat flour

1/2

c.

rolled oats

1

Tbsp.

baking powder

1

c.

peanut butter

1

c.

milk
Instructions
Preheat oven to 375 degrees. Grease cookie sheet. In a large bowl combine dry ingredients: rolled oats, flour, and baking powder. Set aside.

Combine peanut butter and milk in another bowl. Mix in the dry ingredients.

Knead dough on a lightly floured surface until dough is smooth. Roll to ¼ inch thickness. Cut with cookie cutter (or biscuit cutter) and place 1" apart on cookie sheet.

Bake 20 minutes in oven. Cool before giving to your dogs.
did you make this recipe?
Make sure to follow on Pinterest @easyrecipesfromhome for more easy recipes!
Hosea and Nova
Millie