Peanut and Cookie Butter Chocolate Chip Cookies might be a mouthful but as you can tell from the name they will be delicious in every bite you take!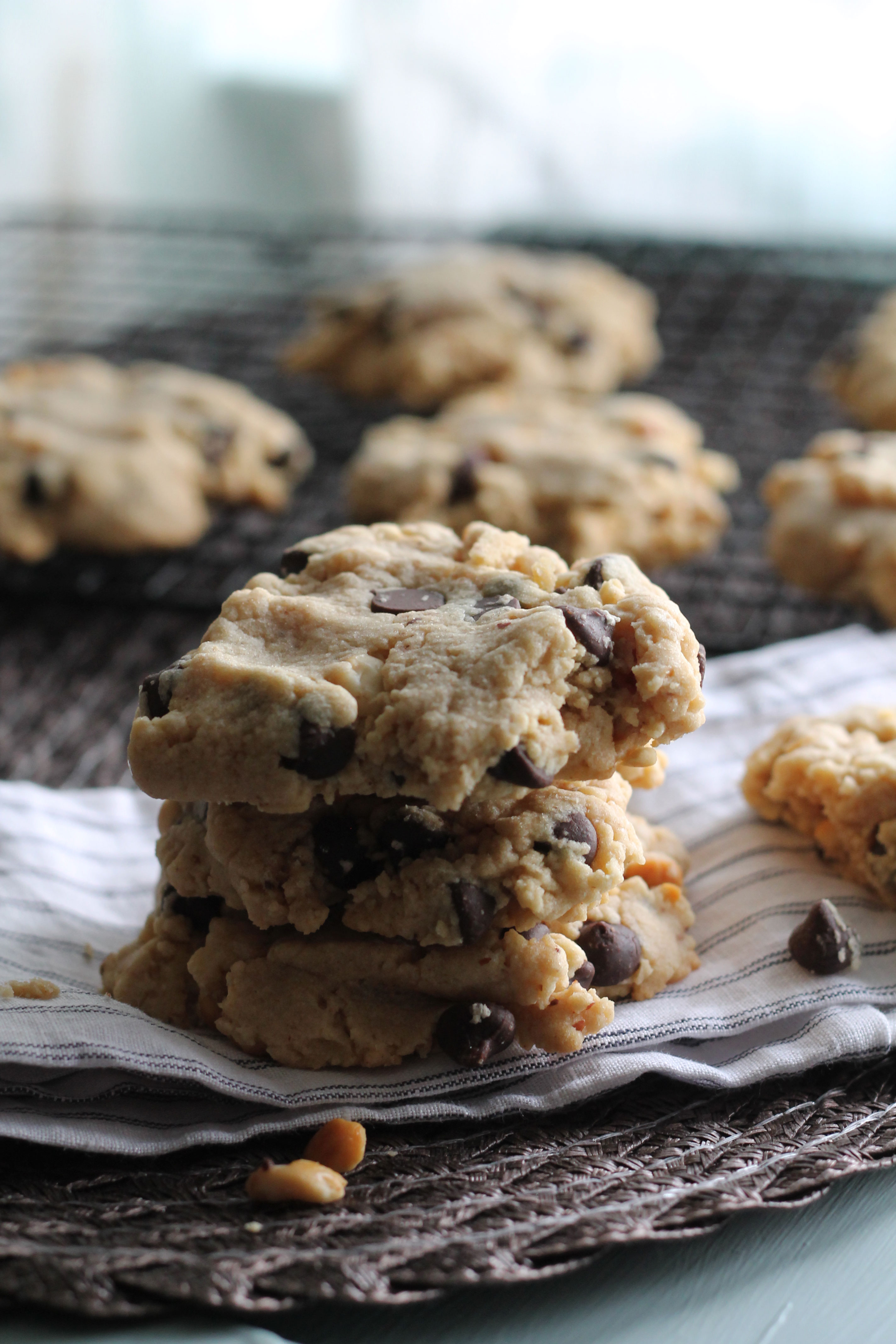 You know what's not fun? It's when you run out of butter and peanut butter when making these cookies (obviously two main components). I made 6 dozen of these bad boys. Well actually I made a dozen with creamy peanut butter then realized I still needed to make 5 dozen more so I changed to chunky peanut butters. Why 6 dozen cookies you ask? 3 dozen more for a women's church event and 3 for The 5th Annual Great Food Blogger Cookie Swap. – the whole reason this recipe is even in existence.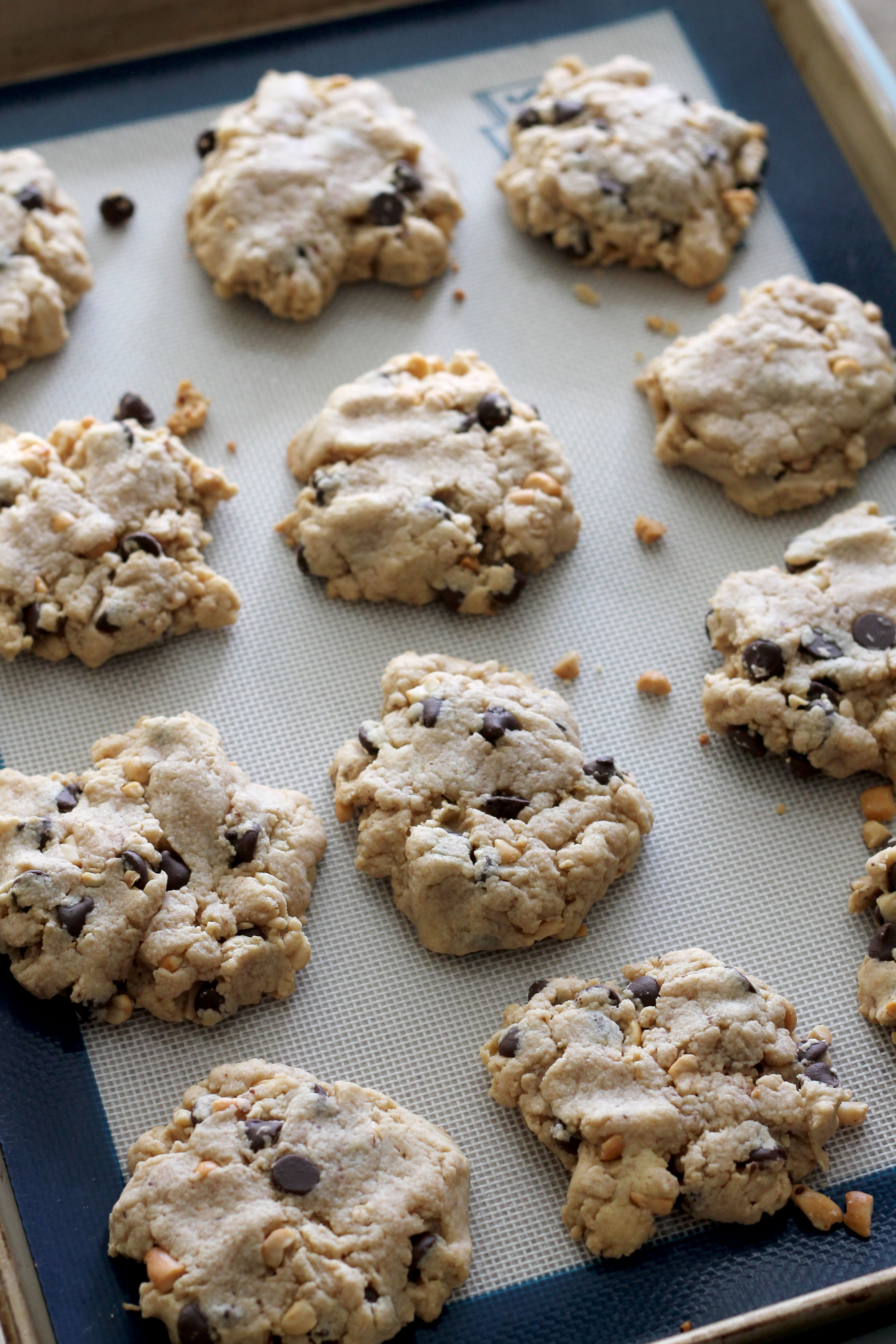 Who wouldn't get excited about exchanging a bunch of cookies with other food bloggers, meeting new people, and all while raising money for Cookies for Kids' Cancer? With both pregnancies all I craved were cookies so last year I made these and this year I made a batch of another one I craved. So my friend brought over these peanut butter chocolate chip cookies one night and I became wildly obsessed with them. And in true Hall Nesting fashion I had to add a few things.
These Peanut and Cookie Butter Chocolate Chip Cookies hit every note – salty, sweet, nutty, chocolatey (is that a word?) what else could you ask for? Oh ya and as you can gather from the long name because peanut butter and chocolate was not enough I decided let's throw in a little cookie butter.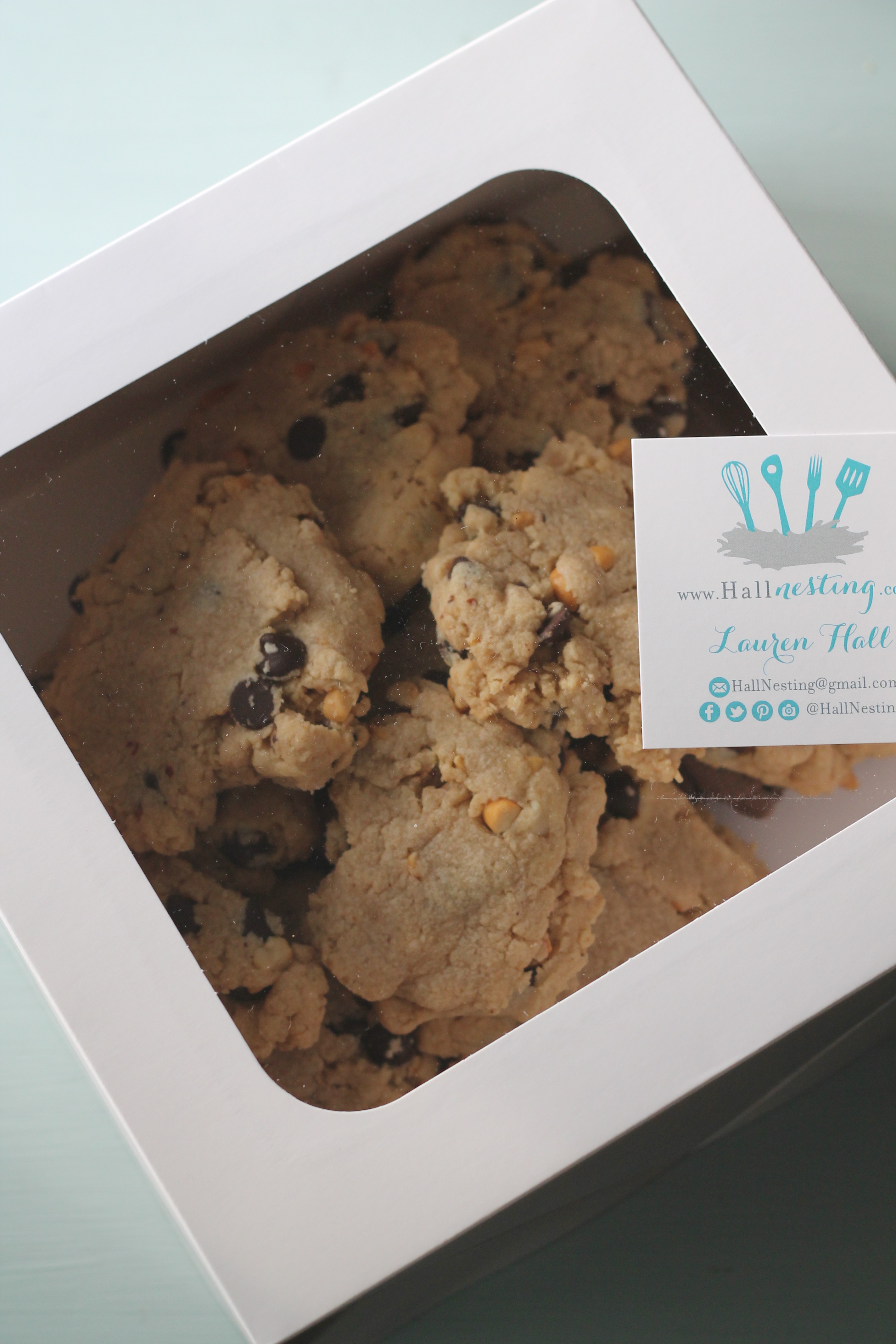 Have you had cookie butter from Trader Joe's yet? My friend Lindsay introduced me to this stuff. Actually her exact words were you need to try this stuff and figure out a recipe to put it in. Challenge accepted as I ate my way through half a jar later…this stuff is that good.
Even though I'm no longer pregnant, my cookie cravings are still very strong. And I've always wanted to be one of those people who had a jar full of cookies in their house – I guess now I am.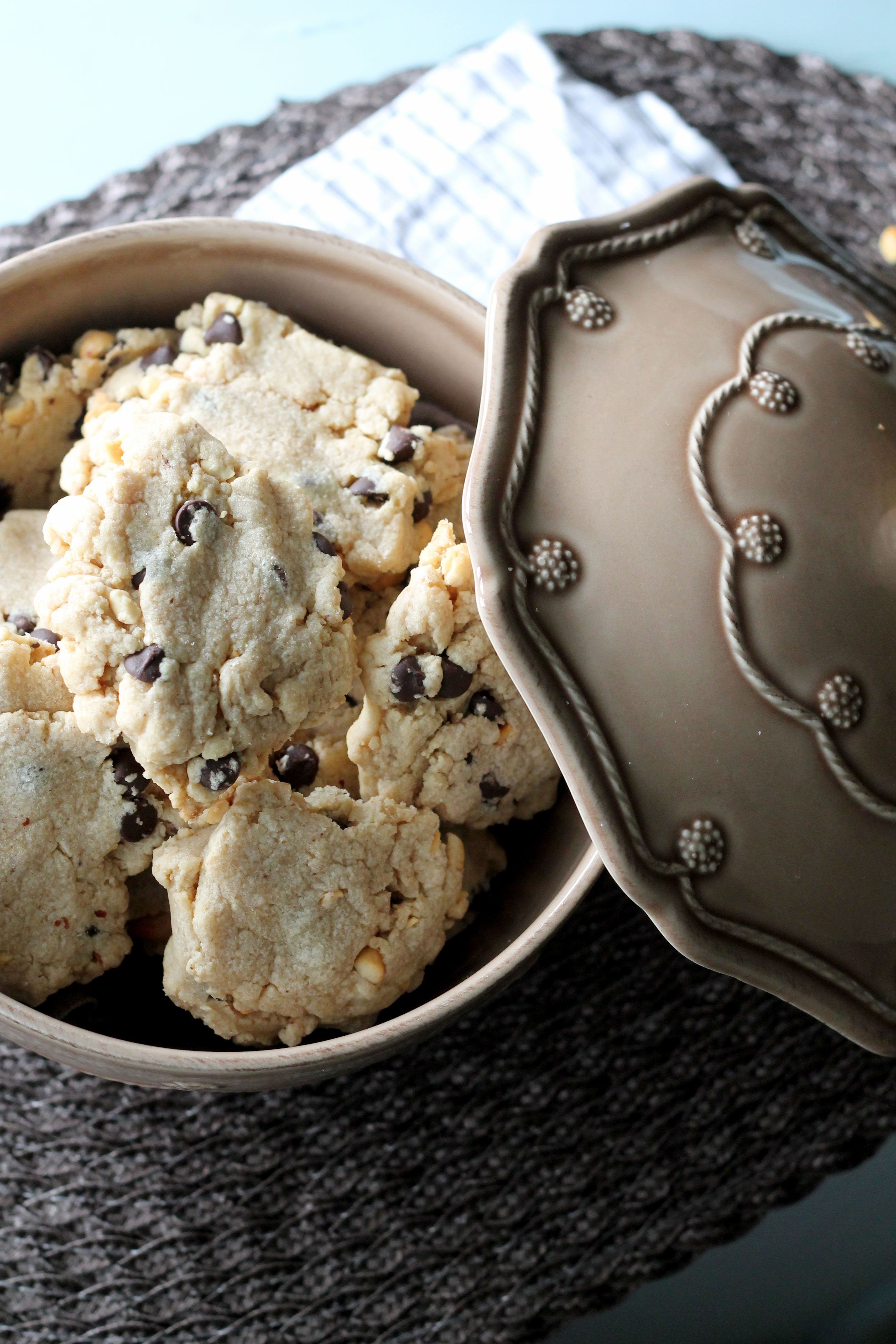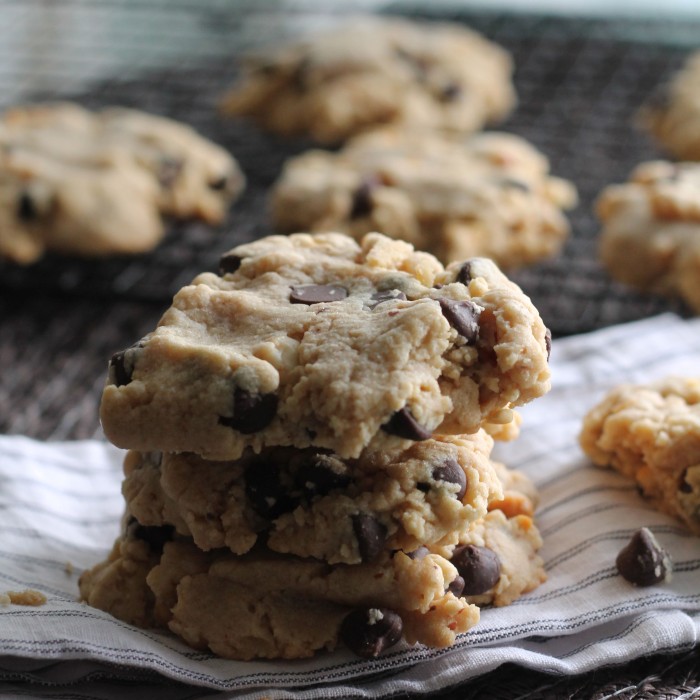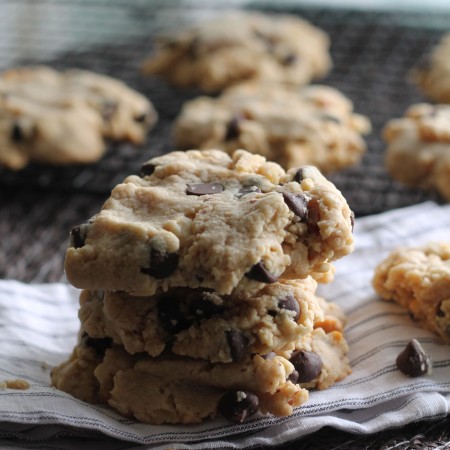 Recipe Card
love it? rate it!
Peanut and Cookie Butter Chocolate Chip Cookies
Ingredients
1 3/4

cup

all purpose flour

1/2

teaspoon

baking powder

3/4

teaspoon

salt

1

stick unsalted butter

at temperature

1/2

cup

sugar

1

egg plus 1 egg yolk

1

teaspoon

vanilla

2/3

cup

chunky peanut butter*

1/4

cup

cookie butter

3/4

cup

chocolate chips
Instructions
Preheat oven to 350 degrees.

In a bowl whisk together the flour, baking powder, and salt. Set aside.

Using an electric mixer, beat the butter on medium speed until creamy. Add sugar and beat on high for 3-4 minutes.

Add egg, egg yolk, and vanilla and beat until combined about 3 minutes.

On a low speed and in the flour mixture. Then add in the peanut butter and cookie butter, mix until just combined.

Stir in the chocolate chips.

On a greased baking sheet, add about 1/4 cup cookie dough onto the sheet and flatten slightly. Repeat until all dough is used.

Bake for 10-12 minutes and then allow to cool for 5 minutes.
Notes
*If you prefer no nuts, substitute creamy peanut butter
did you make this recipe?
Make sure to follow on Pinterest @easyrecipesfromhome for more easy recipes!