If there are two things Southerners love it's pimento cheese and pepper jelly.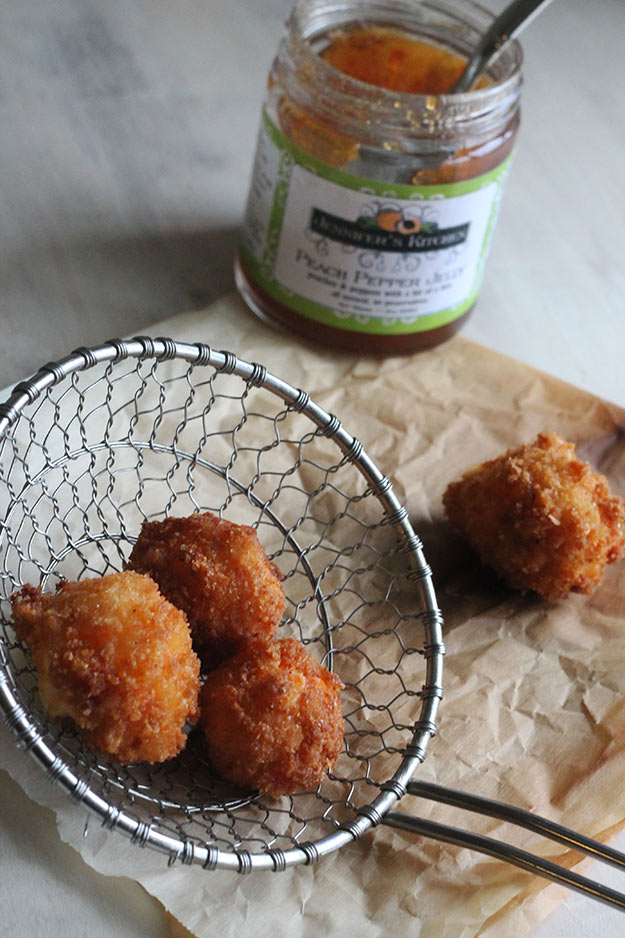 Disclosure: This post is sponsored by Jennifer's Kitchen Pepper Jelly. All opinions and thoughts are 100% my own.
Well we also like frying things of course. That's why I made these Pimento Cheese Fritters with Pepper Jelly. You all know how I have my little food "to cook" notebook and bucket list. Well making these little nuggets of cheesy goodness have been at the top of the list for some time. But I just never got around to it.
And when I finally did I couldn't decide if it was the best or the worst decision I've ever made because I can guarantee that you won't just have two. I might have had a plate of these after I shot the photos.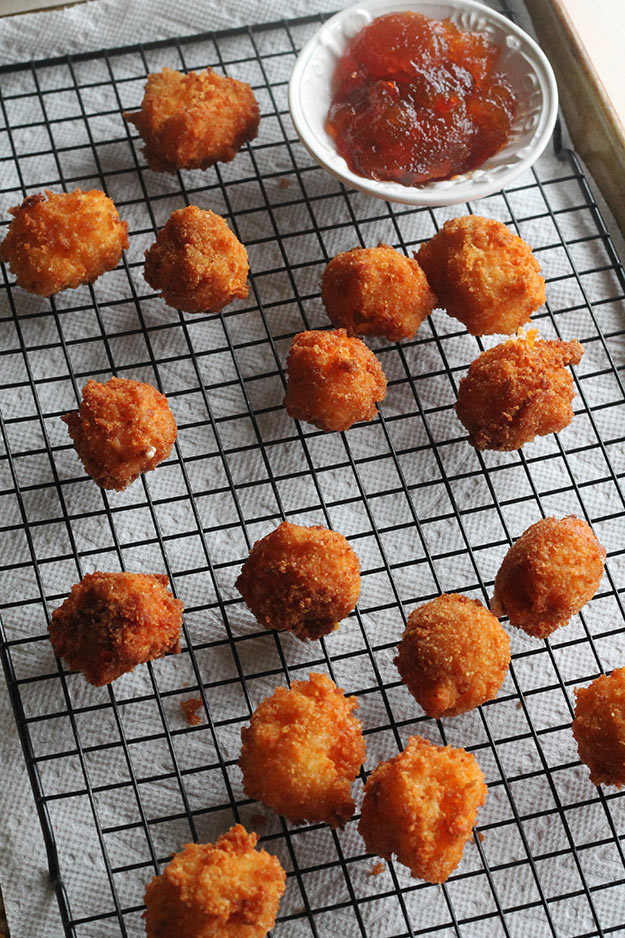 I was first introduced to pepper jelly via my mother in law years ago. At most holidays she has a classic cheese platter and then some cream cheese covered in pepper jelly as another appetizer. And that's just when the love affair began.
I also realized then I was pretty picky about pepper jelly. Some were too sweet. Others too spicy. Enter Jennifer's Kitchen Pepper Jelly into the picture. I hate to use the words life changing. But when I find a brand I love (kinda like my Tazo Chai Tea) I don't switch to another.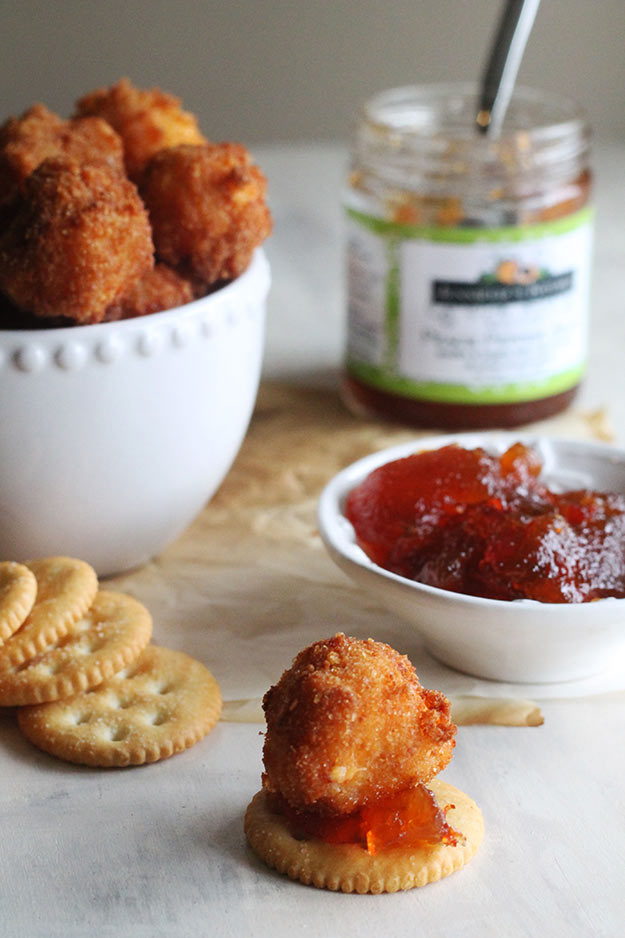 It is known to be 'Farmer's Market Fresh'. And you can tell. It is the perfect mix of sweetness with a little heat. And it doesn't linger too long like some pepper jelly does. The 5 flavors include Confetti, Holiday, Peach, Strawberry, Hot Confetti, and also Low Sugar options.
One of the other great things about this brand is they give you a ton of recipes to use it with. Whether you plan on using it for appetizers, main dishes, desserts or obviously with some Pimento Cheese Fritters won't be able to eat enough of this stuff. So be sure to go grab a few jars – I doubt you'll be able to resist only getting one.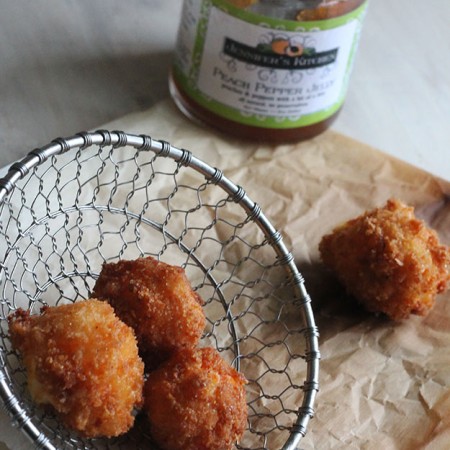 Recipe Card
love it? rate it!
Pimento Cheese Fritters with Pepper Jelly
Ingredients
Pimento Cheese Fritters
2

cups

grated sharp white cheddar cheese

1

cup

grated sharp cheddar cheese

4

ounces

cream cheese

at room temperature

3/4

cup

mayonnaise

1/4

cup

jarred pimento peppers

1

cup

flour

2

cups

buttermilk

1 1/2

cup

panko bread crumbs
Instructions
Make the fritters: combine the white cheddar, yellow cheddar, cream cheese, mayonnaise, and pimento peppers. Chill in fridge for at least 2 hours.

Form the mixture into 1-inch balls (a melon scooper is helpful). Place onto parchment lined baking sheet.

Place flour, buttermilk, and panko into 3 separate dishes.

Roll each ball in the flour, shaking off any excess flour. Then dip in buttermilk. Then roll around in panko. Repeat buttermilk then panko to make sure the whole ball is covered. If not it will leak out while frying. Repeat until all balls are covered.

Return to fridge for 30 minutes.

Heat oil in fryer or in large pot to 350 degrees. Fry the pimento cheese balls 5-7 at a time - not overcrowding the fryer/pan. Fry for 3-4 minutes, until golden brown. Remove with skimmer and place on paper towel lined plate. Repeat until all are fried.

Serve with pepper jelly and crackers.
did you make this recipe?
Make sure to follow on Pinterest @easyrecipesfromhome for more easy recipes!