Before you say Lauren another pot pie?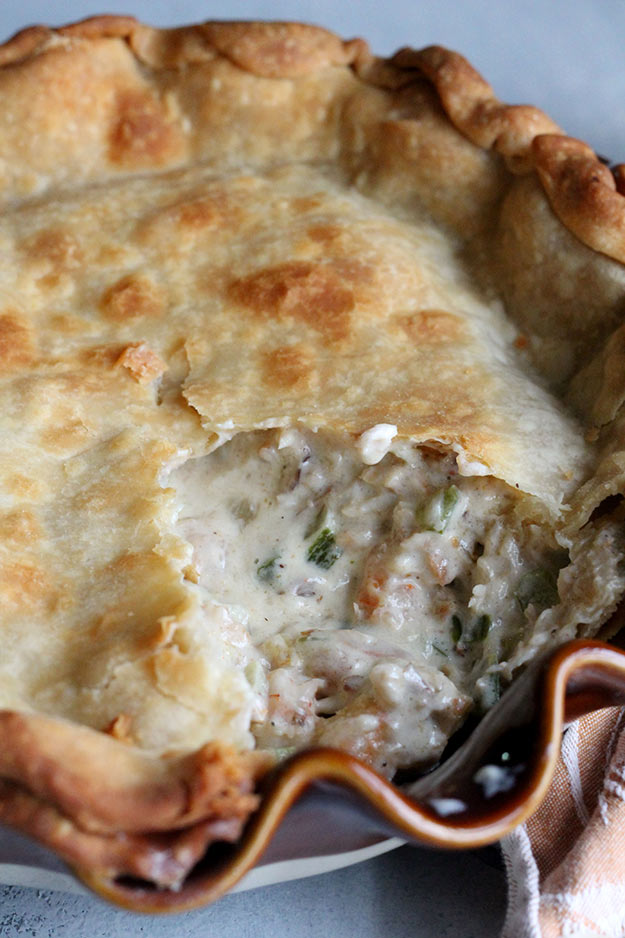 That was actually my sister in laws reaction (said in a loving joking way of course). Especially since her husband's favorite meal I've ever cooked is this one. But this Seafood Pot Pie might be my favorite! No I am not just saying that because it's my new recipe I am saying it because it's the truth.
Who doesn't love the classic chicken pot pie, or a beef pot pie? I mean I even made a turkey pot pie soup. And don't even get me started on my different versions of shepherd's pie. haha I know I may be a little crazy.
There are a few dishes out there that I have to remake because I love the restaurant version so much. Like this dish, this soup, and this mac and cheese. And at Stinky's Fish Camp (what a name right?) they had this Crawfish Pie that was the best meal of my whole beach trip. So I knew I had to remake it stat!
Now since it's not crawfish season I decided to switch it out for some shrimp and crab meat. And to be honest it might be even better.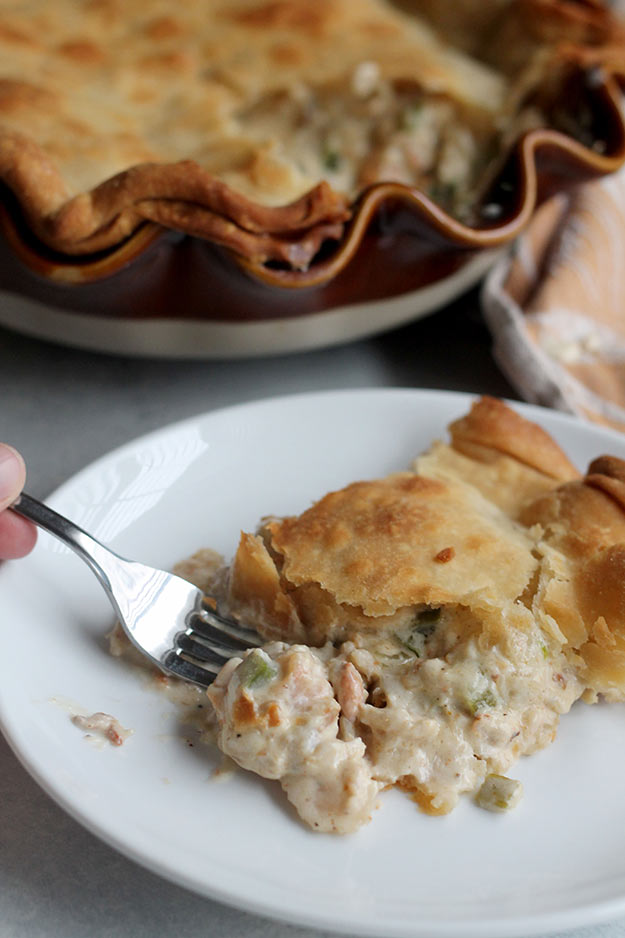 With winter coming to an end…Okay maybe it has come to an end already – I mean it is 76 degrees outside right now. Maybe if we were still in Indy it would be more fitting right now. But I don't care because I just love pot pie that much.
So if you need to – pin it or print it out for colder days. Or join the Hall family and eat it at anytime of the year!
There are a few things you need to know about this recipe. A few people in the food world do not believe cheese and seafood should go together. I am obviously not one of those people. And it's very rich and filling so be forewarned you might go into a food coma after eating a slice. Enjoy!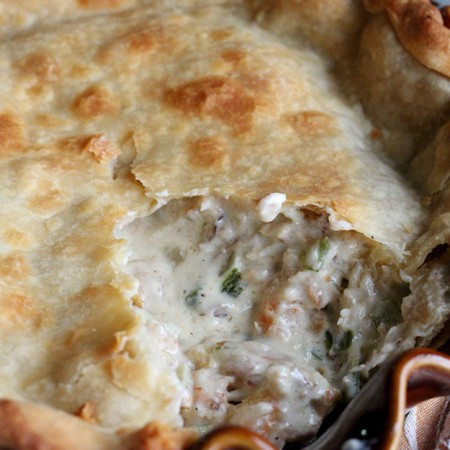 Recipe Card
love it? rate it!
Seafood Pot Pie
Ingredients
2

Pie crusts

3

tablespoons

butter

1

pound

shrimp

shelled, deveined and cut into bite size pieces

8

oz.

crab meat

1/2

medium onion

chopped (about 1/2 cup)

1/3

cup

chopped celery

1

red bell pepper

chopped (about 2/3 cup)

1 1/2

tablespoons

flour

1 1/2

cups

seafood stock

1/2

teaspoon

old bay

1/4

teaspoon

garlic powder

1

teaspoon

salt

1

teaspoon

pepper

1/2

cup

shredded Monterey Jack cheese

1 1/2

cups

heavy cream
Instructions
Heat oven to 425 degrees.

Prepare pie crusts according to package directions.*

Melt the butter in a large saute pan over medium heat. Add shrimp and saute 1 minute per side. Remove shrimp from pan and set aside.

Add the onion, celery, and bell pepper. Cook for 8-10 minutes until the onions are translucent. Add the flour and cook over low heat for 1 more minute, stirring occasionally.

Pour the stock into the pan. Add the 4 seasonings. Bring to a simmer, stirring occasionally for about 15 minutes.

Add the shrimp back in. Stir in crab, cheese, and heavy cream. Cook for 5 minutes, until a gravy like texture forms.

Pour mixture into the pie dish. Cover with top pie crust. Bake according to pie crust instructions - if the crust begins to brown cover with strips of foil.
Notes
*I highly recommend blind baking your pie crust for about 10 minutes, this helps for the bottom not to become soggy.
did you make this recipe?
Make sure to follow on Pinterest @easyrecipesfromhome for more easy recipes!