Some days I have nothing to say (shocker I know) hence the quiet blog for days – other days I can't stop rambling whether it's about TV shows or food.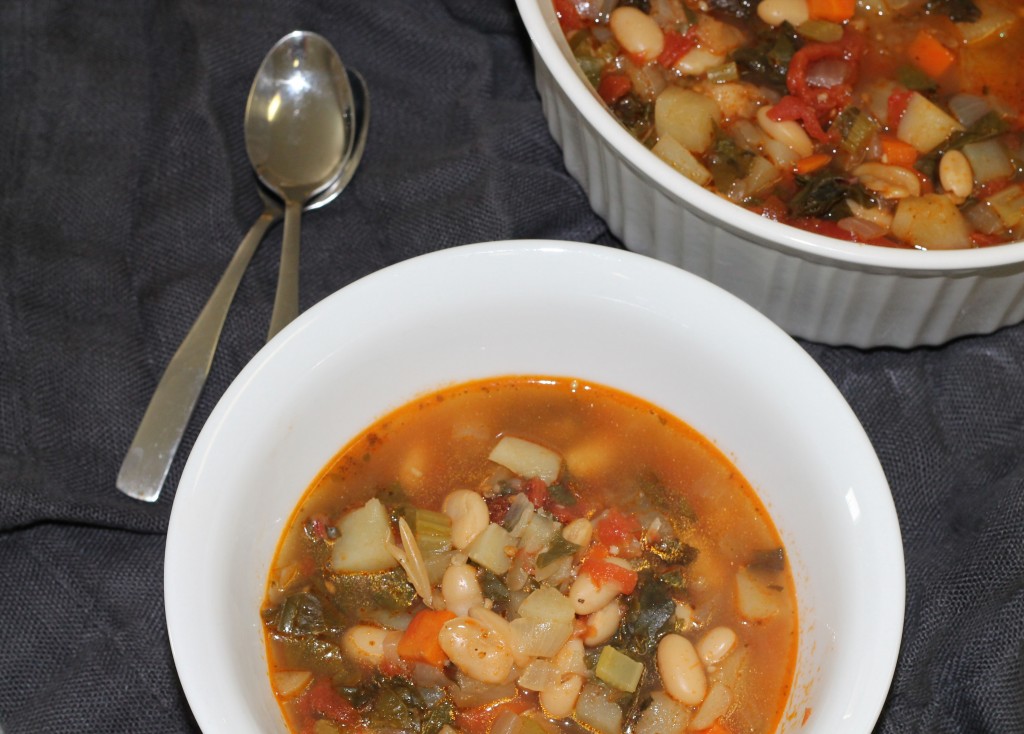 Originally posted February 5, 2013.
Today is one of those combination days. Luckily Mama aka Grandma is in town to help me out with John Grayson while I get the house in order before our move (42 days) and to get my blog life & work life organized. So this weekend we took a little break from John and the baby to go shopping.
It's October which means it's my birthday month – don't you celebrate all month long like I do?
Everyone and their mom was literally at Kohls this weekend. The line looked like people were shopping for Christmas and all I wanted to do was spend my $5 off coupon and get a sweater. We believe it was all because the winter (yes somehow we skipped fall) 43 degree weather hit Indy.
Why is that important you might ask – well that brings me back full circle to this soup.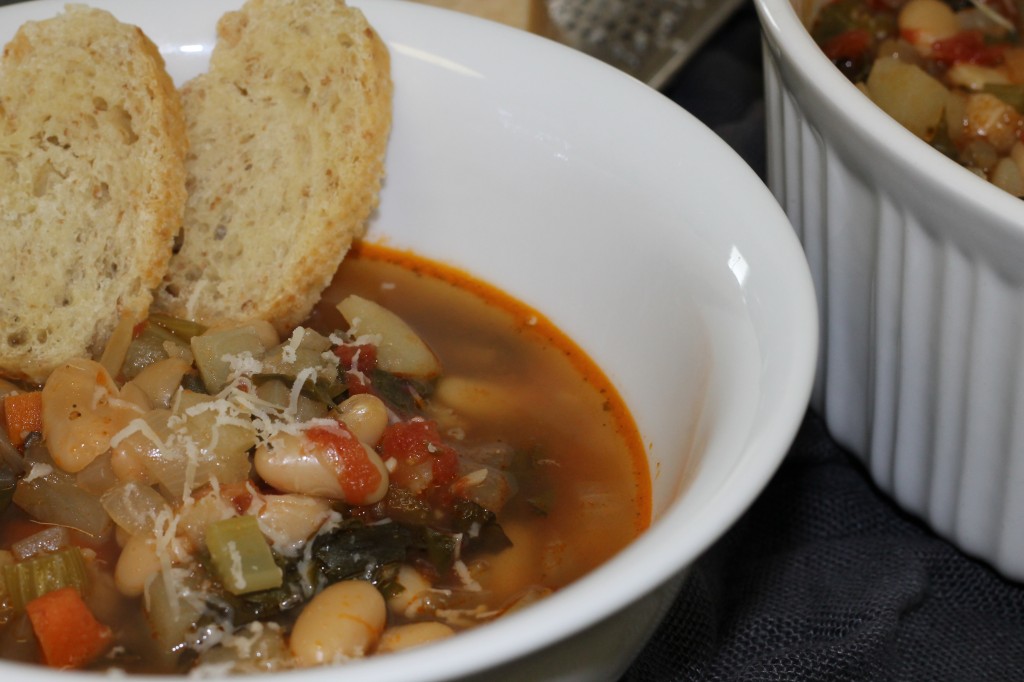 As you might have noticed I have been redoing a lot of old posts. As a food blogger we tend to look back at old posts and cringe. Well, that is part of the reason for me (photography of course), but the other part is I feel like I am learning a lot more about food the more I cook.
For instance, little has changed about this recipe except one key ingredient. To make this soup a little more velvety I added a Parmesan rind. And let's be honest you know about 80% of my dishes have cheese in them.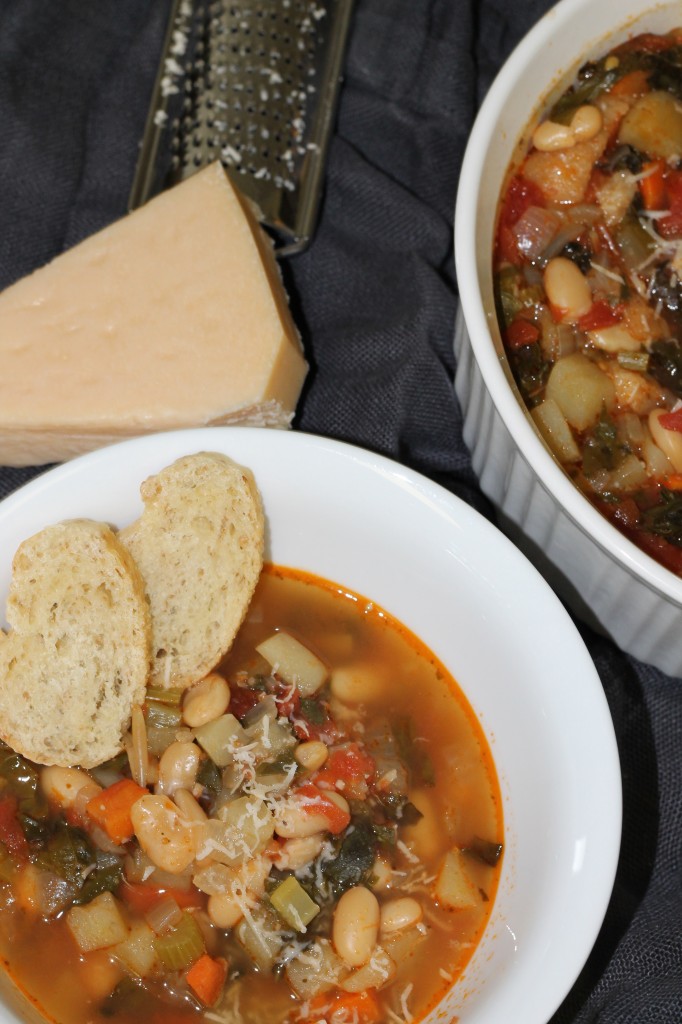 This is one of those soups that is perfect for vegetables that you have leftover in your fridge that you don't know what to do with. Any kind of leafy green will do. Have a bell pepper? Throw that in as well!
Traditionally this Tuscan soup literally means "reboiled" and uses leftover bread. And if you take out the bread it freezes extremely well!
Menu for the Week
Baked Salmon Cakes
with Kale Salad Smoky Southwestern Salad
Meatloaf
with Spaghetti Squash Dessert: Fall Truffles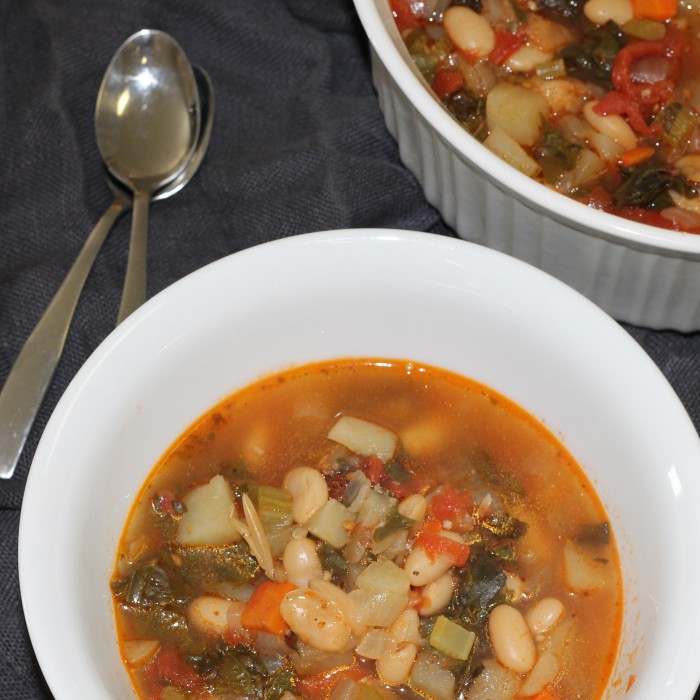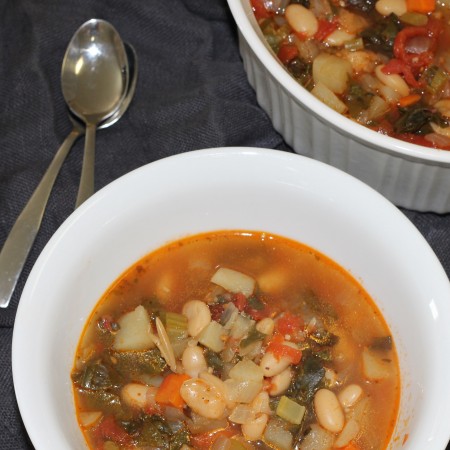 Recipe Card
love it? rate it!
Ribollita - Tuscan Vegetable Soup
Ingredients
1

medium yellow onion

diced (about 1 cup)

1

carrot

diced (about 1/4 cup)

1

celery stalk

diced (about 1/4 cup)

2

garlic cloves

minced

2

potatoes

peeled and diced (about 2 cups)

14

oz.

whole tomatoes

crushed with potato masher

Swiss chard

(about 1 cup leaves and stalks roughly chopped)

1

can cannellini beans

rinsed and drained

1

teaspoon

dried sage

2

teaspoons

salt

4

cups

water

Country loaf

1 day old preferred, cut into slices

Olive Oil

1

Parmesan rind
Instructions
In stockpot, heat olive oil. Add onion and saute for 4-5 minutes on medium heat. Add garlic and saute for 1 minute.

Add carrots, celery and potatoes. Cook over low heat for 5 minutes.

Add tomatoes, Swiss chard, sage and salt. Cover and simmer for over medium low heat for 20 minutes until greens are wilted and tender.

Add water and Parmesan rind and simmer on low for 40 minutes.

Add in beans, cook for 10 minutes. Preheat oven to 350 degrees.

Place bread in base of a casserole dish. Remove Parmesan rind (if it hasn't dissolved) from soup. Ladle soup on top. Cook for 10 minutes.

Remove from oven and drizzle with olive oil.
did you make this recipe?
Make sure to follow on Pinterest @easyrecipesfromhome for more easy recipes!