I guess it has been a craving lately because the last couple of restaurants I have been to I had to order the scallops. And the funny thing is, is that scallops are not a normal go to seafood dish for me. I prefer crab and lobster.
John and I were fortunate enough to go to the SEC Championship game a few weekends ago in Atlanta. But before heading to the game, we enjoyed a nice lunch with my parents at Rays in the City. One of their specials was their Parmesan Crusted Scallops with Lobster Risotto, Basil and Balsamic Reduction – it was actually on the dinner menu but John asked if he could have it for lunch instead. This of course prompted my daddy and me to change our original orders.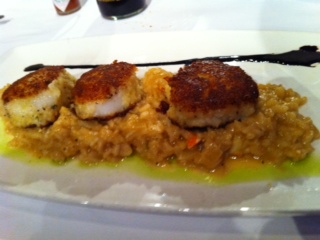 Since John had a work dinner a few nights ago I decided to splurge (who me? and on food none the less?) on trying out the restaurant Bluebeard downtown. I ordered the Coquille St. Jacques – Diver Scallops with Chanterelle Mushrooms, Leeks, Gruyere and Pea Shoots to go. Definitely want to try to remake this sometime. Also plated is their Beef Tartare.
I haven't cooked with scallops in a long time so I have been researching some recipes and these were some that I found that I will probably be trying out soon…
What is your favorite seafood dish? How do you like to cook scallops?