Who wouldn't like to unlock the secret to a classic pizza pie at home?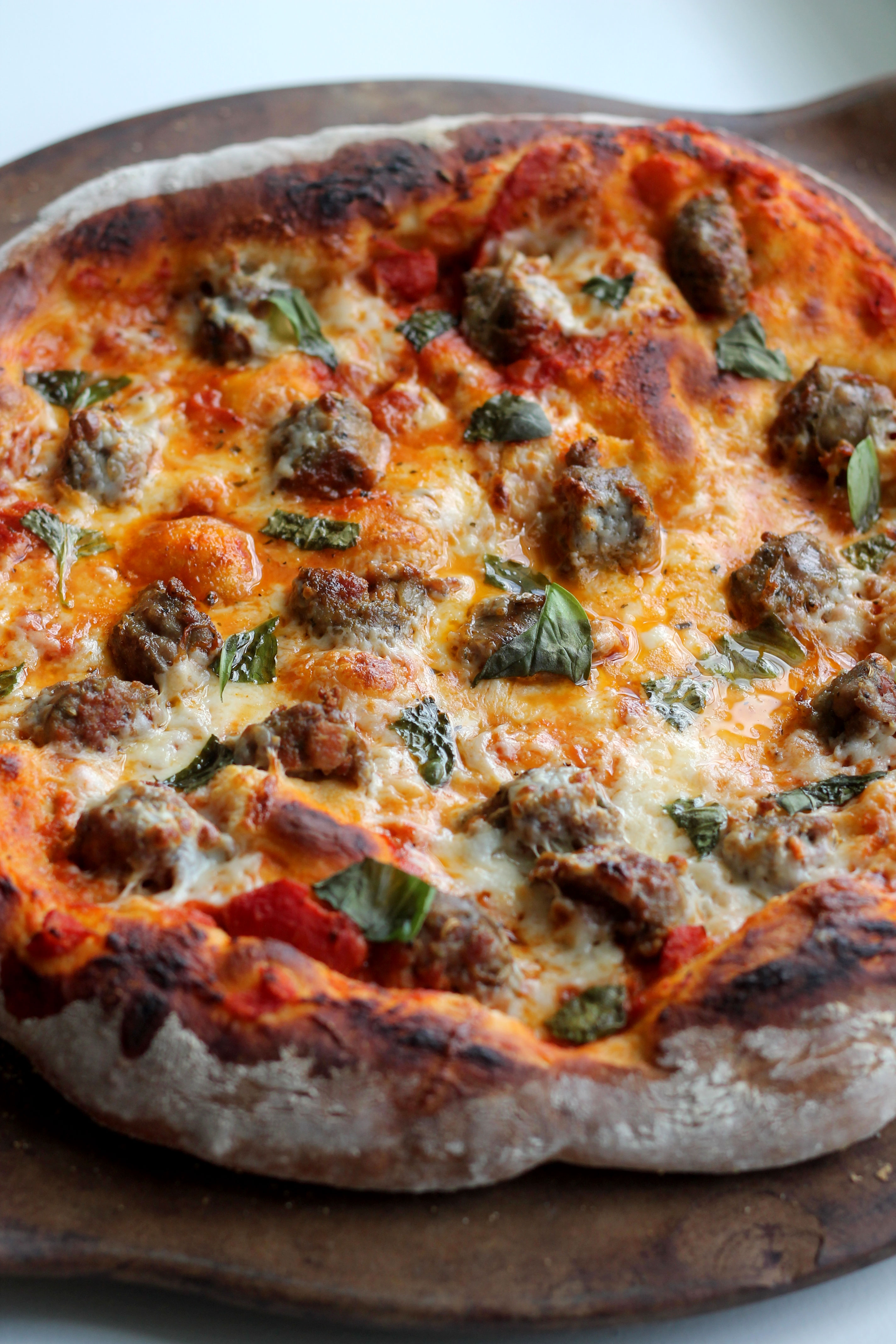 In Ken Forkish's new book The Elements of Pizza he tells you how. Remember back when I made that salsa for Blogging for Books? Well I am back at it again!
And this time it's all about the pizza pie! Forkish states that to make an incredible pizza "all you need are good ingredients: flour, canned tomatoes, and cheese". He even includes 13 different recipes for dough! Not gonna lie my mouth kind of dropped knowing there were so many. Some range from 6 hours of prep work all the way up to 6 days!! Ain't nobody got time for a week aged pizza dough (or at least I don't with two small kids).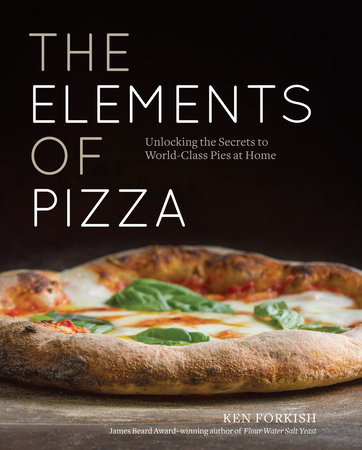 The first half of the book takes you through all the different styles of pizza: Neopolitan, Roman, American pan, New York, Creative Flat Bread, and Gluten-Free. I of course think he left out Chicago style. I mean who doesn't love a classic deep dish? One of the experiences he made me quite jealous of was him visiting a farm where they make water buffalo mozzarella, touring the tomato plant, and visiting the flour mill. I think it's time to renew my passport and travel to Naples want to join?
I do love how most of the pizza recipes he offers are a little more unique. Of course he has recipes for the classic margherita and supreme pizza but then ones like prosciutto & bufala, mortadella & pistachio, and butternut squash pizza have made it onto my food bucket list.
Tips from the book include: If you use the dough too quickly before it has matured it will be difficult to stretch into a pizza disc. Also there are many different kinds of flour (AP, 00, GF, etc.) which can have different water absorption characteristics – making some of the dough stiffer.
This Vodka Sauce and Sausage Pizza has the perfect ratio of meat, cheese and sauce for our family. Even Sweet Amelia enjoyed it. Using store-bought sauces would be an easy shortcut for the recipe but the fact that the next day I was able to use the leftover sauces on pasta made it just another reason why I loved this pizza.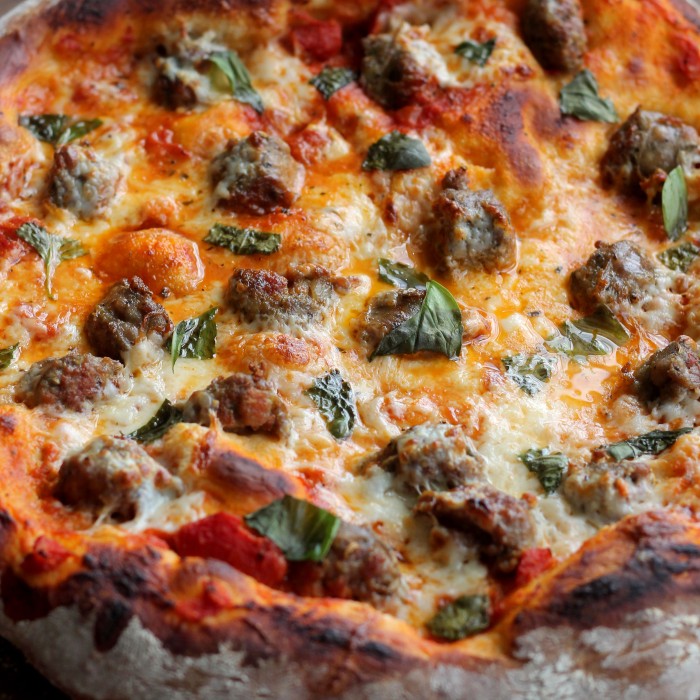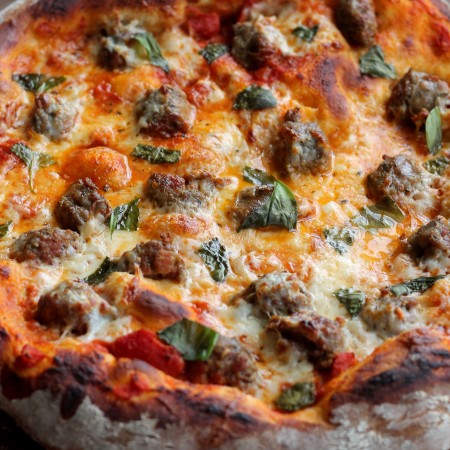 Recipe Card
love it? rate it!
Vodka Sauce and Sausage Pizza
Ingredients
Pizza Ingredients
1

dough ball

5

ounces

link fennel sausage or Italian sausage

1

⁄3 cup Vodka Sauce

see below

4

ounces

fresh whole-milk mozzarella

thinly sliced

4

or 5 basil leaves
Vodka Sauce
1

⁄3 cup vodka

1

⁄4 cup heavy cream

3

cups

FWSY Sauce

see below

1

tablespoon

grated Grana Padano or Parmigiano-Reggiano cheese
FWSY Sauce (Smooth Red Sauce)
1 1

⁄2 tablespoons extra-virgin olive oil

1

clove

garlic

chopped

1 1

⁄2 teaspoons fine sea salt

1

⁄4 teaspoon dried oregano

1

⁄4 teaspoon chile flakes

1

can

28-ounce whole peeled tomatoes

*See my notes for some shortcuts
Instructions
If you use a dough recipe that calls for refrigeration, remove your dough ball from the refrigerator about 60 to 90 minutes before baking pizza. Put your pizza steel or stone on an upper rack in your oven no more than 8 inches below the broiler. Preheat the oven to 550°F (290°C).

Cut the link sausage at an angle into 1⁄2-inch slices. Place the slices in an ovenproof skillet and, while the oven is preheating, partially cook them for 2 to 3 minutes (they will finish cooking on the pizza).

Set up your pizza assembly station. Give yourself about 2 feet of width on the countertop. Moderately flour the work surface. Position your wooden peel next to the floured area and dust it lightly with flour. Have the sauce, cheese, and sausage at hand, plus a ladle or large spoon for the sauce. Switch the oven to broil 10 minutes before loading the pizza.

To shape the pizza, put the dough ball on the floured work surface and flip to coat both sides with flour. Use one of the shaping methods (New York or Neapolitan) on pages 92 to 95. Transfer the disk of pizza dough to the peel. Run your hands around the perimeter to relax it and work out the kinks.

Spread the tomato sauce over the dough to within 1⁄4 inch of the edge, smoothing it with the back of the spoon or ladle. Place the sausage link pieces cut side down on top of the sauce. Layer the sliced mozzarella over the pizza, draping some of it over the sausage.

Turn off the broiler, then gently slide the pizza onto the pizza steel or stone. Close the oven door and change the oven setting to bake at 550°F (290°C). Bake for 5 minutes, until the rim is golden. Change the oven setting from bake to broil and let the pizza cook until the cheese is melted and the crust is golden with spots of brown and a few small spots of char, about 2 minutes (check it after 1 minute to be safe). Use tongs or a fork to slide the pizza from the pizza steel or stone onto a large plate. Use scissors to cut the basil leaves over the top of the pizza and serve immediately, halved or sliced.
For Vodka Sauce
In a saucepan over medium-high heat, reduce the vodka until 2 tablespoons remain, about 4 minutes. Pour in the cream and cook gently over low heat, stirring a few times, for 1 or 2 minutes.

Add the sauce and cheese. Raise the heat to high for a few minutes, just until it starts to boil, then reduce the heat to medium-low and simmer, uncovered, for 30 minutes, keeping an eye on the sauce to prevent it from boiling rapidly.

Set the sauce aside to cool, then pour it into a sealable container. I use a quart-sized deli container with a lid. Label the container with the date and refrigerate what you don't use. It should keep for 1 week in the refrigerator.
For FWSY Sauce
Put the olive oil, garlic, salt, oregano, and chile flakes in a blender. Add just a spoonful of tomatoes and blend briefly until the garlic and oil have emulsified. Then add the rest of the tomatoes and blend very quickly, with brief pulses only, until all the ingredients are combined. Overblending releases water from the tomato pulp and makes the sauce too thin.

Pour the sauce into a sealable container. I use a quart-sized deli container with a lid. Label the container with the date and refrigerate what you don't use. It should keep for 1 week in the refrigerator.
Notes
*Even though I prefer homemade sauces, if your schedule doesn't permit use store-bought creamy vodka sauce and marinara (similar to FWSY sauce)
**My oven did not go above 500 degrees. So I preheated the oven with the baking stone in it. Then once it was ready carefully took the baking stone out, sprinkled a little cornmeal on top then spread the dough on it. After I prepared the pizza I baked it for 10 minutes then broiled it for 2 minutes. I recommend checking the bottom of the pizza to ensure the crust is cooked through.
did you make this recipe?
Make sure to follow on Pinterest @easyrecipesfromhome for more easy recipes!
Disclaimer: I received this book from Blogging for Books for this review. I did not receive any compensation for this review and all opinions are my own.
Reprinted with permission from The Elements of Pizza, by Ken Forkish, copyright 2016, published by Ten Speed Press, an imprint of Penguin Random House LLC.
Book Cover Photography copyright 2016 by Alan Weiner.