Why not start off your morning with a little protein and a little indulgence from these Baked Eggs with Cheese and Bacon?!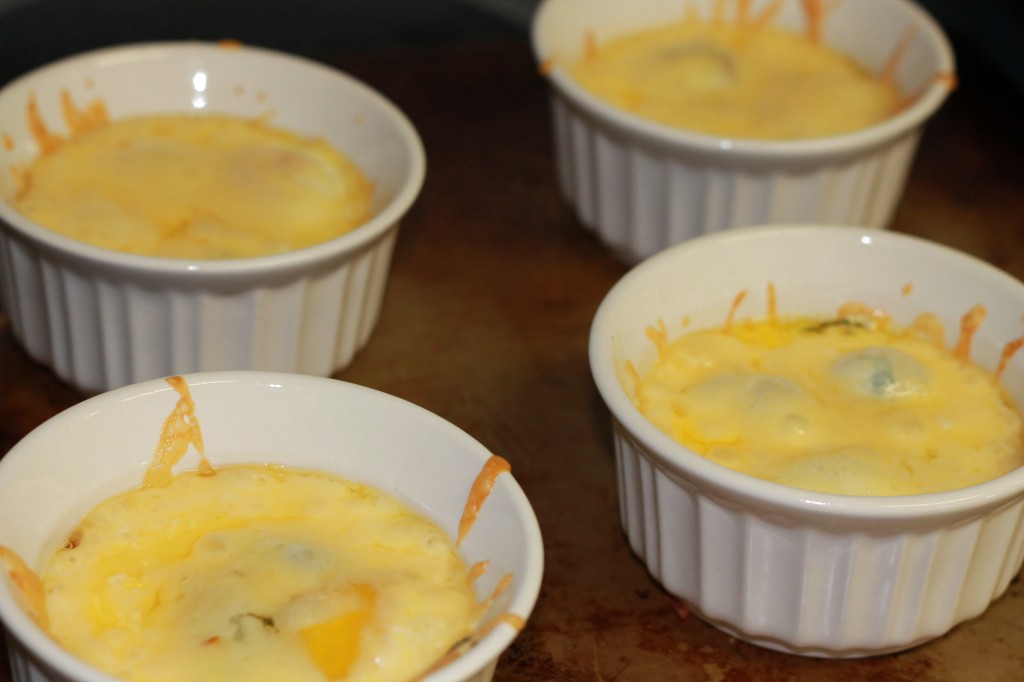 I missed yall last week. We were traveling down south for the week (ie 25 hours in the car with a baby) some might say that's a little crazy! And we are doing it again this month. Luckily he did great and I had some amazing help thanks to my mama.
John Grayson finally got to meet some more of his family and our friends. And I got to go into work for a few days – who knew I would miss working in the office so much. But I also wasn't ready for how much I would miss my little man while I was there.
But with all that to say I have been soooo tired lately from the traveling and if you ask John he would probably say a little cranky. So I am hoping to start off the week on a good note with a yummy breakfast, a good workout followed by my new favorite salad (recipe testing in the works). I have been on a salad kick lately.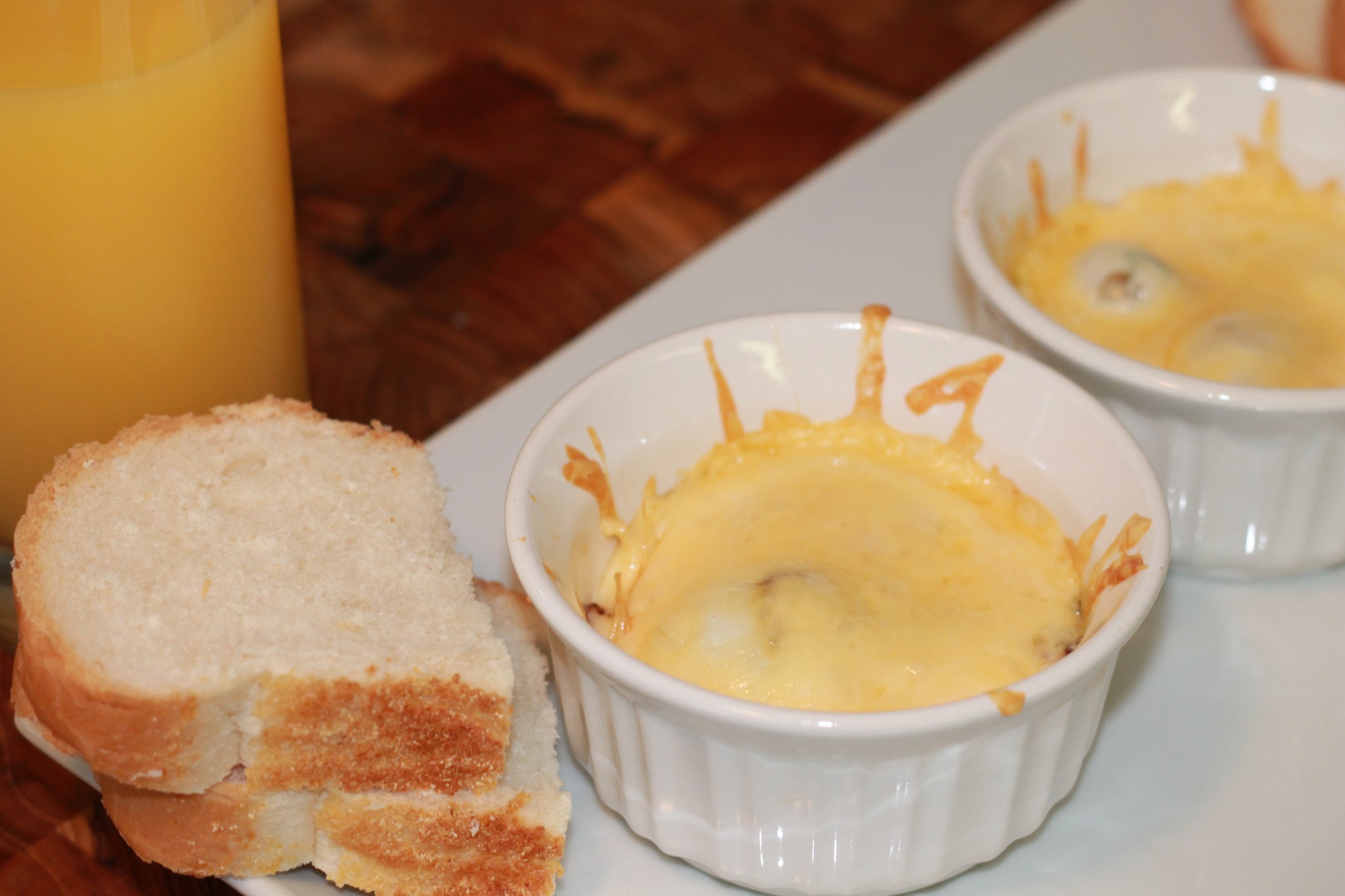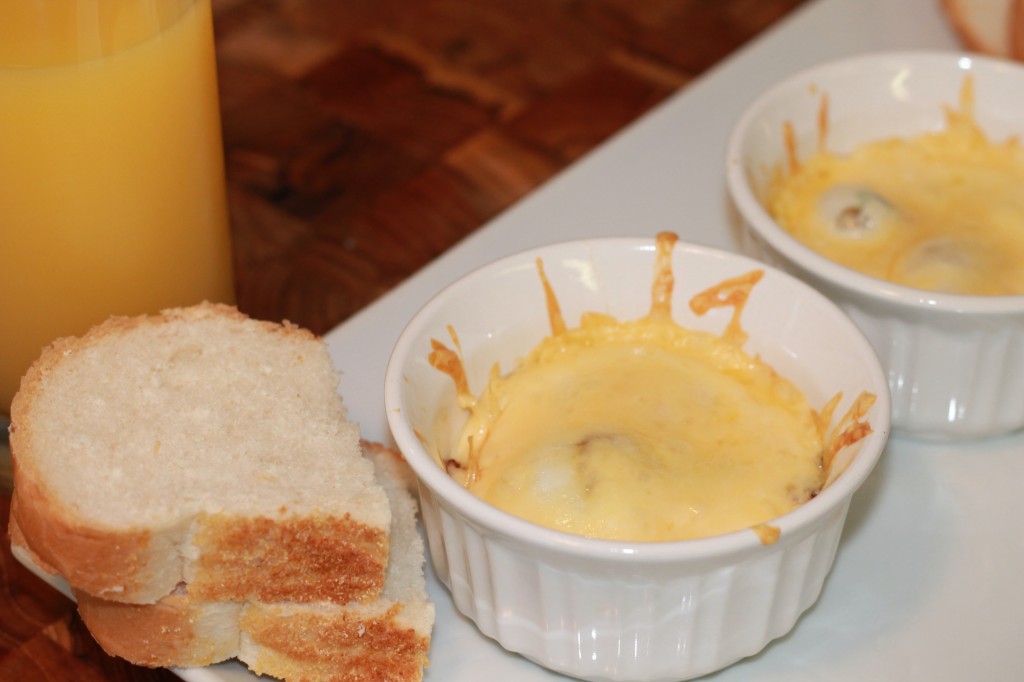 I cannot believe September is here already! I mean the one part of me is not happy and wants to hold on to this beautiful Indy summer I will never ever get to experience again.
But the other part of me thinks about all the seasonal fruits and vegetables to work with. And let's not forget the best part is college football! I meant to post a new tailgating recipe but since I haven't been in my kitchen lately hopefully I will have one for yall next week. We will see – we all know my to do lists and scheduling is all determined by JG these days.
This is another 5 ingredient fix recipe! John and I had these Baked Eggs with Cheese and Bacon for breakfast probably about 4 or so Saturdays in a row so it must be good right? And I even made it for my parents this weekend. I always know it's a winner when mama asks for the recipe.
The salty bacon helps to cut through the rich creaminess of this dish. And dunking a nice piece of French bread and watching the egg yolks run just a little bit is worth the wait. And even though it doesn't take that long to bake – I sit there watch the oven just waiting for them to be pulled out.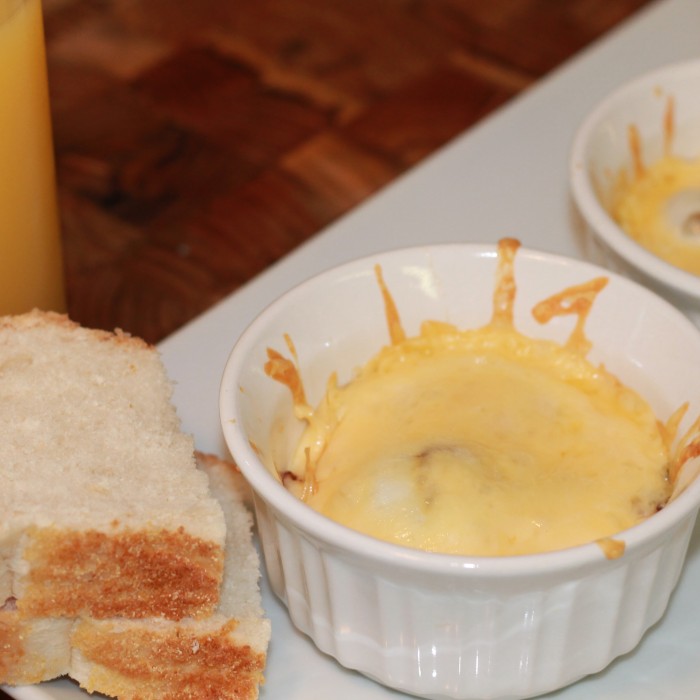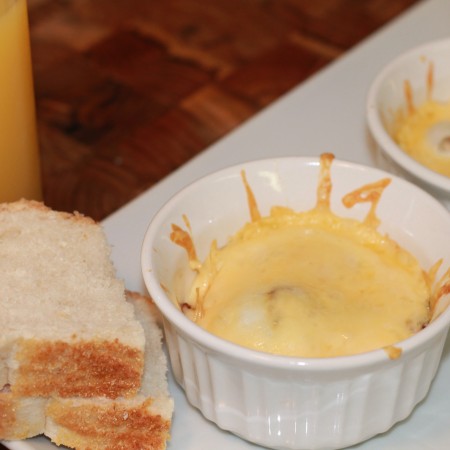 Recipe Card
love it? rate it!
Baked Eggs with Cheese and Bacon
Ingredients
4

slices

cooked bacon

4

eggs

1/4

cup

heavy cream

1

cup

shredded gouda

French bread
Instructions
Preheat oven to 350 degrees.

Cut each slice of bacon into bite size pieces.

Spray cooking spray into 4 ramekins. Divide the bacon into the 4 ramekins.

Crack each egg into a ramekin.

Then cover each egg with 1 tablespoon cream. Sprinkle 1/4 cup of cheese into each ramekin.

Put ramekins on baking sheet. Bake for 10 minutes then rotate baking sheet. Bake until eggs are set with yolks slightly runny, about 6-8 minutes more.

Let it cool for 5 minutes to set further. Serve with bread.
did you make this recipe?
Make sure to follow on Pinterest @easyrecipesfromhome for more easy recipes!
Menu of the Week
Ribeye Steaks with White Balsamic Roasted Vegetables
Creamy BBQ Chicken Pizza
with Salad
Ribolitta