I remember when I first got into cooking my senior year at Samford and I went and bought a Cooking Light Magazine. They had a recipe for Beer Cheese Soup – I was of course stoked. I tried it and did not like it at all. I soon forgot about the soup until I was trying to figure out what dishes to create for Beer Month. I knew I had to give this soup one last try and this time of course make up my own recipe. I chose three cheeses for this soup. After a lot of research I found most Beer Cheese Soups just stick with cheddar, but I wanted to the American cheese a taste of creaminess and the Gruyere gives it a nutty flavor. As for the beer there was no specific reason for choosing Magic Hat other than it's one of my favorites so feel free to choose whatever beer you like. My only suggestion is you probably don't want to choose a stout because of the strong flavors – save that for my homemade croutons I used as a garnish.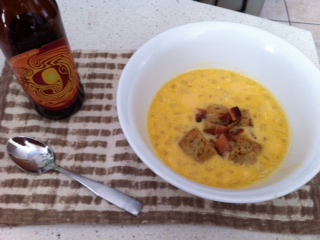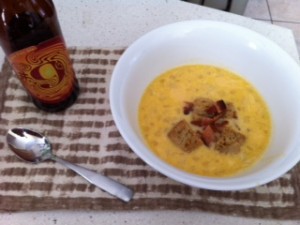 After a month of cooking with beer – I think I might need to do a month of clean eating recipes. What do you think?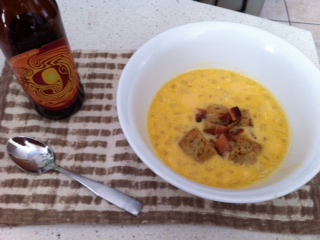 Recipe Card
love it? rate it!
Beer Cheese Soup
Ingredients
Olive oil

1

small yellow onion

small dice

2

Tbsp.

flour

2

Tbsp.

butter

2

c.

chicken stock

1

bottle beer

Magic Hat #9

1/2

lb.

American Cheese

1

c.

cheddar cheese

shredded

1/2

c.

gruyere

shredded

4

slices

bacon

Homemade croutons
Instructions
Heat oil over medium heat, add onions. Saute for 5 minutes.

Add in butter. Melt. Whisk in flour and break up any lumps. Let it golden brown for abour 3-4 minutes.

Pour in stock and simmer for 5 minutes. Then add in beer and simmer for 15 minutes.

While soup is cooking, cook bacon over medium heat until done. Set aside on paper towel and once cooled, cut into bite size pieces.

Add 3 cheeses into the soup. Cook until cheese has melted through and soup is smooth.

Ladle into bowl. Garnish with croutons and bacon.
did you make this recipe?
Make sure to follow on Pinterest @easyrecipesfromhome for more easy recipes!
Don't forget to check out these other lovely ladies who came up with some amazing recipes for NY Foodgasm's Beer Month
NY Foodgasm made Bluepoint Blueberry Muffins
Jessiker Bakes made Root Beer Float Cupcakes
Croque-Camille made Porter Chocolate Mousse
Pastry Chef Online made Double Chocolate Stout Cake with Vanilla Porter Toffee
Alex Tries It Out Torpedo IPA Mini Cupcakes