I struggled with titling this cake recipe as well as posting about it for Beer Month. I made this for Easter and it was a hit! 4 weeks ago I would have easily called this Irish Car Bomb Bundt Cake but after the recent bombings in Boston my heart was filled with hurt and anger that I didn't even feel like sharing this recipe for the cake. My prayers go out to the families and local & federal departments that have been effected by this horrific act.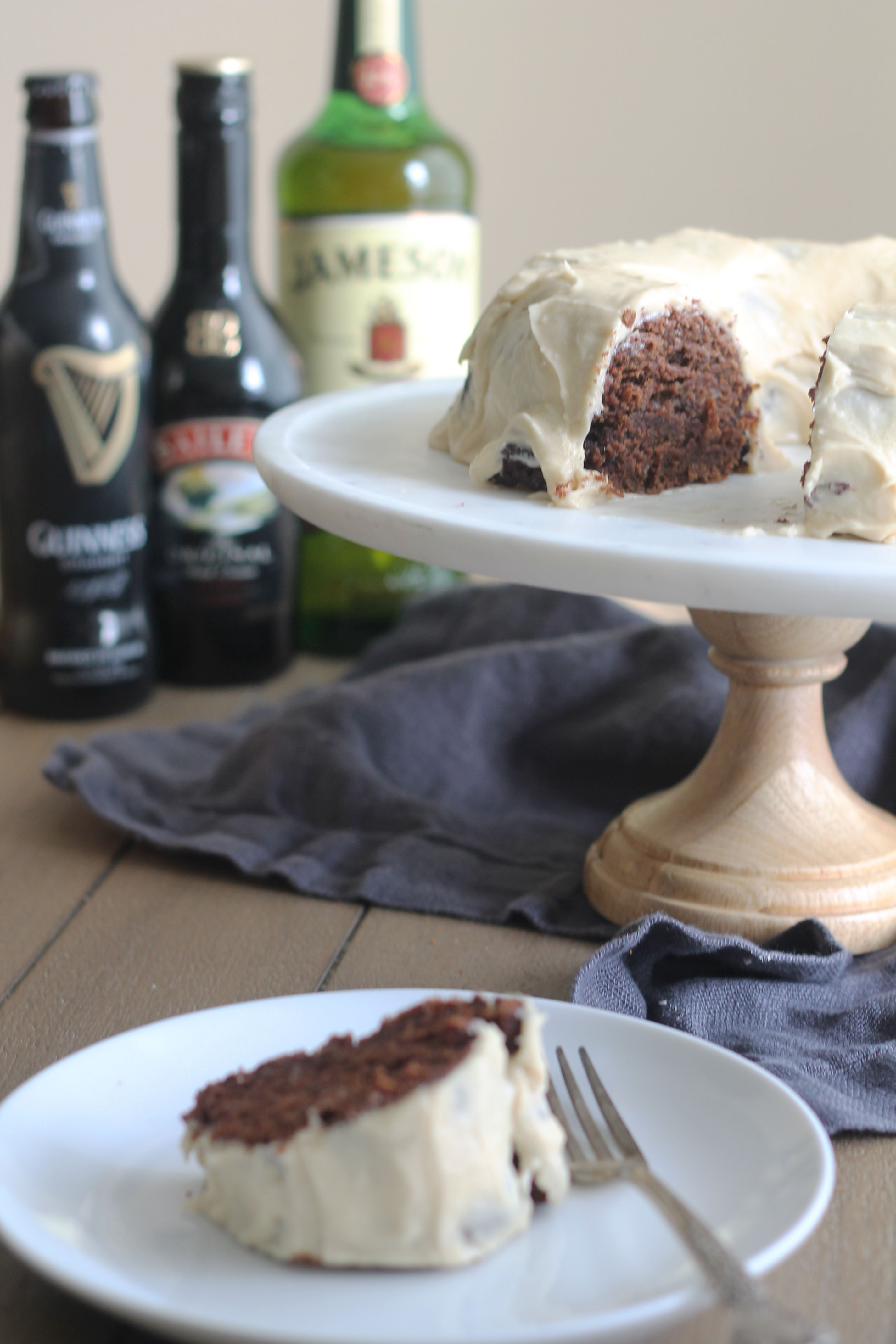 So just like some of my random stories and memories I instantly thought Lions, Tigers, Bears OH MY and I thought well this recipe wouldn't be the same without these three ingredients so here it is! And who doesn't like at least one of the ingredients in this title?
I had never even heard of an "Irish Car Bomb" until I met John. Basically it is Whiskey + Beer + Baileys = not a drink for Lauren. For those of you who have not tried it – it's made by dropping a shot of Baileys Irish Cream and Irish Whiskey into a pint of Guinness Beer.
Add those same ingredients into a cake and I will definitely have a couple of pieces.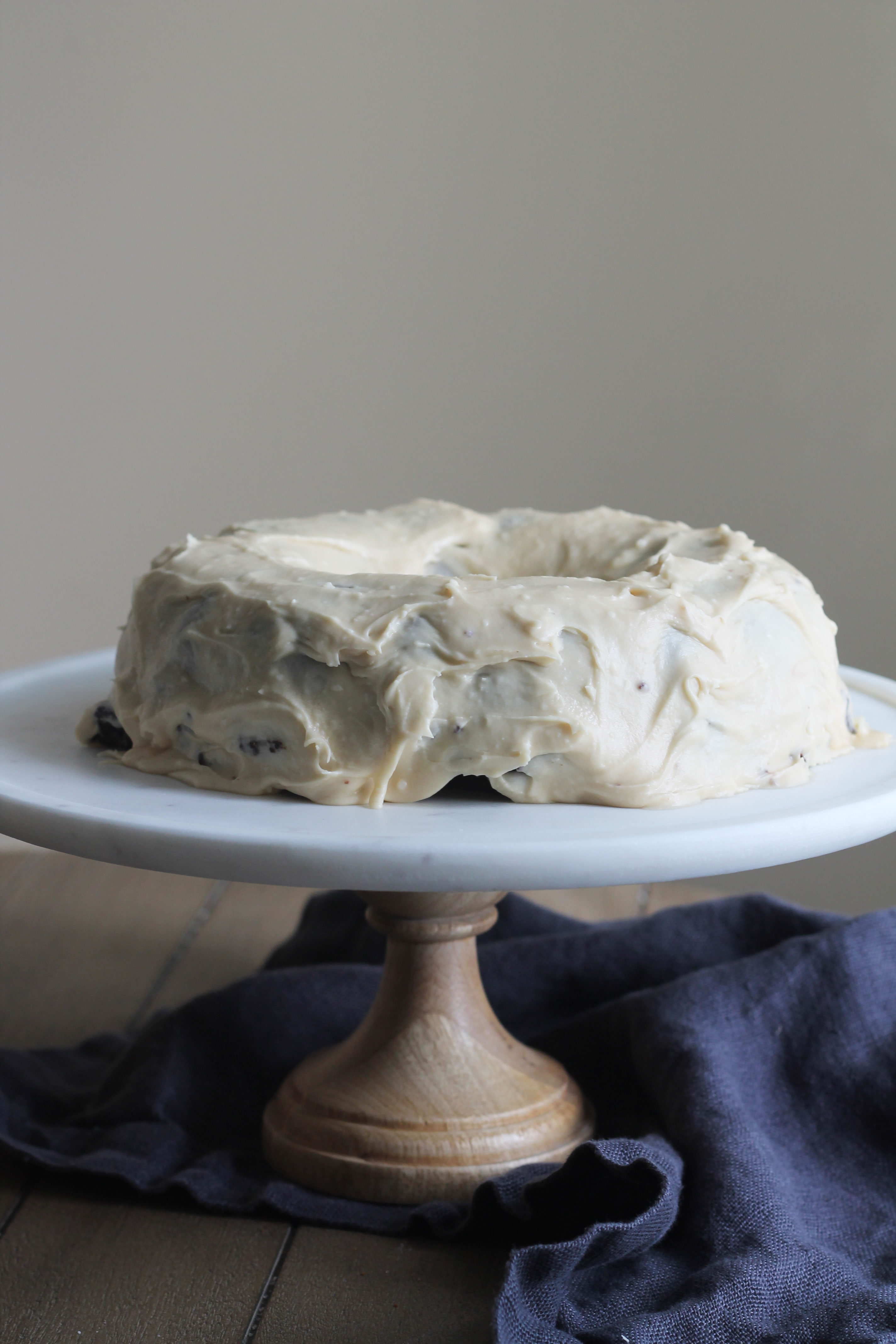 Caprese Chicken
and
Mixed Greens with Roasted Beets and Caramelized Onions
French Onion Soup
with Haricot Verts Filet with Gruyere Mashed Potatoes and Caramelized Onions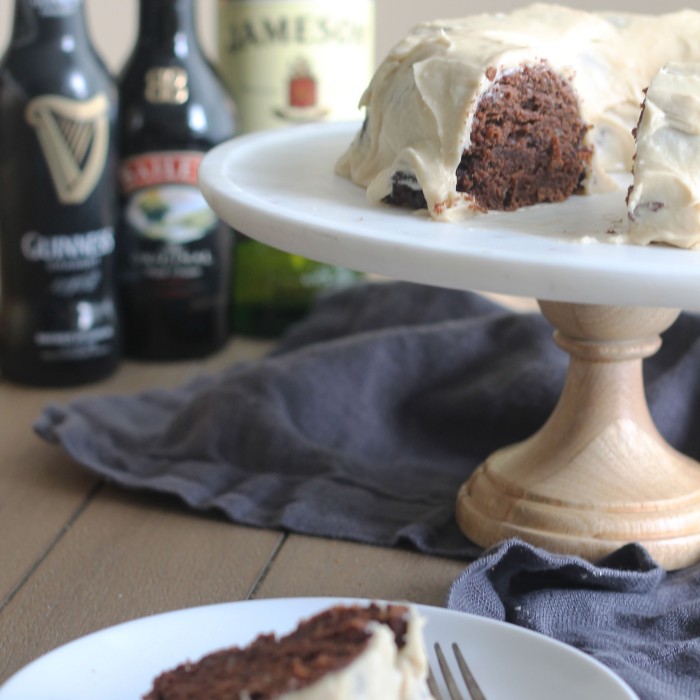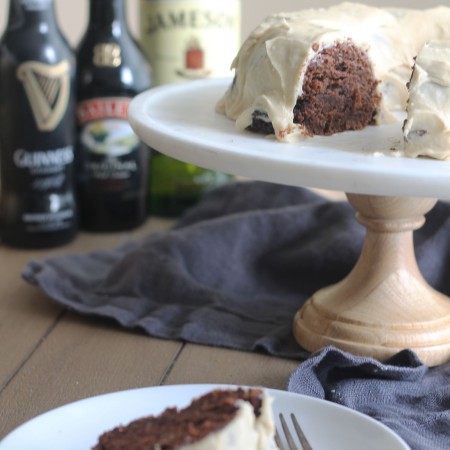 Recipe Card
love it? rate it!
Whiskey, Guinness, Baileys OH MY Bundt Cake
Ingredients
Cake Batter

2 1/2

cups

all purpose flour

1

teaspoon.

baking powder

1

cup

butter

1

cup

Guinness

1

cup

sour cream

1 1/2

cups

sugar

1 1/2

teaspoon

salt

3/4

cup

cocoa powder

2

eggs

Ganache

3

oz.

dark chocolate chips

3

oz.

semi sweet chocolate chips

2

tablespoons

melted butter

1/2

cup

cream

3

tablespoons

Jameson Whiskey

Baileys Cream Frosting

4

cups

powdered sugar

+ more if needed

1

cup

butter

6

tablespoons

Baileys
Instructions
Preheat oven to 350 degrees.
To make the ganache:
Place chocolate chips and butter in bowl and melt in microwave.

In a saucepan, add cream and bring to a boil. Pour chocolate mixture in but don't stir. Let it sit for about 2 minutes. Then stir in whiskey. Put in fridge for 5 minutes. Stir. Continue stirring every 5 minutes until the mixture becomes cool - but not solid.
To make the cake batter:
Bring beer and butter to a simmer. Whisk in cocoa powder. Remove from heat. Cool.

Mix flour, sugar, baking powder and salt in a bowl.

Using mixer, add in eggs and sour cream. Add in cooled beer mixture and mix on low speed. Mix in dry ingredients.

Spray bundt pan with cooking spray. Add 1/2 batter, then add in ganache, then the rest of the batter. Bake 40-50 minutes or until a toothpick is inserted and comes out clean.
To make the frosting:
Whip butter, add in powdered sugar 1 c. at a time. Add in Bailey's. If the frosting becomes too liquid add more sugar.

Allow for the cake to cool completely. And then frost and enjoy with a tall glass of milk!
did you make this recipe?
Make sure to follow on Pinterest @easyrecipesfromhome for more easy recipes!