Spring is here so let's start it off right with these Avocado Chicken Salad Lettuce Wraps!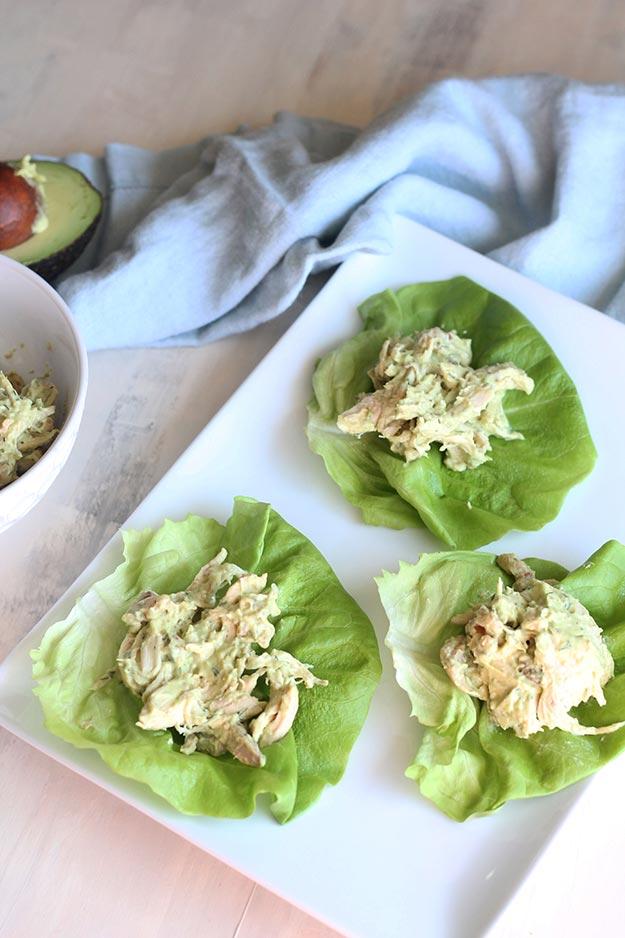 Sadly one way we know it's spring in the south is tornado season is here. Unfortunately quite a few hit in Alabama this week.
But I am definitely looking forward to warmer weather. Notice I said warm – not blistering heat!
We planted our herb garden a little early this year. Luckily everything made it through the last frost with the exception of our basil. We'll have to replant those.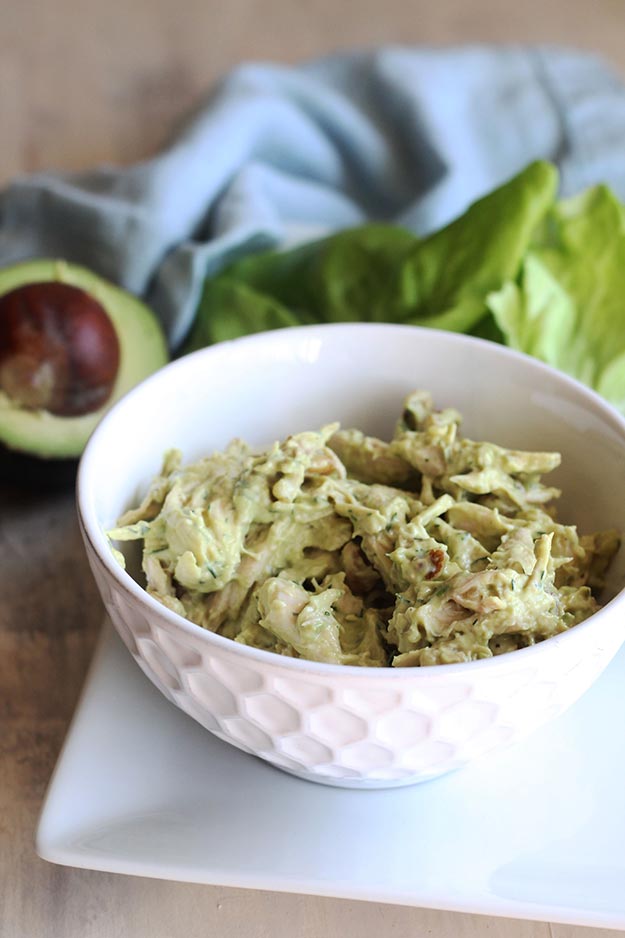 But my kids are obsessed with our gardens which makes it fun. Other than the fact that they look like they've been rolling around in the dirt every time we come in from outside.
We have an herb garden which they walk by and pick off a leaf or two and pop it in their mouth like candy. Hey it's something green at least – so this Mama is happy.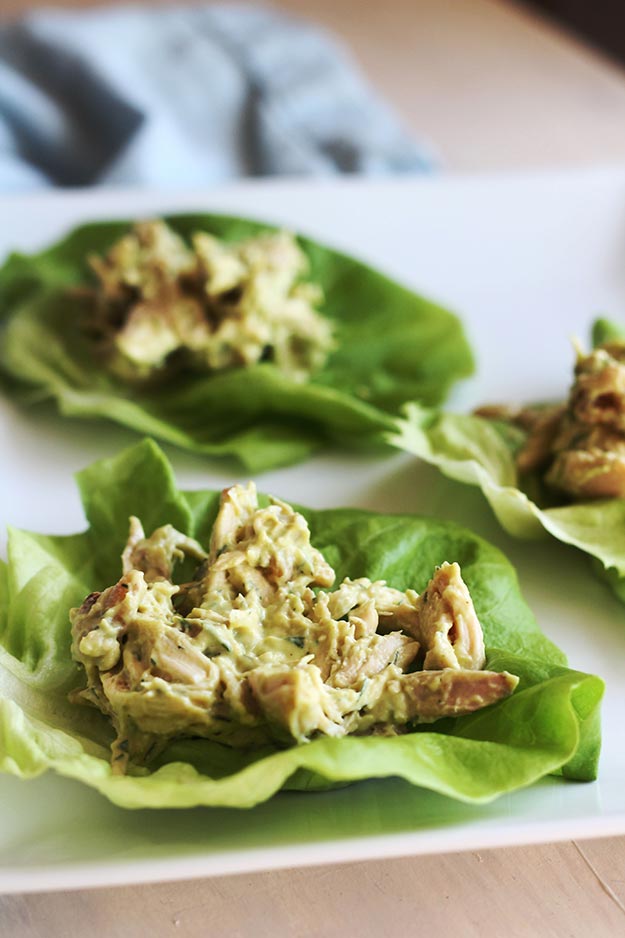 I am still trying to find the perfect homemade chicken salad – that tastes like O'Carrs here in Birmingham. It is still a work in progress but this is a close compromise with the exception I added avocados and took out the grapes.
And you know we are big sandwich people in our house. So why not turn these into little wraps?The kids though it was basically like a taco. Their faces definitely showed a little confusion when I made it for lunch.
So you could of course just serve it as the Avocado Chicken Salad or turn it into a sandwich wrap with the lettuce. Perfect for a little shower or a light dinner, don't ya think?
Recipe Card
love it? rate it!
Avocado Chicken Salad Lettuce Wraps
Ingredients
Bibb Lettuce

2 1/2

cups

shredded chicken*

1

large ripe avocado

1

clove

of garlic

peeled and roughly chopped

2 1/2

tablespoons

mayo

1

tablespoon

Dijon mustard

1

tablespoon

agave nectar

1

tablespoon

freshly chopped tarragon

sub 1 teaspoon dried

1 1/2

tablespoons

freshly chopped dill

sub 1 1/2 teaspoon dried

1/2

tablespoons

fresh lemon juice

1/2

teaspoon

salt

1/8

teaspoon

fresh black pepper

1/4

cup

chopped walnuts
Instructions
Place shredded chicken in a large bowl.

Combine avocado, garlic, mayo, mustard, agave nectar, herbs, lemon juice, salt and pepper in a food processor/blender and puree until smooth. Add 1/2-1 tablespoon water to get the texture of a thick sauce.

Pour sauce over chicken and stir to incorporate evenly. Add walnuts. Refrigerate, covered, for at least 1 hour for best taste.

Place a heaping 1/4 cup in center of each piece of Bibb Lettuce. Wrap and serve.
Notes
*I used rotisserie chicken
did you make this recipe?
Make sure to follow on Pinterest @easyrecipesfromhome for more easy recipes!