To finish out beer month as much as I wanted to create a good ol' Southern fried chicken dish and somehow use the beer I thought lets try to go a little healthier. All I was craving this weekend was chicken, vegetables and biscuits. And that is what I got! John is not the biggest chicken fan. He craves red meat and all the wild game we have in our freezer. But after eating this dish, he said not only should this go in our normal dinner rotation but it might be one of his new favorites. So you know it has to be good! The last beer I used for this month was actually a pick from the store Vine & Table that I like to get some of my drinks and cheeses from (other than Goose). I used Baby Tree from Pretty Things – it's a Springtime beer that is not too heavy. The best part about this dish is it would be great with a stout or even a lighter beer if you don't want a strong beer presence- the sky is your limit to create this dish with whatever flavors you desire! Enjoy!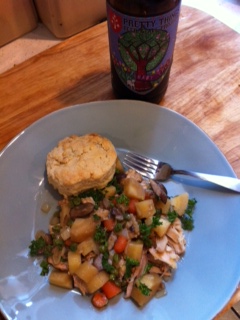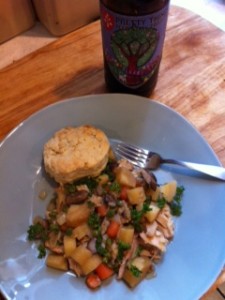 Menu for the Week
Irish Beer Chicken and Parmesan Chive Biscuits
Pork Sinigang and White Rice – a Filipino recipe from my April Foodie Pen Pal
Lasagna with Mixed Greens and Roasted Beets & Caramelized Onions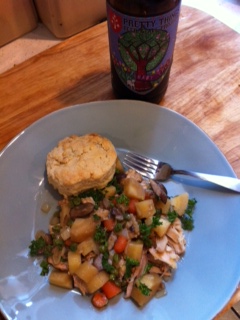 Recipe Card
love it? rate it!
Irish Beer Chicken
Ingredients
2

tablespoons

oil

1

medium onion

chopped

3

garlic cloves

minced

1

pound

chicken thighs - about 4 pieces

3

carrots

peeled and chopped

2

parsnips

peeled and chopped

1

teaspoon

dried thyme

1

teaspoon

salt

1

cup

beer

1/2

cup

frozen peas

1/2

pound

mushrooms

1

tablespoon

fresh parsley
Instructions
Heat oil in large pot. Add onion and garlic - cook for 4 minutes. Remove with slotted spoon to small bowl.

Place chicken in pot in single layer. Cook over medium high heat for 5 minutes on each side or until lightly browned. Add onion and garlic mixture, carrots, parsnips, thyme, and salt to pot. Pour beer over chicken and vegetables.

Bring to a boil over high heat. Reduce heat to low. Cover and simmer for 40 minutes.

Add mushrooms and peas to skillet. Cover and cook for 10 minutes.

Uncover pot and increase heat to medium. Cook for 10 more minutes or until chicken is no longer pink in center.

Option 1 - serve chicken as is with vegetables. Or Option 2 - remove chicken from bones and cut into small pieces and serve with vegetables and Parmesan Chive biscuits.

Garnish dish with fresh parsley.
did you make this recipe?
Make sure to follow on Pinterest @easyrecipesfromhome for more easy recipes!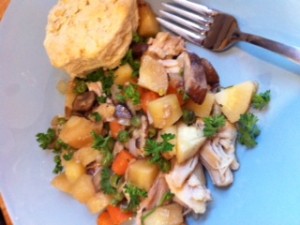 Served with Parmesan Chive Biscuits