From what I was told my Grandpa Hansen was a great bread maker. When I was younger I don't remember this, but I was told pretty much every time you left his house you would leave with bread. I think that is pretty cool! Just like homemade pizza dough I always thought making homemade bread would be hard. I think that's where that "you can't bake" voice comes in! Well between the Irish Car Bomb Bundt Cake I made for Easter and this homemade bread I think I have squashed that negative voice in my head. I am a baker!!
Homemade bread has been on my food bucket list for sometime now. And since it is Beer Month put on by NY FoodGasm I thought it would be the perfect time to make it! I looked for recipes not knowing where to begin and just thought I would share one that sounded good. But we all know that it is extremely hard for me to stick to a recipe and not make it my own. I found recipes for beer bread, cheese bread, herb bread…you get the point. So I thought how about I find a way to combine them all! And I did!
I started with the herbs – tarragon and parsley. Tarragon is a favorite herb of mine. I know it has a strong taste so I added in parsley which helps with the balance. And then I chose to add in cheese – I mean we all know I am obsessed. John challenged me to cook one week (breakfast, lunch, and dinner without cheese – I failed). But back to why I chose the 2 cheddars – well basically I love the flavor and thought the yellow cheddar would add a pretty color to the bread with the green herbs. As for the beer, I am in no way a connoisseur so I asked my friends for beer suggestions. I chose to use a stout beer because it's one of John's favorites.The obvious choice would have been Guinness (which I bake with later). Our best friends (Mackenzie & Chase) recently got married and took their honeymoon in Ireland. While over there Chase found a new love for Murphy's Stout. And I now see why. When I tried it, I loved how it didn't have a heavy and bitter taste like other stouts. So try this bread out and tell me what you think!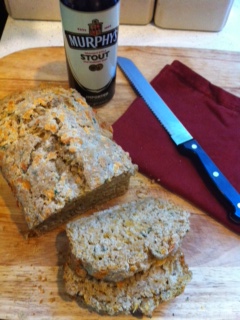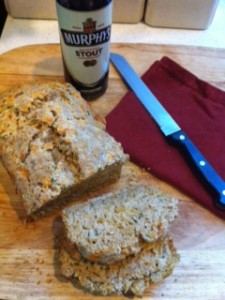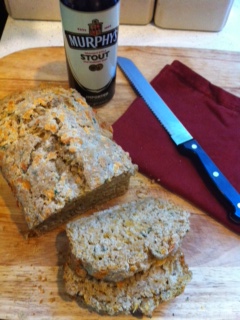 Recipe Card
love it? rate it!
Herbed Cheddar Stout Bread….and an extra surprise
Ingredients
4

oz.

white cheddar

shredded

4

oz.

sharp cheddar

shredded

3

c.

all purpose flour

1

Tbsp.

baking powder

1

tsp.

salt

1/3

c.

sugar

12

oz.

stout beer - Murphy's

or Guinness

2

Tbsp.

butter

melted

2

Tbsp.

fresh parsley

chopped

1

Tbsp.

fresh tarragon

chopped
Instructions
Preheat oven to 375°. Coat loaf pan with cooking spray.

In mixing bowl, combine all dry ingredients and herbs (no butter or beer). Mix until fully incorporated.

Make a well in the center of the mixture and pour in beer. Stir together. The dough will be sticky when mixing. Use a spatula to scrape the sides of the bowl.

Pour mix into loaf pan. Pour melted butter over dough.

Bake for 50 minutes.

Let cool for about 20 minutes. Then slice and serve.
did you make this recipe?
Make sure to follow on Pinterest @easyrecipesfromhome for more easy recipes!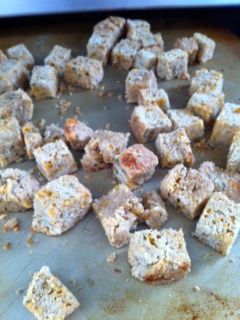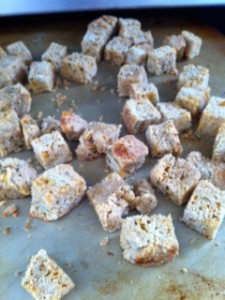 Serve with a
Beer Cheese Soup
Don't forget to check out these other lovely ladies who made some delicious goodies with beer!!
Jessiker Bakes
made
Black Velvet Babycakes
Much Ado About Nothing
made
Minature Guinness Cupcakes
NY FoodGasm
made
Dos Equis Rice and Beans with Grilled Chipotle Chicken and Lime "Sour Cream"
Croque-Camille
made
Beer Brioche