All I can remember is not liking onion rings growing up. Who knew onions would become one of my favorite things to add to sandwiches, salads, etc. For example a throwback in honor of beer month and a salute to onions is my Guinness Caramelized Onion and Roasted Turkey Grilled Cheese.
But for this recipe I chose a lighter beer unlike the stout I did for my Herbed Cheddar Stout Bread last week. For these crunchy and well seasoned onion rings I chose Harp Lager. I would love to give you this great, thought provoking, foodie reason for choosing this beer. But let's be honest I bought it because the label was lime green. Luckily, I got it home and it tasted good. Whew! That could have gone terribly wrong. I know I say this a lot but on the chance this is your first time reading – John is the griller, fryer, and meat aficionado of the family. So if I have a great frying recipe I want to try I get it all ready and he uses the outside fryer his dad bought us a while ago. So maybe if you are hesitant to try out onion rings like I was for so many years this batter might just change your mind!
Recipe Card
love it? rate it!
Beer Battered Onion Rings
Ingredients
Dry

2

cups

flour

1/2

cup

cornstarch

1

tablespoon

baking powder

1

teaspoon

pepper

1

teaspoon

salt

2

teaspoons

garlic powder

1

tablespoon

paprika

Wet

1 1/2

bottles lager

Harp

2

tablespoons

dijon mustard

2

teaspoons

honey

2

large yellow onions

rings cut 1/2" thick
Instructions
Heat oil to 350°

Mix all dry ingredients in one bowl. Whisk all wet ingredients in another bowl.

Add the wet ingredients into the bowl with the dry ingredients. Mix until fully incorporated. If the batter is not wet enough to dredge the onion rings you can add more beer.

Soak all the onion rings in the batter. Remove the onion rings and shake off excess batter.

Carefully lower rings in the oil. Don't overcrowd the pan.

Remove when they turn golden brown. Place on wire rack over paper towel lined baking sheet. Season with salt.
did you make this recipe?
Make sure to follow on Pinterest @easyrecipesfromhome for more easy recipes!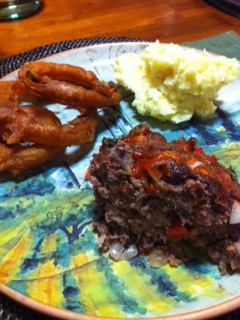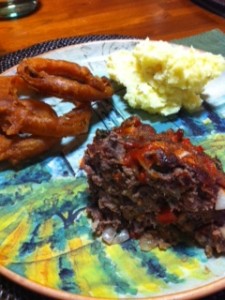 Served with Meatloaf and Mashed Potatoes
Menu this Week
Lamb and Sweet Potato Tagine with Couscous
Irish Beer Chicken with Parmesan Chive Biscuits
Tarragon & Dijon Crusted Chukkar with Goat Cheese Fondue