I ate at some pretty good restaurants last month in Birmingham and Indianapolis! And as always have been cooking up a storm in the kitchen.
Tastings is a spot John and I will hit up occasionally before dinner for a couple glasses of wine, but this time I went with some co-workers after work. We lucked out going on a day when they had half price appetizers. I had the
Fig & Goat Cheese Flat bread with Prosciutto, Honey-Balsamic Onions and Toasted Walnuts – an amazing combination I have never had before but it definitely worked!
We had our 2 year Anniversary Dinner at Bottega in Birmingham. Beef Carpaccio- my all time favorite appetizer that I get every single time with horseradish cream, shaved Parmesan and arugula. For my entree I got the Homemade Ravioli with braised lamb, butternut squash and pea tendrils. And we got Tiramisu (my favorite) for dessert – this is one thing I have not attempted to make yet but definitely need to give it a shot!
Our sweet friends Mackenzie and Chase got married in Fairhope recently – which means I finally got a dose of seafood that I have been missing dearly up here in Indy. At their rehearsal dinner I ordered the Crab Encrusted Grouper over sauteed spinach topped with mornay sauce.
What would Hall Nesting be without a monthly (okay I know sometimes I do weekly) Mexican recipe? Creamy Chicken Enchiladas
Mine and John's favorite breakfast spot, Zest, might just turn into my favorite lunch spot with this yummy goodness. Meatloaf Panini with white cheddar and sun dried tomato marmalade on sourdough bread & Mac Cheese. We were trying to figure out this amazing recipe because it tastes like it has bacon in it but after talking to the Chef the only thing she would reveal is there is no bacon in it – my guess is a few tsp of bacon fat because it is not heavily greasy?! Either way I will definitely be getting this again!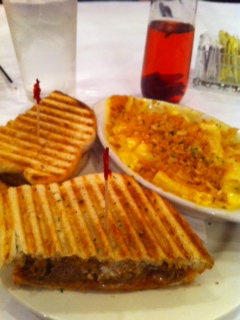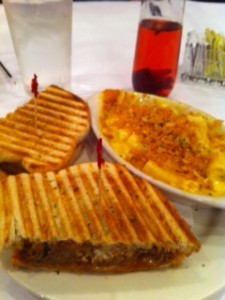 And since it is Beer Month March was full of taste testing & developing recipes. Look at these Smothered Pork Chops with a Beer, Bacon, and Onion Relish.