Did you really think I would not post a Mexican recipe the day before one of my favorite holidays of the year?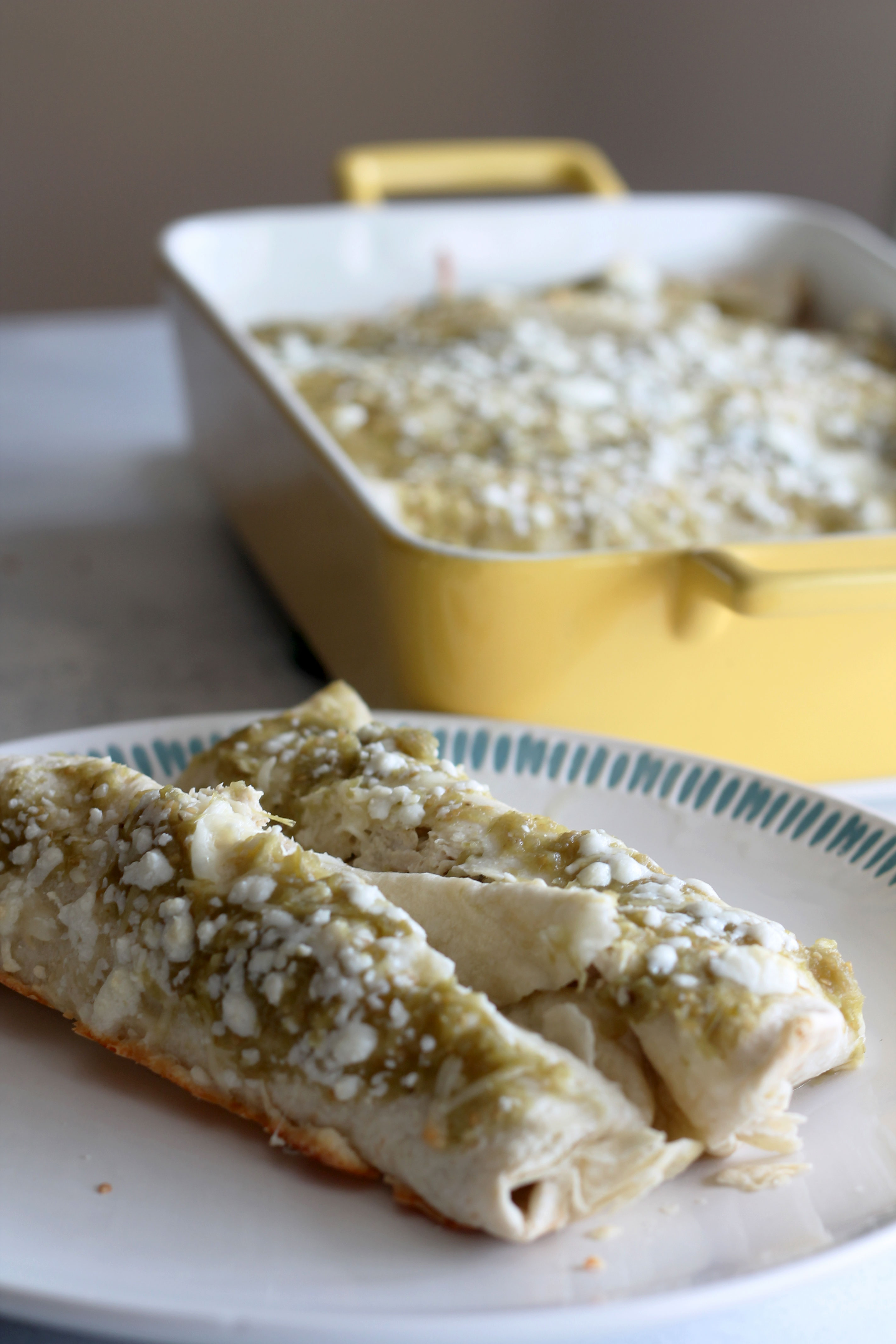 I mean do you know me at all? These Creamy Chicken Enchiladas have been on the blog for some time now. But let's be honest if you have seen some of my older posts you might cringe at the pictures and therefore not make the food. So these little bad boys got a makeover.
Now my two most popular dishes on Hall Nesting are these Beef Enchiladas with Red Sauce and this Black Bean, Corn and Feta Dip. But if you are like me you might know someone who doesn't eat beef (or anything other than chicken – cough cough Lindsay). So sometimes you need to have options at your Mexican fiestas.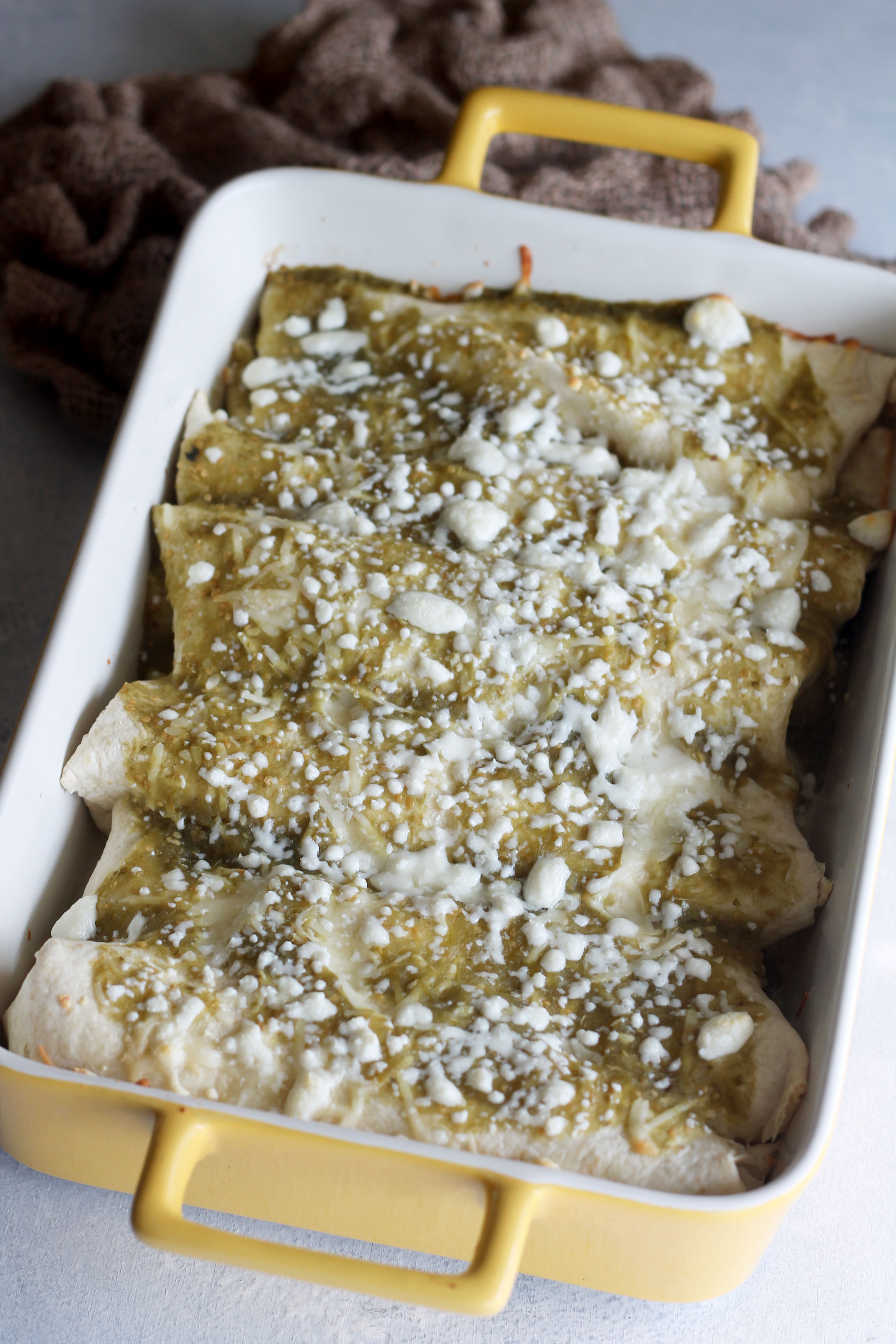 This weekend will be John Grayson's third birthday party (cue the mom tears) and we are throwing him a little construction party. I was tempted to do a Cinco de Mayo party but looked and next year Cinco de Mayo will be on a Saturday. And it's kind of become a tradition to do his party right before the Kentucky Derby…don't ask me why.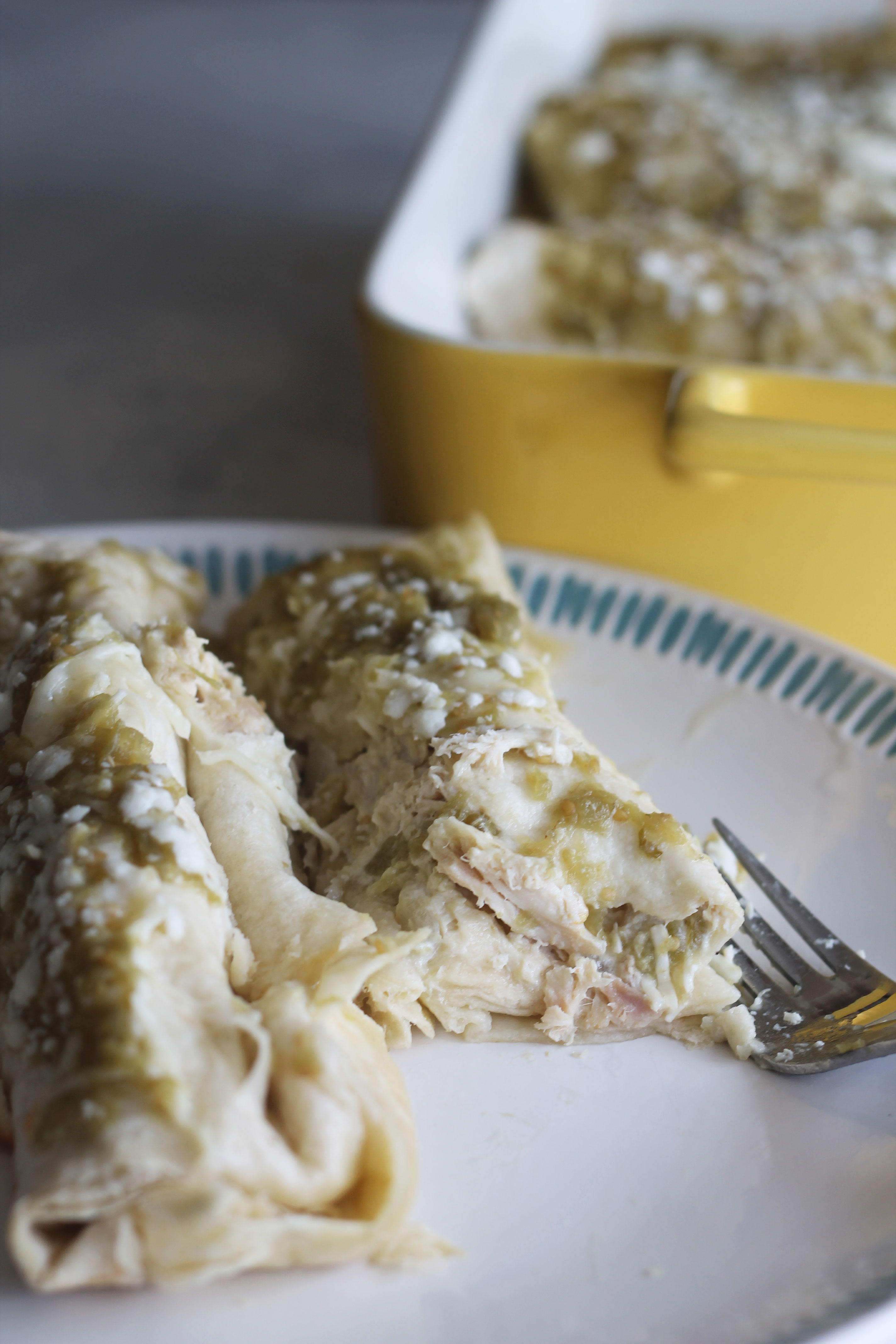 But I digress…like normal. I made a Frozen Cherry Margarita recently and thought about sharing that with yall until I realized I have a Summer Rose Sangria coming up in a few weeks and didn't want to go overkill on the cocktails. I mean we do need to get ready for bikini season right? So I do have a few vegetable dishes and salads coming up to make up for all the cheesy goodness in these enchiladas.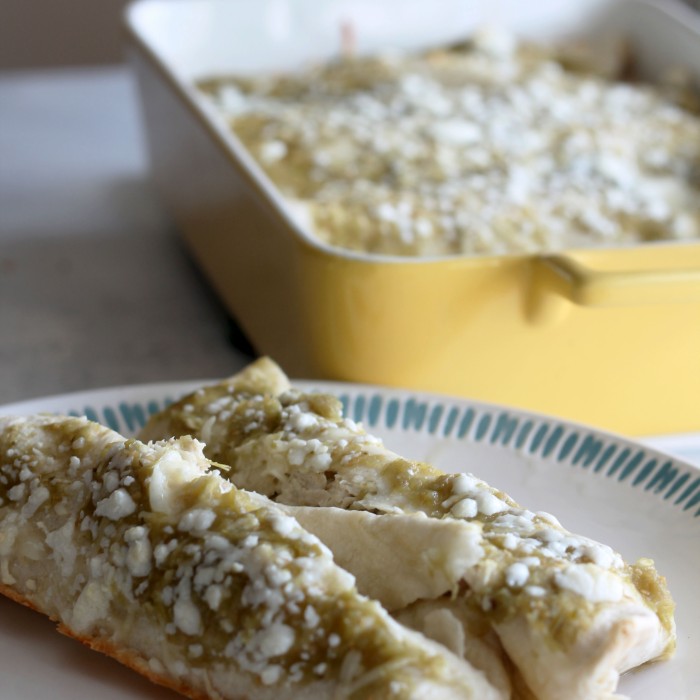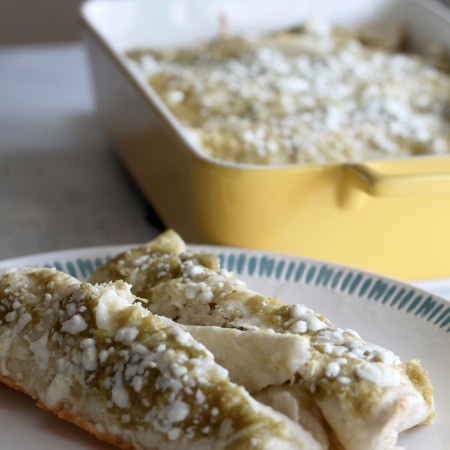 Recipe Card
love it? rate it!
Creamy Chicken Enchiladas
Ingredients
1

tablespoon

olive oil

1

pound

chicken tenders

2

tablespoon

butter

1/2

cup

diced onion

1 1/2

can green chiles

6 oz.

4

oz.

cream cheese

softened

8

flour tortillas

1

cup

shredded cheddar cheese

2

cups

shredded Monterey Jack cheese

1/3

cup

queso fresco

crumbled (can substitute queso blanco)

1

cup

salsa verde
Instructions
Heat olive oil over medium heat. When oil is hot add chicken. Cook chicken for about 7-10 minutes or until it is cooked through and no longer pink inside. Take out of pan and set aside.

Preheat oven to 350 degrees.

Melt butter in pan and add onion. Cook for 5 minutes then add green chiles, and cream cheese. Stir until blended, about 5-7 minutes.

Once chicken has cooled, cut into bite size pieces.

Remove the cream cheese mixture from heat. Add in chicken and mix until the chicken is coated with the mixture and fully incorporated.

Divide mixture into tortillas. Fill each tortilla with 1/8 c. cheddar cheese and 1/8 c. Monterey Jack and small amount of chicken mixture.

Place seam side down in a greased 9x13 baking dish. Cover with remaining Monterey Jack cheese, then cover with salsa verde and top queso fresco.

Bake for 25 minutes.
did you make this recipe?
Make sure to follow on Pinterest @easyrecipesfromhome for more easy recipes!