Just like I have said before, HallNesting is 90% Food Blog but it didn't start out that way. So today is a mix of food (names that is) and baby talk. We officially decided on our names back in September.
But we won't know the gender for another month or so. In our house and my parent's house Baby Hall is referred to as Blueberry until we find out if it will be a Little Boy or Little Girl. Sidenote: I am working on the gender reveal stuff right now and even John is getting into it! Can't wait to show you! So you might ask why a blueberry? All for the simple reason, 7 weeks is when we told our family that we were pregnant and the baby was the size of a blueberry at that time. And the name just kind of stuck.
But now Blueberry has grown to be the size of a lemon.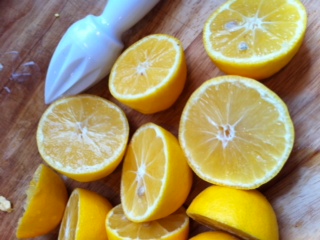 His/her name won't change in my book but it's crazy to think about. But it got me thinking about all the dishes I could make with lemons. Lemonade is obviously John's first choice or some of these other yummy lemon dishes that are on my list to make in the future…
Fried Calamari with Lemon Aioli
Chicken Milanese with Lemon Cream Sauce
Our lemon tree! This is an old picture but it is now 2 years old and has 4 lemons on it. Last year it produced about 9.
What are your favorite lemon dishes? Or do you prefer lime? I actually prefer limes myself.