I'm sure you've done all your Xmas shopping right?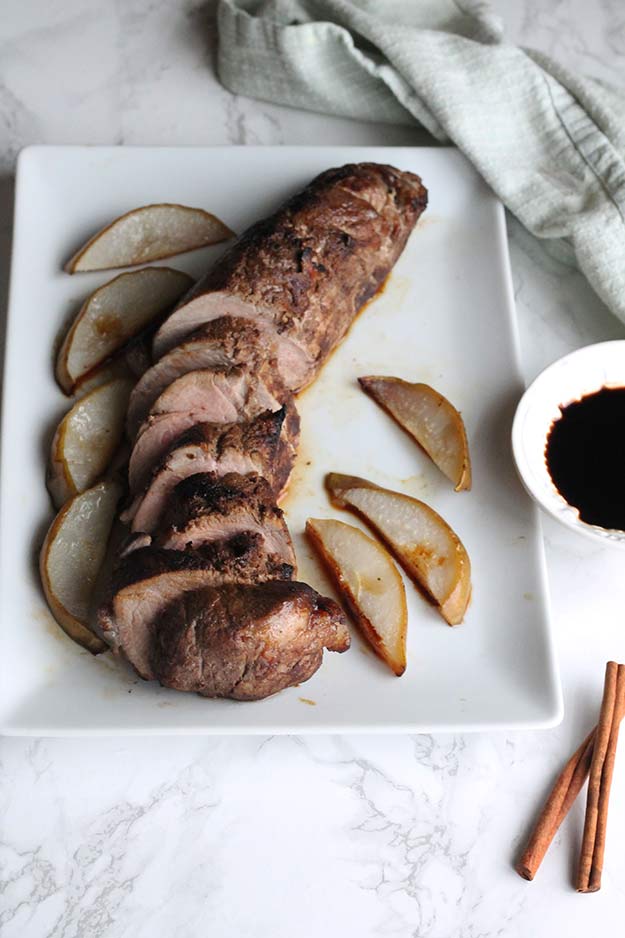 Well of course we saw Santa last weekend and JG tells him he needs a boat. I am sure between both sets of grandparents and us he will get EVERYTHING except a boat. But thank goodness for Amazon right?! What can you say I'm a sucker for my little boy. At least with Amelia she's easy – anything brother likes, anything pink, and anything princess related. And wouldn't you know it – she asks Santa for princesses.
But let's keep this short and sweet because c'mon it's Friday and you know you need to to plan your Christmas Eve menu and Christmas Day menu! Because who really wants to go to the store on Sunday when it will probably be a mad house?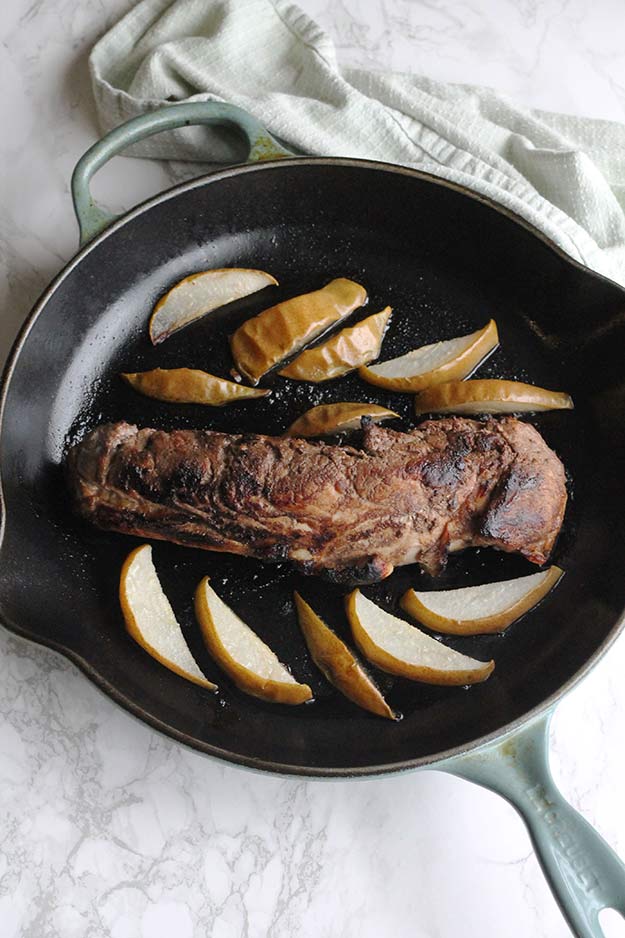 For the past couple of years when my parents come in town for Christmas we do a beef tenderloin and this year won't be any different. But let's be honest sometimes they can be a little pricey and other times you have so many people who like different temperatures of their meat.
So this is where the pork tenderloin would be perfect. This Cinnamon Balsamic Pork Tenderloin is full of flavor obviously with balsamic vinegar and cinnamon but has a few other things in the marinade to round it out. And since the only pork recipes I have on here are sandwiches, mac & cheese, and pork chops I think it was time to step it up a notch don't you think?
Need one more reason…one pan to clean up afterwards! I mean who wants to clean up when your house will be covered in wrapping paper, boxes, and presents anyways?!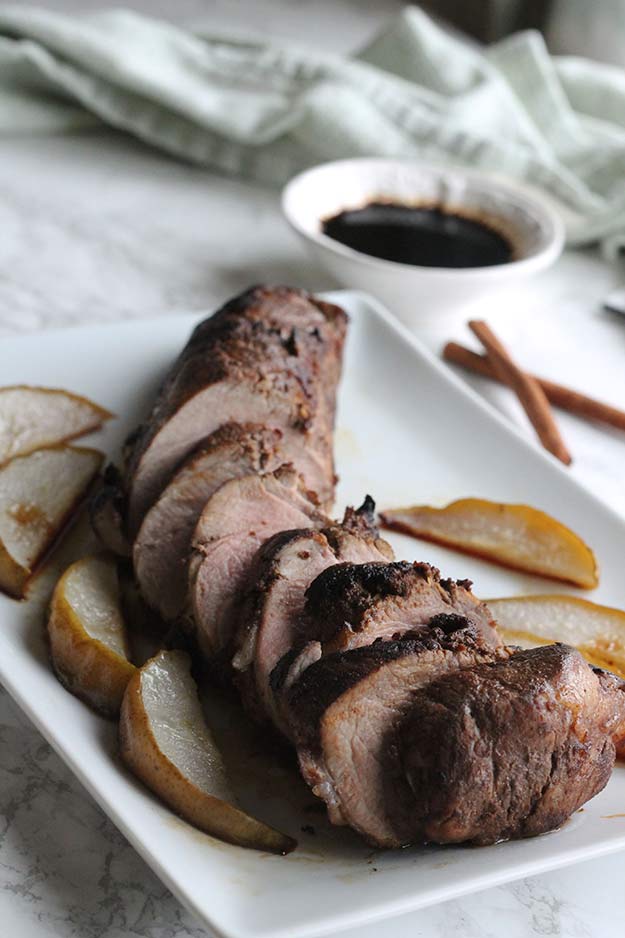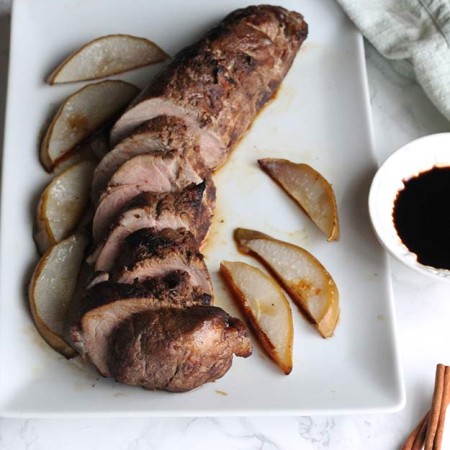 Recipe Card
love it? rate it!
Cinnamon Balsamic Pork Tenderloin
Ingredients
1

pork tenderloin

1/4

cup

balsamic vinegar*

1

tablespoon

honey

1

teaspoon

ground mustard

2

teaspoons

cinnamon

2

teaspoons

brown sugar

1

teaspoon

salt

1/2

teaspoon

pepper

1

pear

cut into slices
Instructions
Mix the balsamic vinegar with the next 6 ingredients in a small bowl.

Place pork tenderloin in large ziploc bag. Carefully pour in marinade. Allow it to marinate for at least 30 minutes or longer if you have time. (overnight is best)

Preheat oven to 400 degrees.

Heat 2 tablespoons vegetable oil in cast iron skillet over medium high heat. Carefully place pork in skillet and brown on all sides (2 minutes per side, about 8 minutes). Add in pear slices around pork.

Bake in oven for 15 minutes or until juices run clear and it is cooked through.

Let rest for 5 minutes before slicing.
Notes
*If you can find a flavored balsamic vinegar with cinnamon it's even better!
did you make this recipe?
Make sure to follow on Pinterest @easyrecipesfromhome for more easy recipes!