It's Burger Month over here in the blog world which is why today I am bringing you these Greek Lamb Sliders.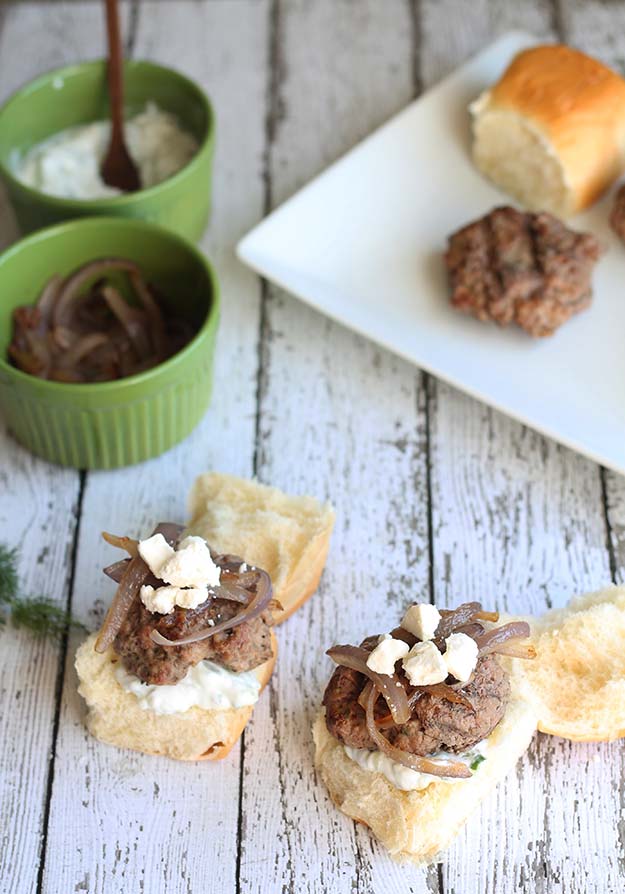 Last year was the first year I participated with the extraordinary Kita of Girl Carnivore for Burger Month and shared these lovely French Onion Burgers. So of course I had to come back for some more burger love. And don't forget the other reason burger month is so much fun for you guys….the amazing prizes! Giveaway instructions below.
So these Greek Lamb Sliders have been on my radar for some time. Did you know these sliders actually cost me $300? Ya that's not a joke and no they are not painted in edible gold or anything like that. But they should be.
The first time I made them the kids well were being kids and I wasn't paying attention. And before you know it my grill pan was putting off too much smoke so we opened up all the windows and then forgot to turn off the AC. This is where my my favorite emoji of woman slapping her own face would come in handy. So our AC froze and $300 later these sliders were made.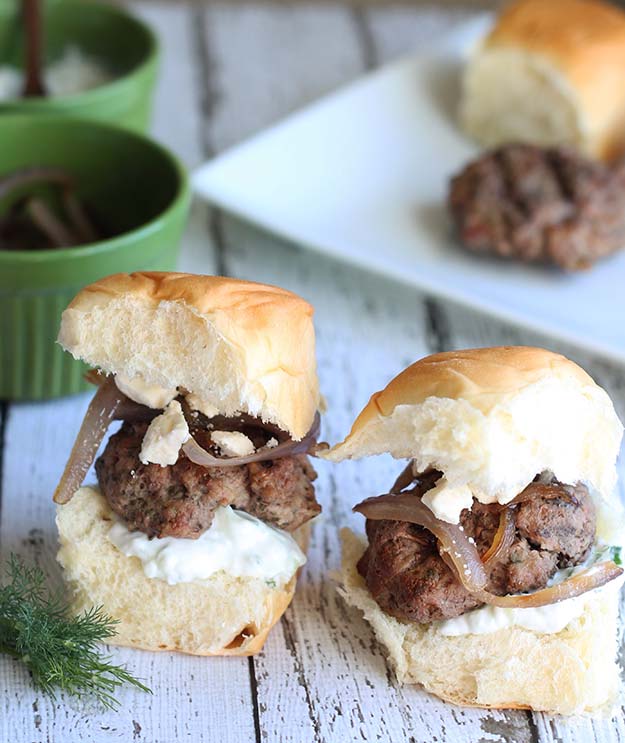 The next time I made them I paid more attention to my grill pan. And because they are just that good we made them just a couple of weeks ago on the outdoor grill because hey it is grilling season.
The ground lamb is filled with some dried herbs and grilled to perfection. And instead of your normal condiments for a burger the tzatziki sauce takes over, followed by some feta and caramelized red onions.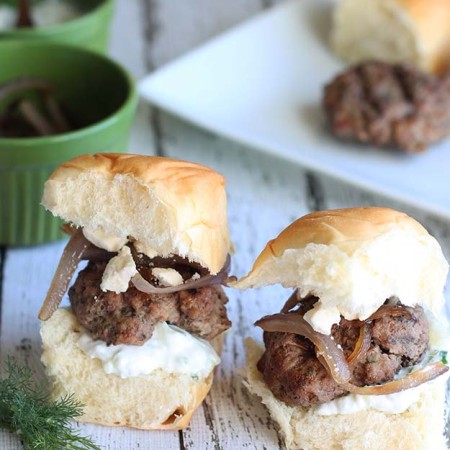 Recipe Card
love it? rate it!
Greek Lamb Sliders
Ingredients
2

pounds

ground lamb

1

teaspoon

oregano

1

teaspoon

dill

1

teaspoon

marjoram

1/2

large red onion

sliced thinly

2

tablespoons

butter

1/2

cup

crumbled feta

10

Slider buns or Hawaiian rolls
Instructions
Combine lamb and herbs together. Let it marinade while preparing everything else.

In a small skillet melt butter and add red onions. Saute for about 10 minutes stirring occasionally.

Make tzatziki if not already prepared.

Make 8 small patties.

Oil a paper towel with the canola oil and wipe down the grill grates of outdoor grill or indoor grill pan several times to well coat with the oil. Heat over medium low.

Cook the patties 4 to 5 minutes per side, for medium doneness (longer if needed). Let the patties rest for 2 minutes.

Put each patty on bun, followed by a dollop of tzatziki sauce, feta, and a few onions. Place top bun on and serve.
did you make this recipe?
Make sure to follow on Pinterest @easyrecipesfromhome for more easy recipes!
And of course none of this could happen without our amazing sponsors so thanks you guys!