When I was in middle school and didn't really care about football…I know you are thinking wait what?! There was a time this actually took place? But yes true story – on Super Bowl Sunday we would all go to youth group for what they called "Souper Bowl Sunday". We would all bring canned goods and give them to our local food pantry and then head to church for some fellowship, a bowl of chili, and watch the game together.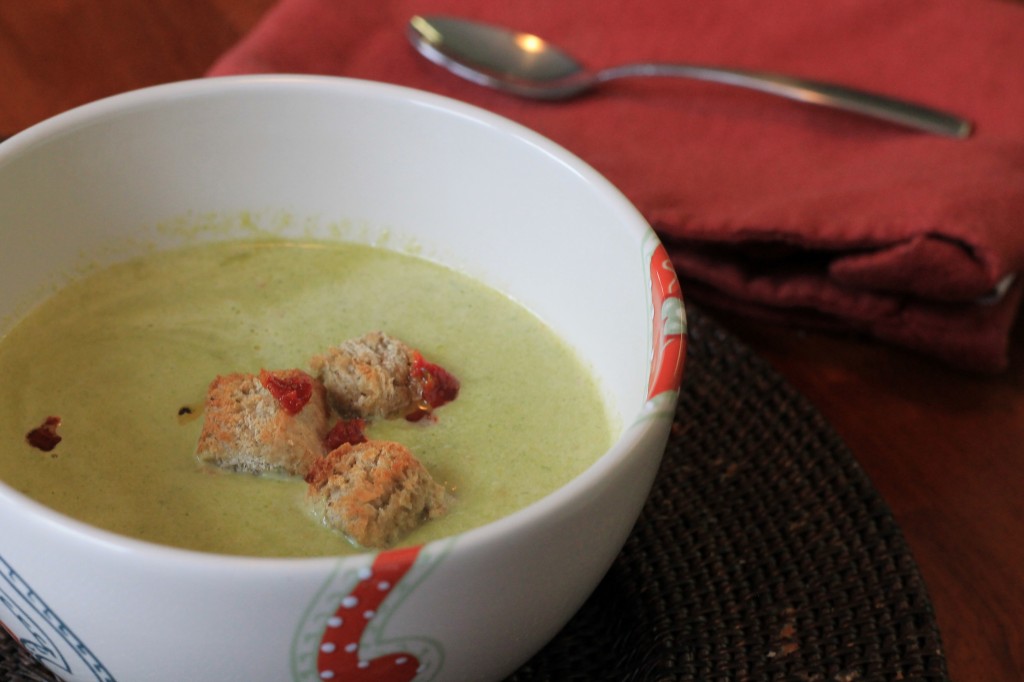 By the way did your team win? With my Falcons and Colts out, I had to choose between two teams that I didn't have any tie to. Now I might be the only person in Indy that is not a Peyton Manning fan (I prefer Eli…shhh don't tell anyone they might egg my house or something).
But I decided to cheer for the Seahawks, why you may ask? Ok let me preface this with I have a vast amount of knowledge (for most girls) when it comes to players and recruits etc. but when I didn't have any ties to any players this year I chose the Seahawks because their colors are navy blue and lime green…..Hey crazier things have happened. Glad I picked them too because they won!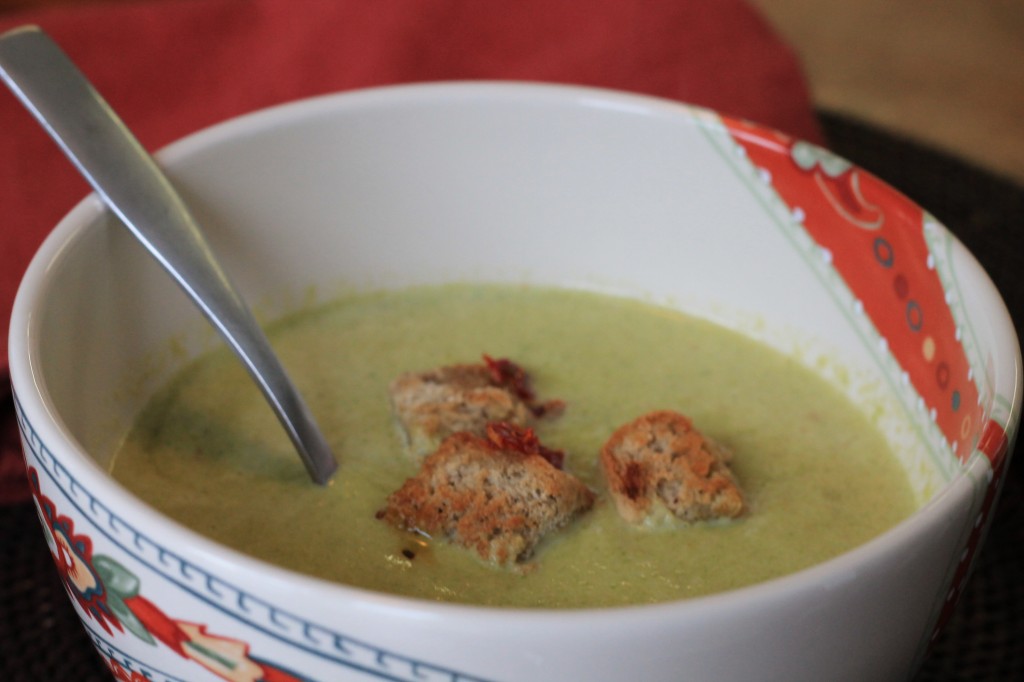 So to wind up Super Bowl week I wanted to share this Creamy Asparagus Soup. I added some sun dried tomatoes for another depth of flavor and a pop of color. And don't forget that most soups call for the addition of a grilled cheese to go along side of it or at least some homemade croutons!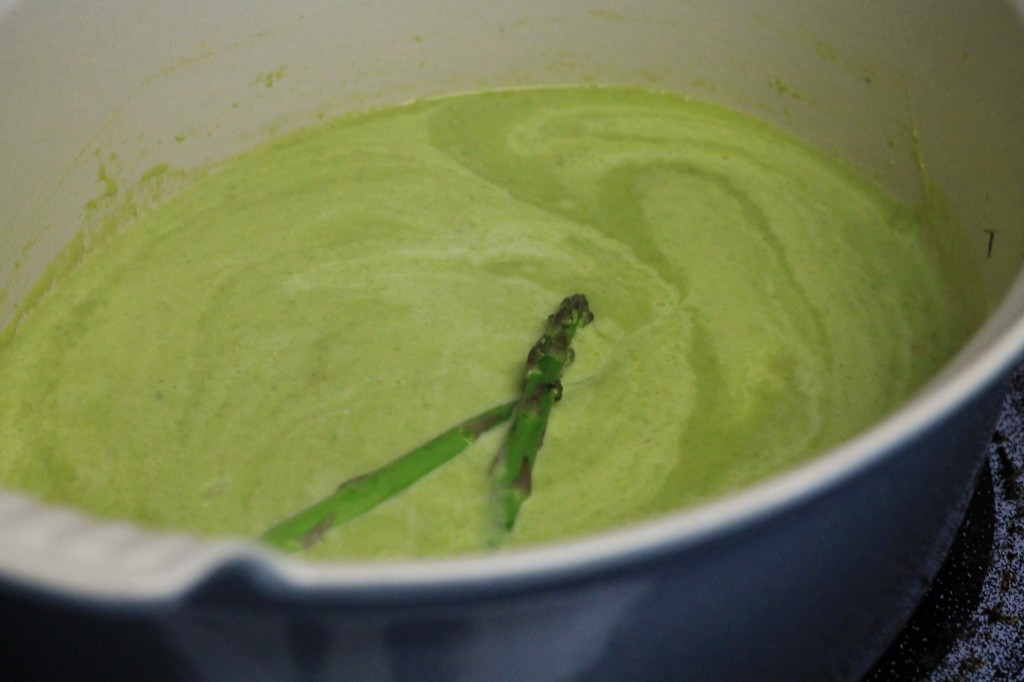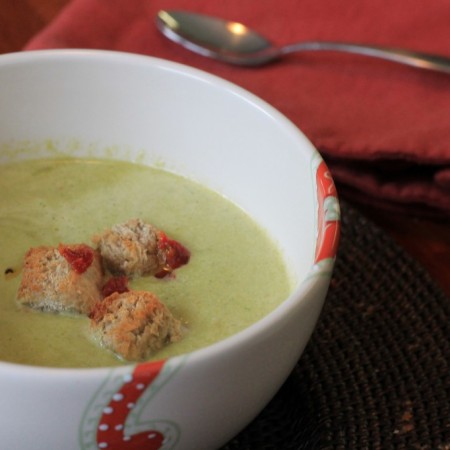 Recipe Card
love it? rate it!
Asparagus Soup
Ingredients
1

pound

asparagus

about 1 bunch

2

tablespoons.

butter

1/3

cup

yellow onion

diced

1/2

quart

16 oz. vegetable broth

1

teaspoon

salt

2

tablespoons

sun dried tomatoes

plus extra for garnish

1/2

cup

cream
Instructions
Trim woody parts/ends of asparagus. Cut into 1/2" pieces.

Melt butter in large stockpot. Add onion, saute for 5 minutes.

Add vegetable broth, bring to a simmer over medium heat. Add asparagus and salt, simmer for 10-12 minutes or until tender.

Transfer broth, vegetables, and sun dried tomatoes to a blender to liquefy. (See notes below about blending hot liquids.) Or use an immersion blender to blend until smooth.

Return soup back to pot, add heavy cream. Stir until blended, heat through.

Garnish with a few extra sun dried tomatoes and homemade croutons
Notes
Make sure the top is secure on the blender and remove the center piece of the blender before blending. Cover the top with a dish towel letting a little of the steam escape. If you do not have a center piece to do this you need to let the soup cool down before blending.
If using an immersion blender make sure the soup is in a large saucepan so it does not spill over when blending.
did you make this recipe?
Make sure to follow on Pinterest @easyrecipesfromhome for more easy recipes!
[amd-zlrecipe-recipe:209]
Menu for the Week
Smoked Cheddar BBQ Bacon Burger with Oven Baked Sweet Potato Wedges
Honey Mustard Pretzel Chicken with
Brussels
Sprouts
Fried Pheasant with Butternut Squash Casserole