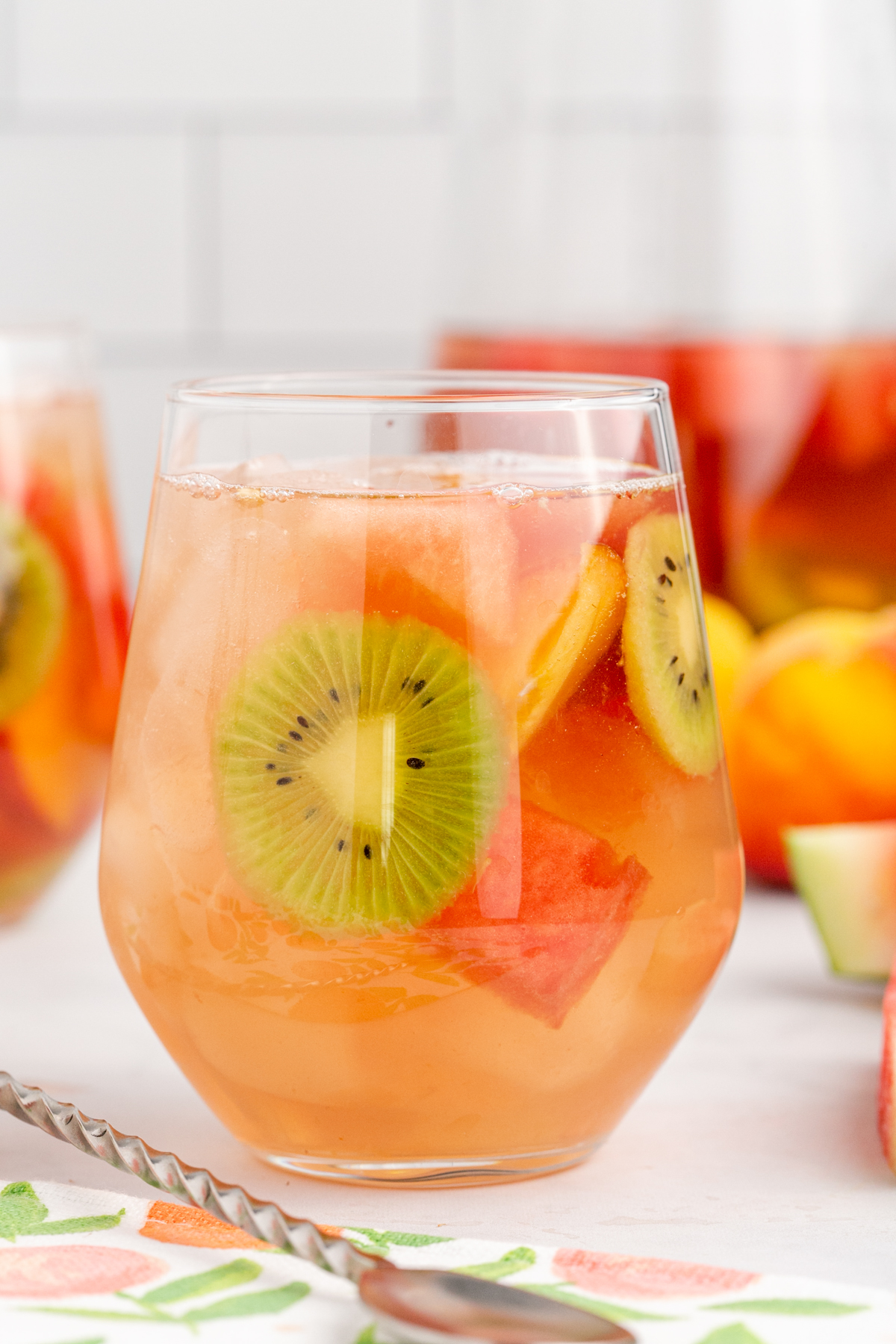 Summer Rosé Sangria is a cool and refreshing drink– the perfect choice for lazy summer days, backyard barbecues, and bridal showers. Pour a bottle of rosé wine over fresh fruit for the perfect fruity drink. Make it for your next summertime party!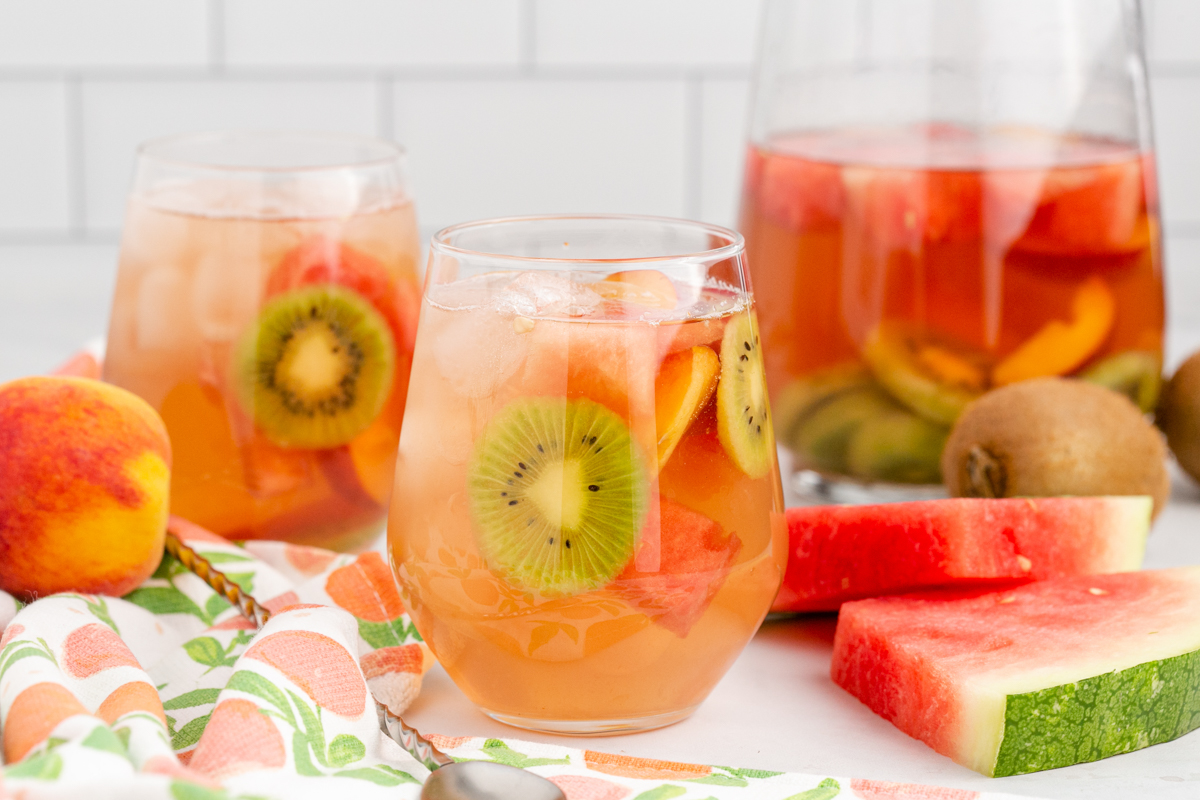 I think it's time to lay out by the pool and enjoy this lovely Summer Rose Sangria. Don't you think? I know it is hard to believe, but I once had time to lay out and work on that tan.
Now on a hot day, you might find me on the deck in a sunhat and shades with my laptop (while enjoying some sangria, of course.) We know that it's one of my favorites – I mean, I have a couple of sangria recipes on here (or five). It is just the perfect refreshing cocktail!
So, cheers to those summer days when you didn't have a care in the world. And cheers to these new summer days that look a bit different. I wouldn't change it one bit!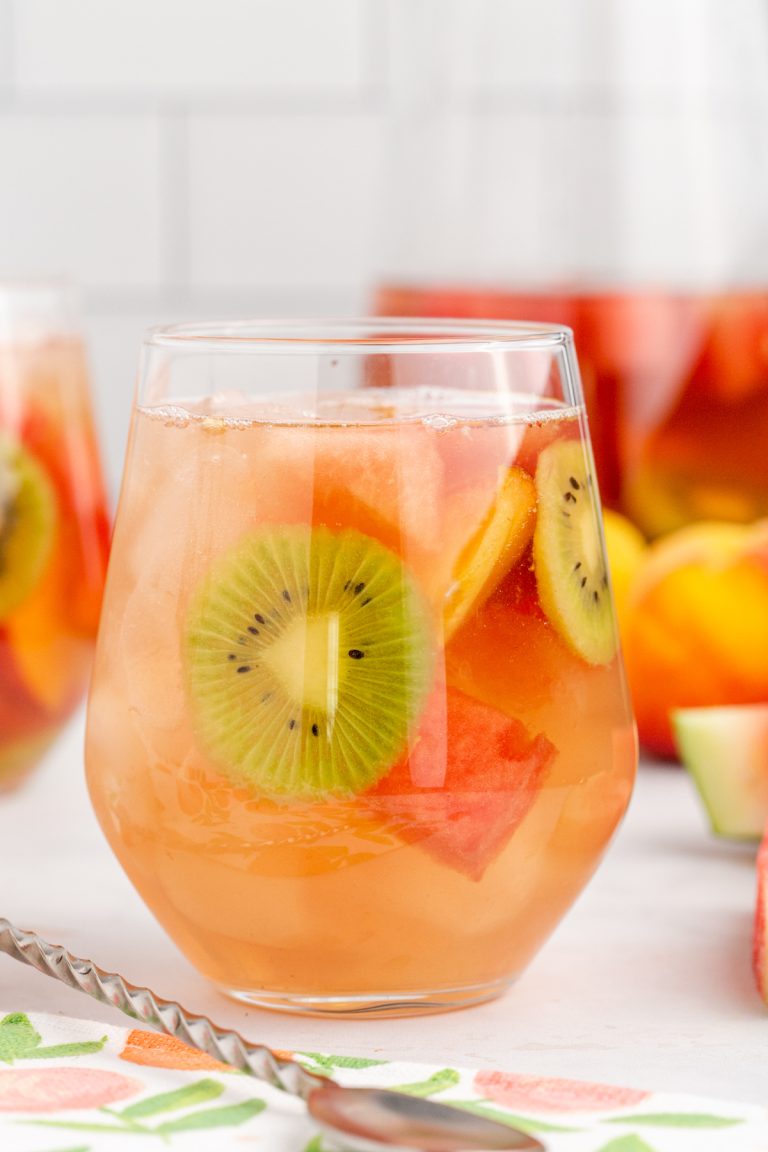 What type of wine is rosé?
Rosé wine is a category of wines, just like reds and whites. And no, you can't mix red wine and white wine together to get rosé! You might recognize rosé wine​ by its distinctive pink color, which comes from a shorter fermentation time with grape skins than a red wine would have.
Rosé is usually made from a blend of grapes, although in cases like Pinot Noir, it can be made with just one variety. It has a fresh and fruity flavor with the perfect amount of sweetness that pairs well with the fruits in this summer sangria recipe. This sweet wine has really grown in popularity over the last decade or so.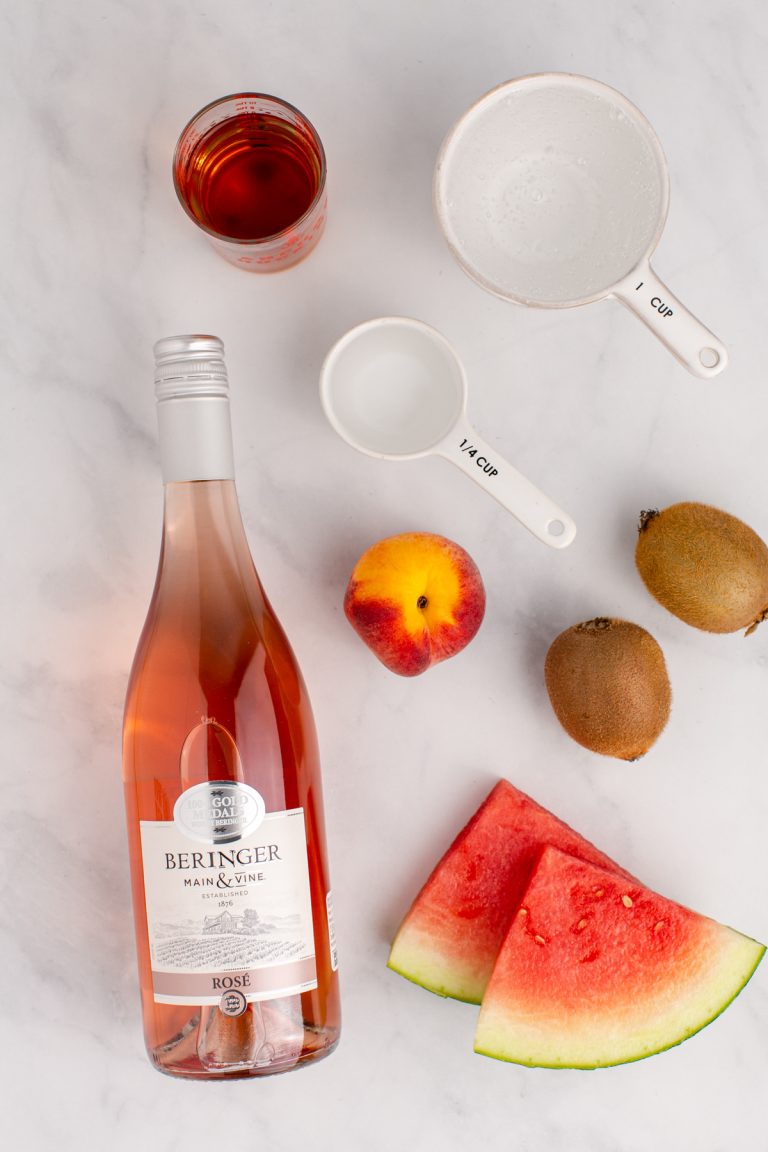 What ingredients do I need for this fruity sangria recipe?
You will need a few classic sangria ingredients and some fresh fruit for this rose sangria recipe. Gather the following items:
1 bottle of your favorite rose wine
½ cup brandy
¼ cup triple sec
1 cup club soda
¾ cup watermelon cubes
2 kiwis, peeled and sliced
1 peach, pitted, peeled, and sliced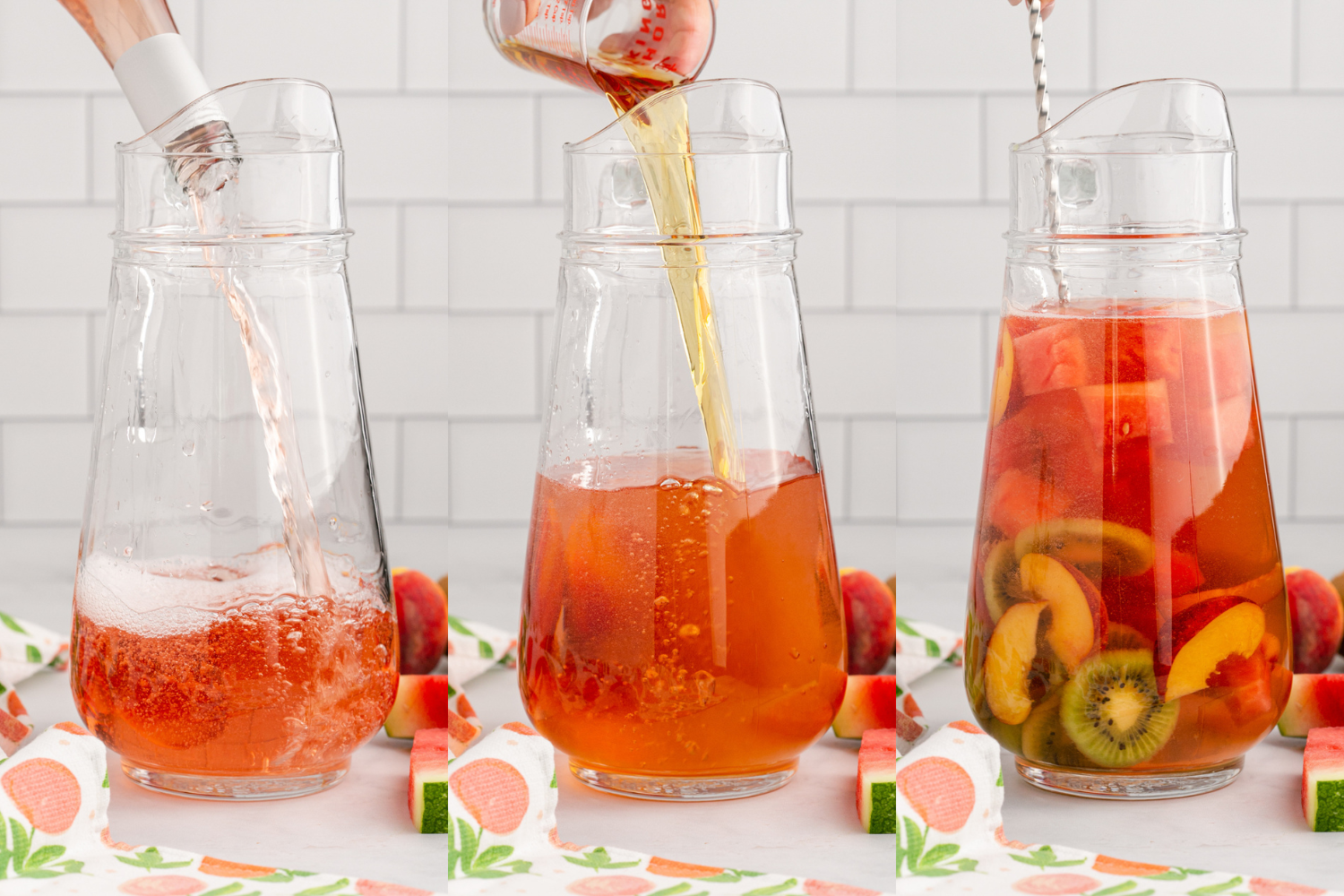 How to make this easy Rosé Sangria recipe
This recipe makes a large pitcher—perfect for a girls night or another gathering.
First, prepare your fruit. Slice your watermelon and cut it into cubes. Save the leftovers for a refreshing snack!
Peel the kiwis using this easy hack: cut off both ends with a sharp knife, then insert a spoon near the edge of the kiwi. Push the spoon in a circle around the kiwi, separating the fruit from the skin. Once you've made a full circle, the kiwi will easily slide out, and you can slice it for the sangria.

You can also peel the kiwi the traditional way with a hand peeler.

Peel the peach and slice it in half, removing the pit. Then slice with a sharp knife.
Pour the bottle of rosé, the brandy and triple sec into a large pitcher. Stir well with a wooden spoon.
Add the club soda, then carefully place the fruit into the pitcher and stir it all together.
Allow the sangria to sit in the refrigerator for several hours or overnight before serving. This allows a greater depth of flavor and is so worth the extra time!
When it's time to serve, transfer some fruit to each glass, then pour the sangria. Serve with ice cubes to keep it chilled.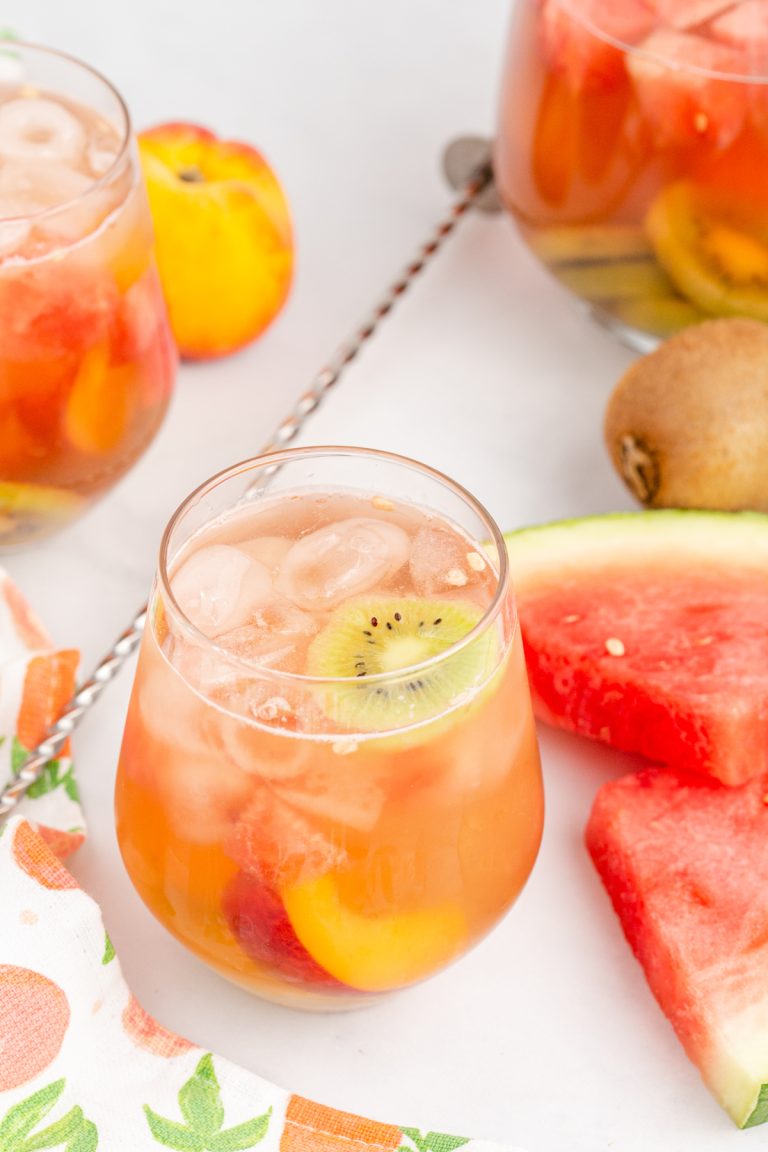 Can I make this rose sangria non-alcoholic?
Yes, you can mimic the flavors of a rosé sangria without the alcohol! Make the following changes to serve a non-alcoholic version of this fruity drink:
Swap the rosé for berry-flavored sparkling water or a non-alcoholic Rose (Welch's makes a sparkling rosé that is lovely!)
Substitute orange juice or grenadine syrup for the triple sec
Omit the brandy and add a dash of pomegranate juice if desired.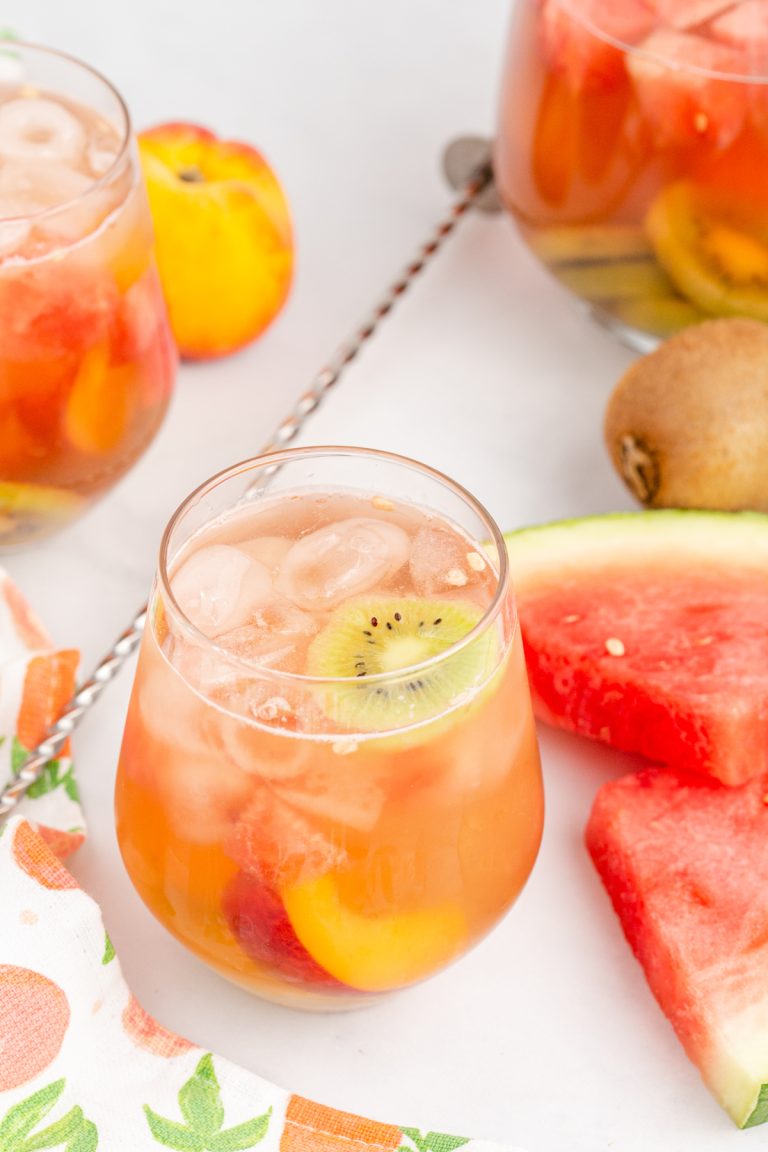 How to serve Summer Rosé Sangria
Serve it in a large glass pitcher or a large punch bowl. It is a beautiful drink, so display it!
Sangria tastes best when chilled, so keep it refrigerated until it's time to serve it.
For extra fun, dip the wine goblets in water, then superfine sugar before pouring in the sangria.
Add a fun garnish- use orange slices, fresh citrus slices, frozen berries, or a sprig of fresh mint.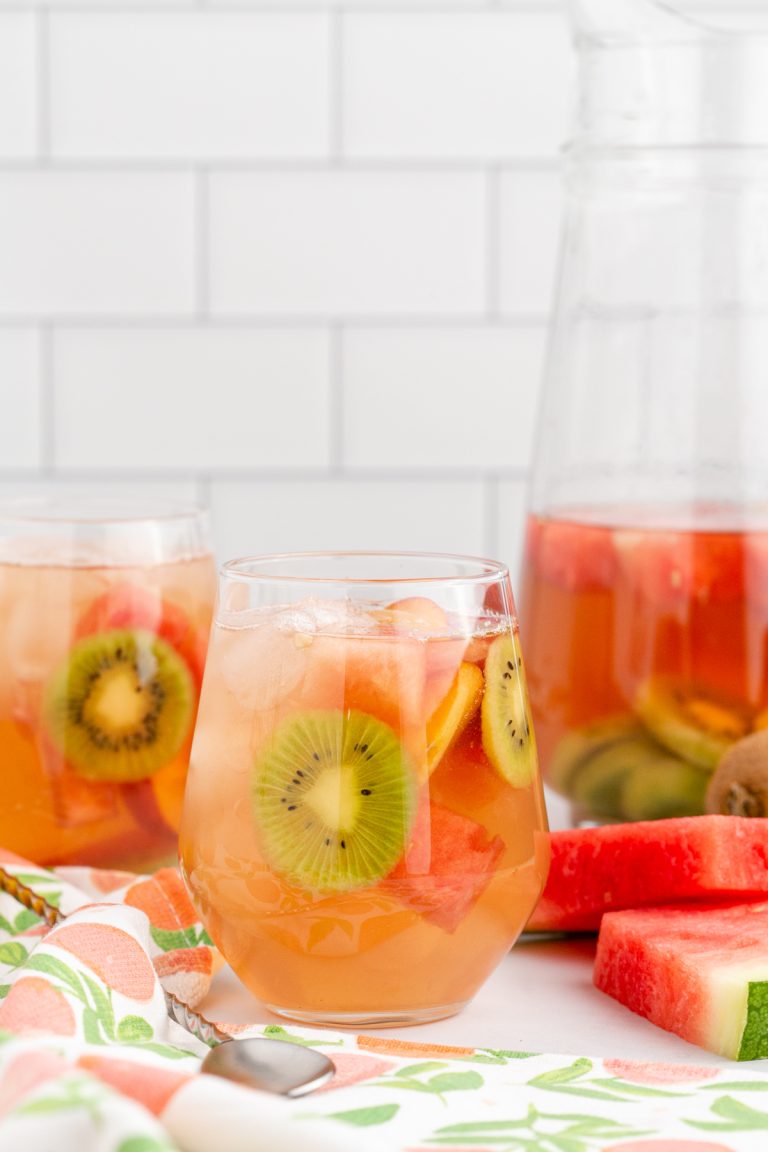 How long will Sangria keep?
You can keep sangria refrigerated for 2-3 days. Add a little extra club soda before serving again.
How far ahead can I make rose sangria?
You can make this the night before your event, but I wouldn't do it much earlier. You want the fruit to soak up all the flavors of the sangria, but you don't want it to fall too flat.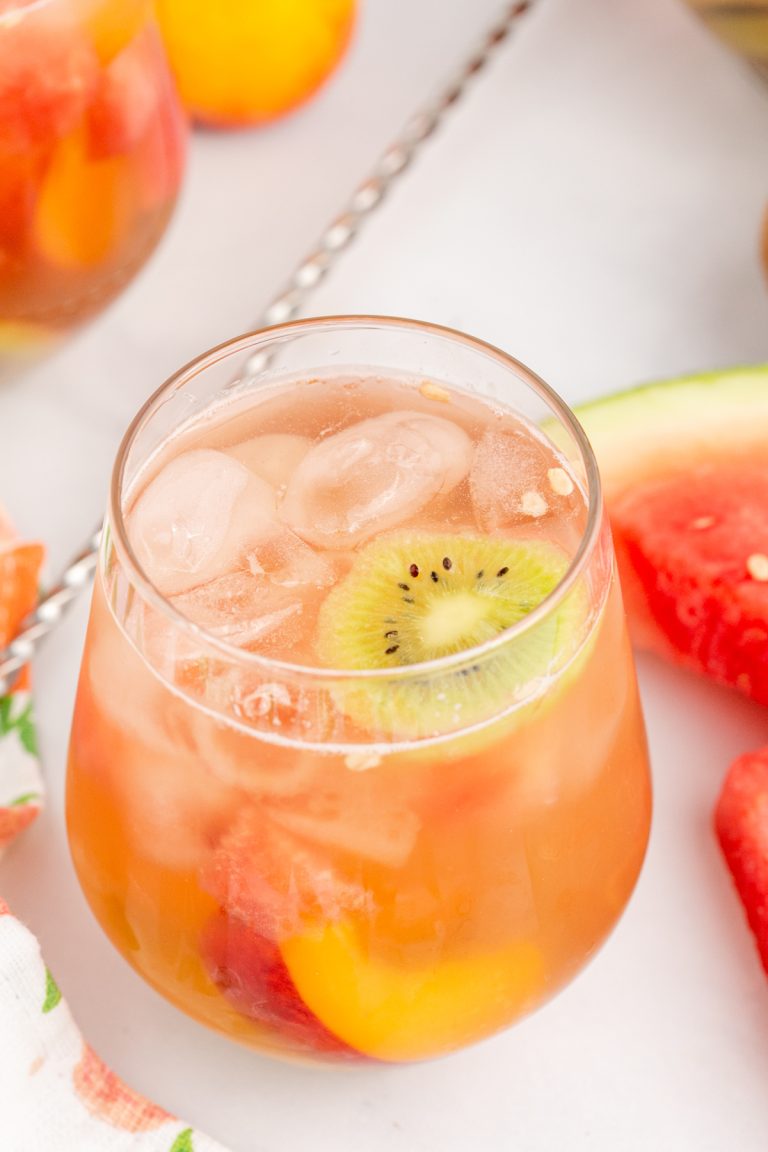 Other drink recipes to try
Here are some of my most popular drink recipes you should make: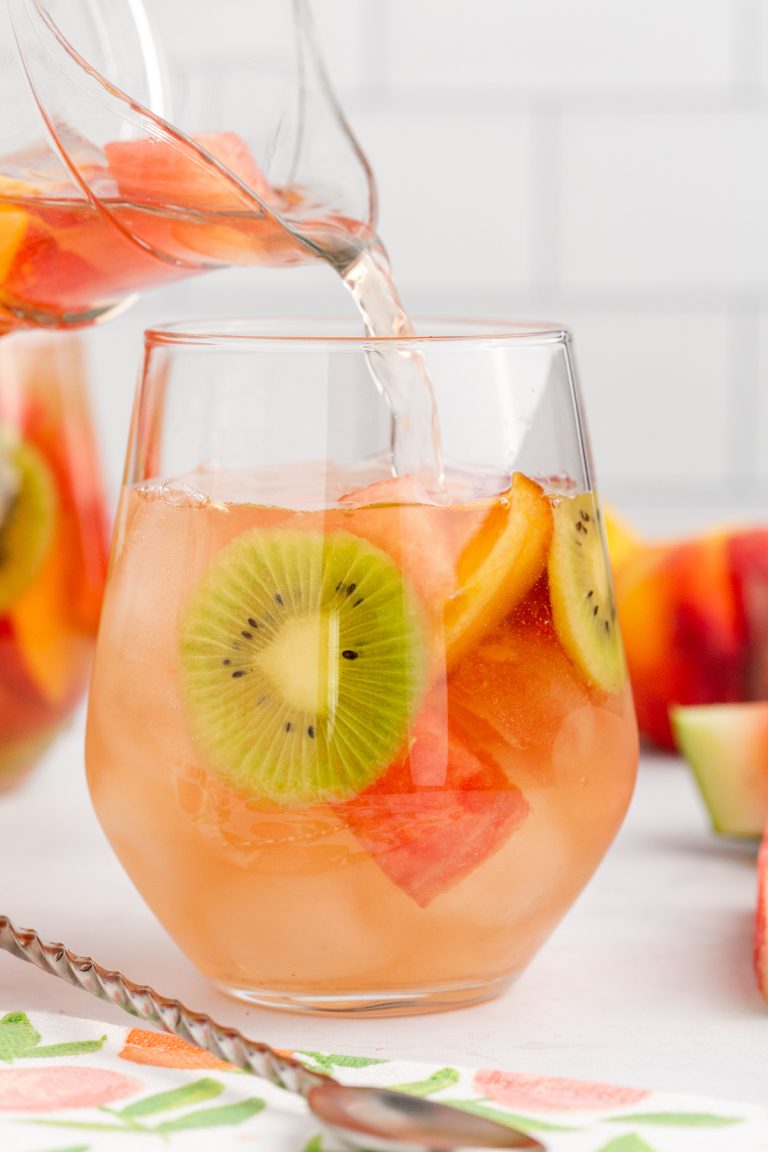 Don't forget to drink responsibly. Which one are you going to make first?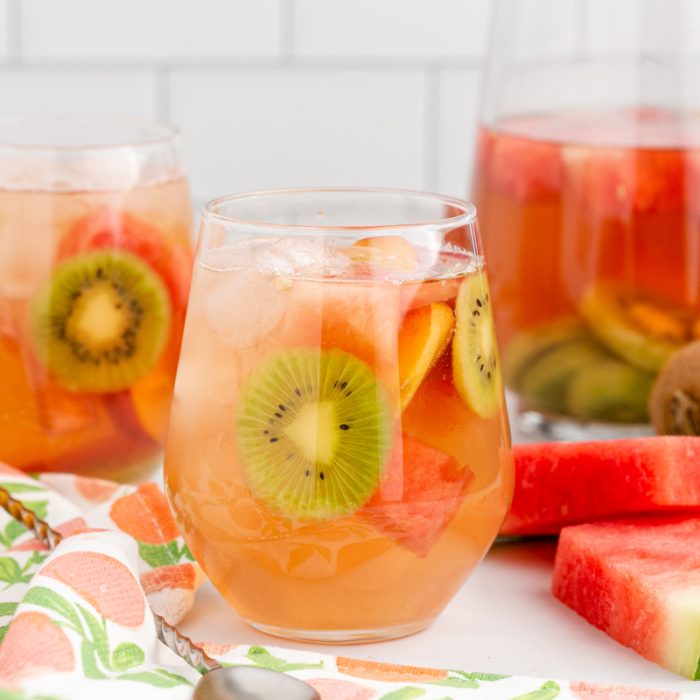 Recipe Card
love it? rate it!
Summer Rose Sangria
Summer Rosé Sangria is a cool and refreshing drink– the perfect choice for lazy summer days, backyard barbecues, and bridal showers. Pour a bottle of rosé wine over fresh fruit for the perfect fruity drink. Make it for your next summertime party!
Ingredients
1

bottles Rosè

1/2

cup

brandy

1/4

cup

triple sec

1

cup

club soda

¾

cup

watermelon

2

kiwis

peeled and sliced or cubed

1

peach

pitted, peeled and sliced
Instructions
Combine first 4 ingredients in a large pitcher.

Add the rest of the ingredients and stir.

Allow it to sit for several hours in the fridge before serving.
Nutrition
Serving:
1
serving
|
Calories:
166
kcal
|
Carbohydrates:
17
g
|
Protein:
1
g
|
Fat:
0.4
g
|
Saturated Fat:
0.04
g
|
Polyunsaturated Fat:
0.2
g
|
Monounsaturated Fat:
0.1
g
|
Sodium:
21
mg
|
Potassium:
174
mg
|
Fiber:
2
g
|
Sugar:
14
g
|
Vitamin A:
324
IU
|
Vitamin C:
38
mg
|
Calcium:
23
mg
|
Iron:
0.3
mg
did you make this recipe?
Make sure to follow on Pinterest @easyrecipesfromhome for more easy recipes!
This post was originally published June 9, 2017. It has been updated in format and with pictures on 8/31/23/.