Did yall have a good weekend? We did – John and I just got back from the beach with our friends and it couldn't have been more relaxing. We got to do a ton of cooking – and the best part was having my sous chef Sam there. We made Creamy Cajun Pasta Jambalaya (and added shrimp), too much fish to name from the boys deep sea fishing trip, Crab Cakes, and Cucumber Tomato Salad. The only thing we probably could have added would be an appetizer. Nah, who am I kidding we had enough leftovers even after feeding 10 people. But if we did need an appetizer this would have been the perfect one!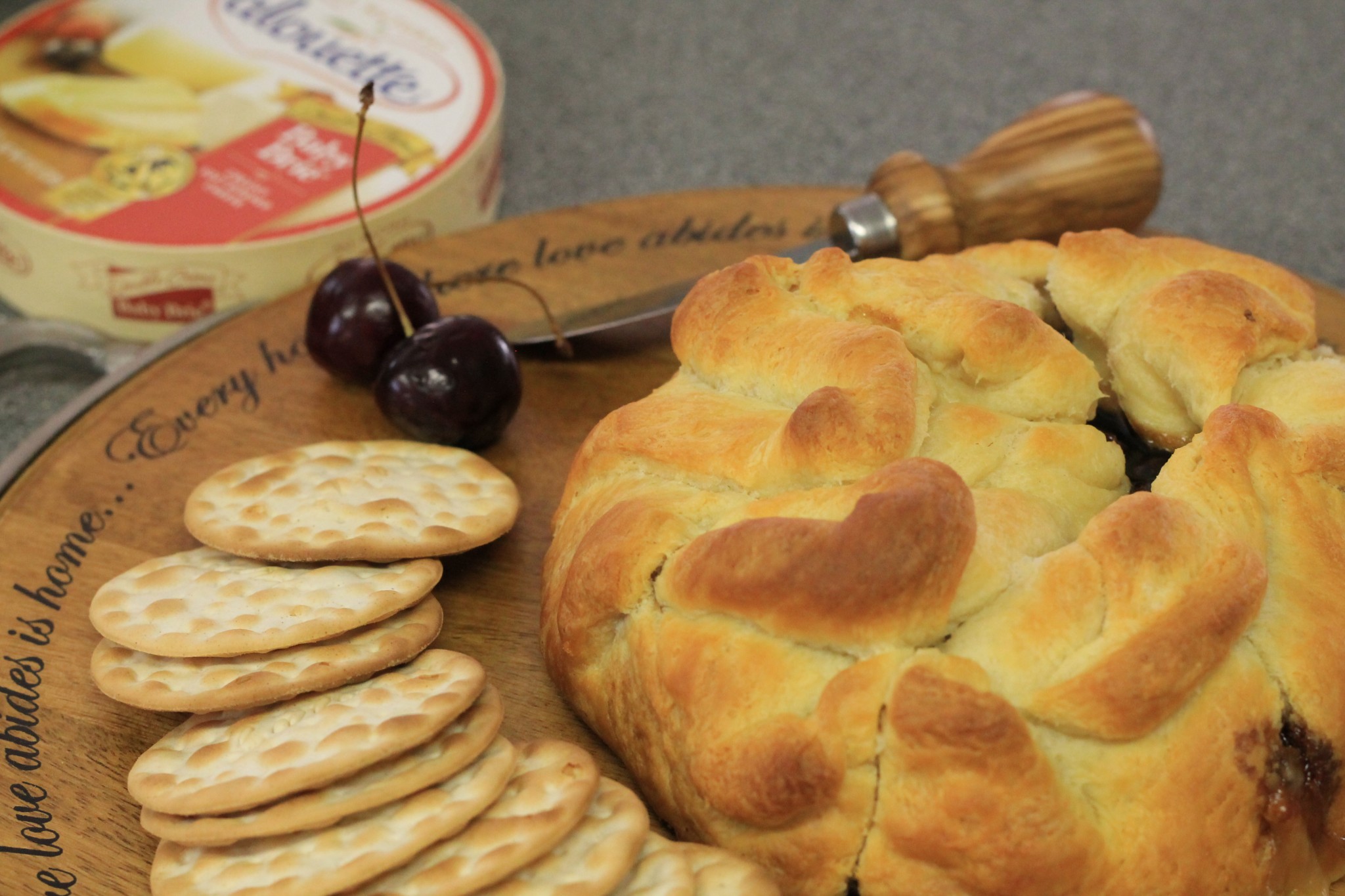 For a lot of parties my sister in law will make brie baked in crescent rolls. And I can't get enough of it. So it got me thinking. Remember when I had that 3 lb bag of cherries and I was trying to think of what to do with it? Well I made a Cherry Almond Smoothie and Cherry Sangria. I had just a few left over so I decided to do a classic pairing of fruit and cheese.For our Wednesday night dinners I used to make an appetizer for the boys to snack on while I finished cooking. But since William left I don't need to feed three grown men anymore, just 2. So I got the itch to make John and Josh an appetizer recently. Needless to say, the boys devoured it.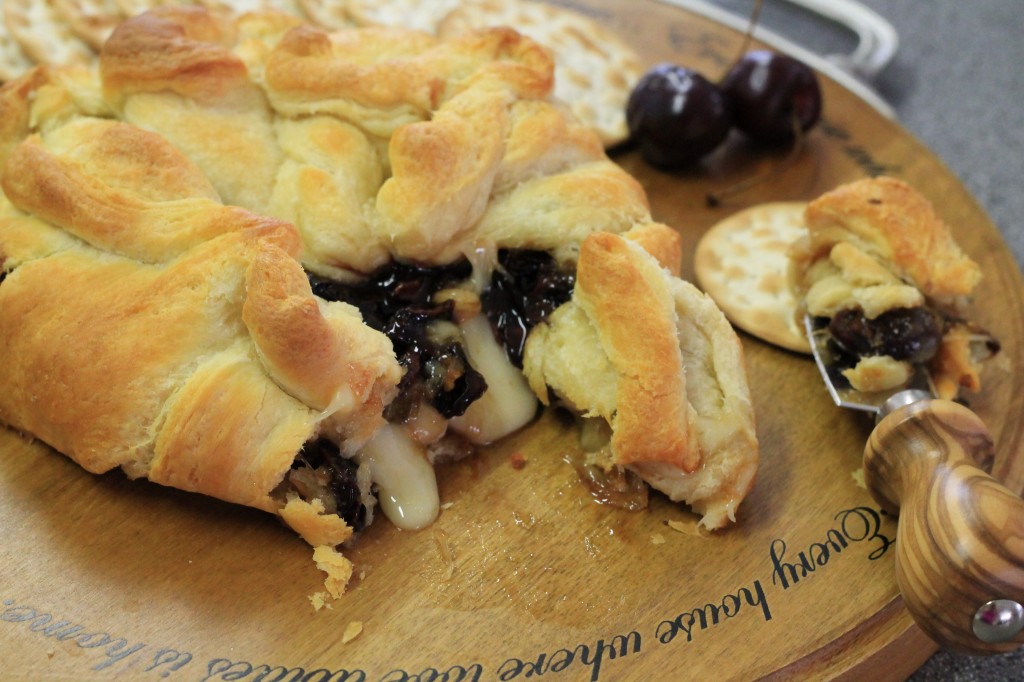 Once you cut into this with a knife the cheese will start pouring out. Serve with crackers or slices of a baguette. This is almost reminiscent of a deconstructed fondue – melted cheese, bread, crackers and fruit!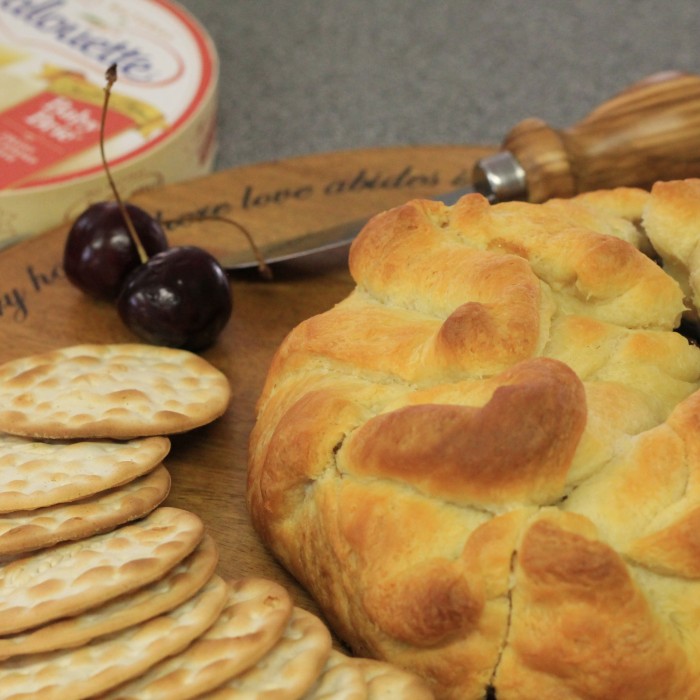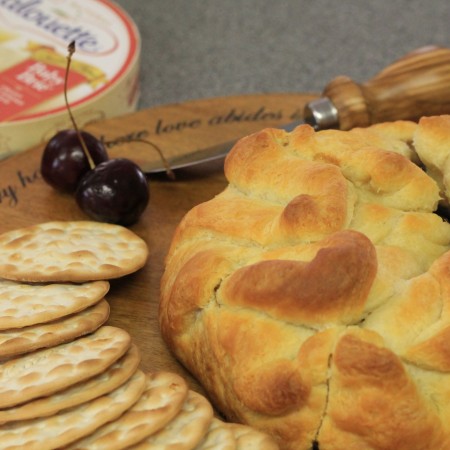 Recipe Card
love it? rate it!
Baked Brie and Roasted Cherries
Ingredients
1

brie

1

can of crescent rolls

1

cup

cherries

pitted

1/3

cup

sugar

1

teaspoon

cornstarch
Instructions
Preheat oven to 400 degrees. Combine cherries, sugar and cornstarch in pie dish. Toss to mix.

Roast for 30-35 minutes, until bubbly. Stir every 10 minutes, watch so that it does not brown. Let it cool completely.

Reduce oven to 350 degrees.

Unroll crescent roll dough onto baking sheet, pressing perforated sections together.

Use knife to cut off thin top rind of brie and place this side up on top of dough. Top and spread with cooled cherries enough to not let it spill over (may not use whole cup).

Bring dough up around side of cheese. Bake 20-30 minutes until deep golden brown. Cool 10 minutes before serving.
did you make this recipe?
Make sure to follow on Pinterest @easyrecipesfromhome for more easy recipes!
Menu this Week
Chicken Casserole with Cheesy Herb Dumplings and Green Bean Almondine
Bacon, Cheddar, Chive Waffles and Breakfast Casserole
Ratatouille